Matthew and Johanna LaFond loaded their five daughters into a vehicle Thursday and drove eight hours to Madison from their home near Fargo, North Dakota, all because of an 11-year-old girl who died more than a century ago.
The LaFonds were among the thousands who came Friday to view the remains of St. Maria Goretti, the youngest canonized saint in the Roman Catholic Church. Her skeleton, encased in wax, is traveling the country on its first-ever U.S. tour.
"There was never any doubt we'd be here," Matthew LaFond said. "If a rock star comes to town, people go to see him or her. St. Maria Goretti is one of our superheroes."
The saint's glass-sided casket went on public view in the sanctuary of St. Maria Goretti Parish in Madison about 9 a.m. Friday and was scheduled to remain there for 22 hours, until 7 a.m. Saturday. About 1,400 people attended a special Mass just prior to the public viewing that was reserved for students of the parish school and their families.
By 10 a.m., the neighborhood around the parish had filled with cars. Hundreds waited in a line that wrapped around the outside of the church.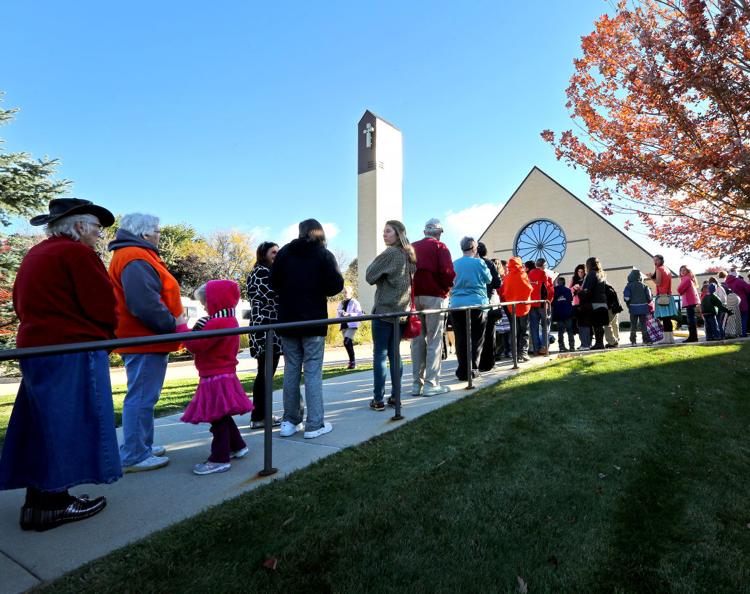 "I knew there would be a line, but I never expected it to be this long," said Cleo Hall of Arlington, who brought her 4-year-old granddaughter, Samantha. "We're spending time together, and that's what's important."
Hall said she didn't know how she would feel when she reached the casket.
"I like just remaining open to the experience and letting the grace of God take over," she said.
The Madison parish is one of only two Wisconsin stops on the 53-city tour, along with a parish in Elm Grove. The Madison parish was chosen in part because of its large school and youth ministry program.
Maria Goretti is the patron saint of Catholic youth. She died in 1902 near Nettuno, Italy, from lacerations inflicted during an attempted rape.
On her deathbed, the young girl forgave her attacker. The act of mercy, and many miracles attributed to her spirit, led the church to canonize her in 1950.
"She's been so influential in my life," said Michaela Nikolai, 20, of La Crosse, who was waiting in line with 10 of her 11 siblings. "It's such a sexual society, and everything is so corrupt, and then here she is, such an amazing example of someone who valued purity and chastity above all else."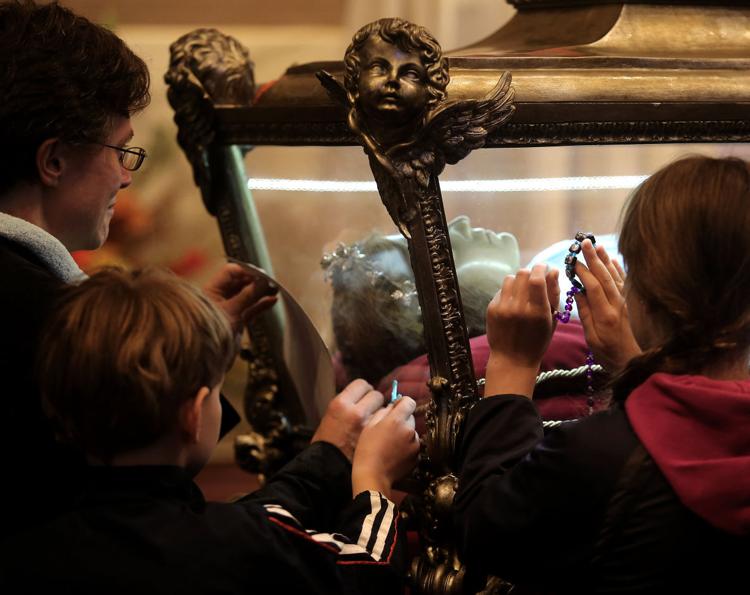 The saint's remains were not visible in the casket, but the Rev. Carlos Martins, the tour's director, said the skeleton is largely complete. It rests in a silver chest within the torso of the wax statue, he said.
In Catholic terminology, the skeleton is a relic, or a physical object that has a direct association with a saint or the Lord. A saint's body is considered a first-class relic, a category reserved for the body or fragments of the body of a saint, such as pieces of bone or flesh.
Catholicism teaches that God acts through relics, especially in terms of healing, whether physical, emotional or spiritual. As people filed past the casket Friday, each was given up to 15 seconds to touch the glass or press a photo or rosary beads against it. Many prayed, some cried.
Tess O'Brien of Verona said she sought a special blessing for her 11-year-old daughter with epilepsy. Scholarstica Aniekwenagbu, a Nigerian native living in Madison, asked for peace in the world and for the souls of sinners to be converted.
"Whatever is your problem, you can ask her for mercy, and she will intercede on your behalf with God," she said.
By 8 p.m., the energy of the crowd was still vibrant. Patricia Kopp, a youth ministry leader at St. Maria Goretti Catholic Church, said by night the atmosphere had taken on a more serious, spiritual and aware tone, with fewer children than the morning.
Kopp incorporated St. Maria Goretti into her teaching on Monday night and said seeing the remains and learning about the history has helped her become more aware of the greater purpose of life and the impact of forgiveness.
Martins and Madison Bishop Robert Morlino celebrated a Mass at 7 p.m. that ran longer than expected due in part to the large crowd it drew.
Madison residents Ruth Kornell and daughter Chris LaDell, who graduated from St. Maria Goretti School as did seven siblings, returned to the parish Friday evening after the morning lines were unbearable.
They were disappointed to find they would have to wait until about 10:30 p.m. to visit the saint's remains, after those who attended the Mass.
The U.S. tour began last month and is scheduled to go until Nov. 11. The saint's remains arrived in Madison with a law enforcement escort at 4:15 a.m. Friday.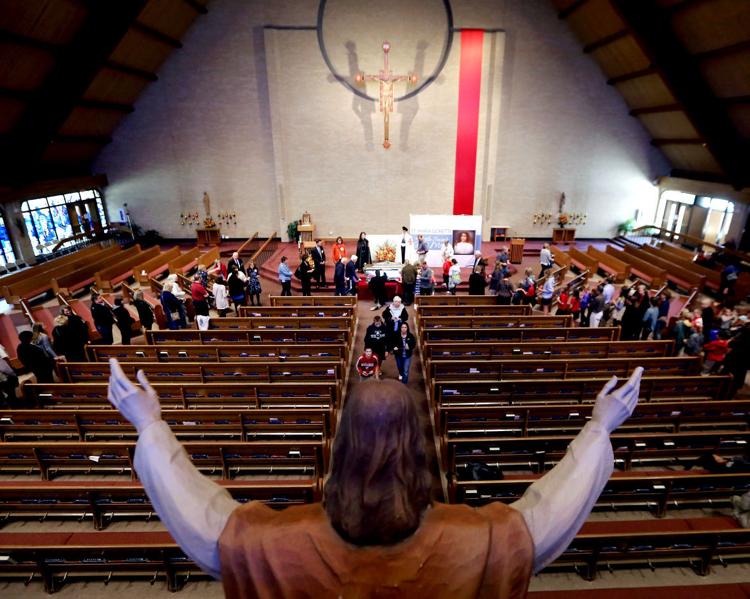 Martins said the saint's body is given the same level of security as a head of state. The U.S. Department of Homeland Security is leading the effort, with state and local law enforcement assisting. Both uniformed and undercover officers were monitoring the crowd Friday, he said.
The crowd size Friday was similar to that at other stops on the tour, with attendance averaging about 600 people per hour, Martins said.
Johanna LaFond said her time with the saint was like talking to a friend.
"I recognize that she's with God and that she can speak to God more easily than I could," she said. "I asked her for help, and I felt at peace when I left."
Msgr. Michael Burke, the priest for the parish, said he did not anticipate such strong emotion from those in the crowd.
"It's just a lot of people with a lot of things they want healed," he said. "People realize this is a once-in-a-lifetime opportunity."
State Journal reporter Gabrielle DiBenedetto contributed to this report.