For a long time, Karissa Schaper, 31, thought she was worthless.
It started with what she described as "a very hard childhood." Her father wasn't around very much, and when he was, he struggled with a drug addiction.
When Schaper was 5 years old, she was raped. At 9, she became addicted to heroin.
She fell into multiple other drug addictions, trying any controlled substance she could get her hands on. "Surprisingly," she said, she graduated high school. But she has been in a lot of fights, multiple gangs and mostly lived on the streets.
Schaper said she has overdosed on numerous occasions and tried to kill herself multiple times.
She was physically and emotionally abused by multiple ex-boyfriends. One persuaded her to sleep outside during the winter instead of going to a homeless shelter. One night, he left her alone in the cold while she was pregnant. She woke up lying on the concrete, with snow covering her body instead of blankets. Her core temperature was so low she was almost dead. Schaper spent three days in the hospital recovering from hypothermia.
"I have been beaten, stabbed, left for dead on multiple occasions," Schaper said. "I thought because I did stuff in my past, I deserved to be treated that way."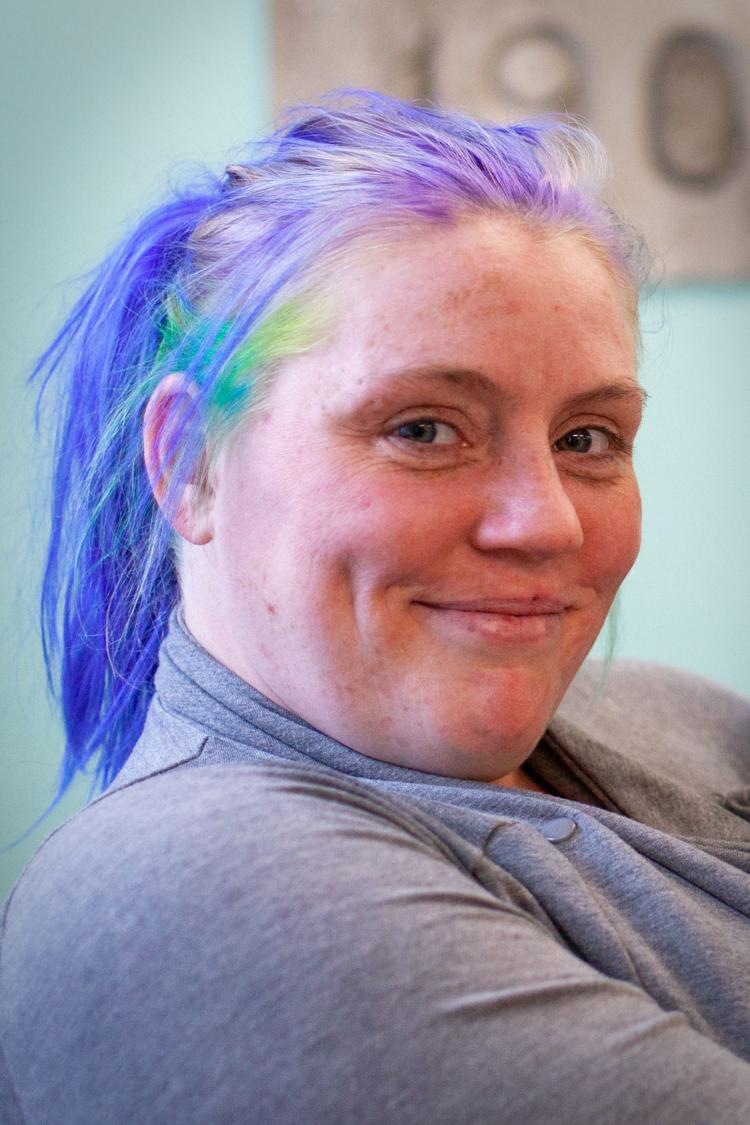 But on the first floor of a church Downtown on North Hancock Street, she found something she had rarely experienced before: people who were actually kind to her.
"When I started coming here to Off the Square Club, they were assuring me, 'Look, this isn't your fault, we can help you,'" Schaper said. "They're like my case workers, my friends, and it even feels like they're my family. My real family. They treat me like a person."
Off the Square Club, now in its 40th year, is a daytime resource center for those struggling with homelessness or mental illness. It provides a safe place for people to keep warm in the winter, get a free breakfast and lunch, use a computer or phone, take a shower, do laundry and get access to mental health resources.
The club is located in St. John's Lutheran Church and is operated by the nonprofit Lutheran Social Services of Wisconsin and Upper Michigan.
Schaper is just one of the 50 or so people the center helps every day. At least half of them are homeless. Dane County adult residents who have been diagnosed with a mental illness can become members of the club and get connected with the program's resources.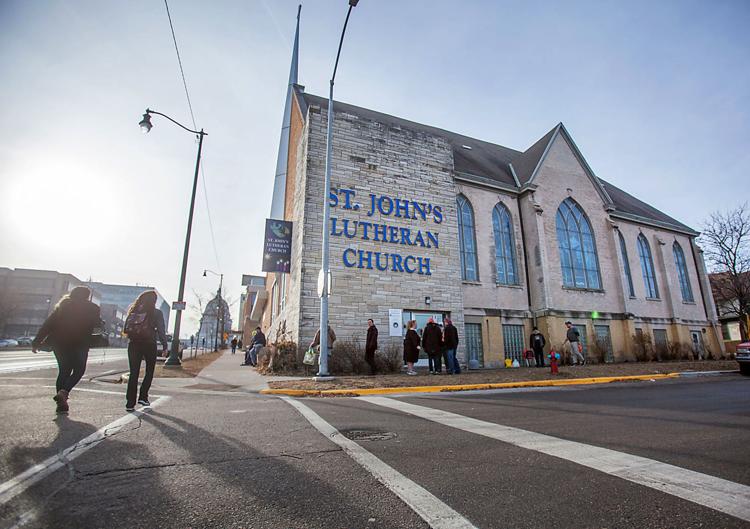 Todd Winstrom, program supervisor at the club, said what makes the center unique from other resource centers and homeless shelters is its focus on mental health.
By one estimate in 2015, at least 25% of homeless people in the U.S. had a serious mental illness, compared with 4.2% of U.S. adults being diagnosed with a serious mental illness in 2016, according to the Brain & Behavior Research Foundation, a center that funds mental health research.
Schaper suffers from anxiety, bipolar disorder, severe depression, post-traumatic stress disorder, obsessive-compulsive disorder and insomnia.
Winstrom said the staff at the club openly identify their own mental illnesses. Some are even certified peer specialists, meaning they have lived through psychological trauma, substance abuse or a mental illness, and have been trained to help those struggling with the same challenges.
"Mental illness isn't always understood," Winstrom said. "I hear from people, 'This is a place where I don't have to hide the fact that I have a mental illness. … People can help me. People get me, and it's such a relief.'"
'A safe place'
Tristian Polinsky, 20, found his way to Off the Square Club after a suicide attempt.
When Polinsky was 15, his dad left, and his mom couldn't afford to care for him alone. Polinsky got put in the foster care system, and when he turned 18, he became homeless. He lived on the streets of Madison for about a year and a half.
"People don't look at you as another human," Polinsky said. "They look at you as like, homeless. They don't identify with you."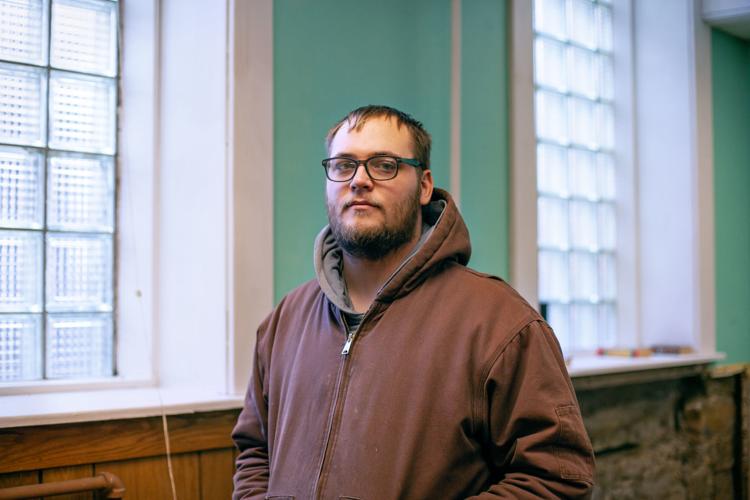 But at Off the Square Club, Polinsky said people treat him with respect, and he doesn't get judged because of his depression. The club is "a safe place" for him to come during the daytime.
Whenever Polinsky has had a mental health crisis, he said he was able to call Winstrom, who he said is "like a dad" to him.
Polinsky said the club is the most welcoming shelter he has been in, and it is also the only one to provide access to mental health services.
Psychiatry access
In 2018, Off the Square Club started a partnership with the Alay Health Team, a psychiatric service provider in the Milwaukee area.
Winstrom said normally it takes three to six months for people to figure out how to get access to psychiatric care, but because of the partnership, the club is usually able to get members in for Skype therapy sessions within a week. In 2019, about 40 club members received psychiatric services.
"That's a huge gap we're filling," Winstrom said.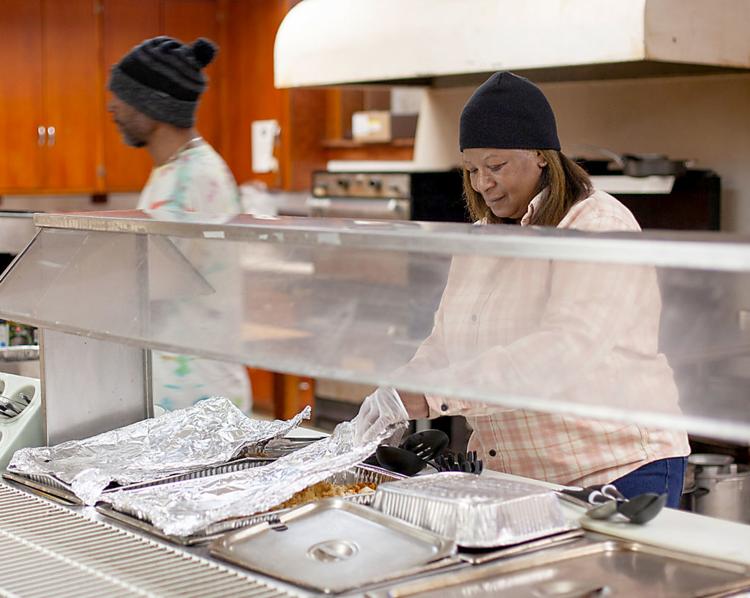 To treat his depression, Polinsky has been able to see a psychiatrist, who has prescribed him with medication that gets shipped to Off the Square Club.
It's been months since he's had suicidal thoughts, he said.
"Things are a lot better," Polinsky said. "I'm stable on meds. I'm seeing a therapist, seeing a psychiatrist. … Things are all right."
Changing lives
Linda Cole, program manager of the day resource centers run by Lutheran Social Services, said the goal of the club is to help the most vulnerable get started on the road to recovery.
For each individual, the support services needed look different, Cole said.
Many have experienced trauma and have a hard time trusting people, especially authority figures and those who are part of "the system," Cole said. The club helps a lot of members get connected with medical care, Medicaid, other benefits, substance abuse services and mental health providers.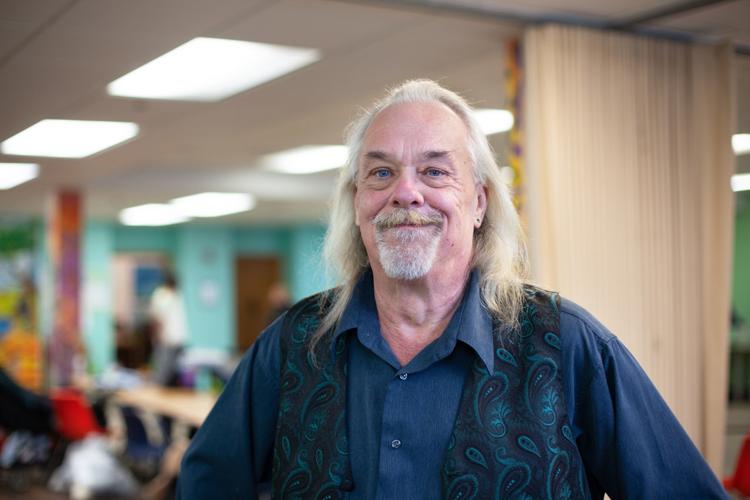 Staff also help some members get placed in diversion facilities instead of hospitals during mental health crises. Called "crisis stabilization," the program helps people recover from a crisis without having to be hospitalized.
Members also get assistance with job and housing searches. Some are able to get a job at the club or volunteer to gain resume-building experience.
Polinsky was able to get connected to a local transitional housing program, which helped him find a place to live. He is currently applying for jobs.
Meeting basic needs
Winstrom said just having basic needs met makes a world of difference as club members get back on their feet.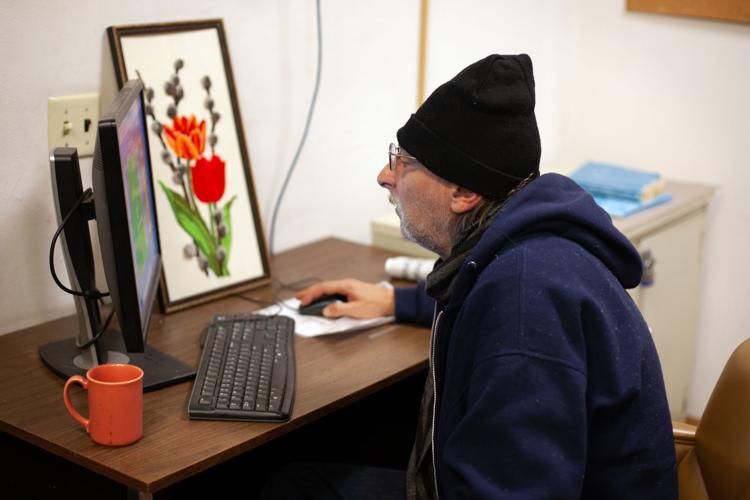 In 2016, Lutheran Social Services completed a project to build a shower in the Downtown facility with $75,000 it had raised in donations, Cole said. On average, the shower is used six times a day by members.
"We were hearing that was one of the biggest challenges — a safe place to take a shower," Winstrom said. "You really need somewhere where you feel completely safe to do that."
"It's changed the lives of the people there," Cole added.
The facility also had 66 lockers for members to keep their belongings, an area with couches for members to socialize or watch TV, a full kitchen and a storage area where members can grab free clothes, hats, gloves, socks and more from donations. On average, the kitchen serves 55 meals a day.
'I would not be alive'
On a Thursday afternoon in mid-December, Schaper sat in Off the Square Club bouncing her smiley, 6-month-old son, Castiel, on her lap.
She said she's been clean for more than a year, except for one recent misstep when she smoked marijuana after a stressful day. She was clean throughout her pregnancy.
Schaper said she also has not cut herself in a year and has not touched heroin in five years.
She said she makes sure Castiel is fed and always warm. During the day she usually comes to the club, and at night she stays in a homeless shelter.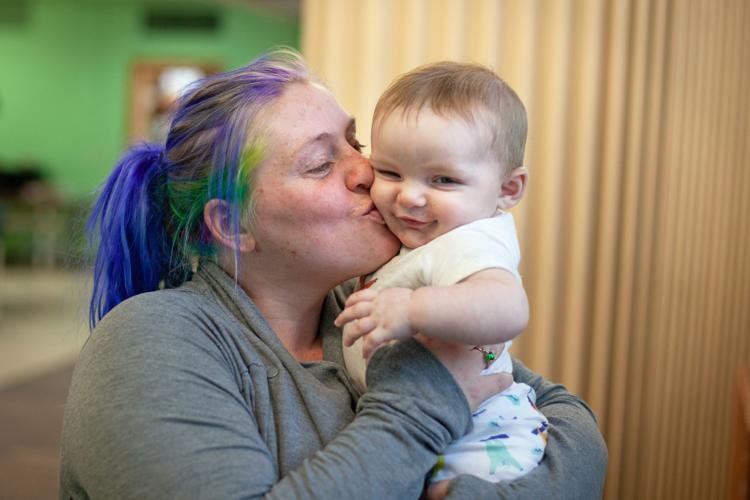 Carla Williams, a staff member at the club, said Child Protective Services monitored Schaper and Castiel for about three months and determined Schaper would be able to mother him because she was doing so well.
"I have a whole team of people who are supporting me," Schaper said.
With tears in her eyes, Schaper explained that Off the Square Club does not let her abusive ex-boyfriend — who has hit her and screamed at her inside the facility, then blamed her for it — come inside the building.
While before she felt she was "nothing," Schaper said she now has goals, dreams.
She wants to paint more — and she's good at it, even though she doesn't always think so. An intricate painting of a cabin and a colorful sunset in the woods only took her three hours.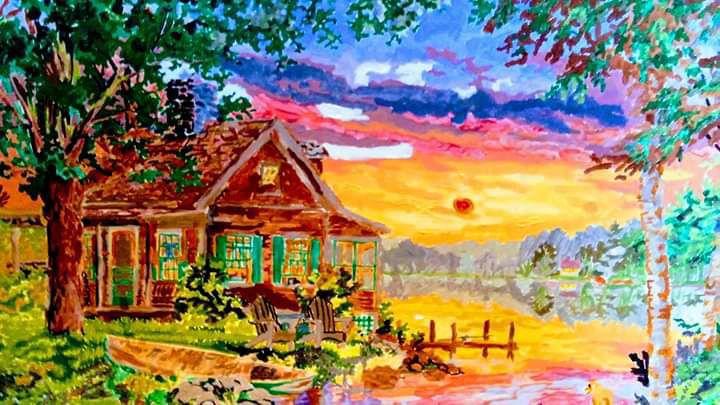 Schaper opened a bank account and started getting mental health treatment. She is currently focused on trying to find housing for her and Castiel. After that, she wants to get a job and go back to school.
She hopes to become a forensic anthropologist one day because she wants to help identify people who have died after going missing. She doesn't want them to be forgotten. And she thinks her OCD could help her notice things.
Ever since she joined Off the Square Club seven years ago, Schaper said she has continued to get "stronger and stronger."
"Had it not been for this club right now I would not be alive," she said. "I would not have had the strength to get away from (my ex-boyfriend). The next overdose, I probably would not have woken up from. I would not have this handsome little boy right here.
"I used to believe that I was nothing, I didn't deserve anything. This club made me realize that I'm wrong. I am worth something. I am supposed to move on and go on and everything. I can do this."
____________________________________________
Special report | Homelessness in Wisconsin: State at the crossroads
For a while, state, county and local leaders seemed to finally be on the same page when it came to combating homelessness. But with winter coming, major legislation remains stalled. And the early promise of bipartisan cooperation on the issue is not guaranteed.
Be the first to know
Get local news delivered to your inbox!