The Sun Prairie Volunteer Fire Department captain killed in an explosion in the city's downtown last summer may be memorialized by having the local post office named in his honor.
Bipartisan legislation has been introduced in the U.S. Senate and Congress to honor Cory Barr, who died in the natural gas explosion on July 10, 2018, a blast that leveled several buildings in the heart of the city, including his own tavern, The Barr House.
The Sun Prairie post office at 1715 Linnerud Drive would be named the Fire Captain Cory Barr Post Office Building.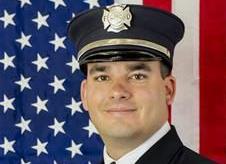 You have free articles remaining.
Register for more free articles
Stay logged in to skip the surveys
Sens. Tammy Baldwin, D-Madison, and Ron Johnson, R-Oshkosh, introduced the bill to the Senate. In the House, the entire Wisconsin delegation led by Rep. Mark Pocan, D-Black Earth, whose district includes Sun Prairie, introduced the legislation.
"Captain Cory Barr paid the ultimate sacrifice to protect Sun Prairie residents and save lives," Baldwin said. "His public service should be honored and his commitment to the safety of his neighbors and the community will always be remembered."
Barr and his fellow first responders are credited with leading 100 people to safety before the explosion took his life and injured two other firefighters.
"The Sun Prairie community will forever be impacted by last summer's tragic explosion, but because of Captain Barr's heroic efforts, more than 100 people were led to safety," Pocan said. "We all owe Captain Barr our deepest respect for his exemplary service and the sacrifice he made for his community."