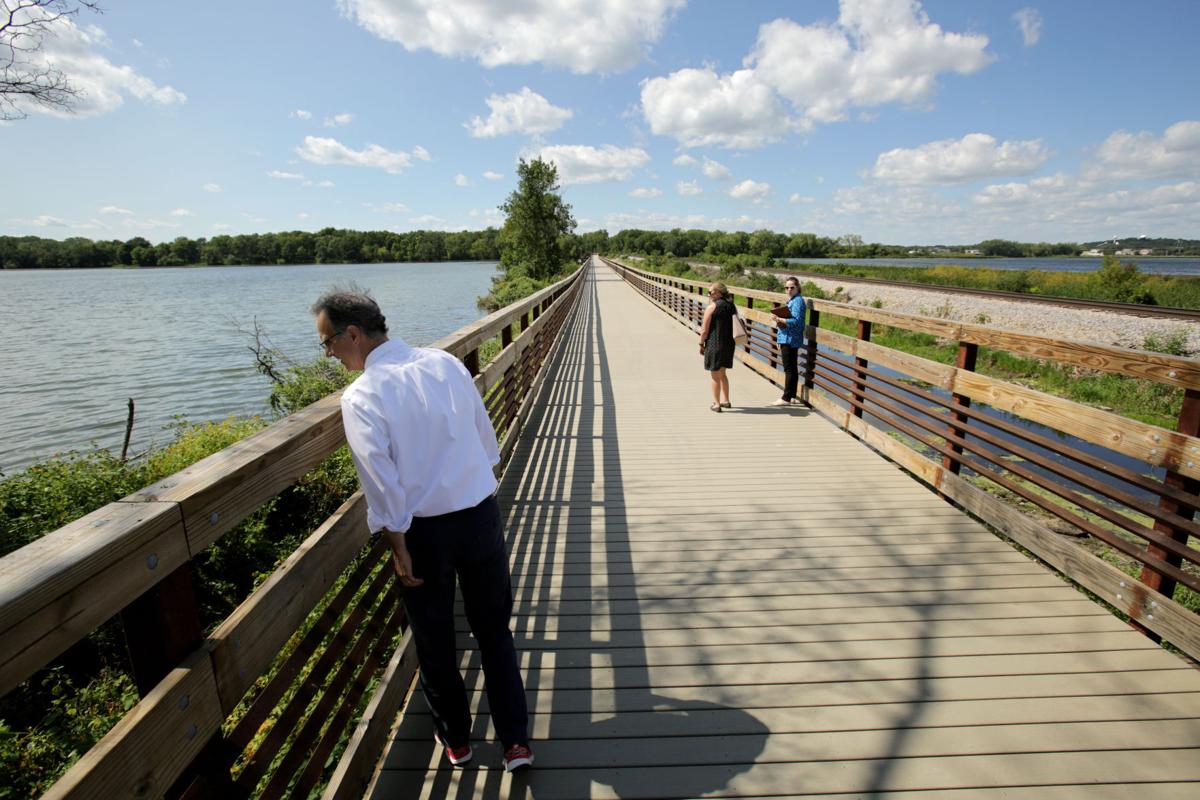 After years of anticipation, McFarland will be connected to the Madison area's vast network of bike paths by an off-road trail that includes Wisconsin's longest bicycle bridge. 
The approximately $8 million, 2.5-mile Lower Yahara River Trail features views of Lake Waubesa, Upper Mud Lake and the surrounding wetlands to the prairie habitat of Lake Farm County park. The trail opens Sunday afternoon. 
The trail will link McFarland via McDaniel Park to the Capital City Trail and is the first segment of a planned 11-mile trail that will eventually connect to Stoughton, adding to the county's 150 miles of off-road bicycle and pedestrian trails.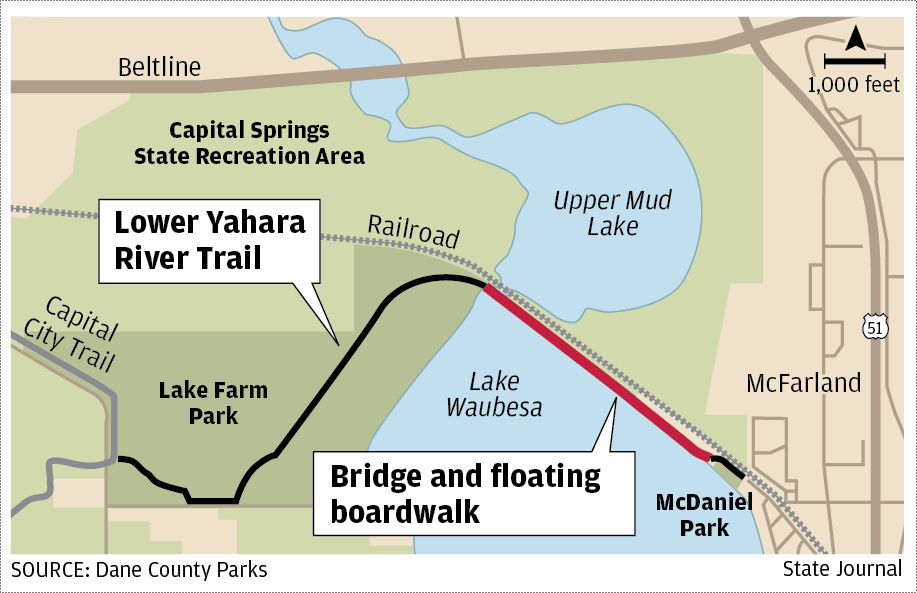 "This is a really important piece. Not only does it connect two parks, but it connects McFarland to the Cap City Trail, which one can take all the way into the city of Madison and connect to a vast network of bicycle trails," said Dane County Executive Joe Parisi.
After passing through Lake Farm Park, the trail crosses a bridge between Upper Mud Lake and Lake Waubesa on Madison's South and Southeast sides, then follows the northern shore of Lake Waubesa to McFarland. The elevated portion of the trail runs for about a mile, making it the state's longest dedicated bicycle bridge and boardwalk. At times, the trail runs adjacent to railroad tracks.  
"I've been getting calls for 30 years for something like this," said Madison Bike and Pedestrian Coordinator Arthur Ross. "This is a tremendous project to see come to fruition." 
"For the past month I've been getting at least one, if not three calls a day," said Chris James, senior landscape architect for the county. 
For commuters from McFarland, the opening of the trail means a commute to Downtown Madison on bike can now be made on dedicated trails. Previously, commuters to Madison had to travel on busy roads like Highway 51, said McFarland Village President Brad Czebotar.
"There was really no other way," he said. "With the bike trail now, that would be avoided."
Czebotar said he's seen parts of the trail from his boat on Lake Waubesa and is impressed with how it looks, adding that other village residents are excited about the trail. He said expects the opening of the trail to increase the number of visitors to the village. 
For those using the trail recreationally, the trail will offer glimpses of a wide range of wildlife and plants -- and at times, trains. On a tour this week, a blue heron, turtles, kingfishers and swamp oak trees were among the animals and plants that were spotted from the boardwalk and bridge.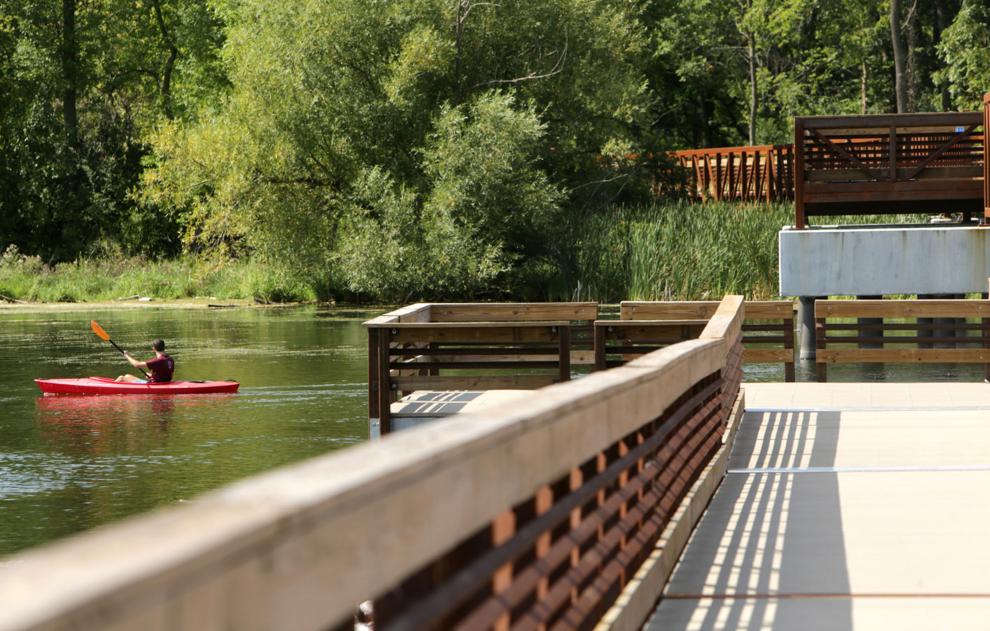 "I just hope that there's a population out there that may never get out and then they come out on this trail and then they're like, 'Wow this is so easy to see and it's so cool,'" James said. 
Unlike state trails, which require buying an annual or daily pass, the Lower Yahara River Trail is free to use.
About 12-feet wide in most spots, the bridge and boardwalk's deck is made of a mix of wood and plastic, James said. It also includes a fishing pier and handicap-accessible viewing platforms. 
Construction challenges
The narrow corridor of wetland the path was built on posed challenges during construction, James said. The Ho-Chunk Nation expressed concerns about disturbing possible Native American artifacts in the area. To avoid boring holes in the ground, the boardwalk was designed to "float" atop wooden platforms several feet above the wetlands.
Parisi said the county hopes to work with the Ho-Chunk to teach trail-goers about the history of the area the trail runs through.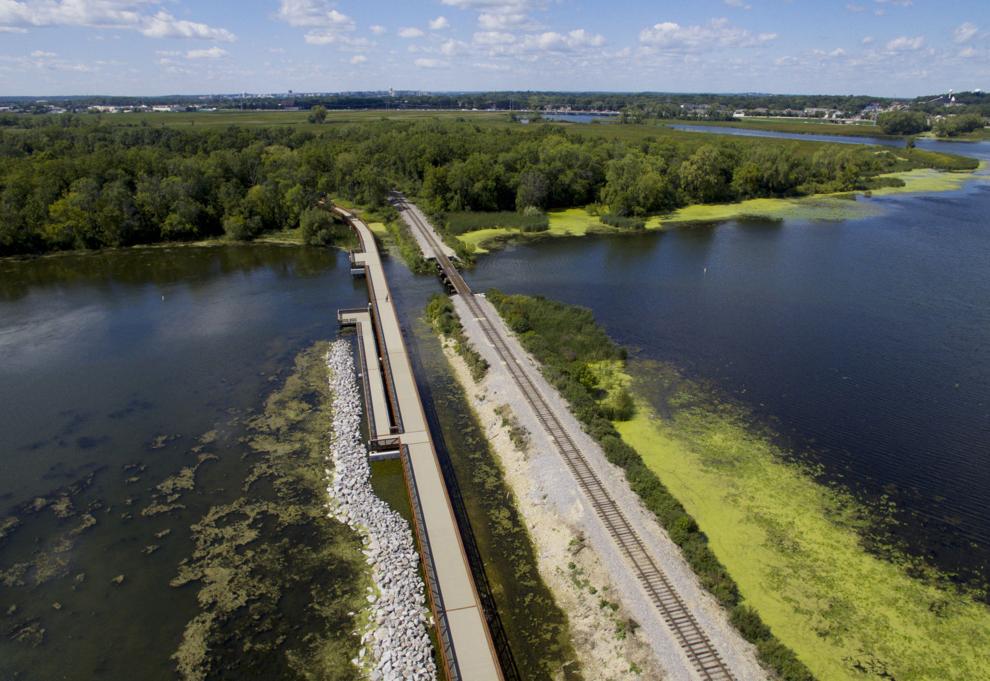 During construction, which started in the spring of 2016, James said some trees had to be cut down, but many of those were placed in Lake Waubesa to form fish habitat. Clearing invasive species like buckthorn was also a challenge, he said. 
The bridge and boardwalk has an approximately 50-year lifespan and should need minimal maintenance, James said.
Dane County paid for about $3.7 million of the project, with the federal government covering the rest.
The trail will officially open at 3:30 p.m. on Sunday, with a ribbon-cutting ceremony in McDaniel Park before. 
"I think what will strike people is that it is so close to major population areas but it is such an incredible natural experience," Parisi said. "As you walk along the trail, you are right up against the water ... it's a very stunning, easily walkable path."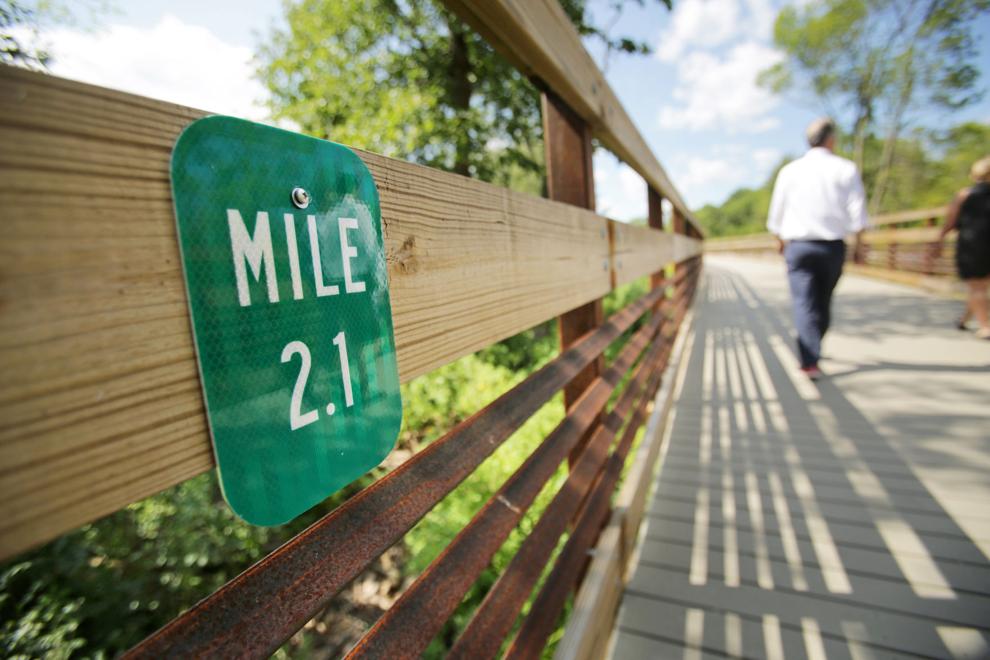 About $300,000 for the next stage of the project was included in Dane County's 2017 budget. Workers will start designing that phase, to Lake Kegonsa State Park, and should start construction in about three years, James said.
The entire project is estimated to be finished by 2025.