Protesters tore down two historic statues outside the Capitol on Tuesday evening — one that has come to represent women's rights and the other honoring an abolitionist — leaving many people wondering what purpose their removal served to advance the Black Lives Matter movement.
The destruction comes amid a national reckoning over police brutality and systemic racism toward Black people following the death of George Floyd while in Minneapolis police custody. Local leaders in other cities have removed statues of Confederate soldiers and other symbols of slavery and racism in recent weeks.
In Madison, a group of several hundred protesters on Tuesday evening took down a replica of "Forward," a statue of a woman with her right arm extended. Protesters also decapitated and dragged into Lake Monona a statue representing Hans Christian Heg, a Wisconsin abolitionist who died in a Civil War battle.
Both statues have since been recovered, and a Monona woman who raised money in the 1990s to create the "Forward" replica pledged Wednesday to again raise funds for repairs and reinstallation of the statue.
Protesters defended their toppling of the statues, framing their actions as a "strategic" move to force politicians and the public to pay attention to problems and inequities that have persisted for centuries.
But University of Connecticut professor Manisha Sinha, a leading authority on the history of slavery, the Civil War and Reconstruction, called the removal of these particular statues "misguided" because it opens the door for Confederate statue supporters to ask where the line in historical recognition will ever be drawn.
"Taking down statues of people who represent values we want to uphold is not the way to go," she said. "These were purely disruptive acts."
Sinha, who has been outspoken in the need to take down statues of white supremacists, said protesters have a right to be angry over racial injustice. The events in Madison, however, indicated to her that protesters were less focused on any symbolism associated with knocking down a particular statue and more interested in channeling their anger over the arrest of a Black activist onto whatever landmark was found within the vicinity.
Mark Elliott, a University of North Carolina-Greensboro historian who studies the Civil War, said most of the Confederate statues coming down in recent years have been hotly debated for decades. Neither of the Madison statues appeared to be symbols of white supremacy, he said, which makes protesters' overnight removal of them more risky in terms of sustaining momentum for the Black Lives Matter movement.
"The danger in that is losing people's support and having the action be seen as rash instead of as a well-chosen target," he said.
Why they fell
Part of what spurred the anger and destruction on display Tuesday evening is a refusal by state and local officials to listen to demonstrators' calls for change, according to protester Ebony Anderson-Carter.
While Anderson-Carter acknowledged the "Forward" and Heg statues stood for good causes and movements, those in power are not taking that same stand with the Black Lives Matter movement. Having those statues prominently displayed in Madison creates a "false representation of what this city is," she said.
"I just hope some people realize that sometimes you need to talk to people in a language that only they understand," Anderson-Carter said. "Stop trying to make us speak to you in your language."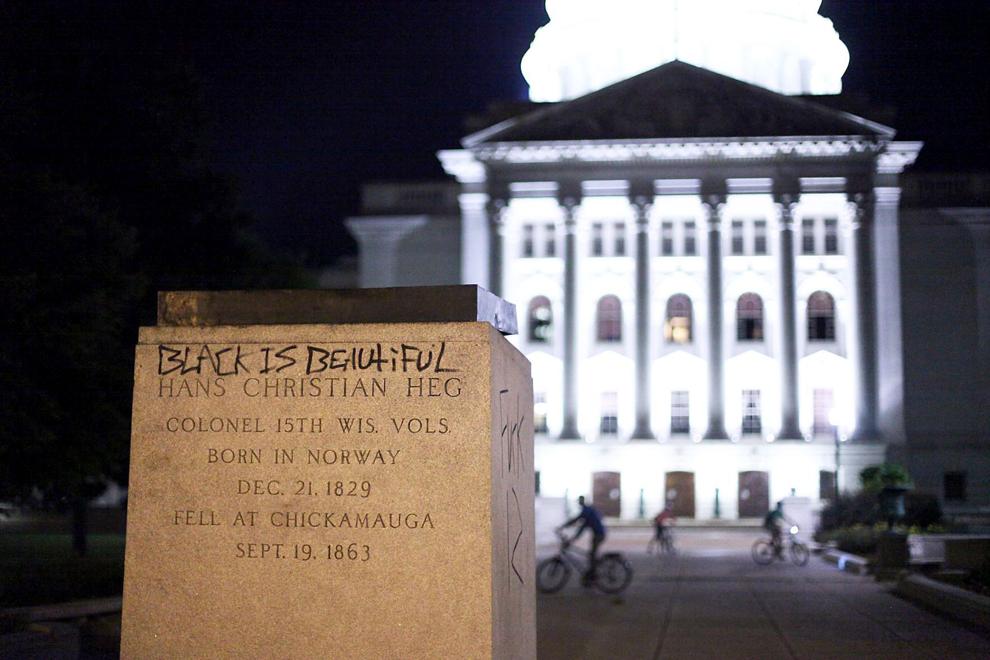 Protester Micah Le told The Associated Press in a text that the two statues paint a picture of Wisconsin as a racially progressive state when in reality slavery has continued in the form of a corrections system built around incarcerating Black people.
"The fall of the statues is a huge gain for the movement, though I think that liberal and conservative media outlets will try to represent last night as senseless violence rather than the strategic political move it really was," Le wrote.
Heg's history
The removal of the statue representing Heg dismayed Sinha, who said the anti-slavery activist's legacy should be honored, not destroyed.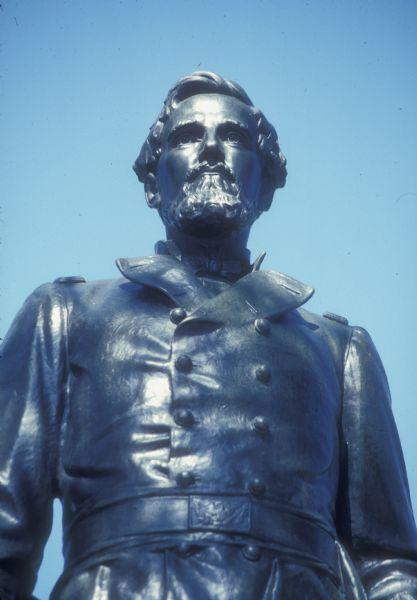 Heg immigrated as a child to Waukesha County from Norway in 1840, according to the Wisconsin Historical Society. He spent two years out West during the California Gold Rush before returning to Wisconsin to manage the family farm following his parents' death.
Heg joined the Republican Party in the 1850s and became active in local politics. When elected state prison commissioner, he promoted vocational training instead of punishing prisoners.
After the Civil War started, Heg was appointed colonel of the 15th Wisconsin Infantry. He and his group of largely immigrant soldiers trained at Camp Randall in 1861 and arrived in the South the following year. In one winter battle, Heg lost more than 100 men and his horse was shot out from under him, leading a general to call Heg "the bravest of the brave."
Heg and his troops were outnumbered by the Confederacy during a battle in Chickamauga, Georgia, in 1863. A shot to the stomach led Heg to bleed out and die amid his fight to end slavery.
Forward, again
The other statue represents the state motto, "Forward." It was cast by a Madison woman, Jean Pond Miner, to represent devotion and progress during the height of the Progressive movement.
Wisconsin women raised money for the creation of the statue, which Miner finished in 1893 as part of a commission to create art representative of her native state.
For a century, "Forward" stood on Capitol Square, but by 1995, she could no longer endure the outdoor elements, according to the state Historical Society.
Monona resident Camille Haney, who at the time had an office on the Square that overlooked the statue, decided it was worth saving. She called up Wisconsin's first lady, Sue Ann Thompson, wife to Republican Gov. Tommy Thompson, for help.
The two teamed up to raise nearly $100,000 in less than a year, Haney said, receiving donations across the state, including from the Green Bay Packers.
The original statue moved into the state Historical Society's headquarters once the replica was placed at the end of State Street, where it remained for more than two decades until Tuesday evening.
Haney was stunned by the news of "Forward" falling down. She called Thompson, who she said agreed to revive their makeshift fundraising committee. Thompson did not return a message seeking comment.
It's unclear how much repairs will cost and what the timeline is like for "Forward" to return, Haney said, but she knows Wisconsin women will once again salvage the statue.
For more information on the restoration of the "Forward" statue, email camille@camillehaney.com. The Associated Press contributed to this report.
Photos: See damage from Tuesday's protests near the state Capitol