TOWN OF BLUE MOUNDS — One of the most well-traveled churches on the planet may be on the move again.
Armed with flashlights, wooden folding rulers and cameras, a four-man delegation from Norway is spending this week checking out every nook and cranny and evaluating the condition of a replica of a Christian Norwegian stave church that has called western Dane County its home for the past 80 years.
On Thursday, the group liked what it saw. And if all goes well, a centerpiece of the now-closed Little Norway tourist attraction could be taken apart by this summer, packed into shipping containers and sent back to Norway. That's where it was originally built and then taken apart and shipped for an exhibit at the World's Columbian Exhibition in Chicago in 1893.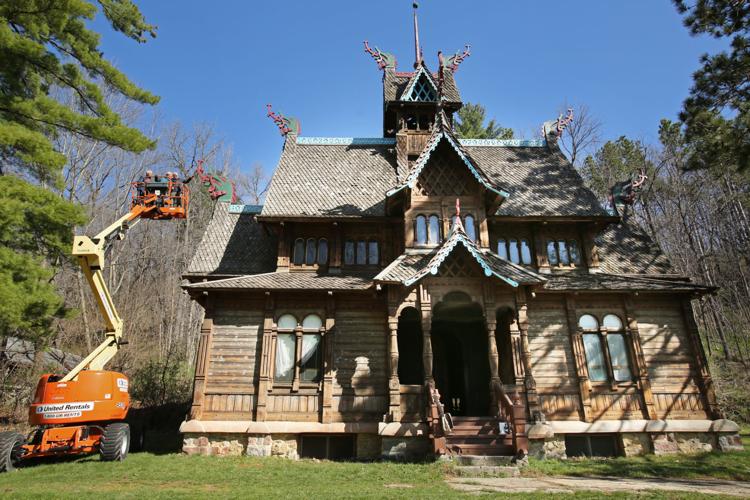 "It looks good," said Arne Asphjell, 69, who was born in Orkdal, Norway, where the church was built. "It has to be structurally sound and not (have) too much rot, not too much insects or ants. After 122 years, it's (held) up very well."
Asphjell, who studied science writing at UW-Madison for a year in 1987, was joined by fellow countrymen Ansgar Selstoe, Ingebrigt Ustad and Oddmund Stenset, whose wife's grandfather helped build the church and create relief carvings around the main entrance. Stenset had visited Little Norway in September to see the church, which began talks of moving it back to Norway in the same town where it was built.
"It's hard for me to think about it not being here. I mean, truly, every day I wake up and there it is," said Scott Winner, the fourth generation to care for the 40-acre property near Cave of the Mounds since 1927. "But if it can't be here, what a romantic idea, to have it go back to Norway."
After the inspections this week, a report will be given to the Orkdal City Council. If it likes the report, the council could agree to provide the estimated $800,000 needed to buy the building from the Winners, the deconstruction and shipping costs to Norway.
From Medieval period
Stave churches, according to the Norway tourist board, are considered to be among the most important examples of wooden Medieval architecture in Europe. At one time there were more than 1,200 stave churches, most built between 1150 and 1350, in Norway but many disappeared due to the Black Death and the Reformation. The last stave church to be lost was in the 1890s, and today just 28 remain.
The country's oldest is Urnes stave church in Luster in the Sognefjord area and was constructed in 1130. The most visited and photographed is the Borgund stave church, built in 1180.
In the U.S., there are eight stave-style churches, three of them in Wisconsin. In addition to Little Norway, the other two are in Door County: Boynton Chapel is in Bailey's Harbor, and the other is on Washington Island where, in July and August, services are held on Wednesday nights.
Little Norway and its collection of log buildings, the church and natural springs, opened in 1937 but closed in the fall of 2012 after lagging attendance and increasing costs. In 2014, Winner and his wife, Jennifer, began selling and donating most of the 7,000 Norwegian artifacts that filled many of the buildings. Some have gone to the Museum of Wisconsin Art in West Bend, the Mount Horeb Historical Society and to the Norwegian Heritage Center under construction in Stoughton.
A building is a different endeavor, but this particular structure is used to the process.
The church was designed by Waldemar Hansteen, who was hired by the builder, Christian Thams, a Norwegian industrialist. The building is based on a stave church in Gol, Norway, and was constructed in just three months along a fjord in central Norway, west of Trondheim and north of Oslo.
After the six-month World's Fair event in Chicago, the building was again disassembled and moved to the sprawling Wrigley estate along the north shore of Lake Geneva. In 1935, the church, with no pews (the congregants stood) was purchased by Winner's great uncle, Isak Dahle. He had it taken apart again and shipped to his property between Blue Mounds and Mount Horeb that was settled by Osten Olson Haugen in the mid-1800s.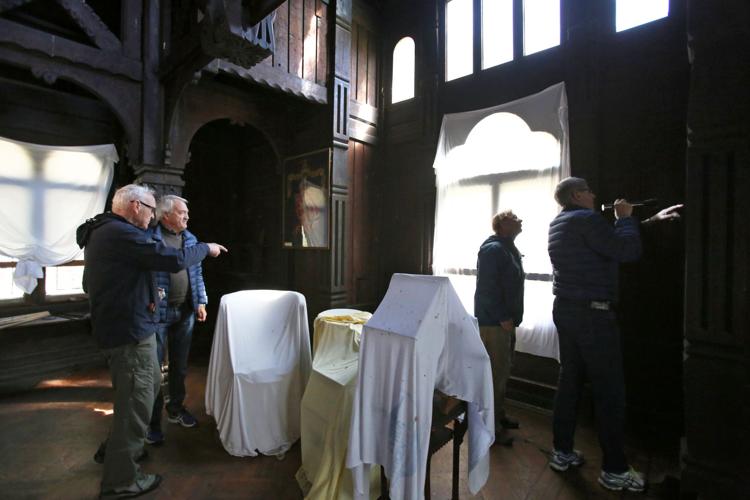 If it moves again, it would mark the fourth time the building has been taken apart and fifth time being built.
"Looking at the building, you would think that would show, but it doesn't show," Asphjell said. "That's because it was planned so well in the first place. It was planned to be taken down and put back together."
On Thursday, Asphjell and Selstoe, scoured the dark interior of the Little Norway church looking for numbers that had been painted long ago in reddish orange paint. The numbers are believed to have been used to help workers rebuild the church after it was taken apart. Selstoe spoke in Norwegian as he found hashtags and numbers.
Outside, Ustad and Stenset were perched in the bucket of a rented lift operated by Winner. It allowed the men to get a close-up view of wood ornamental dragons near the roof and a look at the condition of the eaves and upper windows.
If it is moved back to Norway, there will be plenty of help to rebuild the church.
"Lots of people want to take part in this," Asphjell said. "I don't think it will be a problem getting volunteers."
Be the first to know
Get local news delivered to your inbox!