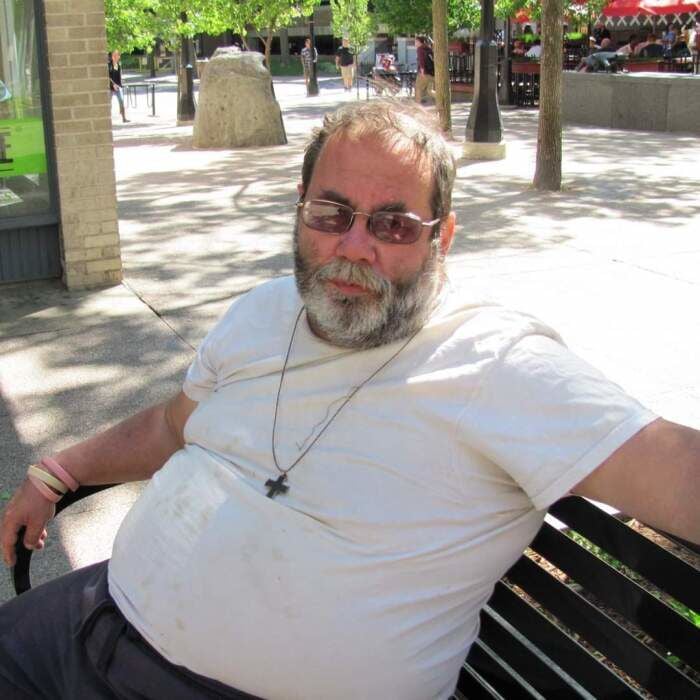 Dan Mathison, a character of the State Street area commonly known as "Scanner Dan" and "Fireman Dan" because of his love for carrying around a fire and police scanner, died Monday at 62 from congenital heart disease.
Although the nickname was how he was known to hundreds in the Madison community, his sister, Lori Mathison, said her brother "hated being called 'Scanner Dan.'" She said her brother had a disability, and many people used the name as a way to "make fun of his eccentricity."
She spoke with the State Journal about her big brother's death because she didn't want people to continue calling him the nickname. She said the name "made it a joke."
"It might have become a term of endearment, but it wasn't at first," she said. "He didn't mind 'Fireman Dan' because he loved the Fire Department."
Mathison would hang out on State Street and Library Mall during the day and talk with families, children, parents of college students, sorority members and other residents, almost always with his scanner.
Sometimes he would show up to police calls to watch how officers, firefighters and other responders handled the emergency. Other times he would just listen on the scanner, his sister said.
She said her brother's interest in firefighters and law enforcement started when they were children. He loved their uncle, who was a fire captain. Lori and Dan would visit their uncle at the fire station together.
"He just adored my uncle," she said. "He fell in love with the Fire Department from that point on."
He also loved World War I and II, the Bucks, the Packers, any kind of women's sports and the Navy. He would have joined the Navy if he could, his sister said.
Perhaps even more than his scanner and sports, he loved chatting with people.
Friend to all
Mathison had a photographic memory, so he remembered the names of everyone he met, his sister said.
"He was just a really outgoing, social person. Just a very kind man," she said. "He was kind of like a little greeter, like a little ambassador."
At one point, Mathison even became an honorary sorority member because of the college women he befriended. The Badger Herald student newspaper reported in 2003 that he called many sorority sisters his wife, and yelled out "I love you" to some of them when they walked by.
Amy Winters, a friend of Mathison, said he would hang out with her when she worked at the Oakhouse Farm Cookie Cart on Library Mall years ago. She said he was always kind to her, and, "You could not have a conversation with Dan without feeling uplifted and happier."
Winters said Mathison probably has an unofficial world record for the greatest number of engagement proposals. She said he was "just a huge flirt."
"He was a mix of hilarious, charming, smartass, innocent and wise," Winters said.
Liked sports
But some people were uncomfortable with some of Mathison's behaviors.
Andrea Lerum, 49, said Mathison would come to high school basketball games when she was a student at La Follette from 1985 to 1989. He would always wear a light blue sweatshirt and jeans while carrying around the scanner, which Lerum thought was a Walkie Talkie.
He would say, "Hi", and try to make conversation with the students, Lerum said. She and her female friends would giggle and scurry away.
"When we were freshman, everyone was like, 'Oh, that's just Fireman Dan,'" Lerum said.
Lerum said she felt he was just lonely and wanted people to talk with, but "a lot of parents were really uncomfortable with him being there." She noted that anyone was welcome to come to the games, and the basketball team was really good those years.
Lori Mathison said she, her brother and her two other sisters went to La Follette. She said her brother went to the games because he loved sports and wanted to support the team.
More underneath
Vicki Mathison, another of Dan's sisters, said many people didn't understand his disability. Since he was born in the 1950s, there wasn't much support for him in school and he didn't get the same educational opportunities as children with disabilities do today.
"It really was either 'regular' or 'not regular' back then," Lori Mathison noted.
Many people never realized how smart her brother was, she said. He could take apart a piece of machinery, such as a small appliance, put it back together again and "know it intently."
Although Lori has been grateful for all the support for her brother over social media, she said she also has been a bit overwhelmed.
"We're just trying to grieve," she said.
She said instead of sending flowers, people should donate to Options in Community Living, a Madison nonprofit that provides support for adults with disabilities. She said the organization helped Dan.
Be the first to know
Get local news delivered to your inbox!