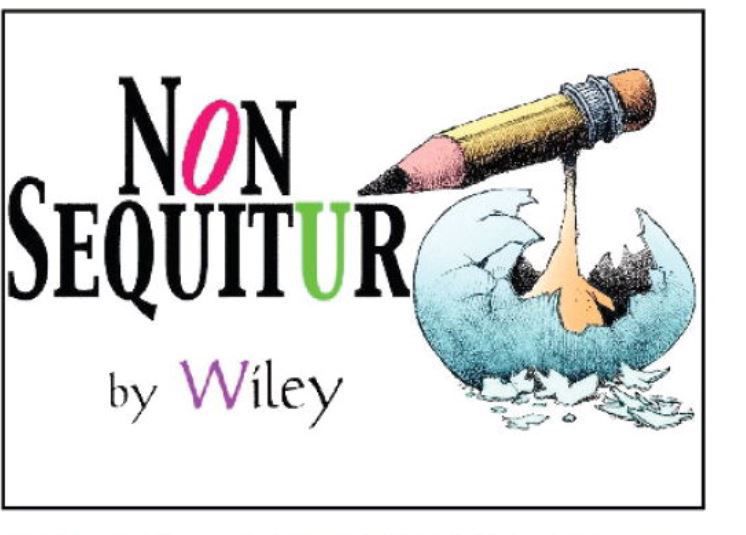 The Wisconsin State Journal has decided to search for a new comic panel to replace "Non Sequitur" after eagle-eyed readers across the country found that Sunday's comic contained a vulgar message directed toward President Donald Trump.
In a statement Monday, cartoonist Wiley Miller said he hadn't intended for the partly legible scribbling in the cartoon to become public.
In the bottom corner of Sunday's panel, Miller had scribbled what looks like "Go F—- yourself Trump."
"I now remember that I was particularly aggravated that day about something the president had done or said, and so I lashed out in a rather sophomoric manner as instant therapy," Miller said in the statement. "It was NOT intended for public consumption, and I meant to white it out before submitting it, but forgot to."
Editors at Andrews McMeel Syndication also missed the language in their editing process and apologized to newspapers and readers.
State Journal editor John Smalley said the newspaper has a longstanding general policy to avoid the use of gratuitous vulgar language.
Miller's tweet on Sunday about the inclusion of the vulgarity, calling it an "Easter egg" and encouraging readers to look for it, was a deciding factor in the newspaper's decision to drop the strip, Smalley said.
"We just can't abide that kind of careless offense on the comics pages," Smalley said. "It's a great comic in general, but Miller really violated our trust. We feel we have to move on without him."
The Washington Post is reporting that multiple newspapers have announced that "Non Sequitur" is being dropped from their comics pages.
The State Journal intends to find a new comic in both the weekday and Sunday newspapers. Until a choice is made, we are offering "Cornered" by Mike Baldwin.
Be the first to know
Get local news delivered to your inbox!