BLANCHARDVILLE — Kriss Marion has grown organic vegetables, founded a farmers market and at one time operated a community-supported agriculture (CSA) business with 165 customers.
She's raising Berkshire pigs that playfully sprint around their pen, unaware that they'll be butchered in November after they reach about 250 pounds. Marion has a herd of goats and flock of sheep that are protected from coyotes by Willie and Waylon, two massive white Great Pyrenees. But the chickens have vanished. They were eaten by a ravenous hawk in the spring when Sunny, an alert Australian shepherd/blue heeler, died after 15 good years.
That's why Marion, 51, is raising about a dozen chicks in the lower level of a former dairy barn and has Dolly, a rambunctious 8-week-old blue heeler puppy in training, to take Sunny's place.
"She doesn't know how busy she is going to be," Marion said Friday during a tour of her Circle M Market Farm B&B, located just north of the Pecatonica River and just outside this Lafayette County village of about 825 people.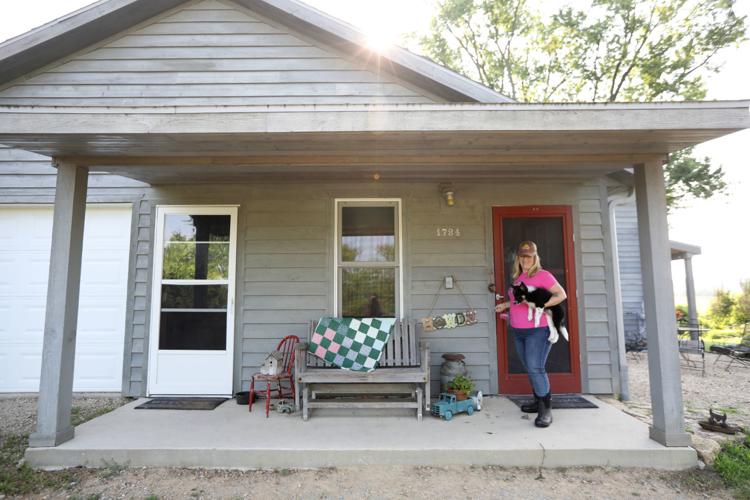 But the critters, which include a Toulouse goose, are only part of the equation of the 135-year-old farmstead that Marion and her husband, Shannon, purchased in 2005, just prior to bolting Chicago.
The couple has transformed the property into a bed and breakfast that, in addition to the two rooms in the farmhouse, includes a trio of vintage and restored camper trailers that also are part of the accommodations. Marion is active in local politics, fought to get state lawmakers to change the law to allow home kitchens to be used for small-batch commercial baking, and is now focused on the water quality of private wells.
More impressively, Marion is just one of the Soil Sisters, a group of about 225 women who farm, garden or just simply like good food. They also are collectively trumpeting the alternatives of the rural economy where thousands of dairy farms across the state have been shuttered over the past 15 years and hundreds more are likely to close this year due to low milk prices, rising costs and debilitating tariffs.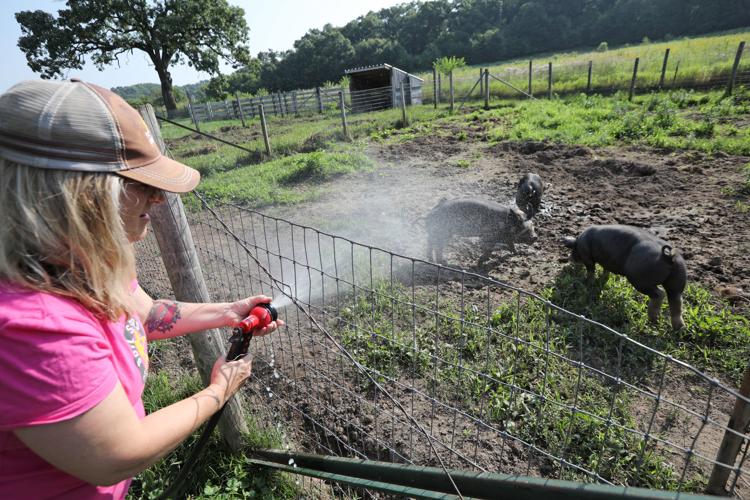 "I got into local government because I was concerned about water and economic development," Marion said, while sipping a cup of coffee on her back porch that is shrouded by a silver maple tree big enough to hold four swings. "Farms are going out of business, so how do you sustain the little towns? The big thing about Soil Sisters, in addition to just helping each other stay afloat, is that we have tried really hard to think how can we sustain our small towns and we think local food economies are the way to do it."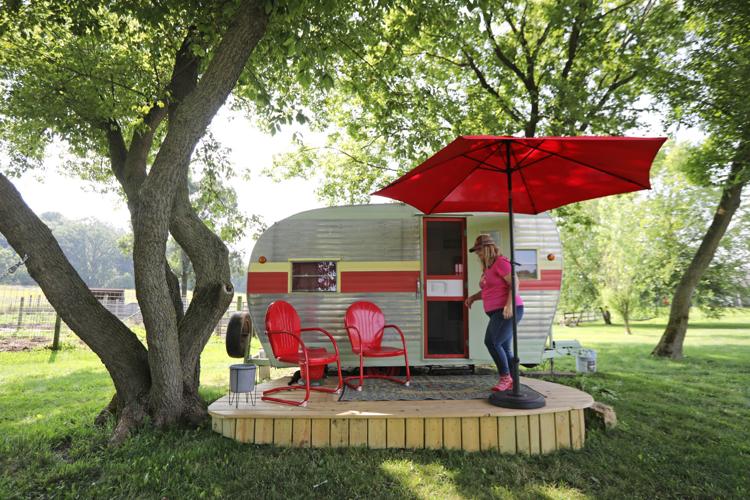 That's why some of the sisters will spend next weekend giving country and city folk alike an up-close view of their production, CSA and hobby farms, gardens and rural bed and breakfast operations as part of the eighth annual Soil Sisters Weekend. The three-day event includes ticketed bus tours of 20 properties in and around Monroe, New Glarus, Blanchardville and Brodhead. There will be specials at local restaurants in addition to a farm-to-table dinner, fish fry and even a pizza farm event that uses locally made cheese, beer and sausage.
Workshops will include one that looks at start-up strategies for would-be women farmers and is part of the "In Her Boots" project of the Midwest Organic & Sustainable Education Service. Other classes include working with wool, making crackers, cheese and body-care products, starting a CSA and how to start a food business from your home. There's even a workshop on how to "gain a better understanding of firearms you already own and their utility around the farm." It's being taught by a pair of gunsmiths and their wives, who are both military veterans.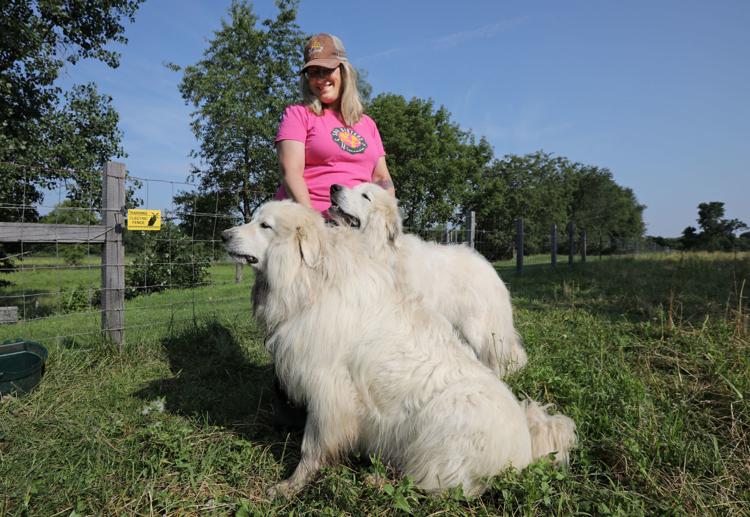 You have free articles remaining.
Register for more free articles
Stay logged in to skip the surveys
"Women make up one of the fastest-growing groups of new farmers across the country and here in Wisconsin," said Lisa Kivirist, coordinator and one of the founding members of Soil Sisters. "We want to share their stories. We feel a strong commitment to building a strong community and local food. The more folks who know who their farmer is and where their food comes from, the stronger we all are."
Kivirist and her husband, John Ivanko, quit their jobs at a Chicago advertising agency and in 1998 opened Inn Serendipity just a few miles north of the Illinois border in southern Green County. The couple's farm and bed and breakfast is powered by 100% renewable energy and includes photovoltaic systems, a solar-heated straw bale greenhouse and a Tesla charging station. The business has garnered national recognition and awards and even has its own bakery that pumps out Latvian sourdough rye bread, farmstead butterhorn rolls and muffins. Kivirist was among those who successfully fought to change home baking regulations in 2017.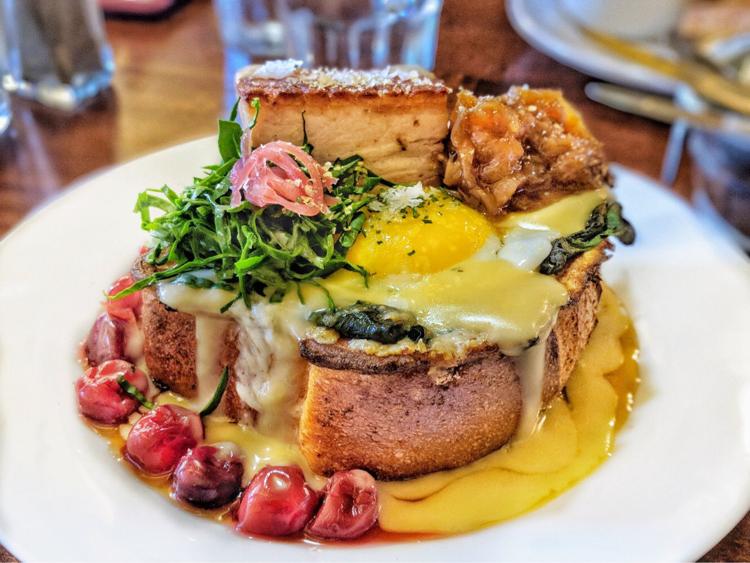 But more than 10 years ago, Kivirist began connecting with other women farmers and business owners in Green County which ultimately led to monthly pot luck dinners where those in the room would exchange ideas, discuss problems and talk about ways to improve their operations. The gatherings not only led to the creation of the Soil Sisters program, but the creation of other businesses such as the Cow & Quince restaurant in New Glarus and Landmark Creamery in Paoli, both founded in 2014. Now, the potlucks draw women from several counties, some more than two hours away.
"We need innovation in agriculture," Kivirist said. "Agriculture is our state's heartbeat and it's what our rural heritage is built on. I find it really exciting and inspiring to see farmers, particularly the women in our Soil Sisters, doing things differently and trying things out and sharing that commitment to our heritage."
Bethany Storm had been living in the Chicago suburb of Boling Brook where she had maxed out her quarter-acre lot with vegetable and flower beds and fruit-bearing trees. Her husband travels for work installing large commercial heating and air conditioning systems, so in 2013, after Storm went on a Soil Sisters tour, the couple purchased five acres and built a home in a rural subdivision along Highway H between Blanchardville and New Glarus.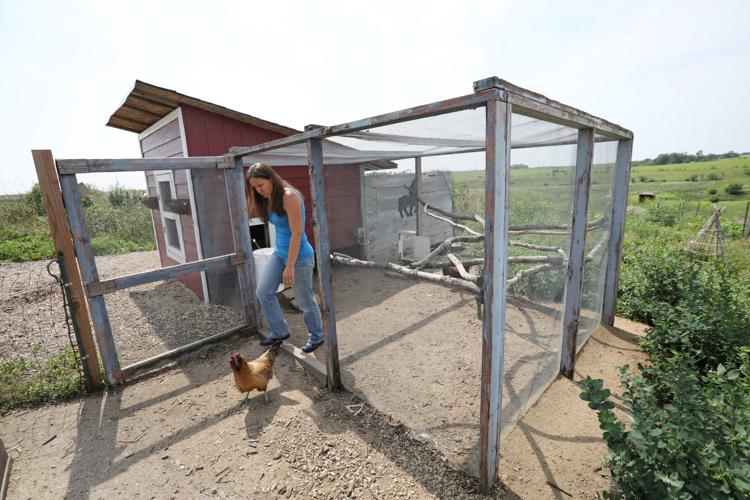 The back deck offers panoramic southern views of rolling traditional farmland, while her Little Red Farmstead property is covered with perennial flowers, vegetables, berries, a pumpkin patch and fruit trees. She also has two resident sheep and six market lambs that will be butchered this fall. There are 18 laying hens and a pair of ducks that supply eggs, and for the past two years she's been milking two goats that produce about two quarts of milk a day that is used by her family and to make cheese, fudge and soap. She relied on fellow Soil Sisters to help get started milking the goats, something she had never done.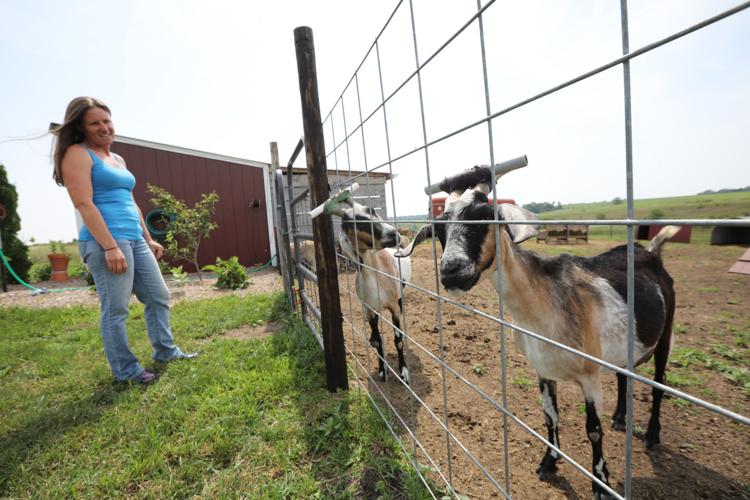 "I think I cried," Storm recalled of her first attempt at milking a goat. "She didn't know what to do and I didn't know what to do. It was both our first time, so there was a lot of juggling and kicking over the milk bucket and hopping around."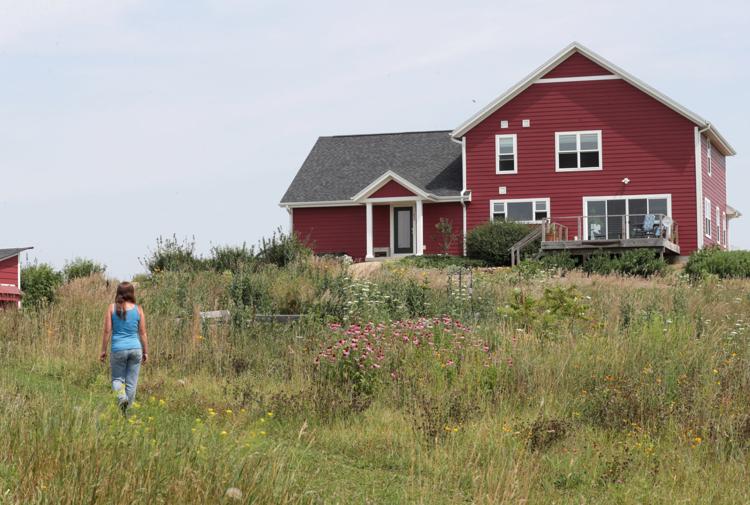 Storm, 42, a retired biologist who years ago spent time working on restoration projects in the Florida Everglades, has plans to add pigs next spring, but is now spending some of her time as a volunteer monitoring phosphorous levels in Dougherty Creek, a highly regarded trout stream. Its headwaters, created by five springs, are just a few hundred yards down the hill from her farmstead and adds another dimension to Storm's stewardship of the land and her role as a Soil Sister.
"I never thought I'd be a farmer," said Storm, whose farmstead is part of next weekend's tour. "It's possible at any scale. It doesn't have to be huge. You can take the pressure off of the food system as it is today by just keeping it local and doing it yourself."