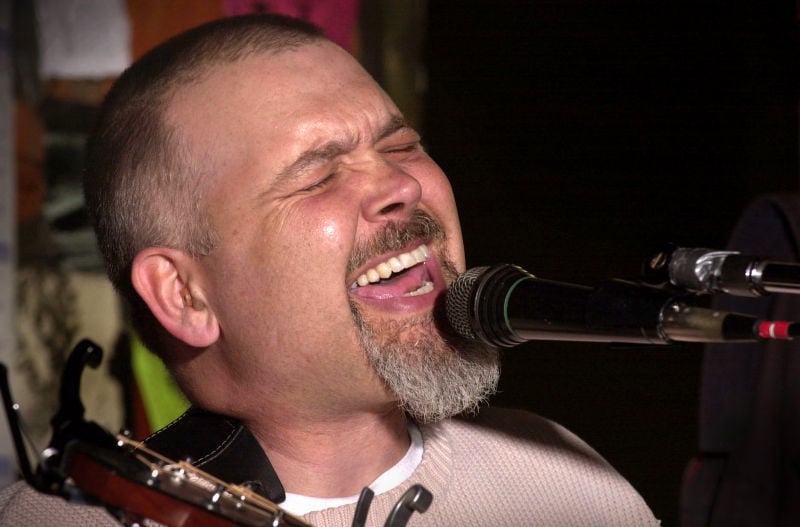 Local singer-songwriter Marques Bovre knew he wasn't guaranteed a tomorrow more than 20 years ago when he wrote what was arguably his best-known song, "Virgin Shades." Bovre, 50, who died Monday from brain cancer, penned these lines:
"Since late last night down in the hueless kingdom
A thought did travel across my mind
That tomorrow's got no guarantees stamped on it;
That's why today I'm going sun-blind."
One of Madison's most treasured musicians, Bovre was diagnosed in August 2011. Since then, he put on two well-received shows at the High Noon Saloon, a benefit in December 2011, and a 50th birthday party and CD release event on Father's Day in June.
The benefit featured Bovre and his reunited band, as well as more than a dozen musicians singing Bovre songs. It was so profound, it moved longtime concert promoter Tag Evers to call it the highlight of his career.
Evers wrote on his website that the show reaffirmed everything he loves about live music. "The sense of community in the crowd, the laughter and the smiles and, yes, the tears."
The formidable Madison roots rock band Marques Bovre & the Evil Twins formed in November 1987, and bassist Doug Craemer-Meihsner remembers Bovre, who devoted his life to music, as "always very driven and focused."
MBET went on to put out 12 albums, including 2012's "The Soul You Save." Bovre also released five solo albums and two recordings with his recent band, SoDangYang.
Craemer-Meihsner had known Bovre since childhood and calls him an enormous influence and inspiration. "I've never known Marques to think of himself as important," he said. "Certainly, his songs have touched many people."
Guitarist Brian Bauhs, known as Linus, said he most admired Bovre's abilities as a songwriter. "He is somebody who had lyrics that could, on the one hand, wrestle with sort of philosophical and spiritual questions, but at the same time you could waltz back and forth getting drunk to them at the Crystal Corner Bar. That's a pretty rare combination."
The two recent shows reunited MBET, which famously played its final show in 2003 at the erstwhile Luther's Blues, ending a remarkable 15-year run before about 500 fans.
Moved after last year's benefit, Craemer-Meihsner put together a website for all of Bovre's music at marquesbovre.com with a discography, songs, lyrics and photos. Eventually it will have music and video. Any music sales the site generates will go directly to Bovre's family, he said.
Bovre, of McFarland, leaves a wife, Terese, and children Madeline and Quintin.