FOUNTAIN CITY – Karl Hoffmann wanted $100 for the cast iron, claw-foot tub he bought last year while Up North near his cottage in Crivitz.
The chamber pot he found at a resale shop had a $10 sticker, but the three remaining 7-week-old kittens in the nearby carrier were free.
Meanwhile, Nellie, a pregnant and plump 6-year-old golden lab, waddled her way up and down the sidewalk here where Hoffman was having a garage sale.
In a few months, Nellie's litter will also be up for sale at $325 a pooch.
"I should have a sign on her back," Hoffmann joked about Nellie, who is expecting 11 puppies. "She's a great duck retriever."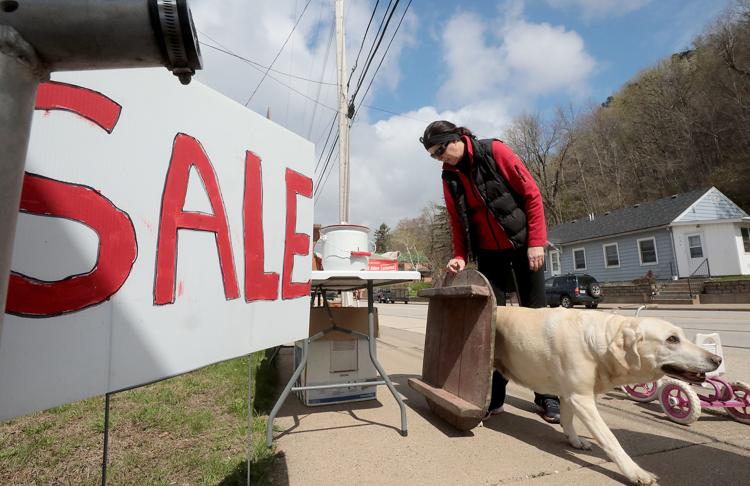 The weird, unusual, living and vintage are all on display – and for sale — this weekend with the spring ritual known as the 100 Mile Garage Sale. Many towns, villages, cities and neighborhoods set aside specific dates throughout the spring and summer in an effort to group together sales and maximize the crowds.
But along both the Wisconsin and Minnesota sides of the Mississippi River this weekend, 22 communities have joined together to create a string of sales, many of them just feet away from the passing traffic on the Great River Road.
On Highway 61 from Hastings to Winona, Minnesota, and on Highway 35 from Prescott south to Fountain City, Wisconsin, the four-day event that roughly circles Lake Pepin brings thousands of people to the region that is punctuated with bluffs, barges, passing trains and historic buildings.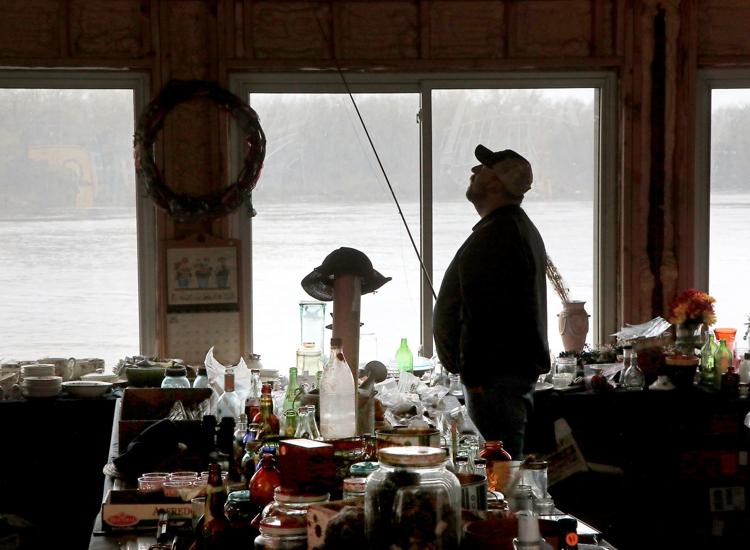 Residents along both sides of the river have always had garage sales, but according to Pat Mutter, executive director of Visit Winona, Minnesota, around 2005 the first weekend of May became the official event and was dubbed "The 100 Mile Garage Sale." The title plays off of "100 Miles of Friends," a collection of about 15 communities that promote themselves through an umbrella organization, Mississippi Valley Partners. That organization puts together a comprehensive website that lists scores of sales, their addresses and brief descriptions of the inventory.
"Each year it really changes," Mutter said when asked about the size and scope of the event. "I mean, we get people from around the United States who come to this."
And some of those visitors aren't just buying.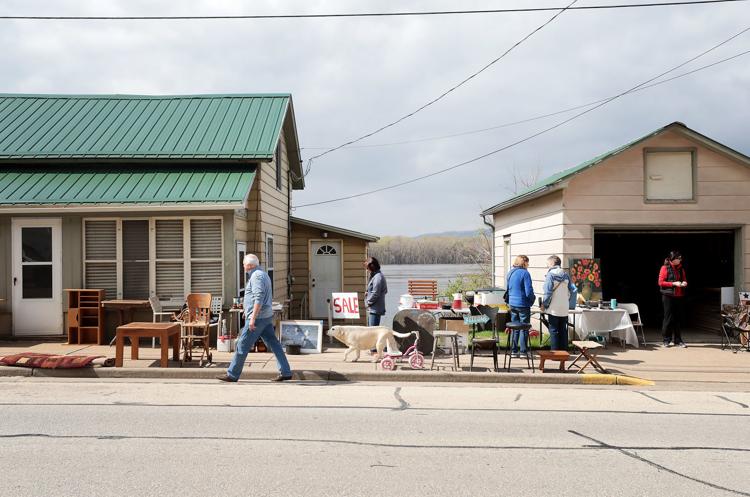 Bonna Schultz came from Gwinner, North Dakota, with a truckload of clothing to sell at a family sale in a rural subdivision between Buffalo City and Fountain City. The family has been doing a sale for about 15 years, and Schultz was quick to pull out her smart phone to show off pictures from 2013 when the sale was blanketed in wet snow.
"It was actually a good sale because a lot of people wanted to get out after the snow," Schultz said.
Her family's driveway included a CB radio, a red, three-piece set of American Tourister luggage, five waist-high vases and a Sun-Mar composting toilet that's never been used.
"We had an offer of $300 on it," said Jerry Axvig, of Moorehead, Minnesota. "It would be great for a hunting shack."
You have free articles remaining.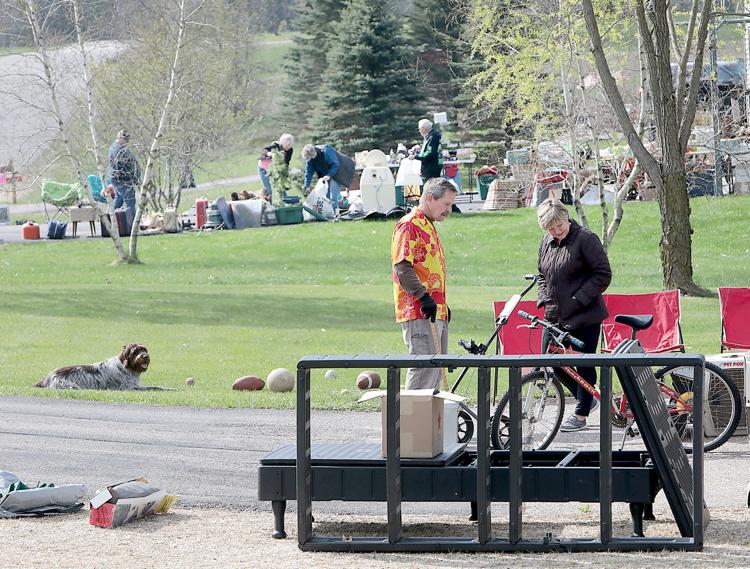 Next door, Paul and Cindy Lorenz, of Fountain City, were just hoping to make enough money to pay off the $150 plumbing bill they incurred the previous weekend while setting up the sale at their son's home. Paul thought he could easily replace the outdoor faucet so he could wash off a few dog transport crates and a bike he had stored in a barn but he broke the faucet off at the pipe. Thankfully the water had been turned off.
"I think I'm almost even," Paul said Thursday morning shortly after selling $85 in fishing lures. "It's not bad for a couple of hours of work."
Back in Fountain City, Frances Burt and her husband have an old lumber yard building stuffed with old tools, signs, outboard motors, vintage soda and beer bottles and even an A&W toboggan. There are buckets of nails, thousands of car parts and plastic bottles filled with small agates.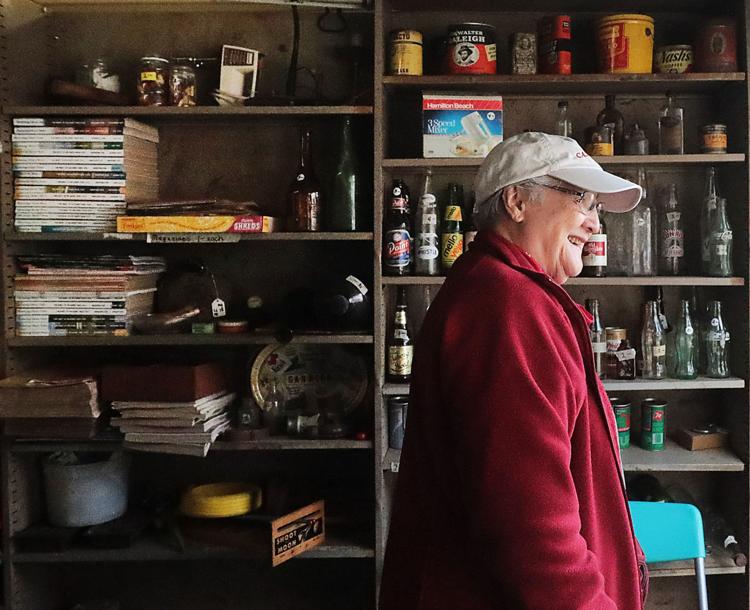 "We'd actually like to sell the building," said Burt, 81.
The couple will also likely, someday, sell one of the Great River Road's more unusual roadside attractions. Burt and her husband, John, 86, who is in declining health, own the "Rock in the House." In 1995, a 55-ton boulder broke loose from the hillside and crashed into the bedroom of Maxine and Dwight Anderson. The couple escaped death and sold the home to the Burts a few months later.
The first year the Burts owned the house, 20,000 people visited. Last year, about 3,000 people paid $2 to get a glimpse at the rock that remains embedded in the house that fronts Highway 35 on Fountain City's north side.
"We're trying to downsize," Frances Burt said.
In Alma, where the bluffs have contained the community into a two-block-wide, seven-mile-long city, history mixed with rummage.
In a cinder-block garage that at one time was used to store appliances and hardware for a local store, tables filled with items lined the building's interior. Windows in the back offered views of the swelling river and the occasional passing freight train. Other items spilled out onto the sidewalk and into the street, including a box of sweaters for $2 each, 25-cent Christmas decorations and an old metal bed spring.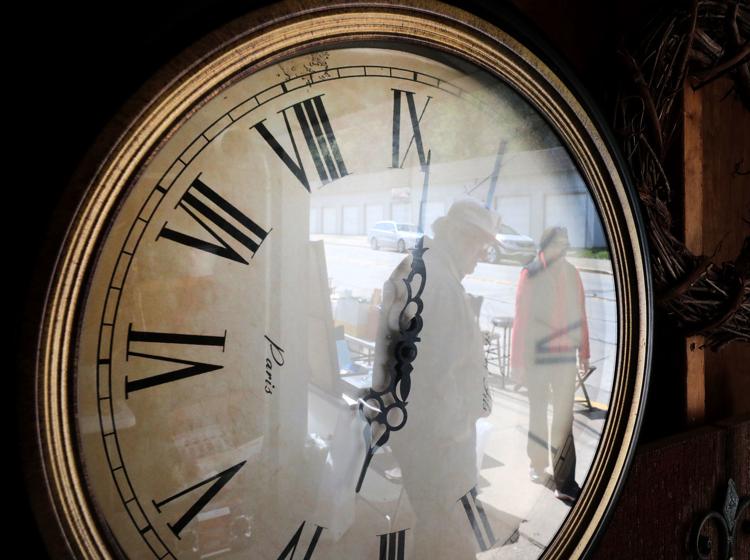 A bin also held a few dozen wooden yardsticks including some from the Bank of Mondovi, Gilmanton Co-op Creamery and the Lincoln Lumber Company in West Allis. They were all priced at $1 each but others inside were $5 apiece because of their outdated telephone numbers. The Goodrich Lumber & Coal Co. in Durand, for example, had a phone number of 28.
Robin Becker owns the building and seven others in the city and used two personal days from her job as a teacher in Eau Claire to run the sale on Thursday and Friday. Last year, she made $3,000 over the four-day event.
"We were setting up last weekend and people were stopping," Becker said. "I had sales starting at 6:15 a.m. this morning. It's been crazy."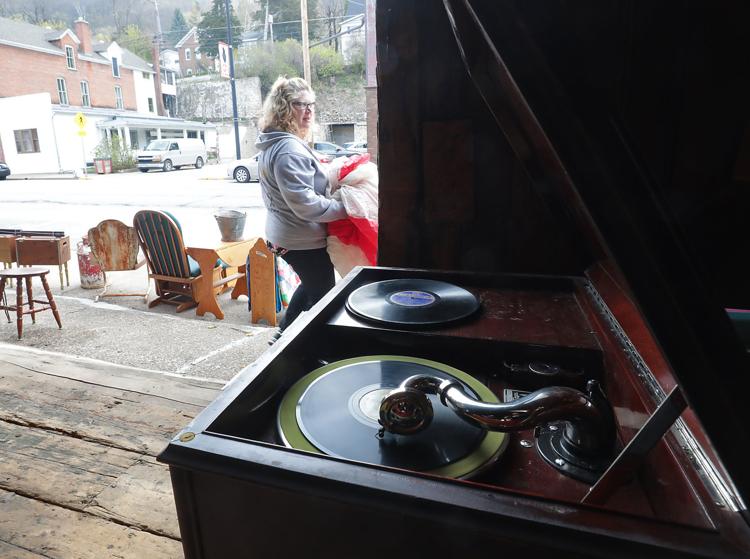 One of the neatest settings was just up the street where Gina Dyess used the old Heise Grainery barn, constructed in 1862, to hold her sale. The building still has its original wood floor and the pulley system in the rafters used to pull grain from wagons. Modern Mylar balloons with long strings, and purposefully let loose by Dyess, dotted the ceiling to discourage bats.
Her inventory, like most, was a melange of items. However, one stood out. She was asking $125 for a Victrola from the Victor Talking Machine Co. in New Jersey. The price includes a small collection of records, one featuring the song "There's a Little White House on a Little Green Hill" performed by the Cadillac Orchestra.
"It gets really busy," Dyess said of the weekend sale. "Whatever you're not looking for, you can find."
Barry Adams covers regional news for the Wisconsin State Journal. Send him ideas for On Wisconsin at 608-252-6148 or by email at badams@madison.com.