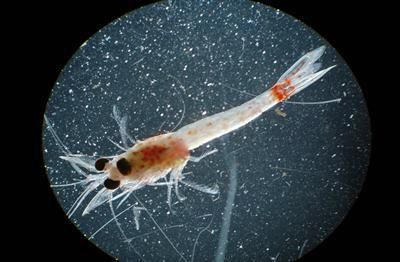 An invasive shrimp has been found in Lake Superior for the first time.
A single specimen of the bloody-red shrimp was collected from a sweep net sample taken near the Allouez Bay in Superior, the Wisconsin Department of Natural Resources said Thursday. The U.S. Fish and Wildlife Service identified the bloody-red shrimp, scientifically called Hemimysis anomala, in January.
The shrimp was first discovered in Lake Ontario and Lake Michigan in 2006 and has appeared in lakes Erie and Huron since then.
"While the impacts on other Great Lakes are currently unknown, we still want to be cautious about how we approach the management of this species," Jeremy Bates, a water resources management specialist with the DNR, said in a statement.
Bates said that while one shrimp doesn't suggest widespread dispersion, it's "a disappoint detection."
"The species, like other invasive species, are known to reproduce and spread, ultimately degrading habitat, out-competing native species and short-circuiting food webs," the DNR said.
During the daytime, the tend to stay in the shadows of boats, piers or boardwalks.
Boaters and fishers are encouraged to do what they can to reduce the inland spread of aquatic invasive species, including:
Inspecting and cleaning equipment and clothing.
Removing aquatic plants and debris from boats and equipment.
Draining water from live wells and bilge compartments before leaving the waterway.
Transporting fish they caught on ice.
Be the first to know
Get local news delivered to your inbox!