CAMBRIDGE — The U.S. Open won't only bring international attention to a relatively new course in rural Washington County south of Hartford.
The coveted golf event expected to draw 35,000 fans each day and a global television audience in the millions will show off Holy Hill, the Northern Kettle Moraine State Forest and some of the best of Wisconsin's gut-busting eats like Racine kringle, garlic cheese curds and, of course, brats from Johnsonville and Usinger's.
But another state company synonymous with a village in eastern Dane County is also part of the Erin Hills mix and is taking another step in a continued effort to revive one of the most well-known pottery brands in the country.
When Beverly Semmann self-financed the purchase of Rowe Pottery Works in 2013, the Cambridge company was hemorrhaging money and was not turning a profit. But Semmann, who has worked at Rowe since 2007, has changed the course of the company that in the 1990s helped draw busloads of tourists to downtown Cambridge but nearly went out of business in 2004 and again in 2013.
In the last four years, Rowe revenues have grown to $700,000 from $400,000. The company is profitable, has added more contemporary pottery and is planning a move later this year that will consolidate operations to a single location on the east end of Cambridge's downtown.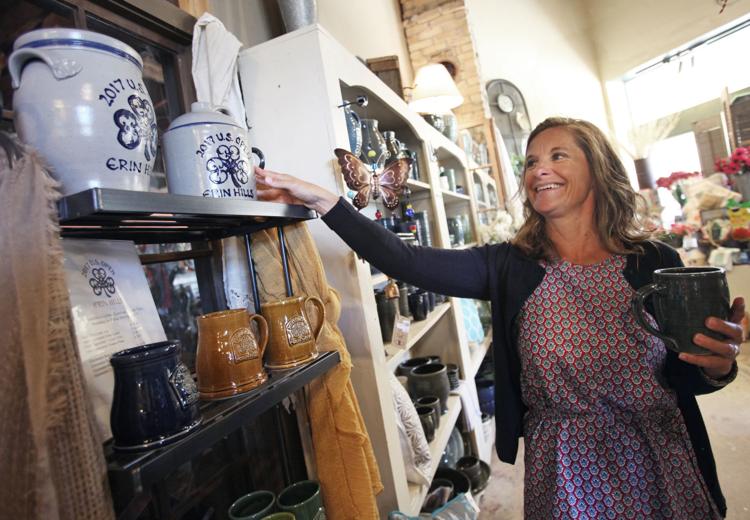 Last fall, Rowe was selected by the U.S. Open to create souvenirs for the event and since Thursday, ceramic cheese plates, mugs, beer steins, crocks and other items handcrafted by Rowe artisans have been on sale in the 39,000-square-foot merchandise pavilion that has been erected next to the Erin Hills course that opened in 2006.
"We wouldn't be in business if we only had our (Cambridge) storefront," Semmann said. "This is the type of project that is keeping us going and growing our business."
For the past few years, the U.S. Open has been selecting local artisans to create custom pieces for the event. For the 2016 U.S. Open at Oakmont Country Club in Pennsylvania, officials selected Amanda Lee Glassware, a Pittsburgh company that specializes in hand-painted drinking glasses. Rowe is one of two Wisconsin pottery companies selected for the 2017 event to create signature items that are being sold alongside stacks and racks of hats, shirts, balls, umbrellas, posters and other souvenirs.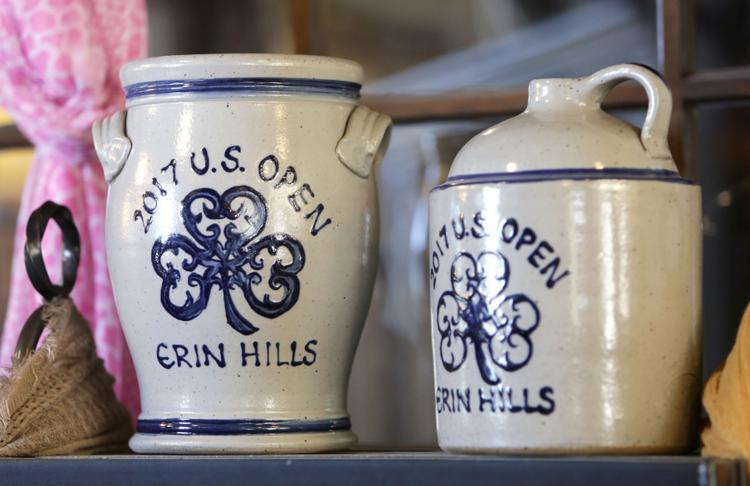 Jean's Clay Studios of Milwaukee has created 10-inch plates, vases, serving dishes, wine cups and mugs. The company, which has shown at Madison's Art Fair on the Square and was founded by Jean Wells, was commissioned to make 560 items for the golf event.
Semmann said U.S. Open officials began researching Wisconsin artisans in 2016 and, after seeing Rowe products online, they came to Cambridge in October to tour the facilities and watch production to make sure Rowe could meet demand and that the products met their quality requirements. Semmann was notified in November that her company was selected and in January details on the types, color and amount of products needed were agreed upon.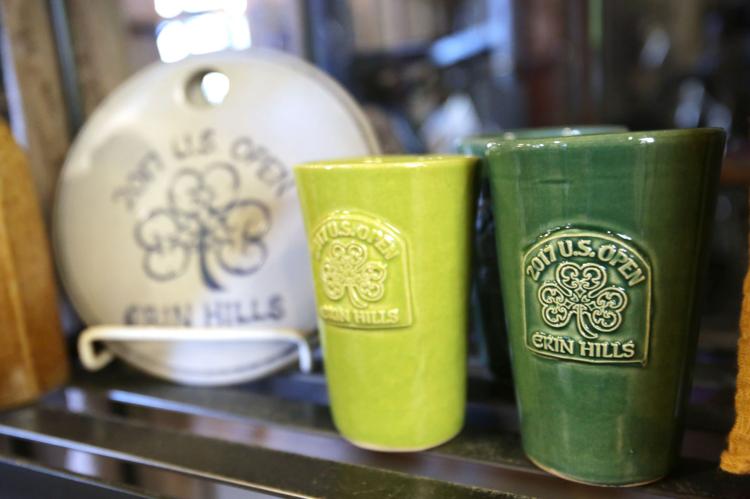 U.S. Open officials said last week they expect the nearly 2,000 pieces produced by Rowe will likely sell out so more were ordered. But because of production processes, including drying times, it can take over a week to finish a piece of pottery. However, once the tournament is over, Rowe will be able to sell the items on its own website, said Semmann, who, along with other Rowe employees, have been staffing the tent since Thursday.
"The amount of people that came through is just crazy," Semmann said after Friday's sales event at Erin Hills. "And it was just to shop. There wasn't any golf going on. We probably sold 15 percent of our inventory in the first two days."
From a one-man shop
You have free articles remaining.
Rowe Pottery was founded in 1974 by Jim Rowe, who built the business from a one-man operation into a regional destination with sales to customers from around the country. At its peak, the company employed more than 120 people, had annual revenues that exceeded $6 million and a 50,000-square-foot manufacturing facility on the village's west side. Salt-glazed Rowe Pottery, distinguished by its gray color with blue artwork, became a favorite of collectors who filled their homes.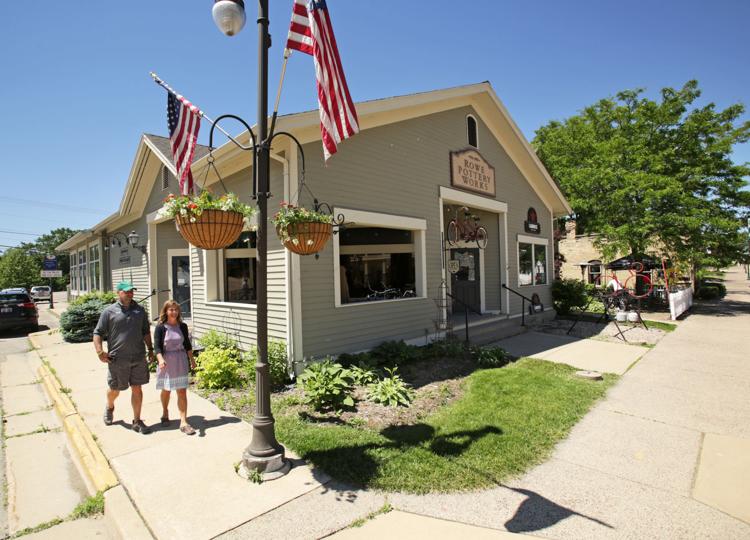 But sales slowed in the mid-1990s and by the time Rowe filed for bankruptcy in 2004, the company was down to 60 employees. Rowe tried to buy the company out of receivership, but Ed Starostovic, owner of a Sun Prairie wood certification company, bought Rowe Pottery for $880,000 in cash plus assumption of about $250,000 in leases. Starostovic's grandson, Justin Janisch, became the company's general manager. A few years later, Starostovic took over operations, but could not bring the company to profitability, Semmann said.
Starostovic was ready to close the business in 2013, but Semmann, whom he had hired in 2007 for sales and marketing, made an offer to assume leases on two buildings, purchase the kilns, use the Rowe name and retain its 25 employees.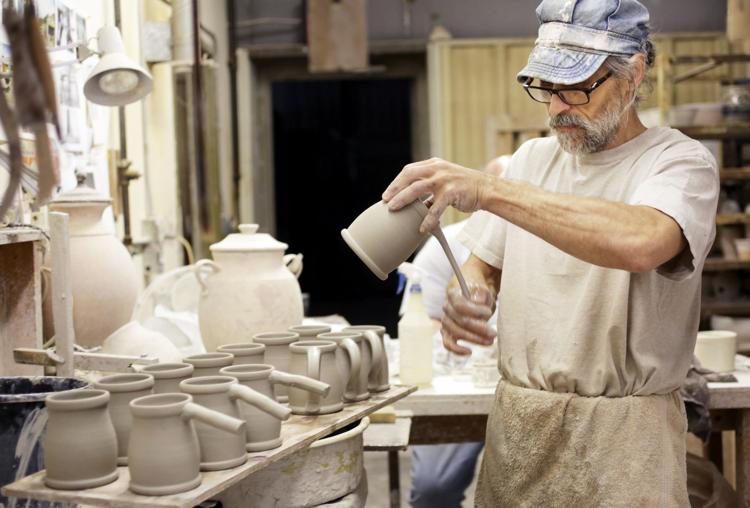 Semmann, 48, has expanded wholesale and contract work with candle companies, Redwing Stoneware & Pottery in Minnesota and with corporate clients and special events. In 2016, Semmann teamed up with Maytag Dairy Farms in Newton, Iowa, to produce 10,000 cheese crocks and has worked with Kohler Co.to produce tiles used to display color choices. More contemporary glaze ware has also been created to expand the Rowe brand to a younger audience, while products may soon start appearing in the local section of some Boston Stores. All of the changes are designed to reduce the seasonality of the business.
"We're evening out our business," Semmann said. "We went from having down times of four to five months to where we just keep spinning one product after another. It's things that keep our factory running at off-season times, which has really helped stabilize the business."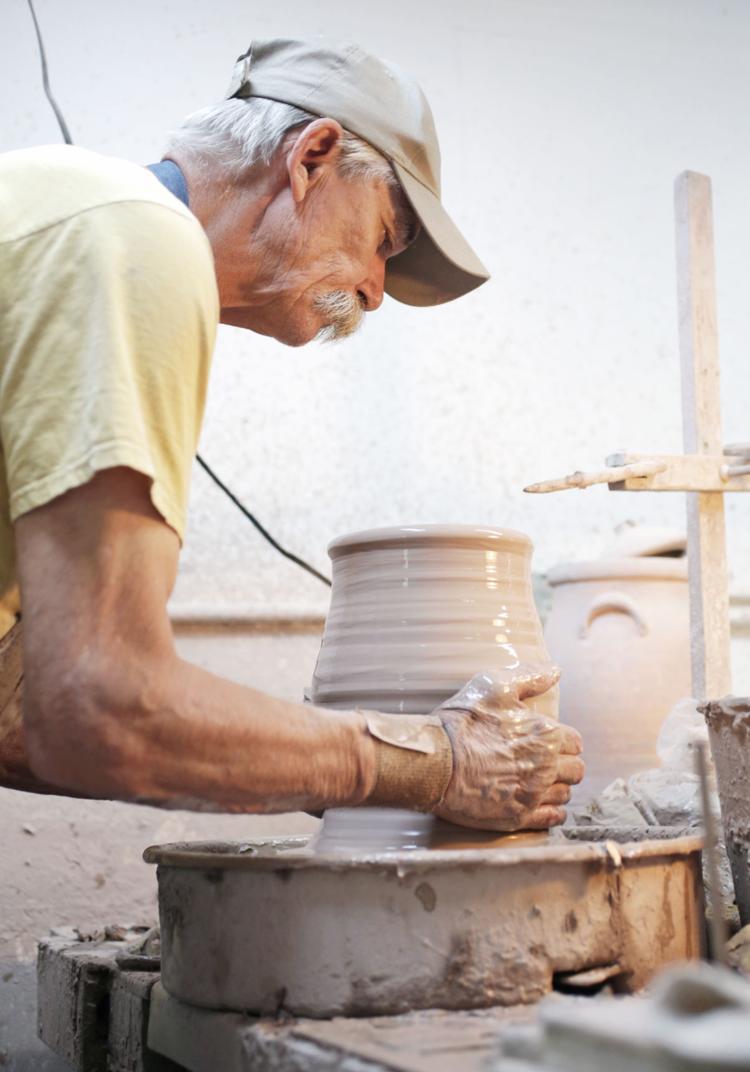 Semmann, a former marketing manager at Rayovac, used retirement funds to finance the purchase and has been debt-free. Improvements have included reducing the manufacturing facility lease down to 10,000 square feet, moving the retail operation back across the street to its original location where a new kiln was located and which reduced production errors to about 5 percent from 25 percent.
Semmann also has brought on board Mark Schwarting as her production manager. He also happens to be her significant other. The couple met about 10 years ago when Schwarting was coaching her children in youth sports. They started dating three years ago and now live together. They have five children, a 19-year-old junior at UW-La Crosse and four boys, two 14 and two 16.
'We made a leap'
Schwarting spent nearly 20 years in the golfing industry and was the longtime superintendent at the Bridges Golf Course on Madison's East Side before getting into the pottery business. In July, the Rowe operations will begin to be consolidated into one location in a more than 100-year-old building at 110 E. Main St.that has been home to Kurt's Place, a tavern that will not renew its lease. Semmann has purchased the building to house all production, retail and offices, and it will be designed to allow customers to watch the production process, similar to that of a cheese factory or chocolate shop.
"We're going to become efficient and really good at what we're good at," Schwarting said. "The business has grown to the point where I made a leap and we made a leap where we're working together. We have four boys in high school so we need to sell a lot of pottery."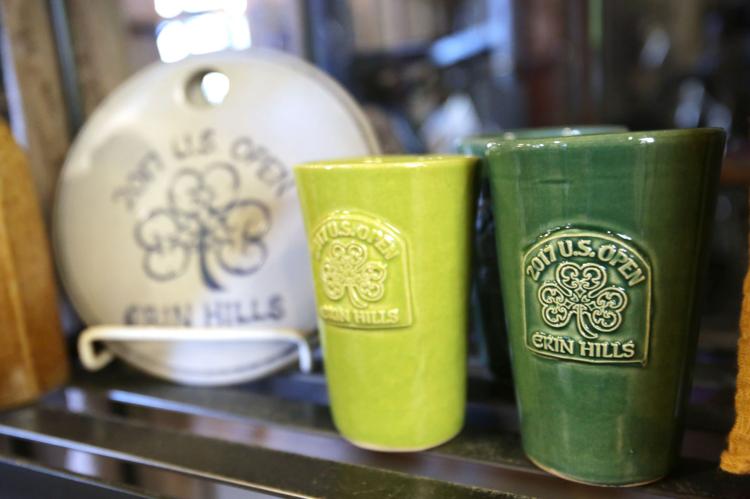 Production work is scheduled to move to the new site in October with retail and the large kiln moved to the space in early 2018 and opening for customers by April. The move will swap rent payments for mortgage payments, eliminate transporting products from the production facility blocks away, create a better experience for the customer and further enhance confidence in a business that could have easily disappeared years ago.
"It's very encouraging from what we've been through," said Lore Larson, a Cambridge native who has worked as a decorator at Rowe for 26 years. "It shows there's a future. The move is going to be awesome for everybody, even the town. It's nice to know that it's still here. We haven't gone anywhere."