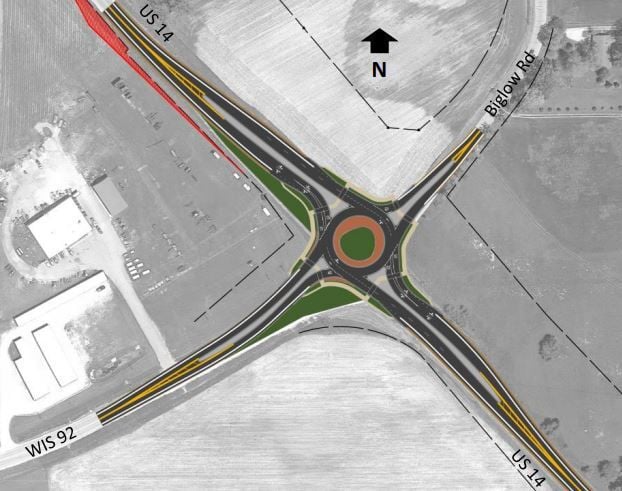 A $4 million project to turn the U.S. 14 and State Highway 92 intersection in southern Dane County into a multi-lane roundabout will begin Monday in an effort to reduce the site's history of fatal and severe-injury crashes.
The project will begin with construction of temporary pavement for traffic staging during the 2022 construction season, according to the Wisconsin Department of Transportation.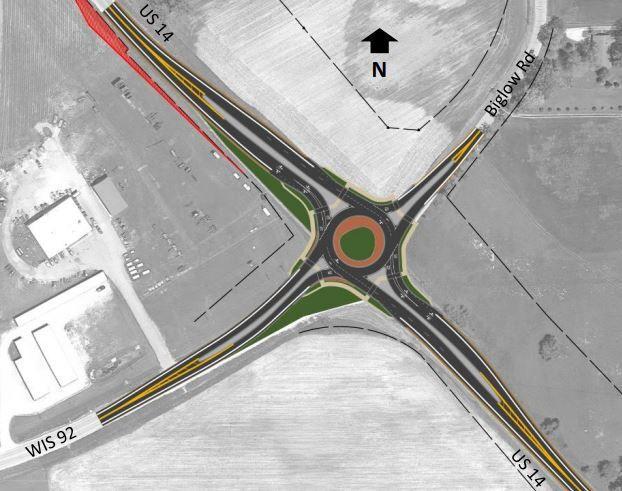 The multi-lane roundabout will substantially reduce the risk of turning north from Highway 92 onto U.S. 14, according to project documents. The roundabout will also reduce delays at the intersection onto Highway 92, particularly during peak morning periods.
The intersection will remain open throughout most of the construction with flagging operations. During final construction next spring, U.S. 14 will be closed to through traffic from highways 138 to 92 for about a month. The posted detour will direct traffic to state highways 138, 59 and 104.
Biglow Road will be closed at the U.S. 14 intersection and motorists will need to use alternate routes. Highway 92 will also be closed at the U.S. 14 intersection for a portion of the roundabout construction.
The project is funded through the Highway Safety Improvement Program, which is a federal aid program that aims to reduce traffic fatalities. According to DOT, there were 17 crashes at the intersection from 2012 to 2016 that caused two suspected serious injuries, two suspected minor injuries, four possible injuries and six property damage crashes.
In addition to creating a roundabout, the Wisconsin Department of Transportation plans to resurface 4 miles of deteriorating pavement on U.S. 14 between Highway 138 and Highway 92 in Dane County to extend the service life and improve safety, according to the project site.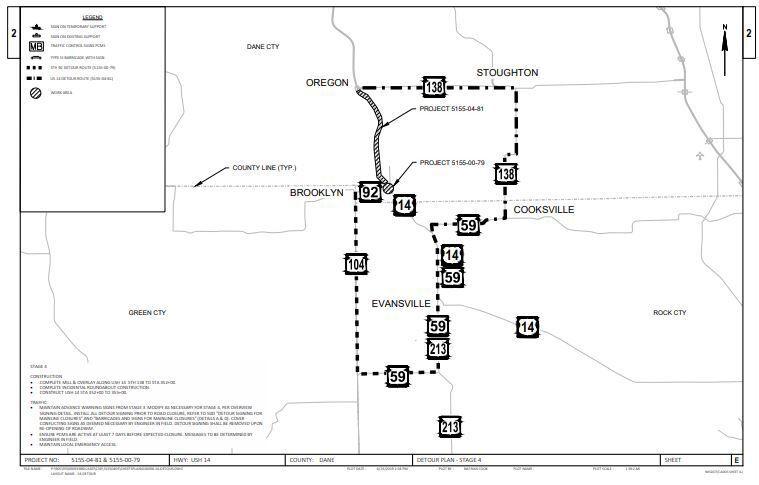 Several other safety-improving measures include paving asphalt shoulders throughout the corridor; widening paved shoulders an additional 2 feet; placing shoulder rumble strips and centerline rumble strips; installing gravel shoulders to match the final roadway elevation; installing pavement marking; and installing new advanced warning signs.
The DOT aims to finish the first phase of the construction by October 2021 and resume in spring 2022 with the goal of completing the project by September 2022.