SPRING GREEN — Mike and Jim Ring have remained grounded, although the muscle cars they build for millionaires feel like they can almost fly.
The brothers are treated like rock stars each November when they unveil their latest work in Las Vegas at the Specialty Equipment Market Association show, considered the World Series for their industry. Their work has been on the covers and homepages of countless magazines, and awards are commonplace.
They appeared last week on "Jay Leno's Garage" for the third time and will return to national television on Feb. 6 when they appear on the "Battle of the Builders" on the Velocity channel. That's where they'll compete against eight other car builders and show off a 1969 Camaro they built for a Wisconsin businessman and a 1948 Cadillac that may be their most ambitious and expensive project to date.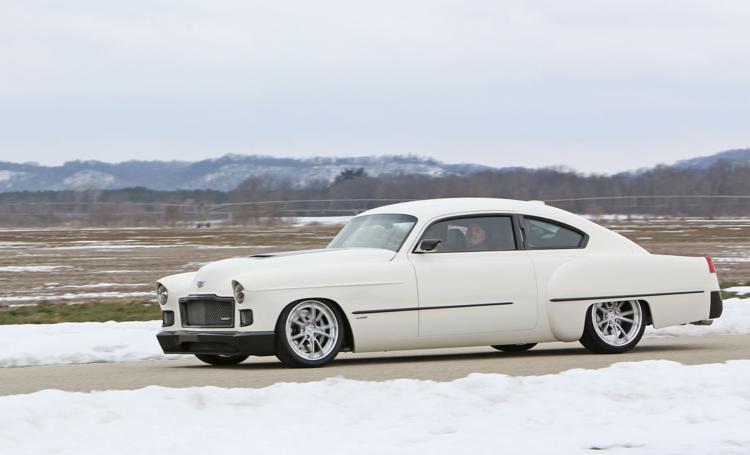 But the Rings haven't let a little fame go to their heads.
Their Ringbrothers shop along Highway 14 still repairs dings and dents on family vehicles.
The Rings are comfortable hanging out at the I-Diehl Tap in their hometown of Plain and are regulars for lunch at Shifflets Bar & Riverside Grille along the Wisconsin River.
They have spent much of their free time over the last year remodeling an old dairy barn near Barneveld into a man cave and are trying to spend as much time as they can with their father, Clete Ring, who is in his 90s and in failing health.
Deep down, their work, while profitable, is always about creating something special. Not only for their clients, who have high expectations, but also for themselves, where the standards are even greater.
"The pressure is trying to build something we want to build but having the owner like it. And that's hard," said Mike Ring, 54. "Our goal is to create a brand. It's not about money. It's loving what you do and having fun every day."
In reality, they've been having fun for over 25 years while building high-powered street cars with big-ticket price tags and stunning designs.
In addition, they've also created a parts business that generates more than $1 million in annual sales to customers around the world. The parts growth is expected to expand thanks to the addition last fall of a 6,000-square-foot building for a parts warehouse, a manufacturing facility with computer numeric control (CNC) machines that crank out parts from aluminum billet, and a clean area for the assembly of their custom-built cars.
In the last year, one client flew the Rings and their wives on a private jet out of Lone Rock to a party in northern Minnesota, returning them back to Spring Green the same night. Another provided complimentary tickets to the musical "Hamilton" in New York City. They were front-row seats.
But the glitz that matters most for the Rings has four wheels, turns heads and is a rolling work of art designed to be driven, not permanently stored.
A 1966 Chevrolet "Recoil" Chevelle built for an Ohio man was named the General Motors Best in Show at SEMA in 2014. A year later they wowed the SEMA crowd with a 1965 carbon fiber wide-body Fastback Mustang dubbed "Espionage" that included a supercharged 959 horsepower engine built for a Russian businessman who wanted a unique ride to drive around the streets of London.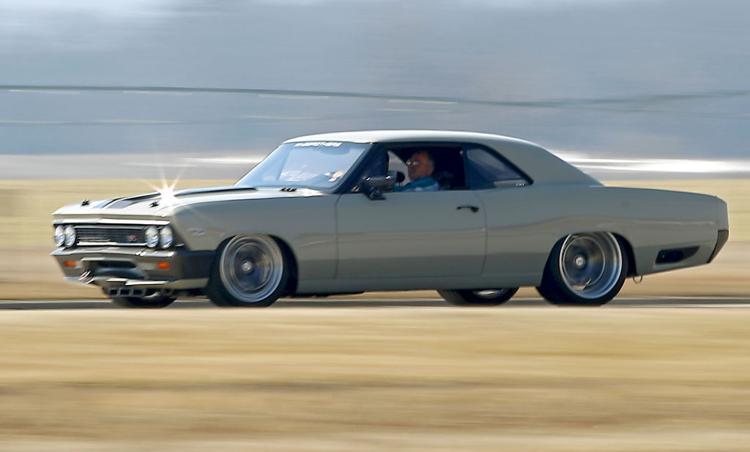 The brothers pushed the envelope once again in 2016 with three remarkable vehicles. They included a 1965 wide-body convertible Mustang with a 5.8 liter supercharged motor and a T-56 Magnum six-speed transmission. The ride was built for Greg Avra, a Texas businessman, and designed by Gary Ragle, who interned at Mattel and Fisher Price toys and was a lead designer for Mitsubishi and Ford before opening his own design shop in Cincinnati.
You have free articles remaining.
Register for more free articles
Stay logged in to skip the surveys
The 1969 Camaro, dubbed G-Code, was commissioned by Don Atkinson, who founded Venture Machine & Tool in Onalaska in 1980. Atkinson, 69, has more than a dozen cars in his collection but selected Ringbrothers not only for the quality of their work but also for their location. Atkinson was actively involved in the car's construction, with many of the parts for the car machined at his shop, including the steering wheel that took over 270 hours to design and manufacture.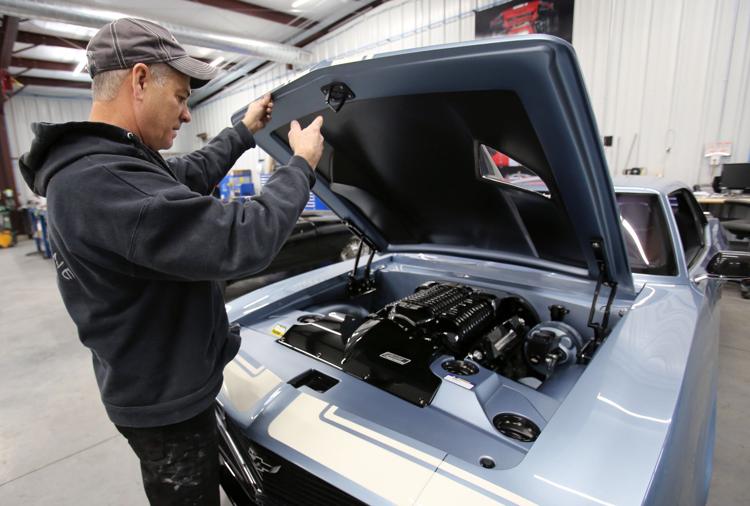 Atkinson also made weekly trips to Spring Green to check on the progress and provide input on the build that took about 4,000 hours to complete and includes a 416-cubic-inch Chevy motor modified to 1,000 horsepower by Wegner Automotive in Markesan.
"I'm not a three-piece suit kind of guy and they aren't either," Atkinson said of the Rings. "They're hard workers and they're dedicated to what they do."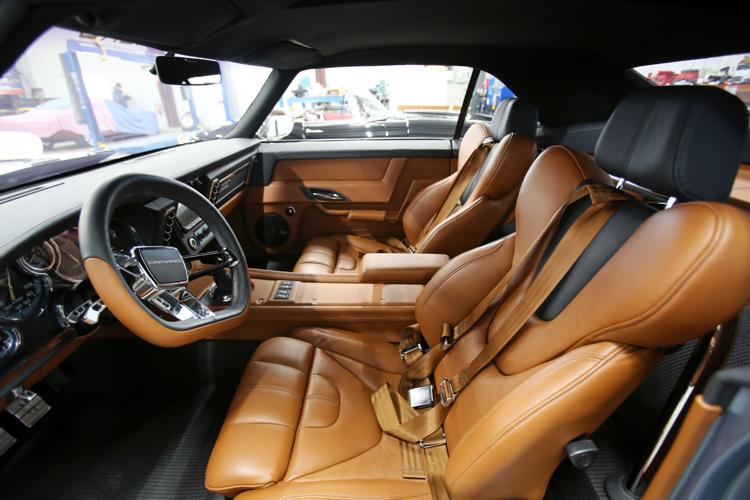 In early December, the car was packed up into a trailer and shipped to California for the filming of an episode of "Jay Leno's Garage." Leno, a huge car buff, drove the car with Atkinson in the passenger's seat before pulling over and letting Atkinson drive the car for the first time. The 26-minute show on YouTube also included a lengthy interview with the Rings and high praise from Leno.
"Just look at the level of craftsmanship here," Leno said as he walked under the 3,953-pound car that had been elevated by a lift in his immaculate garage. "I love the fact that it still looks like a '69 Camaro. This is just great."
But the centerpiece of the last year for the Rings has been a 1948 Cadillac built for Wes Rydell who has 68 car dealerships in 11 states and is based in Grand Forks, North Dakota. The Rings don't want to disclose the cost of the project but it took more than 7,000 hours to complete and used two 1948 Cadillacs, a 2015 Cadillac ATS-V with 20,000 miles and a new 2016 Cadillac ATS-V. The 2015 Cadillac was used for parts that were tested in the 1948 Cadillac and repeatedly installed and removed throughout the build. Once specifications were finalized and fittings set, parts from the 2016 Cadillac replaced the parts from the 2015 vehicle.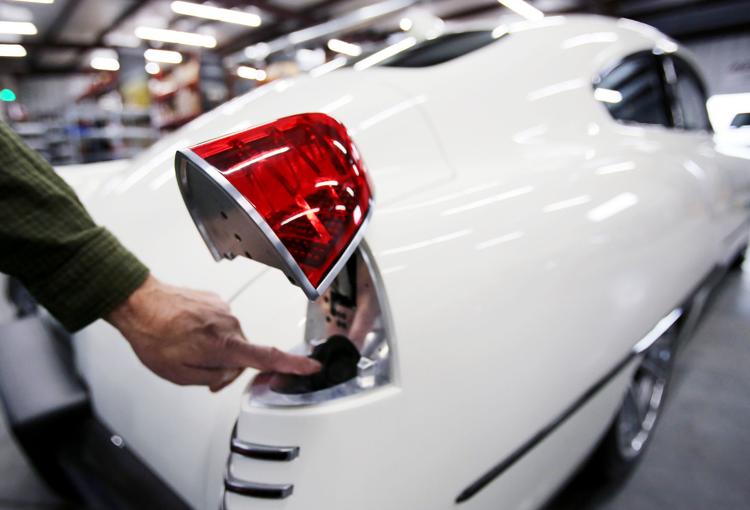 "Wes didn't want anything messed up and the final assembly needed to look brand new," said Jim Ring, 51. "Everything was perfect. Nothing was nicked, cut or scratched. The first car was basically a sacrificial car. The final assembly allowed us to make the car look absolutely perfectly brand new without any marks or anything."
The fastback coupe, called Madam V, named for Wes' wife, Vivian, retains all the modern amenities of a $65,000, 2016 Cadillac, including a full-color media control center, a rear-vision camera that displays an image on what looks like a rearview mirror, rain-sensing wipers, OnStar and a 3.6-liter twin turbo engine with 464 horsepower. Additions included a carbon fiber hood that took more than 600 hours to produce, custom side-view mirrors, a roof-mounted 360-degree camera integrated into the satellite radio antenna and custom stainless steel tailpipes.
"He loves these cars and loves the styling of them but he wants the reliability of a new car. So marrying those two cars together is kind of what we've done," Jim Ring said. "It was a feat. A '48 Cadillac just doesn't sit over the top of a 2016 ATS-V. People think you just cut the body off and shove it over the top but you can't do it that way."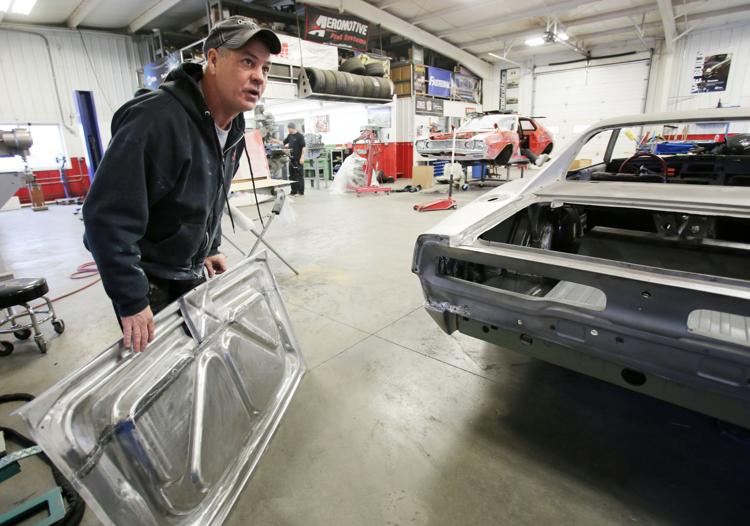 Builds this year won't be as complicated but include a 1969 Dodge Charger for a video game development executive in California and an AMC 1972 Javelin AMX for Prestone Products Corporation. Work on the Javelin, which they purchased from the original owner, began just a few days after Christmas and is a car that they were familiar with growing up in Plain, where their father ran a service station. The finished product will be unveiled at SEMA 2017.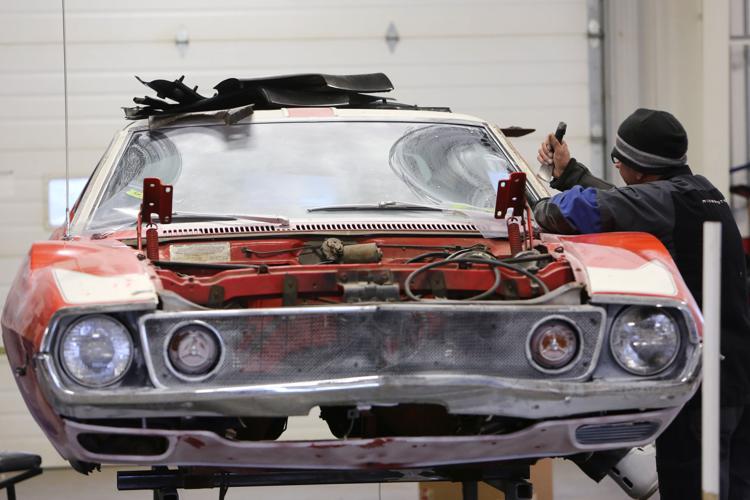 "It's tremendously high pressure what we have to come up with because you're only as good as what you come up with that year," Jim Ring said. "Budgets get in the way of what we do because some years you have really good budgets and some years you're stuck to a number. This ain't a hobby for us. This is how we pay the bills and put my kids through college."