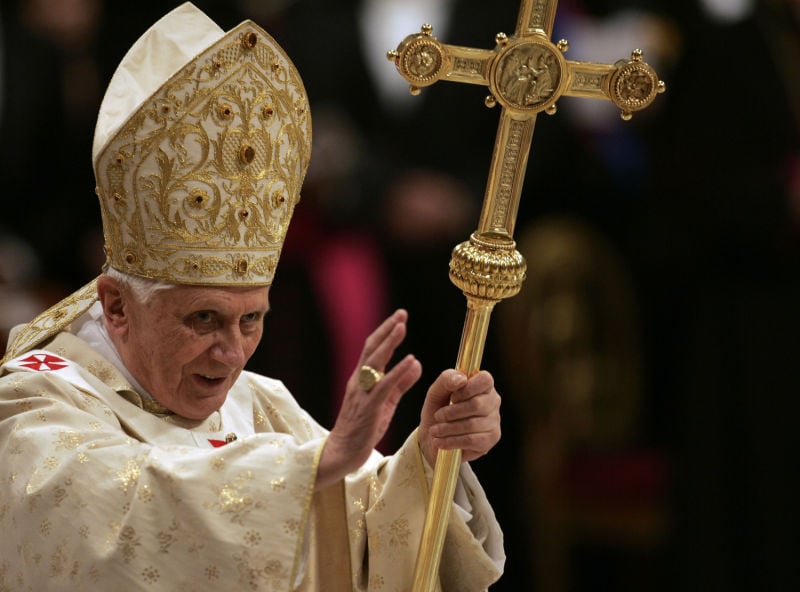 Madison Catholic Bishop Robert Morlino remembers Pope Benedict XVI once telling a group of priests they must have the courage and humility to rest when they are tired — to take days off when needed.
"I think he's displaying the courage and humility he told priests to have," Morlino said in an interview Monday, the day Benedict announced his surprise resignation.
Morlino said he first met Benedict 30 years ago, when Benedict was known as Cardinal Ratzinger. Monday, Morlino referred to him as a personal hero.
"In terms of his intellect and humility and kindness and gentleness, what more could anyone want?" Morlino said.
You have free articles remaining.
Morlino praised what he called Benedict's "strong direction in regard to liturgical reform." A staunch traditionalist, Benedict revisited documents of the 1962-65 Second Vatican Council, giving them what many considered a course correction after decades of more liberal interpretations. Benedict eased restrictions on the old, pre-Vatican II Latin Mass, for instance.
"He went back to the actual documents of Vatican II, not some spirit of Vatican II that can't be found in the text," Morlino said. "That was a major, major contribution."
The Rev. William Vernon, who leads Catholic churches in Verona and Paoli, said he appreciated Benedict's willingness to confront relativism, or the idea that there are no absolute truths. Benedict famously criticized what he termed the "dictatorship of relativism."
"He encouraged people to not give in to thinking that truth is relative to just how you're feeling," Vernon said. "Truth is objective. The dignity of a person is not related to your feelings about that person. A person has dignity because it is God-given."
Although New York Cardinal Timothy Dolan, formerly the archbishop of Milwaukee, has been mentioned as a possible replacement for Benedict, Morlino views that as unlikely. While praising Dolan, Morlino said he doubts the world is ready for a pope from this country.
"As long as the United States is a super-power, I don't think there will be an American pope," Morlino said. "There's a sense that if the greatest religious authority in the world and the greatest political and military authority in the world reside in one country, that would be too much of a concentration of power in one place."