Gone are the days of "not having time" to pick up a new hobby.
The pandemic has given us the gift of time to pick up activities that not only pass the time but also provide an escape from the tumultuous reality.
These hobbies come in many forms and some with many quirks. They range from woodworking to learning to DJ vinyl polka records to taking long, virtual walks around a city 5,500 miles away, but each provides comfort and intrigue despite the endless uncertainty of the pandemic.
A gift from the basement of a friend's grandmother led me to learn how to sew. Sitting down at the 1941 but new-to-me sewing machine and using a foot pedal to stitch together face masks, tote bags and other garments provides a few minutes, or hours, of calm.
Not to mention the distraction offered by trying to figure out the diagrams in a sewing pattern.
Many hobbyists in Madison are finding some silver linings during the COVID-19 quarantine by appreciating their new activities.
Picking up a hobby
Daniel Goscha, a graphic designer, finds stability through his admittedly unusual hobby. Inspired by the documentary Kedi, about street cats in Istanbul, Goscha has taken to roaming the streets of the city virtually and taking screenshots of cats he sees.
He posts one each day on his Instagram, @streetcats_istanbul.
"Having that sort of predictable routine has been a good part of keeping my sanity during the winter when everything else has been upturned," Goscha said.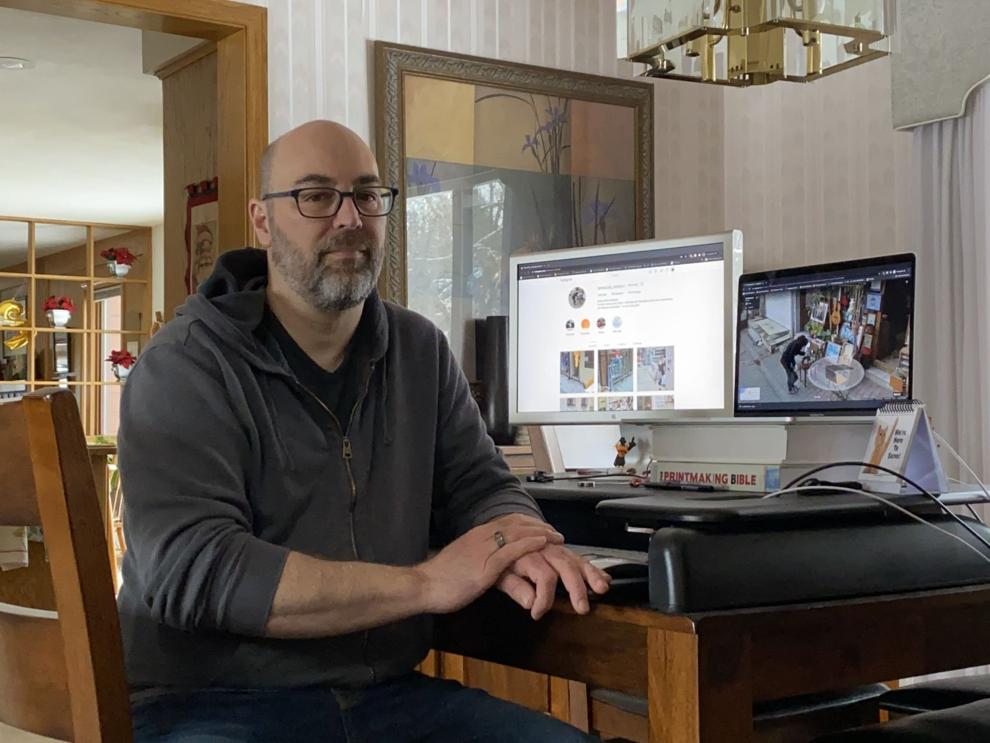 With more than 250 followers, many of whom are from Istanbul, Goscha said he's made some new friendships and is "falling in love" with the city despite never physically visiting.
"I've made these amazing connections just through Instagram and Facebook with people in Istanbul who are aware of the project," Goscha said. "I've formed these great relationships with people I never would have met or encountered."
Hobbies have allowed Stacy Harbaugh, who works in advertising, and Duane McElvain, an information technology manager, to step away from their computers and screens for a while.
McElvain had been thinking about becoming a bit more of a handyman for years, he said, by learning woodworking. Time, space and money prevented him from ever seriously getting started, but the "sheer boredom" of quarantine inspired him to look into ways to learn more about woodworking.
About a month after Gov. Tony Evers' stay-at-home order in March, McElvain signed up for a membership in the makerspace The Bodgery, which offers communal space and tools — and even some advice from more experienced woodworkers.
"I'm an IT guy, so I'm not often building things or playing with tools; I'm clicking a mouse and running cables," McElvain said. "This was a fun way for me to have a more tactile hobby."
Harbaugh's hobby, DJing polka music, may seem like it is mostly about the auditory factor of listening to music, but for her, picking up records from her collection and setting them on the turntables also offers a more tactile benefit.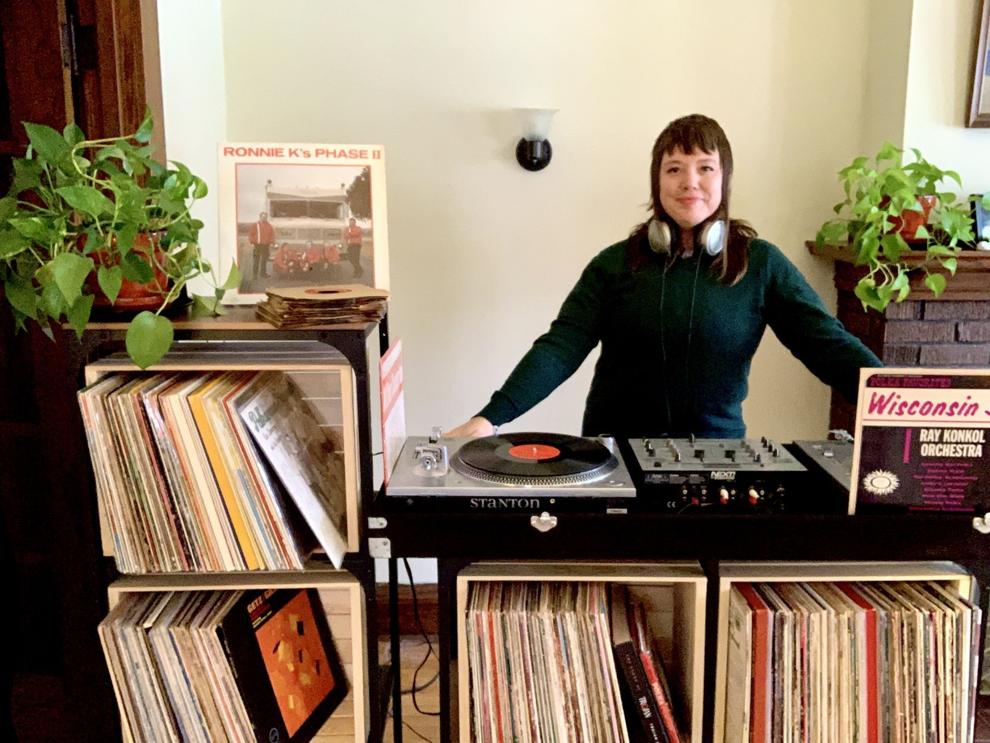 "It's a very hands-on experience," Harbaugh said. "It's a great way to get away from the screen and just deeply enjoy the music."
Laurie Rossbach, an artist at the Madison Children's Museum, had her hours cut to part time as the museum had to restructure while closed during the pandemic. She found some ways to manage her anxiety and take advantage of the spring and summer weather.
"I went a little bit nuts as soon as the museum closed," Rossbach said. "The weather was really beautiful, and I took advantage of that. I did a massive landscaping project in my backyard, and I built a patio."
Rossbach has added even more artwork to what her neighbors on the East Side call the "Art House." Additional concrete sculptures reside in the yard and new mosaic details adorn her porch.
Hard on mental health
Few people can say they have had an easy time this year. For those following public health guidelines when able, most social interactions have been cut down to distanced meetings outside — when the weather was warm at least — or to less personal video calls.
These changes in social interactions have real effects on our mental health, said Shilagh Mirgain, a psychologist at UW Health.
"When we are not able to be together for long periods of time, it can impact our mood, motivation and outlook and make us more vulnerable to engage in negative health habits," Mirgain said.
Some people can and should try to maintain social relationships despite the physical distance, Mirgain said, to combat some of the loneliness that can seep in. Meaningful conversations over the phone or on a video call can be as important as in-person meetups.
People can also get a mood boost through other methods though.
"When you are home alone we lose this interaction and when we are more home bound for months on end, the cumulative effect is massive," Mirgain said. "However, we can get this same effect during this time by working on a hobby and doing something with our creativity or learning something new."
Heather Tubwon, a freelance illustrator and designer by trade and a knitter by hobby, picked up a new hobby idea from her friends she used to meet up with to knit together. The group now meets regularly over a video call, and one had mentioned trying to use the black walnuts from the tree in her yard to create yarn dye.
Tubwon took that idea and ran with it, now using natural materials including avocado skins and black beans to dye wool yarns.
"It's just kind of fun to see what I can use to produce dye that's sort of reusing things that I would already use anyway," Tubwon said. "Like with the black beans — you can eat the black beans afterward."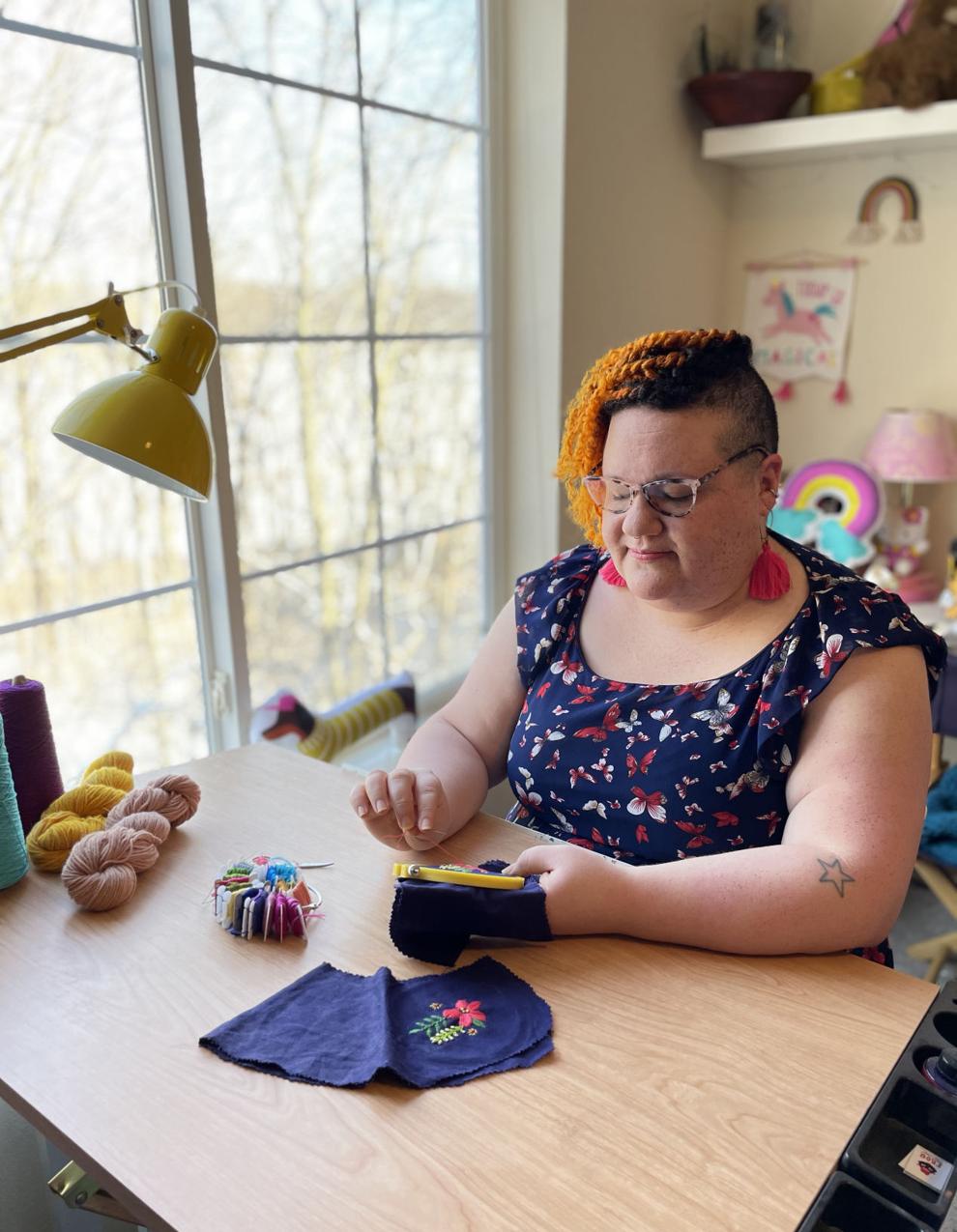 Hobbies are helpful
Trying out new dyes also provides an "escape," Tubwon said. Without something to keep her busy, she said she could easily become depressed.
Mirgain said hobbies can provide that extra help in maintaining mental health during this time.
"When we are working on learning something new, we feel more alive, more motivated and purposeful," Mirgain said. "It gets us out of our routine, we grow as we are challenged to learn new things and we feel a particular sense of accomplishment that boosts our mood."
The emotional benefits can range from small to large.
For McElvain, he finds joy in his new ability to make useful items for others.
"The big benefit I get from it is mixing up my day, learning new skills and being able to practice those skills while providing value to my household and my friends and family," McElvain said.
McElvain also used his new skills to help out his dog, Lucy, who is getting old in years and has a harder time jumping up and down from the couch or bed. Now, through his hobby, Lucy has a small set of stairs to help her get up and down.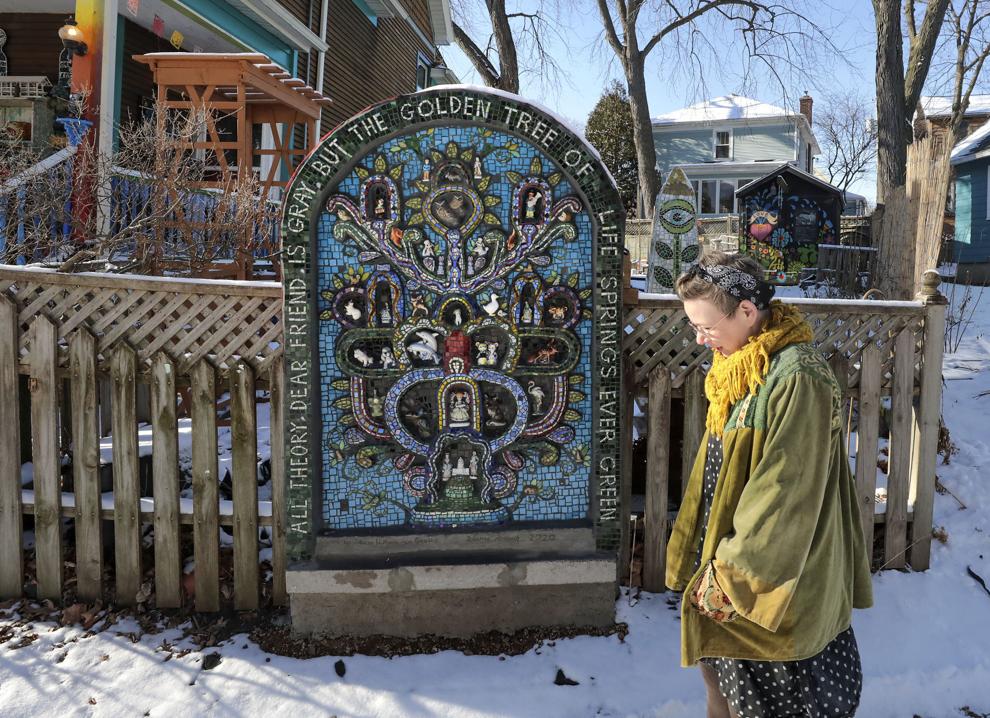 For Rossbach, keeping busy, particularly in creative ways, has helped her stave off worsening depression and anxiety — conditions to which she said she is susceptible.
"I think it really saved me from despair," Rossbach said about creating more art. "I think that pouring all of my anxiety and my fear into this, and then transforming it into art, it absolutely made me have a completely different attitude and outlook on everything."
---