TOWN OF WESTPORT — Rosebud and Duchess seemed anxious to get to work as they heard trees being felled on a recent misty November morning.
The pair of harnessed American Suffolk horses would soon be hauling timber out of a wooded area near Lake Mendota. The work, which recalled an earlier era when land was cleared by muscle alone, also seeks to turn the clock back on this parcel of land to oak savanna, now one of the rarest ecological environments in America.
Holy Wisdom Monastery is undergoing a years-long project to convert some 30 acres of its property to oak savanna, characterized by a sparse placement of oak trees with long grasses and flowering plants covering the ground in between.
The habitat is now rarer in the Midwest than tropical rain forests are in equatorial regions, said Ryan O'Connor, an ecologist for the DNR.
The Benedictine monastery is taking a crucial step this fall after it contracted with Adaptive Restoration of rural Mount Horeb to cut down and clear out non-oak trees using the low-impact horse logging method in a roughly 5-acre area around an abandoned barn.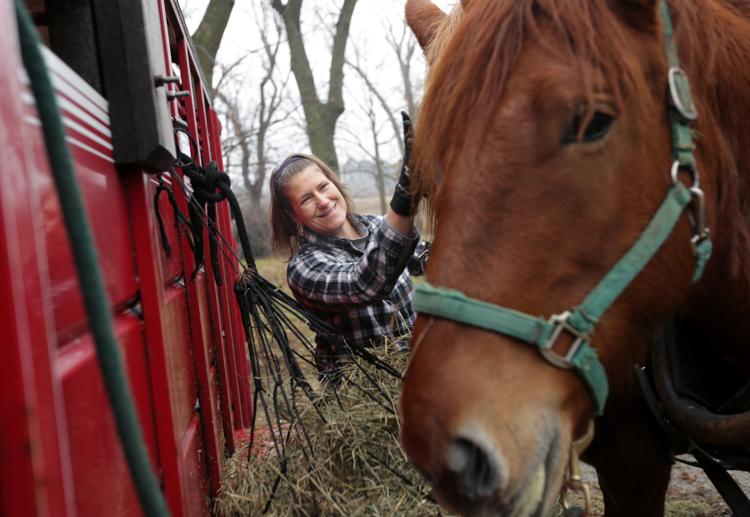 Greg Armstrong, director of land management and environmental education for Holy Wisdom, said the area used to be a savanna before European settlement, but the suppression of wildfires since then has allowed other trees to fill in the gaps between the fire-tolerant oak trees.
The "remnant savanna" around the barn will eventually become part of a broader 30-acre project that includes converting some prairie land and an open field to an oak savanna, said Armstrong, a former executive director of the UW Arboretum.
To preserve the integrity of the existing oak trees and the soil, Holy Wisdom, located at 4200 Highway M, used a private grant from the John C. Bock Foundation to pay for the horse-drawn logging operation.
Luke Saunders, a forester for Adaptive Restoration, said he expected Rosebud and Duchess to pull out a couple hundred trees.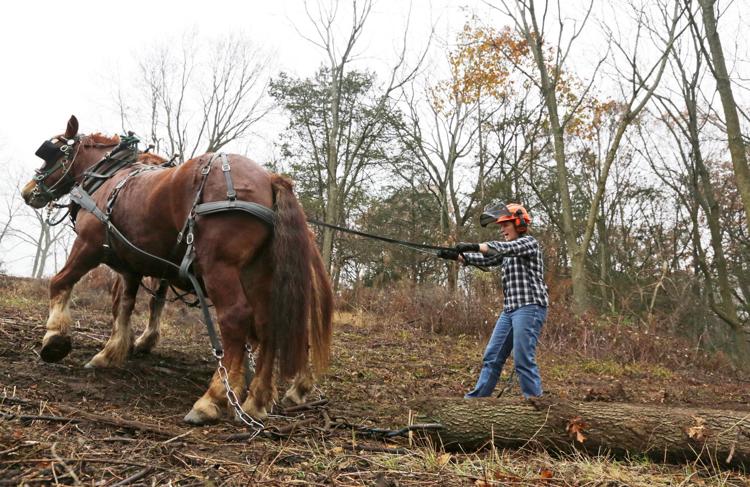 A focus on nature
The Christian monastery, which has five sisters, has a mission of "prayer, hospitality, justice and care for the Earth woven into a shared way of life," said Sister Mary David Walgenbach.
She said Holy Wisdom's conservation and restoration efforts, which includes about 125 acres of prairie land, is part of an effort by the monastery to get in a "right relationship" with the Earth.
"It moves one to live in right relationship with our neighbors, to be tuned into the beautiful creation that we have," Walgenbach said.
When the oak savanna project is finished, Walgenbach said, the oak trees and tall grasses would form a sort of "earth chapel, or place of awe, or place of worship."
You have free articles remaining.
In 1954, the sisters purchased the monastery's original 40-acre plot just north of Middleton. They secured more land in 1960, bought another portion in 2012 and sold 60 acres of prairie to Dane County in 2013, leaving about 130 acres now under their care. The sisters' dedication to conservation work has not gone unnoticed.
In July, Holy Wisdom received the inaugural Assisi Award, an honor created by the Society of Conservation Biology to recognize faith-based conservation and ecological practices.
"If we can understand each other and appreciate one another's work by cooperating, then our efforts — both the faith-based groups and the conservationists, biologists and scientists — we can meet the goal of caring for the Earth," said Walgenbach.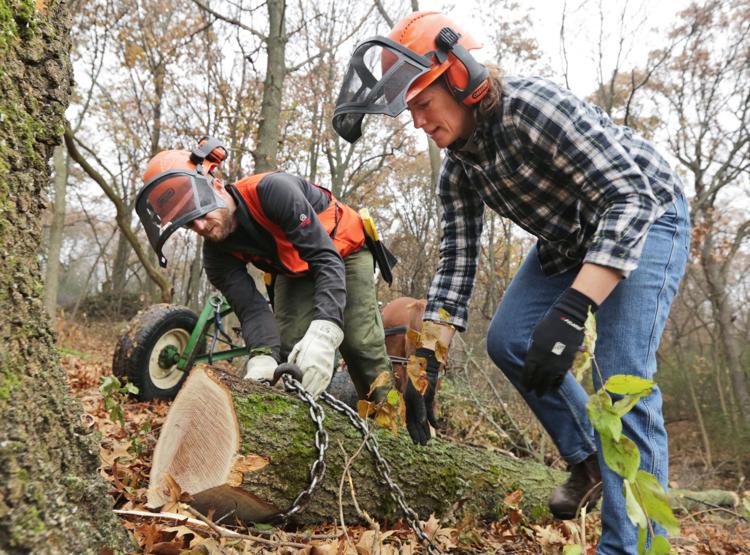 Restoring the land
Prior to widespread European settlement in the early- to mid-1800s, Wisconsin and the Midwest teemed with oak savannas. They bridged the prairies of the west to the forests in the east. The DNR estimates such savannas once covered about 5.5 million acres of the state.
But through farming, grazing and the suppression of wildfires that killed non-oak trees, there are only about 500 acres of oak savanna listed on the state's Natural Heritage Inventory, according to the DNR.
Armstrong said the monastery hopes to restore elements of prairies, savannas and woodlands, all native to South Central Wisconsin.
This past year, volunteers helped remove shrubs and smaller plants from the wooded area surrounding the barn in anticipation of the logging effort.
"We've been thinking about this and planning it for a long time, so it's nice to be making some progress," Armstrong said.
Their work builds on other recent efforts to conserve native ecological systems throughout Dane County.
The 29-acre Parrish Oak Savanna, which is owned by The Prairie Enthusiasts conservation organization, just north of Blue Mounds was designated a state natural area in 2015. The Pleasant Valley Conservancy, another state natural area, also had extensive restoration done to preserve the oak savannas on its property just southwest of Black Earth. Across Highway M from Holy Wisdom, Governor Nelson State Park also hosts areas of oak savannas.
At the monastery, Armstrong intends to plant about 35 bur oak trees next spring, which will take at least 20 years to reach early stages of maturity, that will add to the former savanna the pair of horses are helping to rescue.
Visitors are welcome to walk the trails at the monastery if they come in a respectful and contemplative manner, he said.
"We're trying to pay respect to the Earth and put the landscape back, which is done through a religious respect," Armstrong said.