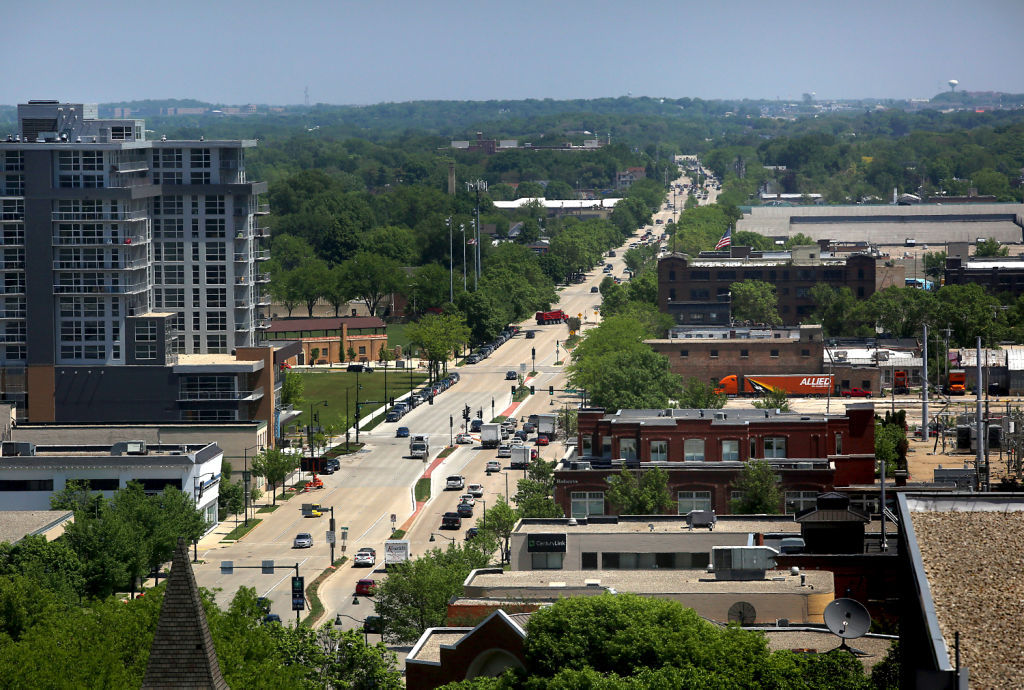 A music promoter is proposing a 2,000-plus-seat, state-of-the-art venue as part of a bigger redevelopment that could cost tens of millions of dollars and cover most of a block on the Near East Side.
Frank Productions on Thursday announced plans for the 46,000-square-foot indoor music venue as part of an office, housing and parking project by Stone House Development on the north side of the 1000 block of East Washington Avenue.
"We intend to create a space that's both easy and exciting for artists, as well as a venue that the Madison community can support and be proud of," said Fred Frank, chief operating officer of Frank Productions. "We want the venue to become a Madison destination. We're thrilled to be part of the progressive plans in place for this area."
Project requirements
The first phase of the project, which would require demolition of the vacant Madison Dairy Produce Co. buildings on roughly half the block closest to Breese Stevens Field, would have multiple uses on a scale that fits recent city plans for the area, Stone House president Helen Bradbury said.
The project would feature office buildings on the corner of East Washington Avenue and Brearly Street, with up to five stories on the street stepping up to eight stories in the interior. The project would include the stand-alone music venue to the east on East Washington, a parking structure with about 200 stalls and 60 to 65 low-income housing units three or four stories tall facing East Mifflin Street, Bradbury said.
"It's a great site," Bradbury said. "The East Washington corridor is a dynamic area. We know there's a need for additional affordable housing."
Stone House, which controls all property on the block except an auto shop in the middle of the block, has not finalized plans for the grassy eastern side of the property, Bradbury said, adding that her company is currently designing around the remaining business but has not ruled out discussions on a purchase of that site.
The intent is to have a private street running east to west though the block to serve the buildings, she said.
The redevelopment would follow major mixed-use projects recently built and approved on the 700 and 800 blocks of the street.
"I'm very encouraged by the continued development and vibrancy of the area," said Ald. Ledell Zellers, 2nd District. "There's a lot left to work out. But my firm belief is that Stone House will be a good neighbor."
'We think there's a void'
The music venue will have state-of-the-art facilities for patrons and entertainers, Frank said. The space's primary function will be to host concerts and other live entertainment, but it will have the flexibility and equipment to host corporate, community and school events, and private parties.
The preliminary plans include a capacity of over 2,000, with a flexible wall system to reduce capacity for a more intimate experience. There would be a VIP lounge and seating area, expansive dressing rooms and offices for Frank Productions.
Many acts traveling between Chicago, Milwaukee and the Twin Cities skip Madison because a venue with the right seating capacity and ability to handle stage sets and lighting isn't available, Fred Frank said.
"We think there's a void," he said, adding that acts would find the new venue superior to venues found in bigger cities.
"I think it's great," said Rokker, publisher of the Madison-based music magazine Maximum Ink. Rokker is also a member of the citizen group Willy Wash: A Musical Yahara, which is pushing for a greater music presence on the city's Near East Side.
"Frank Productions brings in just an amazing amount of artists," Rokker said. "They definitely need venues that are large enough to hold those shows that they're bringing in. It will be great for the East Side to have that kind of venue."
Competition questions
Frank said the new venue was not likely to compete much with the 900-seat Barrymore Theatre on Atwood Avenue — where Frank Productions produces many shows — nor with the Overture Center, which has different programming and fewer available dates due to Broadway shows, the symphony and orchestra, Frank said.
"We have a great working relationship with them," Overture Center spokesman Robert Chappell said. "I don't think there's any doubt that the arts and entertainment scene in this city has plenty of room for more venues. Every venue in town has its niche in a way. Overture Hall is home for a lot of local artists, and I don't see them going anywhere. We still have the only Broadway stage in town. I'm excited to see a new, big theater in town. I think it will be great."
Barrymore owner Steve Sperling declined to comment.
The venue will likely compete with the Orpheum Theater, the historic State Street venue that underwent a ownership change last year. Frank Productions can no longer promote shows at the Orpheum, Frank said. The Orpheum's new ownership could not be reached.
Frank Productions expects the privately funded project to begin construction in six months and be completed in 2015. More information will be released as the developers meet with the neighborhood and begin the city review process, Bradbury said.
Founded in 1965, Frank Productions provides services for live entertainment events across the country. It has been a sponsor of the Freakfest Halloween celebration on State Street for the past seven years, UW-Madison's Revelry Music & Arts Festival for the past two years and is involved in the upcoming Yum Yum Fest in Madison's Central Park.