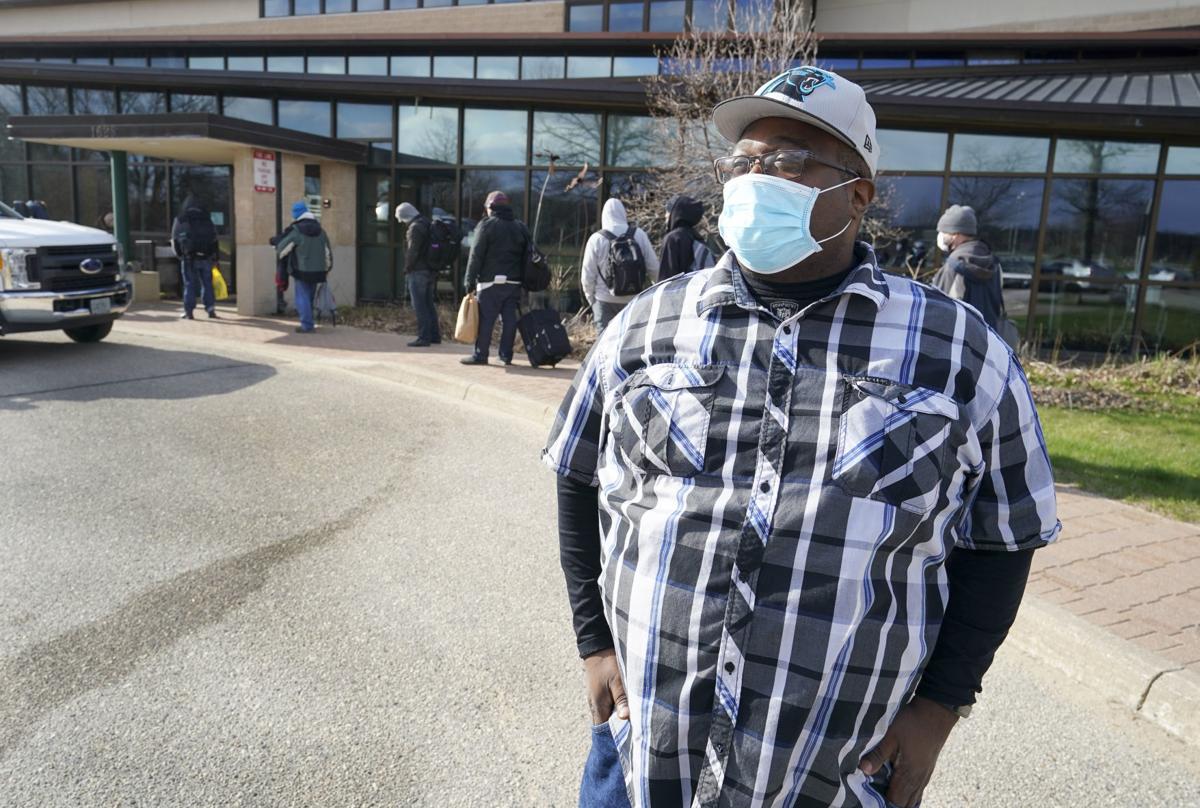 Editor's note: This is part of a continuing series on those whose jobs have been deemed "essential" during the coronavirus outbreak and for whom working "safer at home" is not an option. Suggestions for future profiles of those who help keep us fed, safe and mobile can be sent to wsjcity@madison.com.
Nothing, perhaps, has tested the commitment of Preston Patterson and his staff to homeless men than the COVID-19 pandemic.
As the new coronavirus took hold, nonprofit Porchlight Inc. was operating the men's shelter system from a cramped, worn site with metal bunks in the basement of Grace Episcopal Church on Capitol Square with overflow spaces in the basements of two other Downtown churches where men slept side by side on mats on the floor.
"The spaces that we use at the churches (were) already overcrowded," said Patterson, Porchlight's drop-in shelter director who's been caring for the homeless on site for a decade. "It was going to work when this pandemic first broke out, and we were learning on the fly. It would have been impossible to keep social distance in order. I lost four staff members in a matter of three weeks due to the uncertainty. It would have been dangerous to both guests and staff."
"Most of (the men) are hoping that we can keep this facility instead of having to go back Downtown to the churches. I have not heard one complaint about the facility itself," he said. "I would work one month free if we could make this permanent."
But for now, Porchlight has implemented rigorous procedures to keep homeless men and staff safe at Warner Park, which opens at 5 p.m. daily, executive director Karla Thennes said. The facility is not being used for those who have symptoms or test positive for COVID-19. They are sheltered in hotels or motels.
Every day, Metro Transit picks up men at the Beacon homeless day resource center, using staggered departures with 15 men on each bus, starting at 4:45 p.m. Beacon staff do a health assessment before men get on bus. Other men drive, take other buses, or walk to Warner Park and another health assessment is done there by volunteer assessors wearing masks and gloves. Beacon staff take the bus with the men to Warner Park and help Porchlight staff during intake.
Anyone with symptoms goes to a heated trailer in the parking lot where another volunteer and virtual nurses on tablets await. The nurse determines if the men go into shelter, to a medical hotel or a hospital.
Those with no symptoms get checked in by Porchlight staff and must use a hand-washing station before entering Warner Park, where multiple hand-sanitizer stations are set up. Porchlight has one intake worker plus two night mangers on duty from 4 p.m. to 8:30 a.m. A private security guard works from 5 p.m. to 8 a.m. All staff and volunteers wear N95 masks.
"It's one facility, one shelter instead of three," said Patterson, a Madison native who graduated from West High School. "Everything is out in the open and very spacious. It's much easier to process guests for intake. No blind spots. It's one level and everything is handicap-accessible."
Since the move, conflicts among the men and with staff, have decreased, Patterson said.
"When the guests feel good, our job is much easier and enjoyable," he said. "This has a lot to do with the help of the Beacon. It's a great working relationship."
Patterson, 53, who has a wife, two daughters and two grandchildren, said doing his job — before and during the pandemic — centers on respect.
"Although I have never been homeless, my life has taken me through the same journeys that the people I deal with; I have just been fortunate enough to always have a place to stay," he said. "At the end of the day, no matter what happened, I go home remembering something my father always reminded me: 'I am just a man, nothing more nothing less.' When you view each guest the same way, it's not that difficult."
But even in a bigger, better facility, Patterson and staff — some who were once homeless — are concerned about safety doing their work night after night. Patterson dons physical safety clothing and apparatus, and when he gets home, "everything goes down the laundry shoot into the wash," he said. "This is certainly not something that a person can be complacent about."
"Preston and his team are amazing," Thennes said. "Every night they are on the front lines dealing with guests who are frightened, anxious, alone, and possibly symptomatic. They never considered staying home and collecting unemployment. They knew they had an important job to do and that the men were counting on them."
Concerned about COVID-19?
Sign up now to get the most recent coronavirus headlines and other important local and national news sent to your email inbox daily.