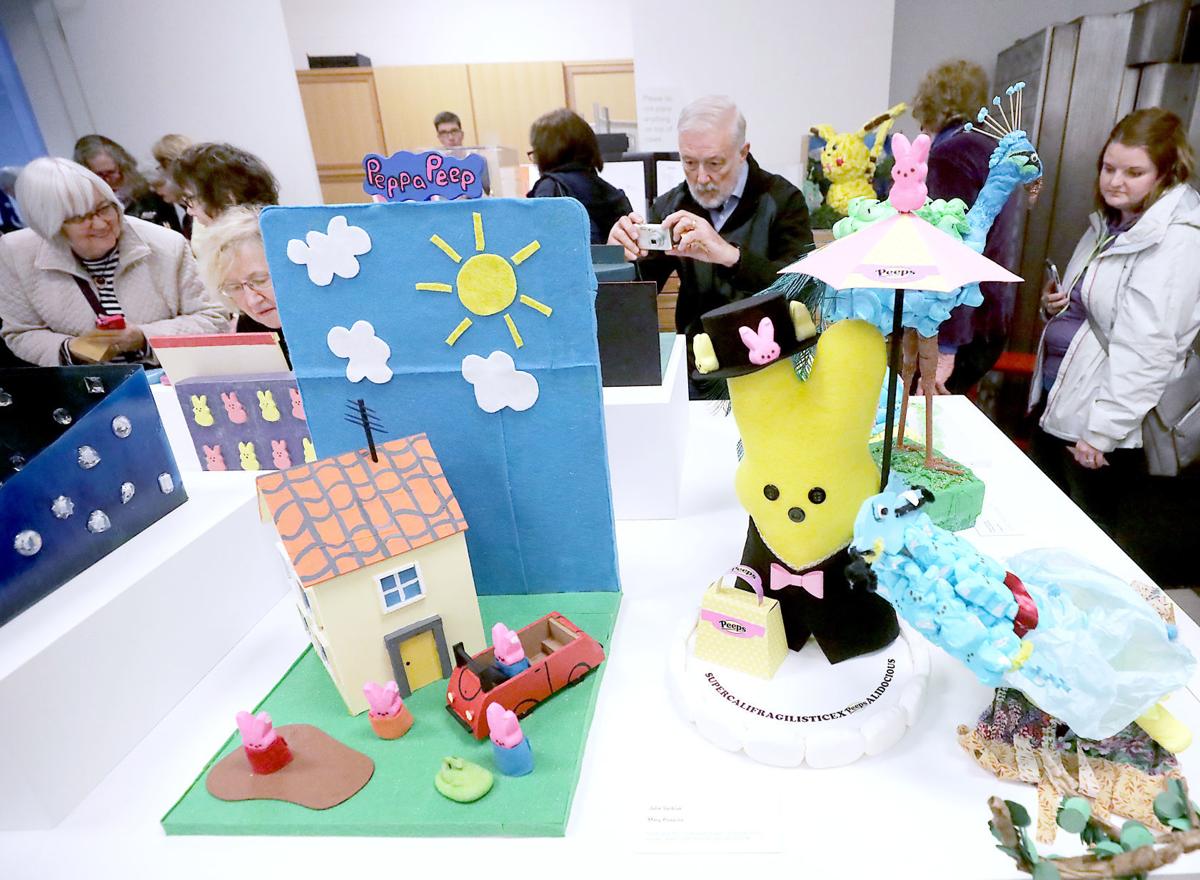 RACINE — Lisa Englander wanted to add a little more color to a small corner of her gift shop, but the plan didn't really pan out the way she thought it would.
Instead, she created a full-blown phenomenon that for the past 10 springs has drawn thousands of visitors to this city's downtown and has allowed school children, factory workers, grandparents, health-care workers and professional artists to display their work side-by-side in one of the state's finest museums.
But unlike the glass, paper, ceramic, wood and metal works of art that make up the bulk of the museum's collection, the preferred medium is sugar-coated, colorful marshmallows shaped like chicks and bunnies and plopped into quirky dioramas and picture frames.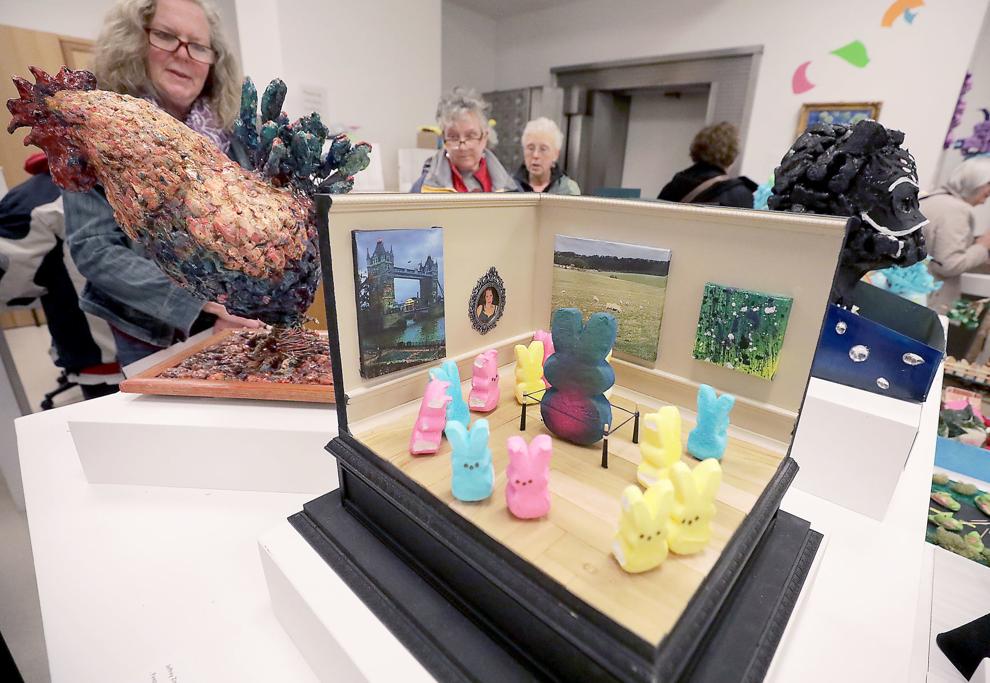 The Peeps displays have never made it to the gift shop, but since 2010 have taken up residence for a few weeks each year around Easter in a first-floor classroom in the Racine Art Museum. This year, the record 165 entries created by 237 artists from six states have spilled out into the hallway and again have drawn throngs of smiling people of all ages who take pictures with their phones and vote on paper ballots for their favorite creation.
"I knew it would go a little viral," said Englander, who has been on the museum's staff since 2001. "I think we're committed to doing it every year. I don't think anyone wants us to stop. We want to bring people into the museum because we're all about educating."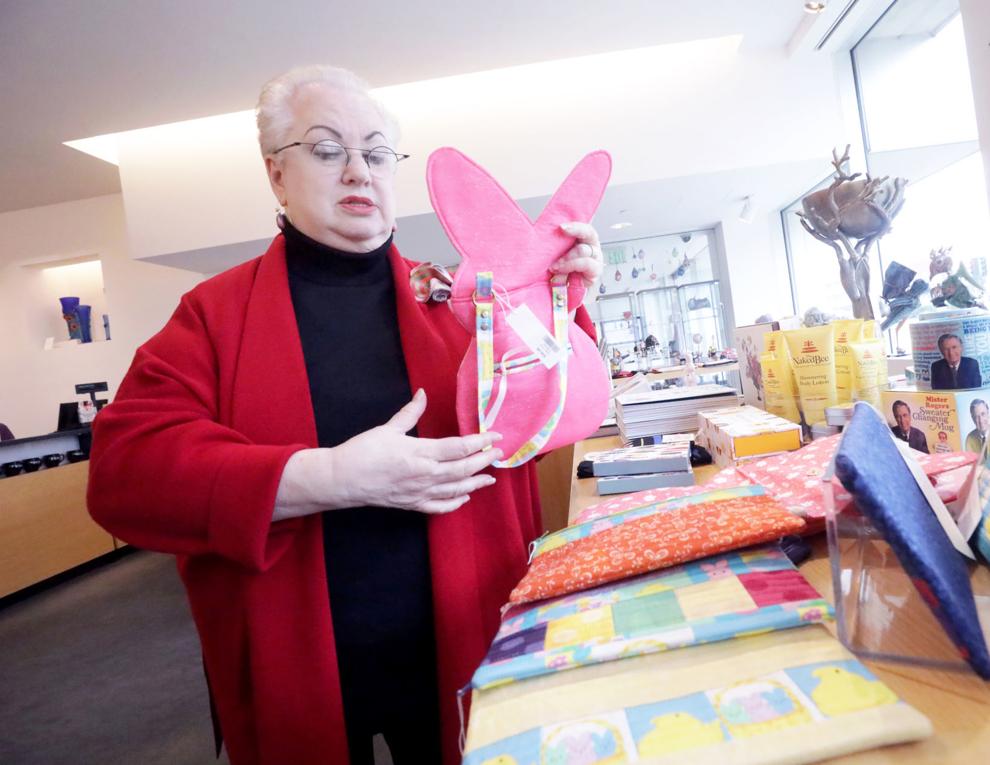 Before 1953, Peeps were hand-formed by the Rodda Candy Co., but when Sam Born purchased it in 1953 he introduced mass production at his Bethlehem, Pennsylvania, company. At first it was just yellow chicks, but over the years the shapes and colors have expanded with products also customized for Halloween, Christmas and Valentine's Day.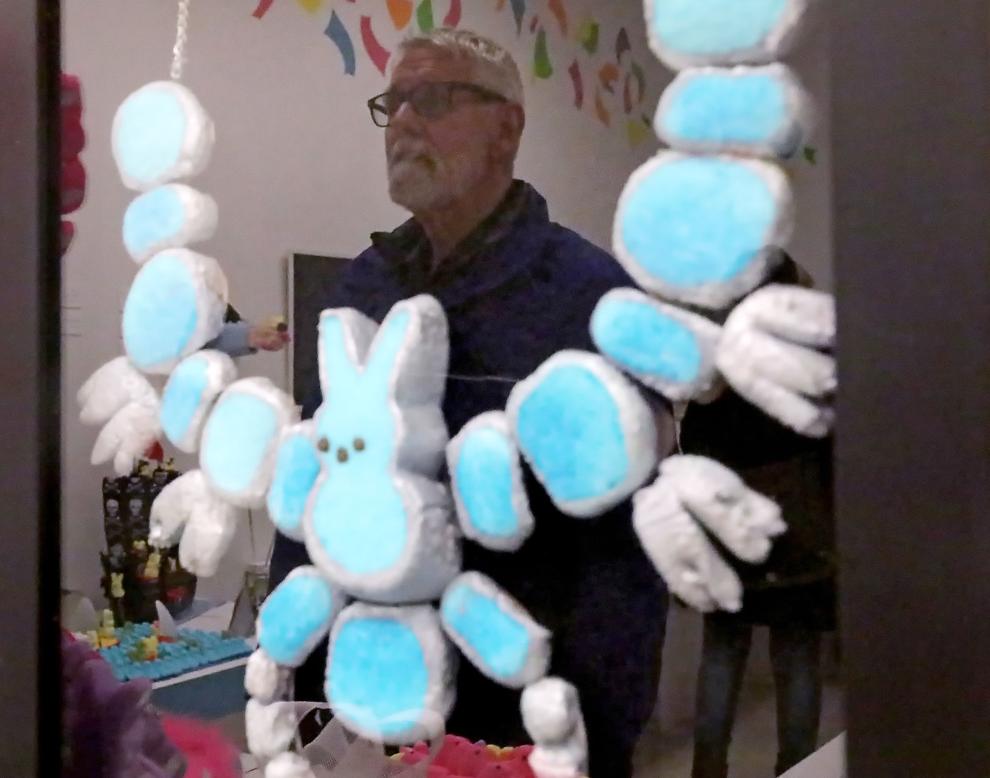 The Peeps of art stand in stark contrast to the museum's primary collection, which in 2003 was just under 3,000 pieces but has since grown to over 10,000 items. The museum has the largest contemporary craft collection in the U.S. An exhibition that runs through Sept. 1 explores portraits through photography, paintings and sculptures, while another showcases organic elements such as feathers, stones, shells and twigs.
The 40,000-square-foot museum also has over 500 ceramic teapots, many of which are displayed in the museum's library; over 100 glass goblets donated to the museum by Alan and Barbara Boroff and the Kohler Foundation; and prints, photographs and books by artists in the Works Progress Administration, which was created in 1935.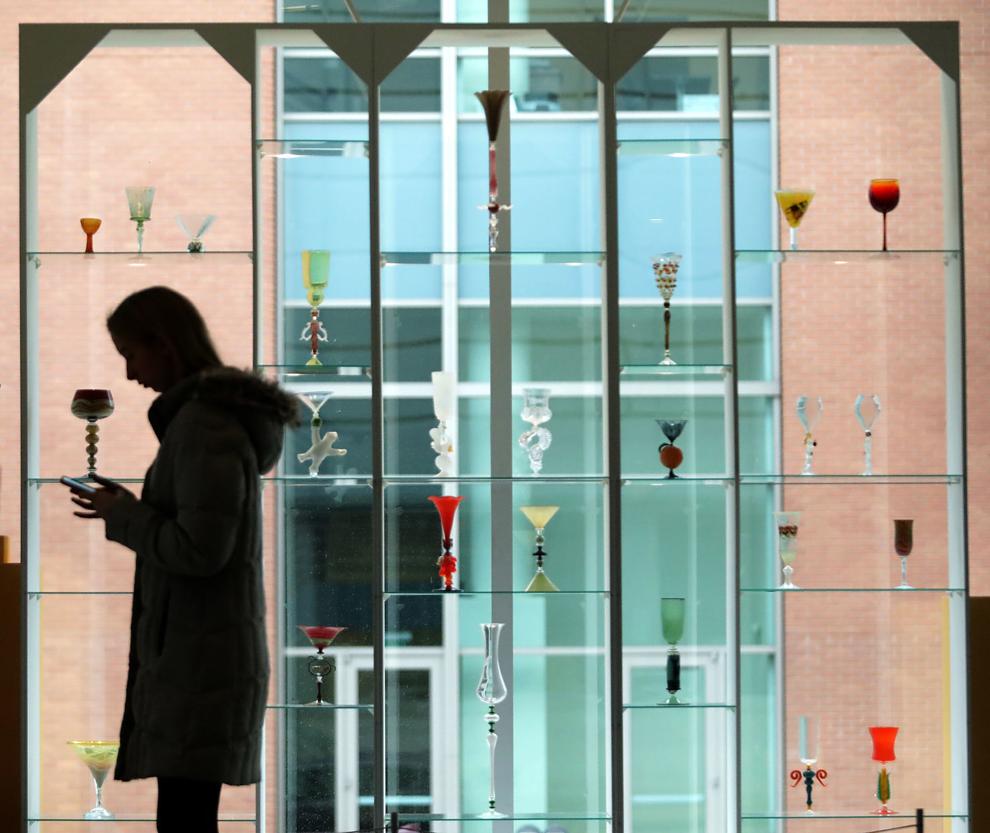 The Racine Art Museum was founded in 1941 as the Charles A. Wustum Museum of Fine Arts and was located near the Racine Country Club on the city's northwest side. That campus remains but the main museum is now downtown and was constructed in 2003 for $10 million in two historic buildings. One of them was a bank that in 1933 was robbed by gangster John Dillinger. One of the safes from the bank remains. The museum is now helping to energize the city center after years of economic downturns, lost manufacturing jobs throughout the city and shuttered downtown retailers.
"It's given us a great platform to present the collection," said Bruce Pepich, the museum's executive director since 1981, who has been on the staff for 45 years.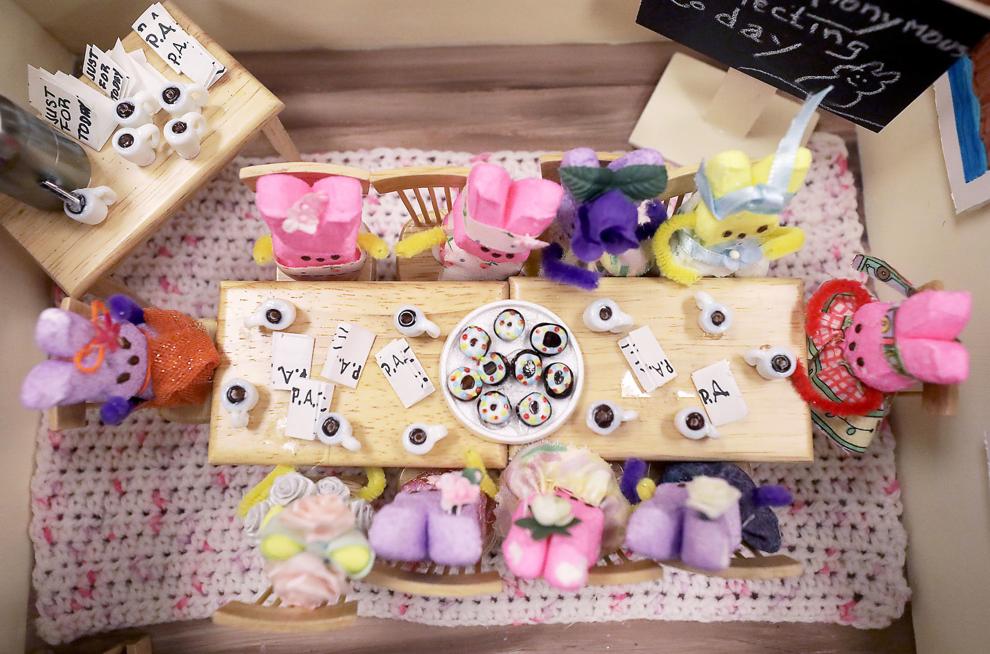 Racine is the home of SC Johnson & Co., founded by Samuel Johnson in 1886 when he bought the parquet flooring business from Racine Hardware Manufacturing Co. A few years later, he created a wax to help preserve his flooring. The company's products now include such brands as Glade, Off, Pledge, Drano and Shout.
JI Case, the farm equipment manufacturer, was founded here in 1842 but shuttered its Racine plant in 2000. Danish Kringle is big, along with the 108-foot-tall Wind Point Lighthouse, which was constructed in 1880 to help ships navigate Lake Michigan.
But Peeps are also giving Racine international acclaim.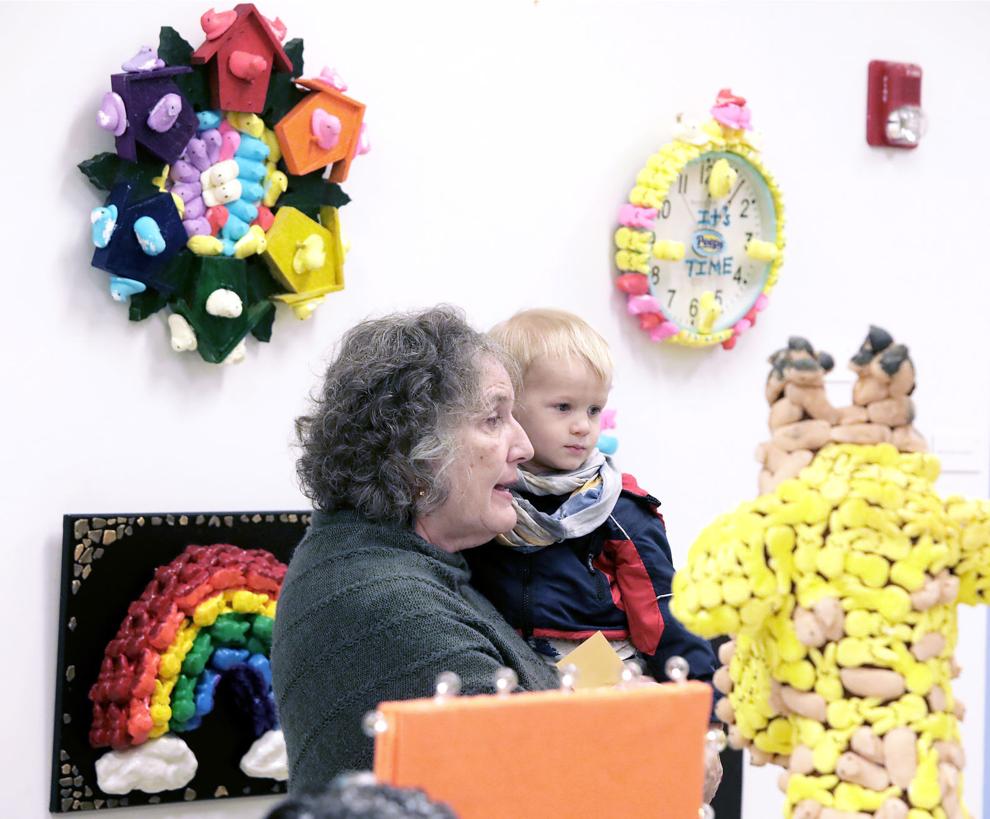 That first year, when Englander asked museum patrons to create and submit colorful creations using Peeps, she was hoping for four or five that she could plop on a corner table near the front window of the museum gift shop. But she quickly came to realize she would need a bigger space after 34 entries were submitted. It grew to 69 in 2011 and has been over 100 since 2012. In all, 1,167 pieces of Peeps artwork have been part of the annual event. About 45 people have entered in at least four different years.
"We're getting a lot of repeat artists and they're planning ahead," said Jessica Zalewski, the museum's marketing and publications manager. "Some people save Peeps from the year before and they have ideas that are generated from one exhibition to the next. It's just kind of gained momentum."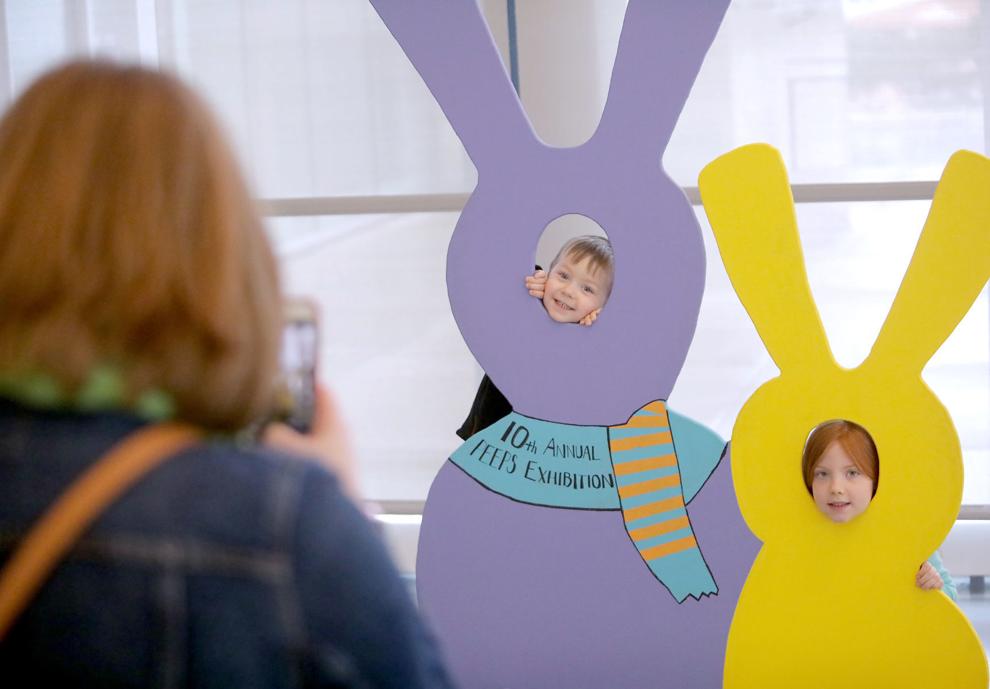 Anyone is allowed to enter, but the Peep art is restricted to a certain size after some as large as 4 feet wide were submitted in the first year. The creations need to use Peeps or incorporate the image of a Peep, which has opened it up to sculptures, paintings and quilt work.
Only one entry has ever been rejected: It depicted a scene from the movie "Silence of the Lambs" that "was not family-friendly," Pepich said.
But that doesn't mean the submissions are not without an edge. This year's entries include one about the Mexican border, featuring a wall with Peeps trying to dig under and pass through the slatted wall. Another depicts a gay pride parade, while one entry has Peeps protesting bullying.
History gets a nod this year with two entries portraying Mount Rushmore. There's a chia Peep, several worked into pizza and others in scenes that include gymnastics, camping and mini golf, and one scene with a rocket and spacesuits titled "Planet of the Peeps."
First place in the adult category this year, judged in part by Racine Mayor Cory Mason, was a diorama that pays homage to Edward Hopper's painting "Nighthawks," in which those at the counter of the diner have been replaced with Peeps.
In the past there have been Peeps in the shower scene from the movie "Psycho," while one year a group of nurses from a colonoscopy clinic submitted a diorama titled "Colonoscopeep" in which a Peeps patient was lying on a table surrounded by a medical staff of Peeps.
And new to this year's event is a sale in which most can be purchased after the show closes on April 28. The majority are between $25 and $50, but a few top $100. The proceeds will be used to help underwrite next year's show.
"We like the fact that it shows we have a sense of humor," Pepich said. "We think of the institution as being part of the overall public community both locally and regionally and not an ivory tower. You can make great works of art that have a sense of humor about them."
Barry Adams covers regional news for the Wisconsin State Journal. Send him ideas for On Wisconsin at 608-252-6148 or by email at badams@madison.com.