Madison has long been known as a bicycle-friendly city, as well as a Midwestern technology hub, so it should be no surprise that electric bicycles, or e-bikes, have gained popularity here.
If you've stepped into a bike shop recently, you may have seen some e-bikes, which have a small electric motor at the pedals or rear wheel that boost the power of pedaling. They're more expensive and bulkier than the typical bicycle, but owners say they make some of the troubles of biking — such as pedaling up hills or into headwinds — all but disappear.
"It's like having someone with their hand on your back pushing you along, but you're still the one pedaling," said Bob Burns, a vice president of Waterloo-based Trek Bicycles and board member of the Wisconsin Bike Fed.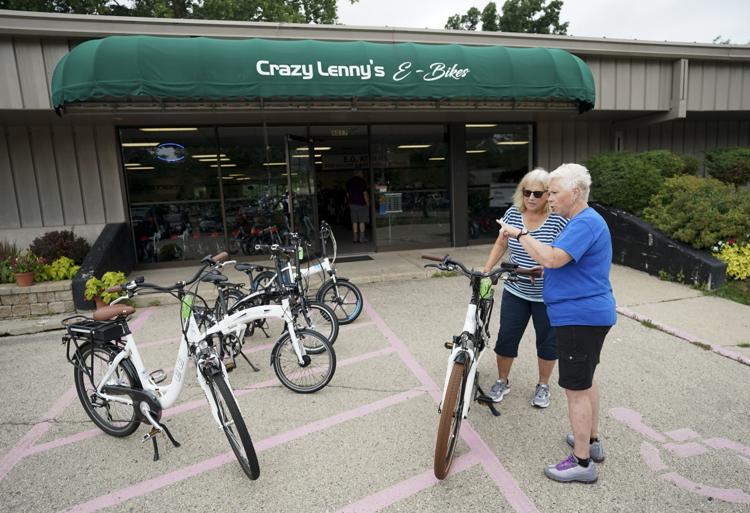 Jane Prell, of Lake Delton, is a fairly recent e-bike convert. She bought her first one a couple of years ago, but she has already decided to upgrade. She wanted a bike with a little more get-up-and-go than her previous e-bike had. Some of her friends had recently gotten e-bikes with a higher level of pedal assist, and she couldn't keep up.
"It was just like, 'Woo, that was cool,'" Prell said of the first time she rode an e-bike. "You just want to scream with joy."
The e-bikes at Crazy Lenny's range from about $800 to upwards of $10,000 — although owner Len Mattioli considers anything over about $2,000 unnecessary. Mattioli said many of his shoppers consider the price worth it because they ride the bike more often.
Prell said that's the case for her. She hardly rode her conventional bike, but she said she rides her e-bike much more frequently and for longer periods. She rides for fun and to run errands, sometimes about 10 miles in a day.
"You still have to pedal, and you still get the exercise," Prell said. "It makes it so much more fun."
E-bikes have battery-powered motors that kick in when the cyclist is pedaling, although the electric assist can be turned off, as well. The motor will amplify the cyclist's pedal power by anywhere from 10% to 90%, depending on the setting used. That assist helps the bike go faster with less effort, which can be fun on flat surfaces, making it feel like the cyclist is gliding along, but it can also be downright useful for traveling uphill.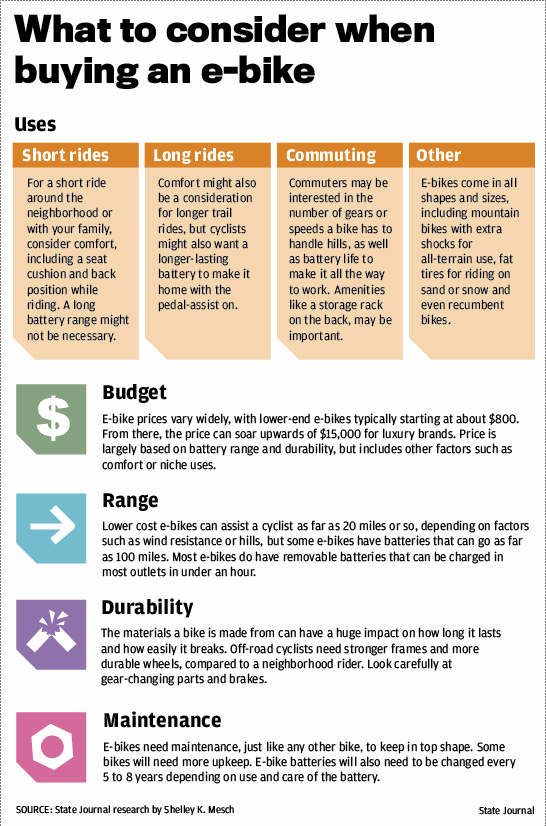 You have free articles remaining.
"Seeing BCycle e-bikes everywhere in Madison has been such an exciting shift in the transportation landscape, with many more people considering bike share as a viable transportation alternative," Ramaker said.
The BCycle e-bikes, made by Trek Bicycle, are utilitarian in nature, meant to fit most people and handle a lot of wear and tear. Personal-use e-bikes, like personal-use conventional bikes, can come in much sportier, more comfortable or sleeker options.
Mattioli, who was the founder of American TV before opening the e-bike store, likened his investment in e-bikes to a retail investment he made in the late-1960s — microwave ovens. He said many people didn't understand why people would want another kitchen appliance, but soon they became a staple in almost every household. Mattioli said he expects e-bikes to become just as ubiquitous.
"Every kitchen has a microwave oven, and the e-bike thing — I say every garage will have an e-bike," Mattioli said.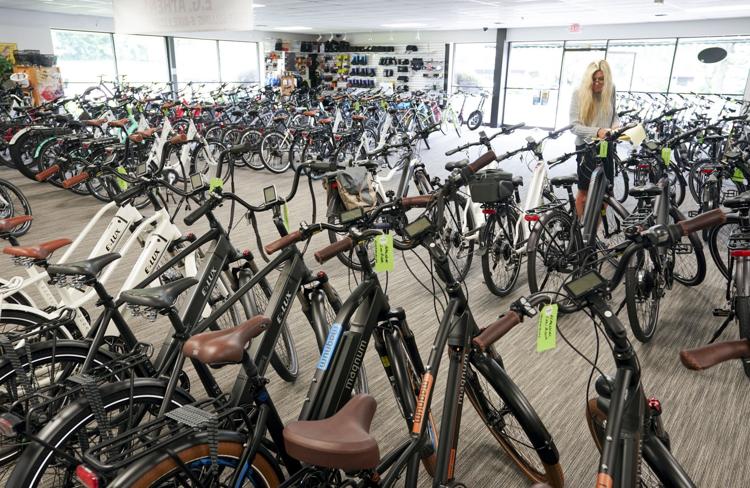 There's a misconception, Mattioli said, that the only people who buy e-bikes are seniors who are too old for conventional bikes. He said that idea comes from a sense of "machoism" that makes some riders believe pedal assist makes you look weak.
"You don't buy an e-bike because you're older and you need assist. You buy an e-bike so you can go farther and have more fun and use it more often," Mattioli said.
Some of Mattioli's customers are, in fact, seniors looking for an easier exercise and a way to get outdoors, but he also gets everyone from mountain-bikers to commuters to athletes. Commuters using e-bikes can cut their effort almost in half and show up to work without sweating through their shirts. And athletes, who Mattioli called "spandex-clad younger folks," can get in their cardio workouts without the joint-stress and exertion needed to force a bike up a hill or to cut through headwinds.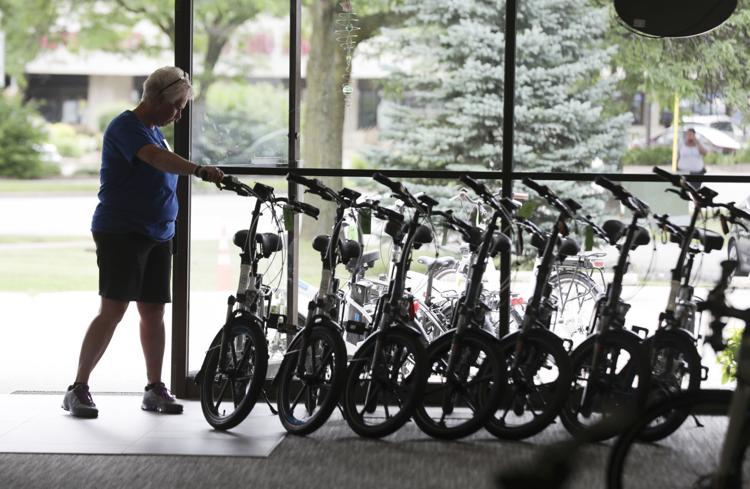 State laws on e-bikes are murky, Burns said, but related legislation is making its way through the state Legislature. The Assembly passed a bill classifying e-bikes as bicycles rather than motor vehicles, and a matching bill is awaiting a vote in the Senate. By creating the classification, it puts into law that e-bike riders don't need to get a license or register the e-bike as a motor vehicle.
"It's bringing the statute up to date with the reality of the product," Burns said.
Most e-bikes are governed at 20 mph, and some are governed at 28 mph, so they won't be able to keep up with traffic like a moped would. Cyclists can go faster than that if they pedal faster, but the assist will only help them up to those speeds. Some e-bikes also have an extra throttle switch that can propel the bike without pedaling.