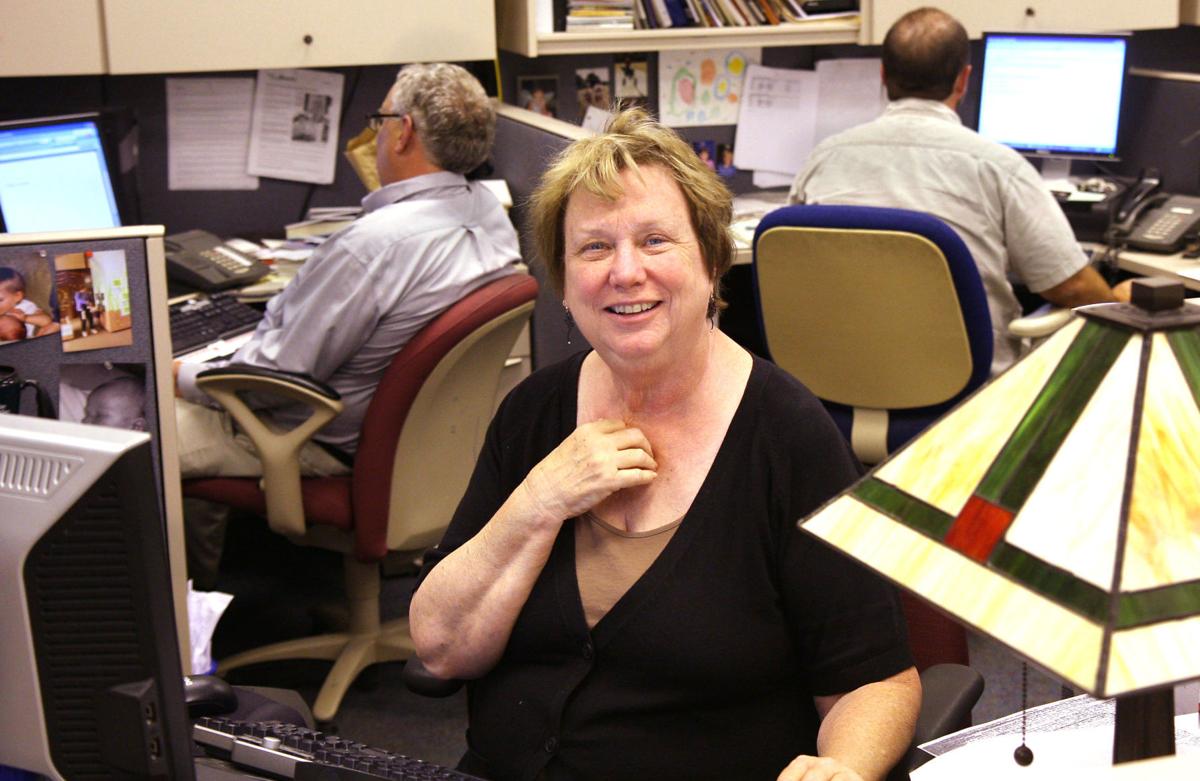 The details are fuzzy after so many years, but as Cliff Behnke remembers, Wisconsin State Journal reporter Patricia Simms was sent one day to cover a supposedly "secret" meeting at the Capitol.
"She strode into the meeting, told them the whole thing was open to the public and sent her notebook around the room with instructions for all the participants to write down their names and phone numbers in case she wanted to contact them later for the story."
"They complied," said Behnke, Simms' former colleague and boss. "Talk about kicking ass and taking names."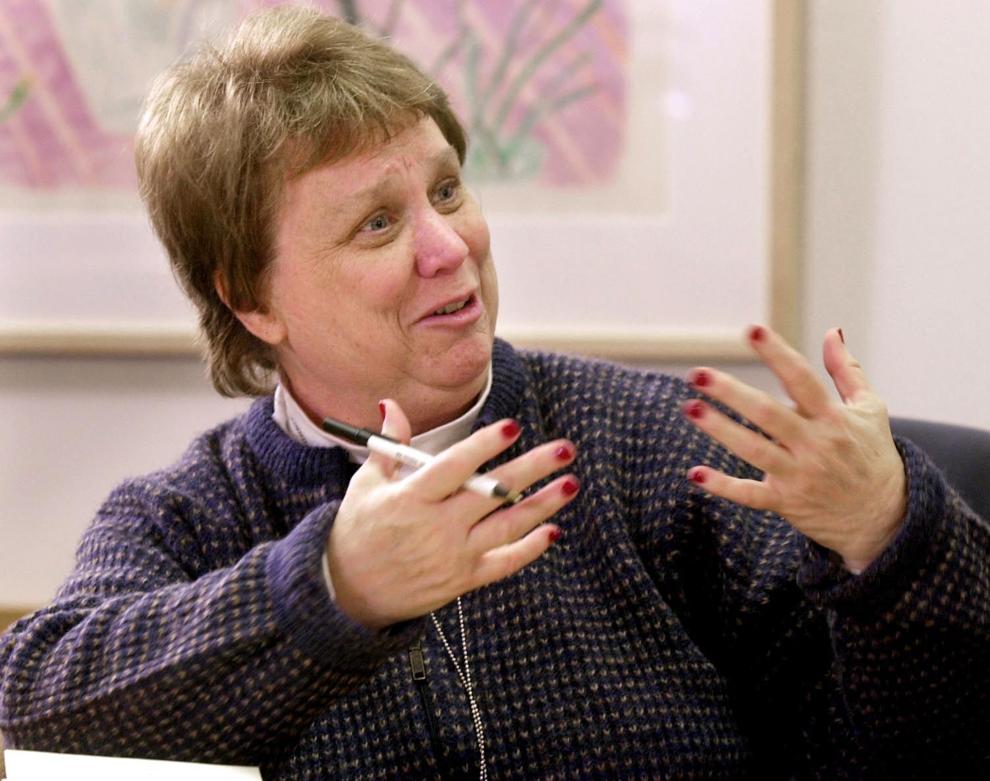 Mention Simms' name to just about any journalist or power broker active in Madison over the last half-century, and they're likely to have a story about the veteran reporter who succumbed to cancer Monday at the age of 75 after 42 years covering nearly every beat in local and state government.
"She loved gossip and she loved getting the inside dope on everything. ... She was just so competitive. She hated being scooped," said Ron Seely, who spent more than 30 years working with Simms and called her "just nosy as hell."
'You had to get the story'
Simms, a native of Buffalo, New York, joined the State Journal in 1969 after graduating from Daemen College in 1966 and then Northwestern University's prestigious Medill School of Journalism three years later.
Her first byline in the newspaper where she would spend her entire reporting career was a July 3, 1969, story about the effects a brewery strike was having on the availability of beer at Madison taverns and liquor stores. Her last came nearly 50 years later, as she continued to freelance for the paper after retiring in 2011.
In an interview shortly before her death, Simms said that of the thousands of stories she wrote, the ones that stood out the most "are the ones that have murder and mayhem because they were memorable and the outcomes were memorable."
"And then there were the investigations where you knew something was there and getting to it was seemingly overwhelming. You had to get the story. So you nibbled around it and you nibbled around it and talked to people and sometimes people would give you a tip and you would follow that up," Simms said. "Part of it was really just the fight to get the story."
As a state government reporter, her coverage spanned the administrations of five former governors: Pat Lucey, Martin Schreiber, Lee Dreyfus, Tony Earl and Tommy Thompson.
"Tough but fair, and always seeking the truth," is how Thompson described her. Earl called her "very knowledgeable and very hard-working."
From 1989 to 1998, Simms penned the "Snoop" column for the newspaper, a quick-hit collection of gossip, insider news and watchdog reporting that relied on Simms' particular ability to cultivate and get information from sources.
"It was human, readable, humorous and biting, sometimes all within the same column," said Tom Still, a former colleague and now president of the Wisconsin Technology Council.
In the last decade-plus of her career, she covered business and health beats and was the reporter tapped to launch the State Journal's "SOS" consumer-advocacy column, which seeks to expose and correct problems experienced by State Journal readers and runs to this day.
As newspapers cultivated their online presence, she was one of the first reporters to start shooting video, telling the State Journal upon her retirement in 2011 that "I never thought I had a choice. ... If you want to keep your edges sharp, you have to keep up."
A demanding pioneer
Simms entered journalism at a time when newsrooms were dominated by men, but colleagues didn't remember her mentioning the discrimination or doubts she sometimes faced because of her gender. Mostly they remember a reporter who got what she wanted.
"She demanded good assignments and got them," said former colleague Bill Wineke. "She demanded pay raises and got them. She took those assignments and ran with them and before long, others followed and we took her pioneer status for granted."
She didn't win all those battles. In 1972, when Karleton Armstrong, one of the suspects in the Sterling Hall bombing, was arrested in Toronto, Simms assumed she would be hopping a plane to cover his extradition hearing. But the assignment went to a male reporter because management said it "didn't want me traveling alone," Simms recalled last month.
"That would never happen now," Simms said. "But it was a different time."
When she was pregnant with a daughter in 1973, she was the first woman in journalism in the state of Wisconsin to demand, and get, maternity leave, her daughter, Sara Lalander said. She was granted maternity leave again after becoming pregnant with her son, Joe, in 1974.
"I think the editor at the time thought she was going to quit" and stay home with the children, Lalander said.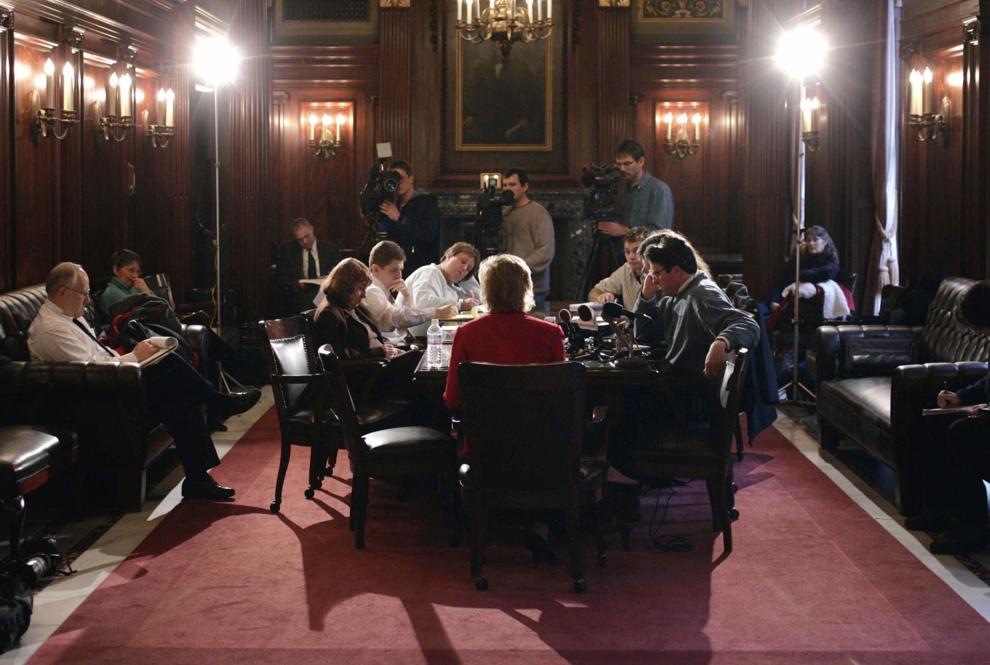 A mentor and confidante
Despite her sometimes tough exterior, Simms was well known among family, colleagues and friends as the person to call for help with problems both personal and work-related, arrange a wedding or baby shower for a colleague or coo over coworkers' new babies. She adored her six grandchildren.
Jonnel Licari, who worked at the paper in the 1990s, called her "a mentor, a confidante, a second mom, an endless resource, a partner in crime, a savior, a shoulder to cry on and one of the best laughs ever to share."
"Not only did she share her wisdom with me as a younger reporter nearly 30 years ago, but we bared our souls to each other during some shared difficult times," she said.
Seely remembered how affected Simms was when his 11-year-old daughter died in 1991 and how she helped him mourn the loss. After he and his wife adopted a child from China, Simms broke down in tears the first time he brought her into the office.
Lalander said her mother's fearlessness and desire to better her community were long-standing.
Before starting her journalism career, she worked with families in the Chicago public housing projects as a volunteer with the federal VISTA volunteer program. For years at the end of her career, she helped prepare inmates at Oregon Correctional Center for their high school equivalency exams.
In retirement, she taught writing at Madison Area Technical College and Edgewood College, where she served as the student newspaper's faculty adviser.
"Pat is famous for approaching students at the college she didn't know but who looked like they would be good journalists and shepherding them to a slot on the student publication," said Ellen Foley, a former State Journal editor. "She rebuilt that part of Edgewood College."
Simms' former colleague and current State Journal reporter Barry Adams recalled her humanity in the midst of even the most horrifying of stories, like the time a disturbed man was shot and killed by police in front of terrified preschoolers after he attacked a teacher at Madison's Red Caboose child care center in 2004.
The incident, Simms wrote at the time, "turned teachers into heroes, forced children to grow up a little too fast, and ended the life of a man who apparently wanted to die."
"Watching Pat work was an education," Adams said. "She could be incredibly sweet but never appeared intimidated and had no fear of holding the powerful accountable."
Simms said that earlier in her career, she had dreams of possibly moving on to bigger newspapers. But family kept her rooted in Madison.
"It was a great place to raise a family," said Simms, who lived her final few years in a condominium on Madison's Far West Side. "I have had a happy life here and a wonderful career and met wonderful friends here. It turned out much happier than I deserved, but it was lovely."
State Journal reporter Barry Adams contributed to this report.