NORWALK – The light at the end of the tunnel looks closer but in reality is about a 15-minute delicate walk away.
The journey includes dozens of puddles, spring water dripping from the limestone ceiling and the occasional passers-by trying not to slip or lose the grip on their bicycles as they traverse the slick, arched trail designed to shed water to its sides.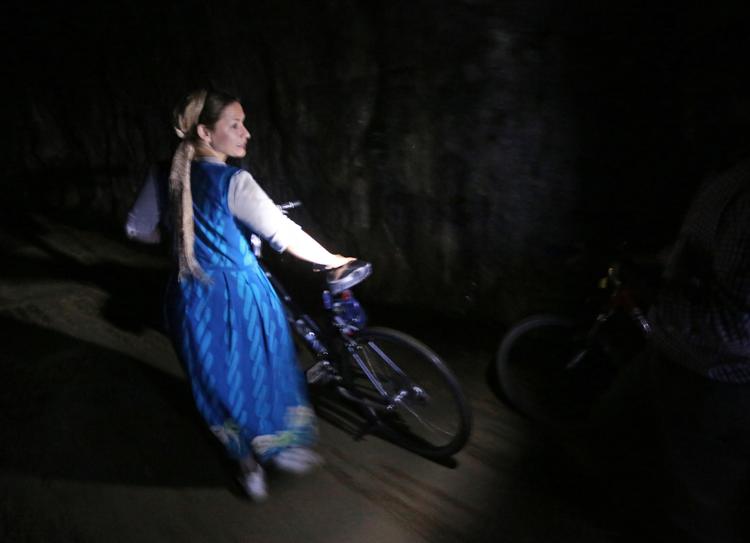 Susanna Hege of La Farge, her sister Anita and Males Mainvel, a friend visiting from Haiti, chose a more spiritual method. Their Christian hymns, hummed softly, echoed through the 3,810-foot-long Tunnel 3 last week. Their impromptu tunes added unexpected ambiance 142 years after dynamite blasts, oxen, mules and scores of men wielding hand tools finished three years of work digging the tunnel, three miles west of Norwalk and eight miles east of Sparta.
"We always sang through the tunnel," said Susanna Hege, as she remembered her childhood experiences. "I always just have fun singing in there because the acoustics are so neat."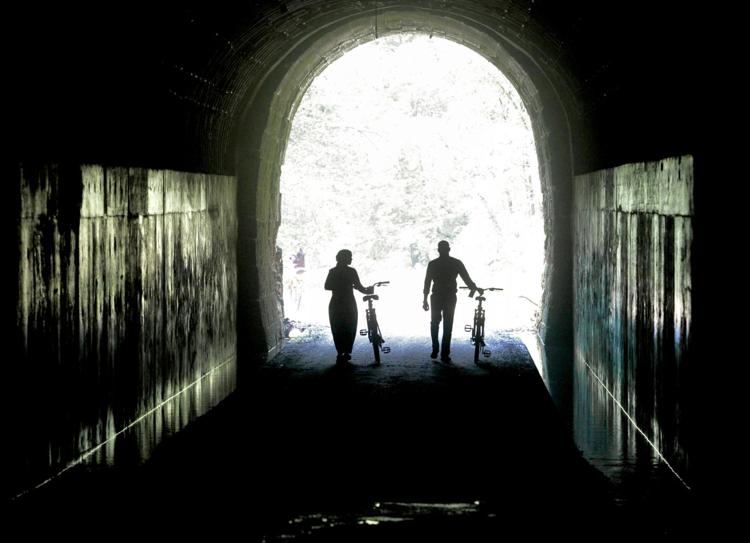 The tunnel, and two others at 1,680 feet long each, were not created, of course, for bicyclists and walkers. Instead, for 91 years, they hosted the roar of locomotives pulling passenger and freight cars. The sound would have been deafening.
But the history of the tunnels didn't end when train service on the Chicago & North Western Railroad line between Elroy and Sparta came to a halt in 1964. The tracks were removed a year later and the right-of-way sold for $12,000 to the state for the development of what would become the nation's first "Rails to Trails" project.
Dave Heilman grew up in Norwalk and remembers as a child listening to the trains rumble through his town as he lay in bed. He now lives in Kendall and is president of the Friends of the Elroy-Sparta State Trail Board.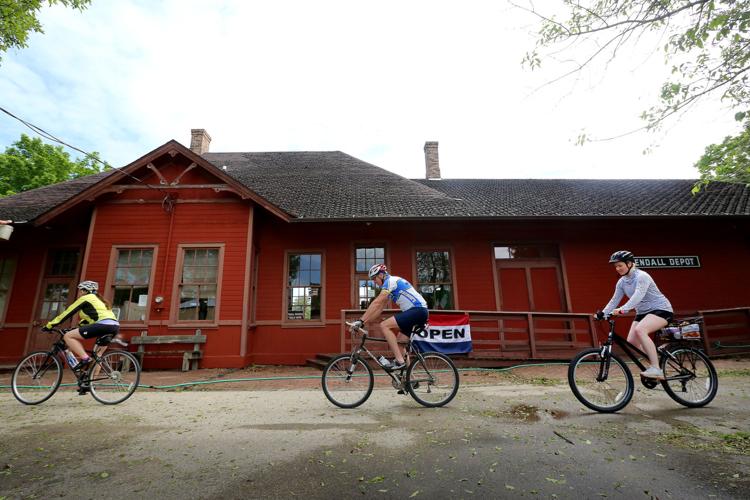 "To me, this trail is a 32-mile linear park that includes hills and some great scenery," he said. "It's known worldwide, not just nationwide. It's the granddaddy of them all."
In the last 50 years, Wisconsin's trail system has grown to 90 rail trails equaling 1,800 miles. Nationally, there are now 21,000 miles of trails on former rail beds, according to the Rails-to-Trails Conservancy, a national advocacy group with 160,000 members and supporters.
And it all started in Monroe County where the hills were untouched by a glacier 12,000 years ago.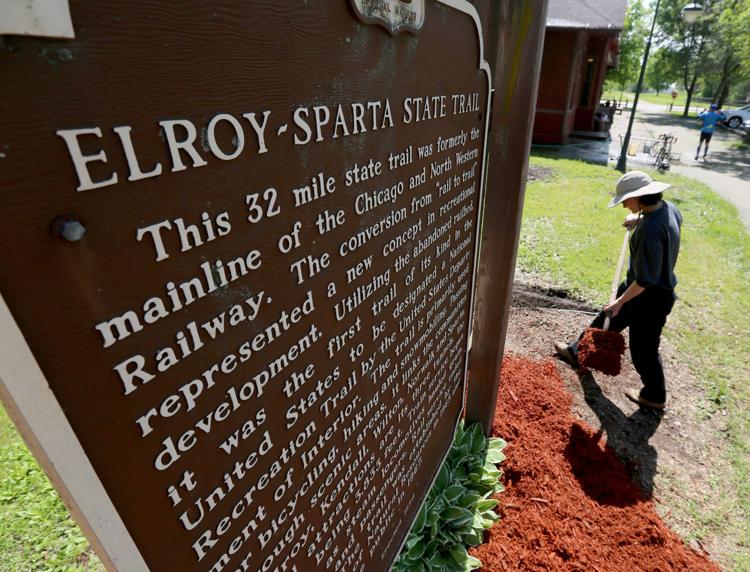 Wisconsin is blessed with a vast network of bike trails, both rural and urban and not all on former railroad corridors. The Elroy-Sparta trail may be the most well known.
The notoriety translates into dollars. Direct spending on tourism in Monroe County was $79.6 million in 2014. Those numbers include snacks and Gatorade bought by bikers at Fastrip in Kendall and bike rentals at Hardware Hank in Wilton.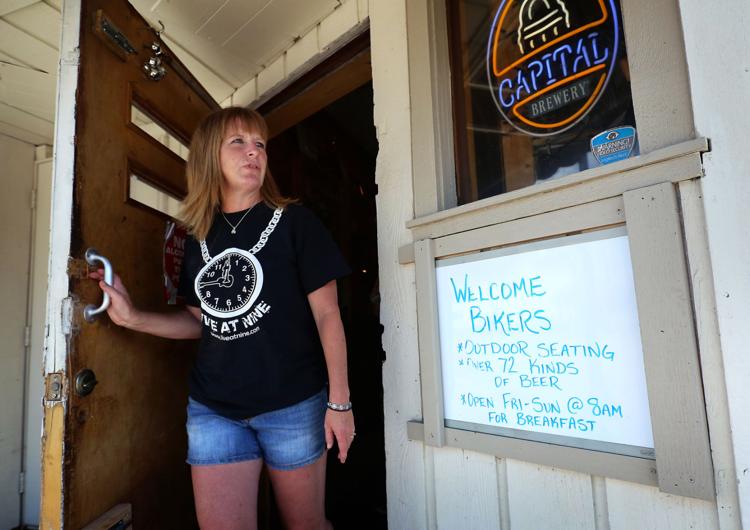 Vicki and Jeff Von Haden in 2010 bought the Hitchin' Post in Wilton, where they serve up burgers and 72 kinds of beer, and show off photos and memorabilia from the now-closed Wilton High School. Wood from the former bowling alley in the bar was used in flooring and to make the bar's top.
They also are opening an ice cream and sandwich stand a few blocks from the trail. The business, which was scheduled to open Saturday, will sell ice cream, wraps and specialty hot dogs, including the return of the "Wilton Weenie," a glorified chili cheese dog. They expect 70 to 75 percent of their business to come from those using the trail.
"There's a lot of families that have small kids, and they don't always want to go into a bar," Vicki Von Haden said. "We're like a concession stand for the bikers."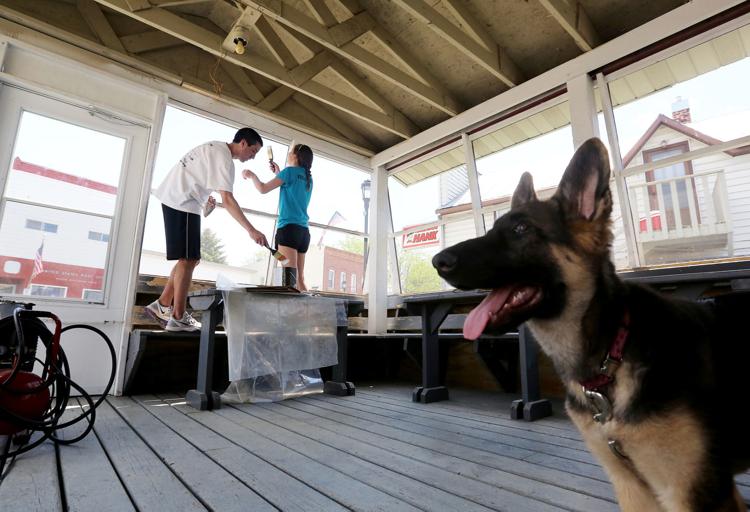 Trail comes to life
Glenn and Peggy Bates, and Glenn's sister, Cheryl Castles, made a more than five-hour drive from near Springfield, Illinois, to take in the Wisconsin Dells earlier in the week but the real purpose of the trip was to experience the Elroy-Sparta trail. They planned on doing a portion of the trail, since it was their first long ride of the season.
"Our butts aren't prepared yet for it," Castles said.
"We wanted to see the tunnels," Peggy Bates said, as her husband inflated tires with a hand pump. "It's unique."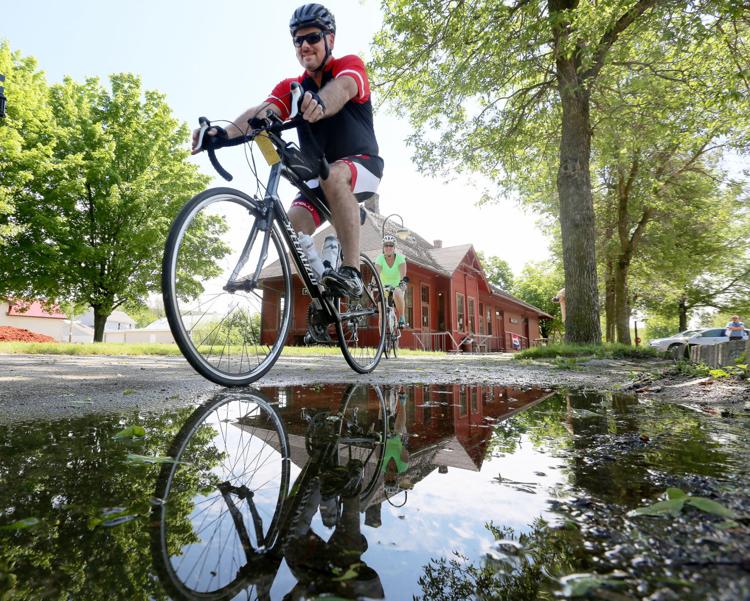 The trail is also peace of mind for Terri Dellamaria of Lauderdale Lakes near Elkhorn. Dellamaria, 49, was hit by a car in 2007 and critically injured while biking on a road near her home. The crash has kept her off roads but not off old railway beds that some hard-core road bikers avoid because of the relatively flat terrain and lack of curves and corners.
"Boring is not something that would ever cross my mind. There's just so much to see," said Dellamaria, who frequents the White River Trail near her home but hit the Elroy-Sparta trail last week. "Ever since (the crash) I've been a huge proponent of the rails-to-trails system. It's just a fun way to travel."
At the Kendall Depot, Candy Spence is in her third season working behind the counter. Had she been in the same spot 100 years ago, she would have been selling train tickets, operating a telegraph machine and logging in freight and luggage. But in 2015, she sells T-shirts, trail passes and postcards, and rents bikes as an employee of the Friends of the Elroy-Sparta State Trail. About 35,000 people use the trail each year.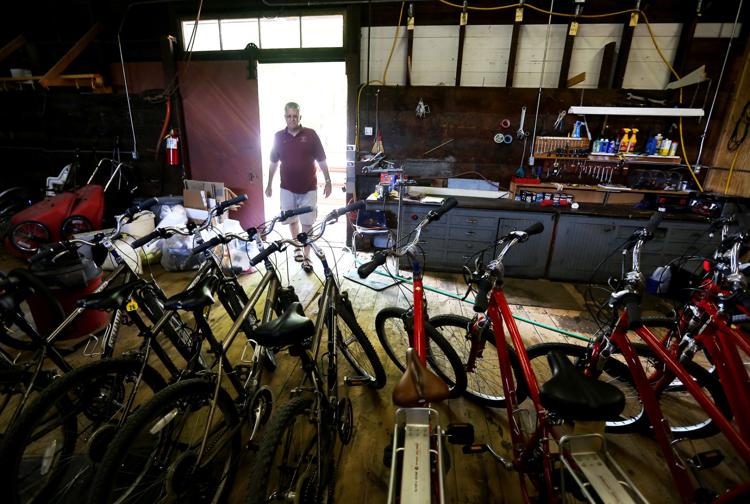 "The bulk of what we do is give out a lot of tourist information and listen to stories," said Spence, who lives in Elroy. "We get to hear stories from people from all over the world who come to ride the trail. We have a gem right in our own backyard."
In the early days of the railroad, six passenger trains and 40 to 50 freight trains would make the run between Elroy and Sparta, according to a history pamphlet sold in the Kendall Depot. But when they traveled through the tunnels, train speeds were limited to 15 mph. The massive wooden doors on the tunnels were kept closed from mid-November to late March to prevent freezing. During that time, tunnel operators were stationed at the doors 24 hours a day to open and close the doors for approaching and departing trains.

"It's much quieter, but I think it's been bikes long enough — for 50 years — that most people don't even remember trains anymore," Heilman said. "So it's just a difference in what's happening on the trail. It's bicycles now, and bicycles are much quieter than trains."
Barry Adams covers regional news for the Wisconsin State Journal. Send him ideas for On Wisconsin at 608-252-6148 or by email at badams@madison.com.
Be the first to know
Get local news delivered to your inbox!