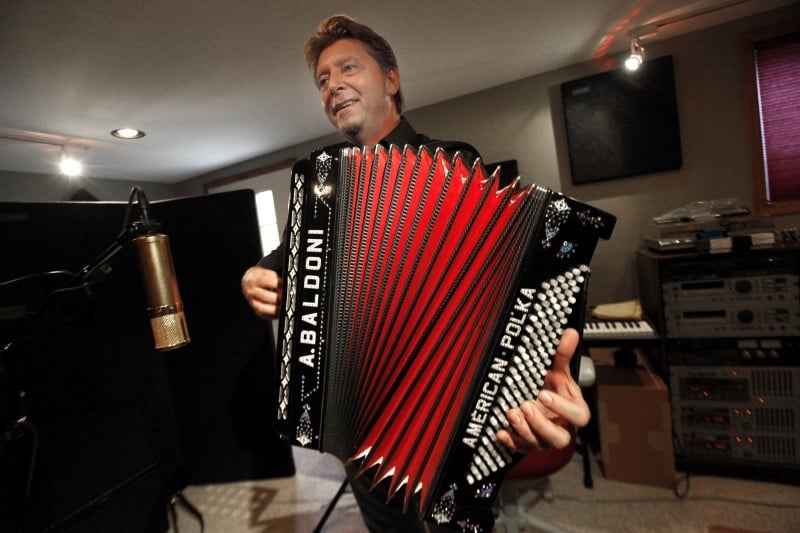 WHITEWATER — When Steve Meisner hoists the 20-pound Baldoni accordion to his chest and begins to play, you can see him relax.
At times, the 51-year-old closes his eyes as his right hand works the ivory and black keys while his left fingers somehow find the correct combination among the 120 bass and chord buttons.
This is not just Polka Time but Meisner Time.
It began when he was 5 years old in the mid-1960s under the tutelage of his legendary polka king father, Verne Meisner. Today it reaches a range of fans — from college students who drink beer from a glass boot and fill the Essen Haus in Madison to their grandparents who dance to his Slovenian style of polka at the American Legion Hall in South Milwaukee.
"It brings you together to have that fellowship with lyrics that everyone can understand but deep enough to reach your soul," Steve Meisner said of polka music. "It's about playing from your heart."
Next month, Meisner, who in 2005 was inducted into the Wisconsin Polka Hall of Fame and has traveled the country, will receive a lifetime achievement award and be inducted into the National Cleveland-Style Polka Hall of Fame in Cleveland, Ohio.
Meisner, a husband, father of three and grandfather of two, will soon release his 22nd album and is working on another that will include the blues and country but no polka music.
The new music and accolades come a year after the death of his mother, and seven years after the death of his father, an icon in the industry who was just 67 when taken by melanoma.
"When his father, Verne, passed, the industry knew the baton was being passed on," said Tuba Dan Jerabek, 63, president of the Wisconsin Polka Hall of Fame. "He's never stopped trying to perfect his trade."
The polka was named the state dance in 1993, is a staple at most weddings (at least for part of the reception) and is even showcased on radio stations around the state. Some play polkas just a few hours over the weekend, others, like WTKM-FM in Hartford, for the majority of the time.
Meisner continues to fulfill a promise made to his father at a time when the Beatles were invading America.
The young Meisner asked to be taught the accordion after he found one of the instruments in his grandmother's attic. His father agreed under the condition that his son not quit playing the instrument. Before he turned 6, Meisner was performing with his father and has not looked back.
"It was the heaviest thing I ever lifted," Meisner said. "My father taught me that it's your job to make everyone happy."
Meisner took lessons until he was 9 and had his own group when he was 17. The band's first gig was at Gemuetlichkeit Days in Jefferson.
In 1988, Meisner and his father (whom he continued to play with) were the first polka artists to receive a Wisconsin Area Music Industry award.
Steve Meisner's band, which can include banjo, a jazz saxophonist and drums, has been a regular at the Essen Haus for the past 15 years and is a frequent headliner at the New Glarus Hotel and the Croatian Cultural Club in Joliet, Ill.
In 2010, the band, known for its Slovenian-style polka "done the Milwaukee way," played at the Kennedy Center and the Library of Congress in Washington, D.C.
"The polka well represents the broad ethnic diversity of Wisconsin," said Ann Pryor, folk and traditional arts specialist for the Wisconsin Arts Board in her introduction of the band at the Library of Congress. "Polka is associated with happiness. That raucous, unrelenting drive of the music just pushes the blues away."
Meisner's music is a perfect example. Even a song on his 1988 "Jammin' Polkas" album titled "Sincerely We're Through" proves to be upbeat with a positive sound. Meisner is also a bridge from polka's heyday to its future. He's still getting used to the smartphone he purchased in August, but has had a website for 16 years and has been on Facebook since almost its inception.
He'll play at Blob's Park Bavarian Beer Garden in Jessup, Md., next month, but his music was also featured in the 2000 film "Chump Change."
Meisner's music, much of it recorded in his home studio on the west side of Whitewater Lake, celebrates his Wisconsin roots and upbringing but also embraces new sounds with musicians who have brought experience in other genres to the polka stage.
And yes, he makes a living as a full-time musician.
"Polka music is the most popular of all underground music," Meisner said. "You have to look for (polka dances) but they're everywhere."
Barry Adams covers regional news for the State Journal. Send him ideas for On Wisconsin at 608-252-6148 or by email at badams@madison.com.