MILWAUKEE — Pete Rose may never be enshrined in Cooperstown, New York, but Major League Baseball's all-time hits leader has a terrific shot at having a hall of fame induction ceremony in Milwaukee.
Instead of joining the likes of Babe Ruth, Willie Mays, Robin Yount and Paul Molitor in the National Baseball Hall of Fame and Museum, Charlie Hustle may one day share wall space with Fred Flintstone, Mahatma Gandhi, Bart Starr, Jesus Christ and Homer Simpson.
The National Bobblehead Hall of Fame & Museum is closer to reality thanks to a couple of longtime friends who saw their collection of bobbleheads get slightly out of hand.
Instead of getting rid of most of their nodding and shaking statuettes, Phil Sklar and Brad Novak quit their day jobs and doubled down to create what is believed to be the world's largest collection of bobbleheads for public display.
As of last week, the pair had amassed more than 5,000 bobbleheads and were busy preparing for the opening of an exhibit to showcase part of the eclectic collection of figurines from the world of sports, pop culture, entertainment, history and politics.
"It's not something we did overnight. We've thought about this for a long time," said Novak, 31. "It's our passion."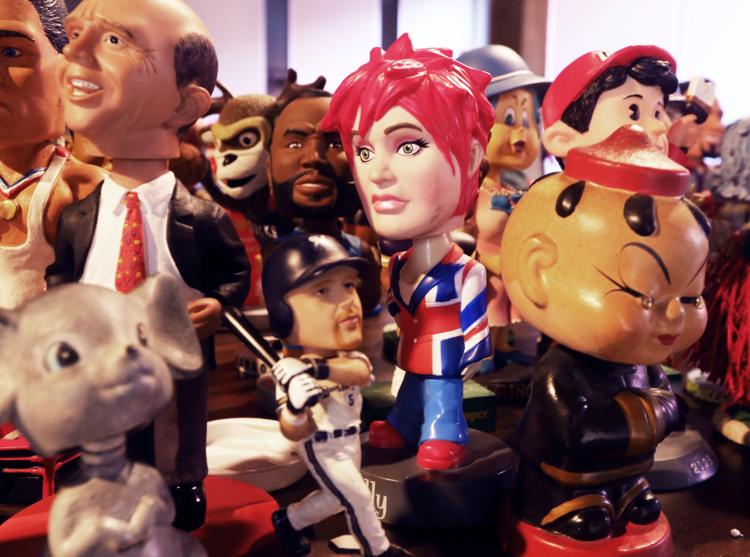 The 3,000-square-foot exhibit, "Bobbleheads: Real & Fantastical Heroism," will open Jan. 22, at Redline Milwaukee, a nonprofit urban arts center and incubator for emerging artists located at 1422 N. Fourth St., just a few blocks from the BMO Harris Bradley Center.
The opener will be preceded by a preview party and fundraiser this Thursday from 5:30 to 7:30 p.m. where Pat McCurdy will debut a theme song for the Hall of Fame & Museum. Proceeds from $25 tickets and a silent auction will be used to benefit Redline educational programs.
"It's something so many people can relate to," said Jeanne Jarecki, executive director of Redline Milwaukee, founded in 2009. "There's so many different themes that it becomes universal. Everybody thinks of it as sports but it's not. There's just so many things you can connect to."
The hope is that by the time the exhibit with free admission closes on April 30, a museum location will be found in downtown Milwaukee and open this fall. Ultimately, Novak and Sklar would like to see their museum housed in a 5,000-to-10,000-square-foot space, possibly in the sports and entertainment district planned for downtown Milwaukee that will include a $500 million arena for the Milwaukee Bucks.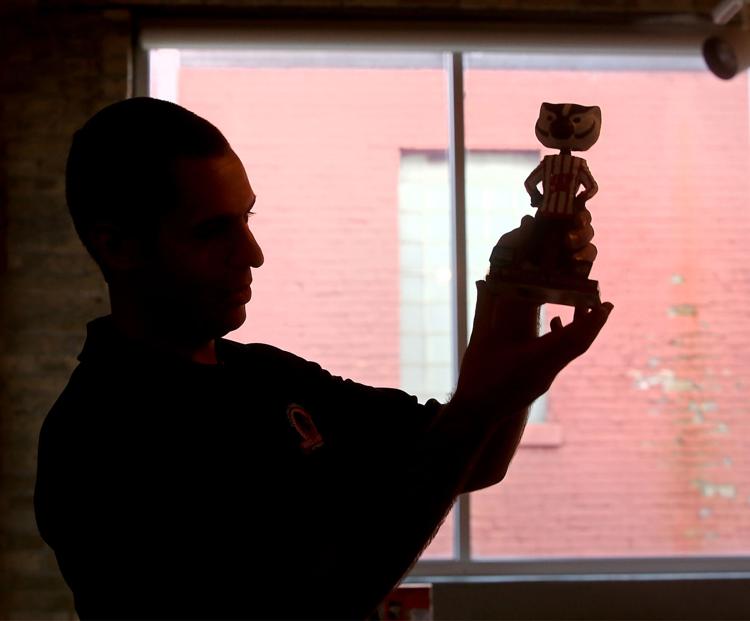 "The good thing is that there are a lot of great options in the downtown Milwaukee area right now," said Sklar, 32. "This (exhibit at Redline) will give us a good gauge on how many people are coming to see it and how many are going to the gift shop or not. It will give us a good barometer before we make a big commitment."
But the enthusiastic duo is already in deep with their collection approaching $500,000 in value.
Sklar and Novak have attended sporting events on bobblehead-giveaway days, purchased them from other collectors and have received donations. They're funding their efforts through their business that designs and manufactures bobbleheads for other organizations. They've had orders from minor league baseball clubs, the NBA, schools, non-profits, businesses and even NBC's Today show, for which they created bobbleheads of the hosts. In the last two years, they've designed 50 bobbleheads and have had 50,000 produced.
"Some of those have been for teams," Sklar said. "Some have been for special events. We did one for a rabbi who was retiring."
They also reached out in 2014 to Rose, the former Cincinnati Reds star, who bet on baseball and has been banned from the game, to have a bobblehead made in his likeness. The Rose bobblehead will likely be the first to be enshrined into the Bobblehead Hall of Fame later this year with three to five others being admitted to the hall each year, Sklar said.
The museum collection is diverse. It includes a bobblehead of Lauren Hill, a 19-year-old college basketball player for Mount St. Joseph University, who died of brain cancer in April, and the late Chris Farley, a Madison native and comedian. Politicians include presidents Abraham Lincoln, Bill Clinton, John F. Kennedy and Barack Obama. Former presidential candidate U.S. Sen. John McCain and his running mate Sarah Palin are represented, as is North Korea leader Kim Jong-un.
Mr. McGoo is here, along with Toucan Sam, the members of the rock band KISS, Albert Einstein, Shrek, Rocky Balboa and Apollo Creed, Tonto and Ray Szmanda, the former pitchman for Menard's. A hero's section includes bobbleheads of Nelson Mandela, Jackie Robinson, Helen Keller, Superman, Martin Luther King Jr. and Rosie the Riveter.
Other displays in the exhibit will include the history of bobbleheads, which date back to the 1700s, and how bobbleheads are made.
"With everything going on in the world, people need more fun," Sklar said. "It's a fun way to learn about somebody. They're so simple. They're just the body, the spring and the head."
Until a few weeks ago, about 90 percent of the collection was sports related. That ratio went down to 70 percent sports after Sklar and Novak purchased a collection from an Indiana man who had 1,500 bobbleheads. A collection of 700 bobbleheads was donated last fall to the museum by the family of the late Gerald Welch of Marshfield, who wanted to see Welch's collection kept together after his death. It included bobbleheads from the early 1960s and several "nodders," velvet dogs, cats and other animals in sitting or prone positions.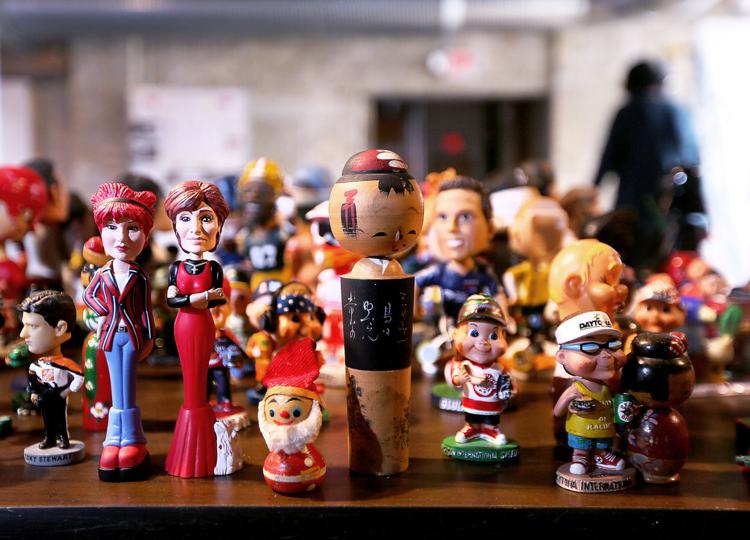 Sklar and Novak grew up together in Rockford, Illinois, and attended UW-Milwaukee. Novak began collecting bobbleheads while he was in high school because he worked for a minor league baseball team, where he ran the scoreboard and later worked as a front-office intern.
By the time he left for college, he had about 50 bobbleheads but the collection continued to grow as he and Sklar attended other sporting events on bobblehead nights and began buying bobbleheads. The duo has lived together in a condominium for eight years and until recently it was filled with bobbleheads from the basement to the top floor.
"They're not on the (kitchen) counter, where they used to be," said Novak, a former cellular phone sales representative, who quit his job in August. "They were everywhere."
Sklar, a certified public accountant with an MBA, quit his corporate finance job in October 2014 to work full-time with bobbleheads. He and Novak created their first bobblehead about two years ago when they did a fundraiser for Special Olympics and sold bobbleheads of Michael Poll, a superfan and manager at UW-Milwaukee sporting events.
That led to more custom bobblehead creations, the growth of the collection and an idea to create a museum and hall of fame.
"Nobody could see it in our house," Sklar said. "It's a cool collection and we thought that if we create something unique and one-of-a-kind, it could be a hit."