PRAIRIE DU CHIEN – St. Feriole Island has no shortage of visible history.
The offerings include Villa Louis, a 19th century Victorian home built on an Indian mound. Nearby is Brisbois House, constructed in 1837 and believed to be the oldest stone home in the state. The magnificently restored Dousman House Hotel, built in 1864, is just beyond the Brisbois Store, a former fur-trading outpost constructed in the 1850s just feet from the Mississippi River.
But for some, the history of the island where Prairie du Chien got its start goes far beyond tourist attractions.
Jeff "Bo" Lessard comes to the south side of the island to remember a community and family stronghold that has disappeared. Last week, Lessard, 56, stood in the parking lot for the baseball fields that didn't exist when he was a kid and recalled those who clammed, commercial fisherman and trappers. Many of them were his relatives who lived in a cluster of nine homes at the base of the suspension bridge that connected Wisconsin with Iowa.
"We're standing right where my grandfather lived," Lessard said. "My dad was born right there down on the river. Across here was my uncle Don, behind him uncle Mawk and then aunt Tina (pronounced Ty-nah). You'd go yard to yard and no one would yell at you. That's the way we grew up."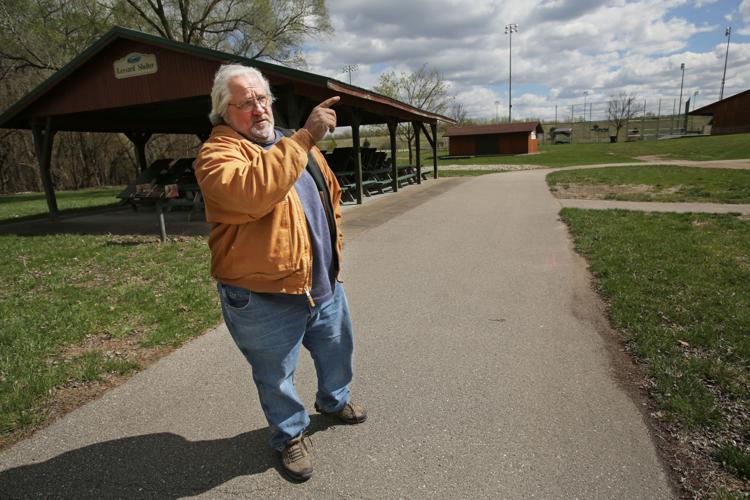 But the river, which for decades provided the Lessards with a livelihood, is also responsible for changing the family dynamic.
It was 50 years ago, April 24, 1965, that the Mississippi River reached an all-time high crest of 25.38 feet. At the time, it eclipsed the previous high of 21 feet set in 1880 with floods of 1952 (20.89 feet) and 1951 (20.83 feet) ranked third and fourth, respectively.
More floods followed that topped 20 feet in 1967, '69, '73 and '75. Those events, along with the 1965 flood, ultimately led to every resident leaving the island, the last in the mid-1980s. The island had been home to a school, swimming pool, fire department and scores of homes that housed hundreds of people who called the Fourth Ward home. The local radio station, its studios on the second floor, moved from the island last year to the city's downtown.
With the exception of a few historic structures, all that remains of the island's past is the grid of streets and their accompanying signs with names like Bolvin, Fisher, Water and Rolette.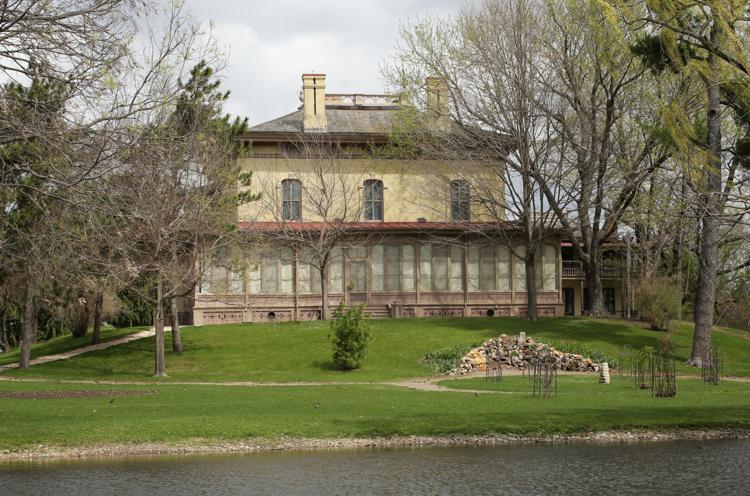 The Wisconsin State Journal's Steve Hopkins wrote about the flood in the Sunday, April 25, 1965, edition with a headline calling the river "a Living Thing as Floods Prove." Accompanying photos showed sandbagging operations and a boat motoring down a city street.
"In its more peaceful moments, it has been a source of transportation, power and food," Hopkins wrote. "When it goes on a rampage, it takes its toll in lives and property destruction."
The spring Mississippi River flood of 1965 consumed property from 100 miles north of Minneapolis to Hannibal, Missouri, and caused an estimated $225 million in damage to public and private properties, according to the National Weather Service.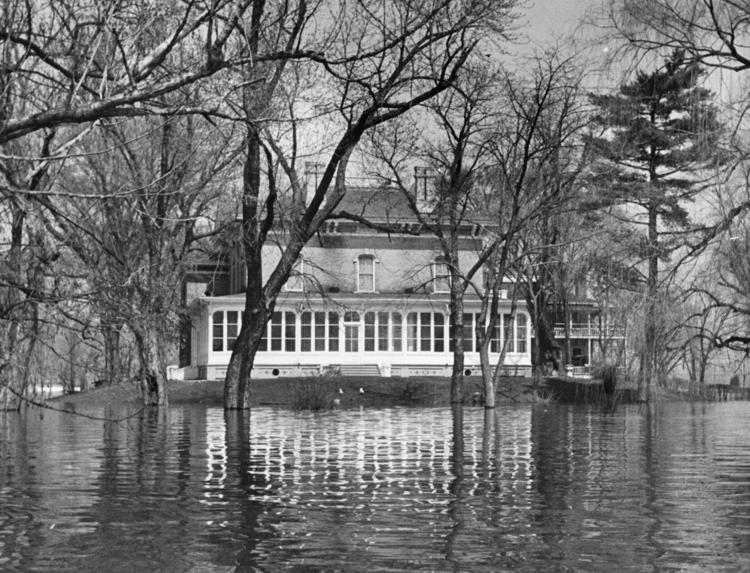 The record flood was caused by a series of factors. The winter of 1964-65 produced little snow and was colder than normal. That allowed frost to penetrate deeper into the ground, the Weather Service said.
Then in March heavy snow falls hammered Wisconsin and Minnesota, covering river basins that flow into the Mississippi River.
The month was also one of the coldest on record in both states, slowing the snow melt. Then, between April 1 and April 15, the region received 2.5 to 3.5 inches of rain that, because of the frozen ground, rapidly filled feeder streams and rivers and quickly "melted the abnormally deep snow pack, resulting in even more water," the Weather Service reported.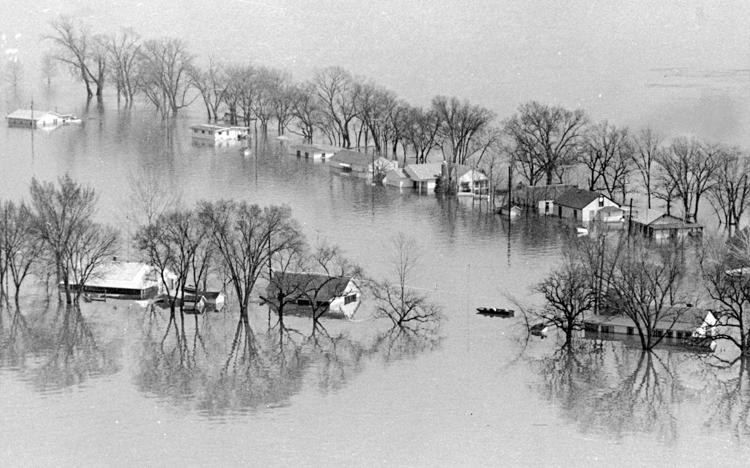 In La Crosse, the Mississippi River went above its flood stage of 12 feet on April 10 and crested at 17.9 feet on April 22. The event resulted in the National Guard patrolling dikes in the city and President Lyndon Johnson surveying the damage from the air.
In Prairie du Chien, the river went above its flood stage of 16 feet on April 12, reached moderate flood stage of 19 feet on April 17 and major flood stage of 22 feet on April 20 before cresting four days later. The river didn't fall below flood stage until May 10.
Betty (Valley) Beneker, 66, was a sophomore in high school when the 1965 waters inundated her family's home at 220 N. Fourth St.
"We walked up the road here, Blackhawk Avenue, to go onto school and by the time we got out of school, dad had to come and get us in the boat to take us back to the house," Beneker recalled. "Different boats then came in to help us haul furniture out. It was a couple weeks before we returned home."
Her family's former property is now owned by the city and is part of the St. Feriole Island Memorial Gardens. During a tour of the gardens, Beneker pointed to where her mother had a large vegetable garden each year and to a small knoll that she and her siblings would roll down.
Her parents, Carl and Mary Valley, lived in the Dousman House Hotel from 1934 to 1936 until her father could finish building their small home.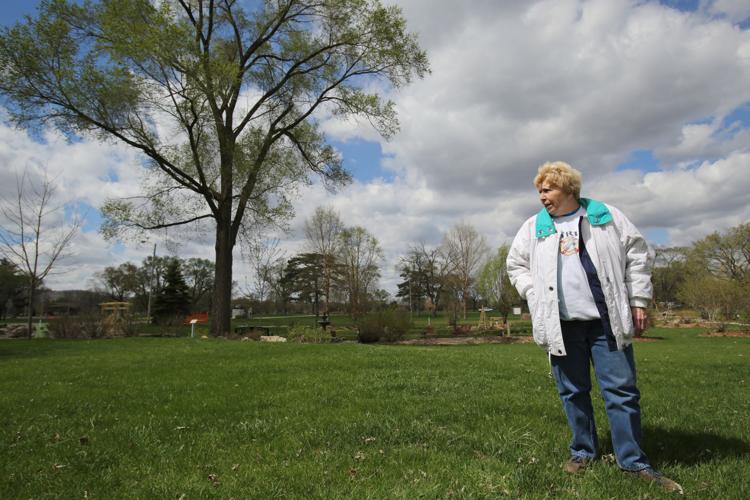 The memorial gardens include a tree planted in memory of her parents while the sound from a set of wind chimes in a nearby tree always makes her think of her folks when she visits the garden.
"This was our home, and it will always be our home," Beneker said. "It's so peaceful and quiet."
But the floods created lots of noise and debate about the future of the island. Some residents moved off the island without government prompting. Some relocated through a housing and urban development program in the early to mid-1970s while another government relocation program was administered by Dale Klemme starting in December 1977.
It turned out to be his first job after graduating from UW-Madison and required him to go door to door talking to residents. In the first year, about 20 families agreed to move to higher ground.
"It wasn't that difficult. It just took patience," Klemme said. "We focused on those who wanted to move."
The island is home to a sculpture park and disc golf course, and each summer hosts the Prairie Dog Blues Festival and the Prairie Villa Rendezvous, a fur trading re-enactment that includes a flea market with more than 200 vendors.
But for Lessard, who has written about the island and collected photos, the island will always be about family, neighbors and a way of life that was washed away by the flood. A pavilion with the Lessard name stands near where his relatives lived and last year hosted a family reunion.
"I know people who have never come back," Lessard said. "Nothing's here. We can't even look at our houses. They're all gone."