KOHLER – Kettles of chicken dumpling soup and chili no longer simmer over burning barrels stoked with firewood.
Propane heaters, lawn chairs and shelters made of two-by-fours and tarps have been removed from Highland Drive in front of the American Club, the Kohler Design Center and in front of the corporate offices of Sheboygan County's largest employer.
The nearly 2,100 employees of Kohler Co. who are members of the United Auto Workers Local 833 are back at work after 91 percent of 1,847 union members voted Wednesday at Plymouth High School to approve a four-year contract that includes increased wages and benefits.
The vote put to an end a 31-day strike that was the fourth in the company's 142-year history but the most peaceful. This year's work stoppage and the strikes of 1983, 1954 and 1934 are well documented with stories and photographs.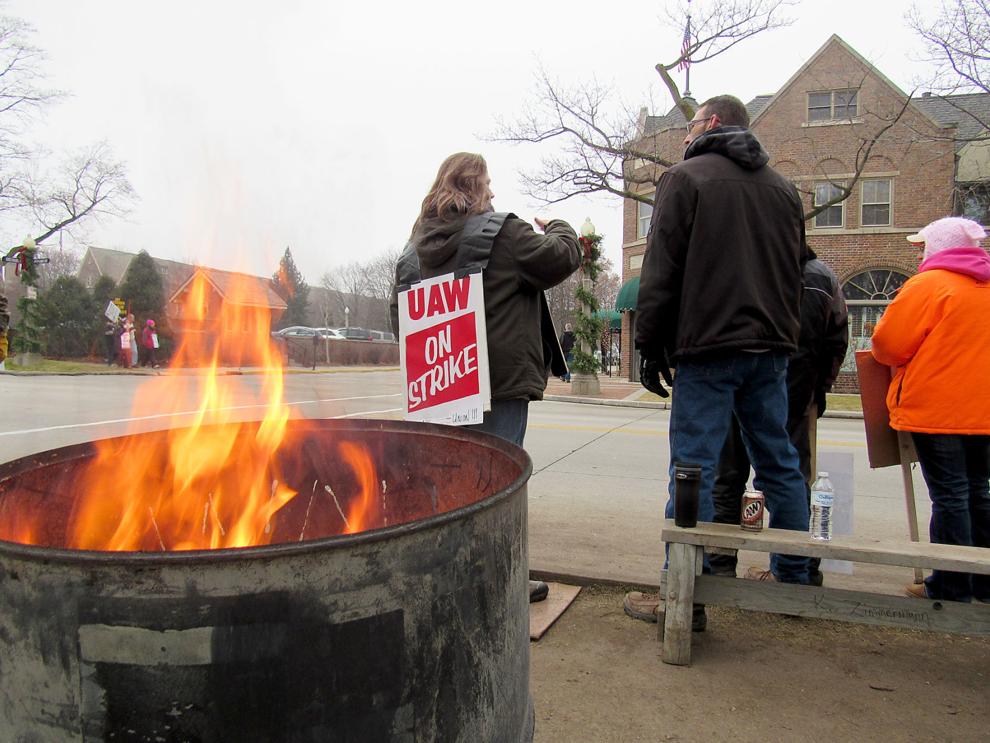 But the 2015 strike will have at least one unique memory from a Plymouth artist who brought his easel, brush, oil paints and canvas to the picket line.
Dan Rizzi normally paints picturesque scenes from around Wisconsin. His work includes paintings of the mill and Hamburger Haus in Dundee, the 1860 lighthouse in Port Washington, vintage cars in Elkhart Lake and the Dane County Farmer's Market.
Rizzi, 56, briefly worked at Kohler in 1979 and 1980. His father spent 33 years with the company, and took part in the 1983 strike before retiring about 10 years ago. Rizzi was motivated to capture this year's strike on canvas because his brother, Dennis, has spent 25 years with Kohler and was on the picket line.
"My brother, he's kind of a quiet, laid-back guy and to see him out there picketing is kind of a big thing for him," Rizzi said. "I thought it would be good to document him on the corner with all the rest of them standing up for their rights."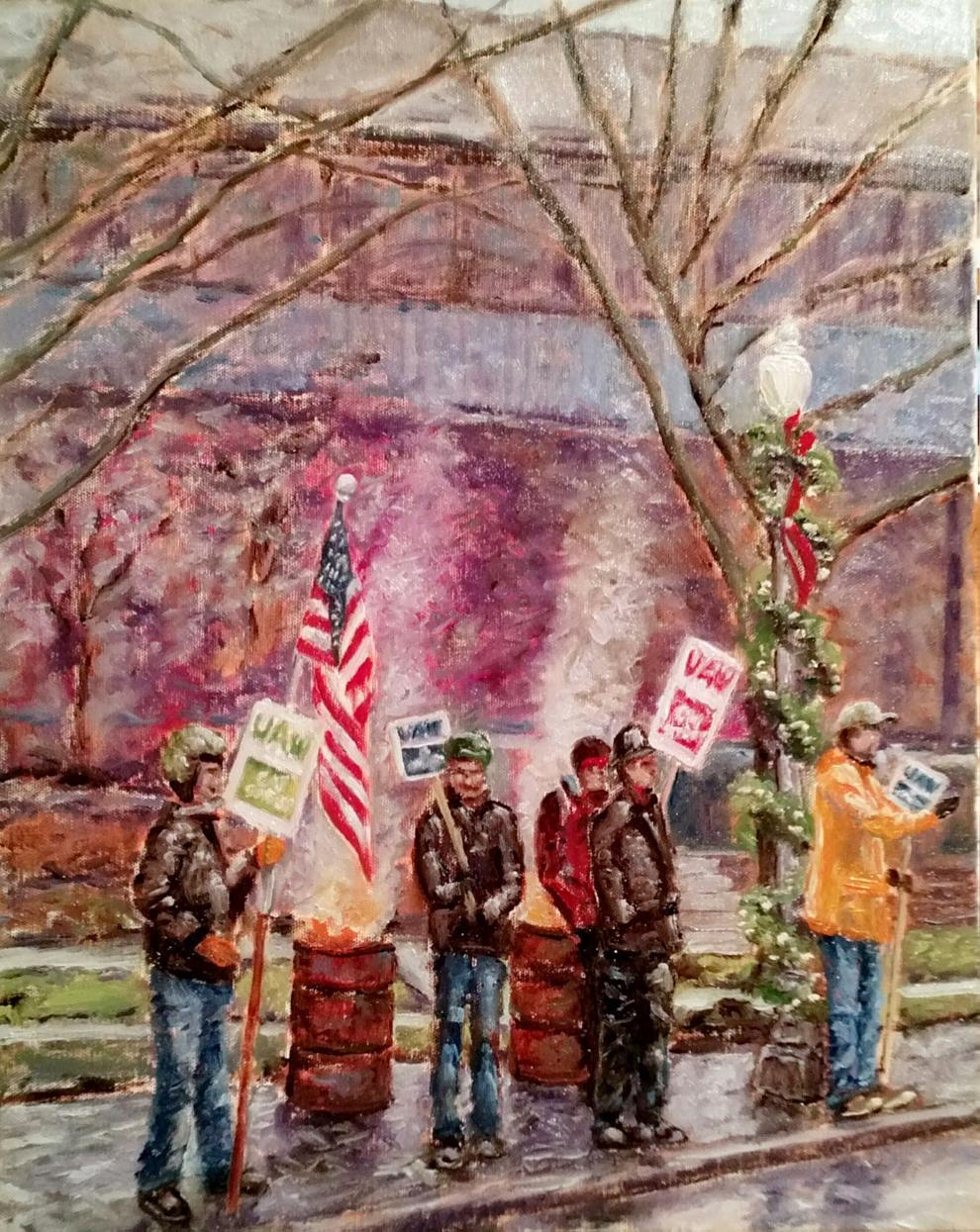 For those who live in the Sheboygan area, you either work at Kohler or know of someone with a job there. My father-in-law and two brothers-in-law had jobs there and my wife's niece and her husband both work for the company, but not in union jobs.
On Thanksgiving, while driving to Sheboygan to celebrate the holiday with my wife's side of the family, we drove through Kohler to check out the scene. We found dozens of picketers holding signs and encouraging passersby to honk their horns in a show of support. The strike was a major topic of conversation at the family gathering.
So when we returned last weekend for an early Christmas celebration in Sheboygan Falls, we again ventured into Kohler. The scene was the same as on Thanksgiving except for Rizzi, who had set up at Highland and Greenfield drives near the Kohler Design Center.
Rizzi drew a small crowd behind him as he worked to capture the strike through a medium typically reserved for more scenic topics. He spent about two and a half hours on site that Saturday and spent a few more hours at home on Sunday touching up the piece.
"When you're standing right there and painting it, you get more of a feel for what's going on compared to taking a photo," Rizzi said when I spoke with him by phone on Wednesday. "It was a little chaotic, and I was just hoping to capture some of that in the painting."
One of those in the painting is Dan Cichantek, 51, who has spent more than 27 years with the company and works at the Kohler generator plant in the town of Mosel north of Sheboygan. The plant employs more than 700 people. In 2014, Kohler completed a 105,000-square-foot addition to the facility.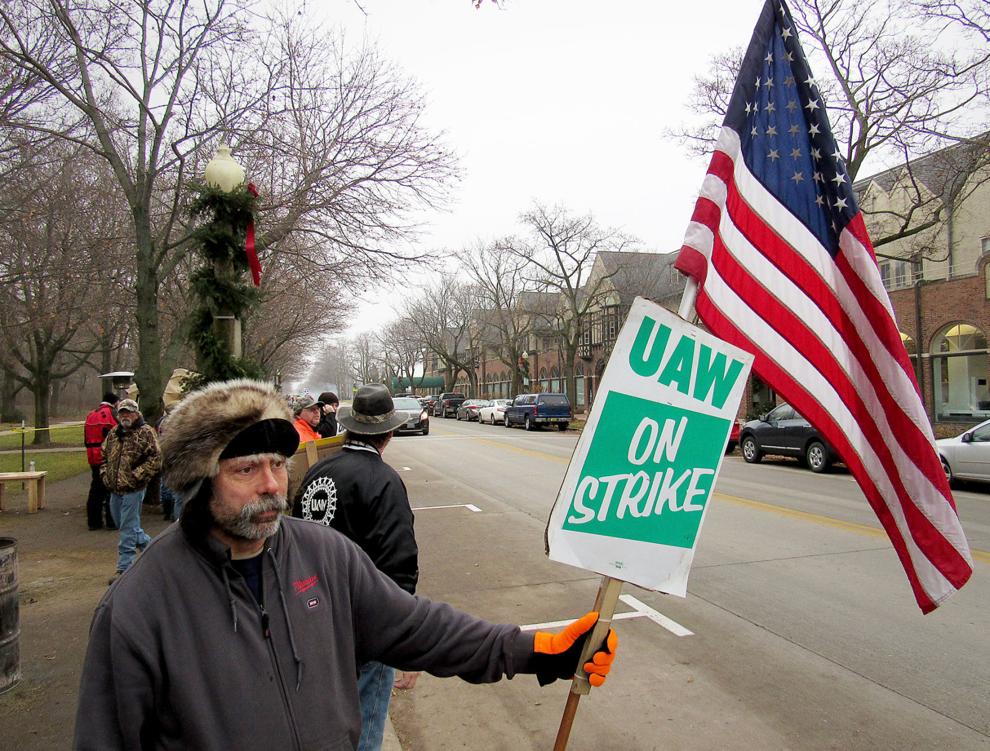 Cichantek, who lives in Manitowoc, wore an opossum cap and held a strike sign and an American Flag as he stood along the road opposite the Design Center that displays some of the latest products by the company.
"I want the people that are coming to visit (the Design Center) to think about where those products come from," Cichantek said. "There's no little stamp on those over there that say "made in Taiwan" and they're shipped over here in a Kohler box. They're made here in Kohler."
The new contract maintains a contentious two-tiered wage system but closed the gap on pay disparities. The Sheboygan Press quoted union officials who said Tier B workers, who earn significantly less than their Tier A counterparts, will see an average hourly wage increase of $4.70 by the end of the contract to about $15 an hour for those making the lowest wage. Tier A workers will see, on average, a $2-per-hour increase over the span of the contract, the newspaper reported.
"We worked very hard to reach an agreement that addresses all of the key areas crucial to the future of our members," said Tim Tayloe, UAW Local 833 president.
David Kohler, Kohler president and CEO, said the agreement benefits employees and positions the company for the future. Those who work for Kohler in manufacturing represent just 6 percent of the company's global workforce of 33,000 people.
"The common ground that we share is more important than any differences we may have – and this agreement reflects that," Kohler said in a statement.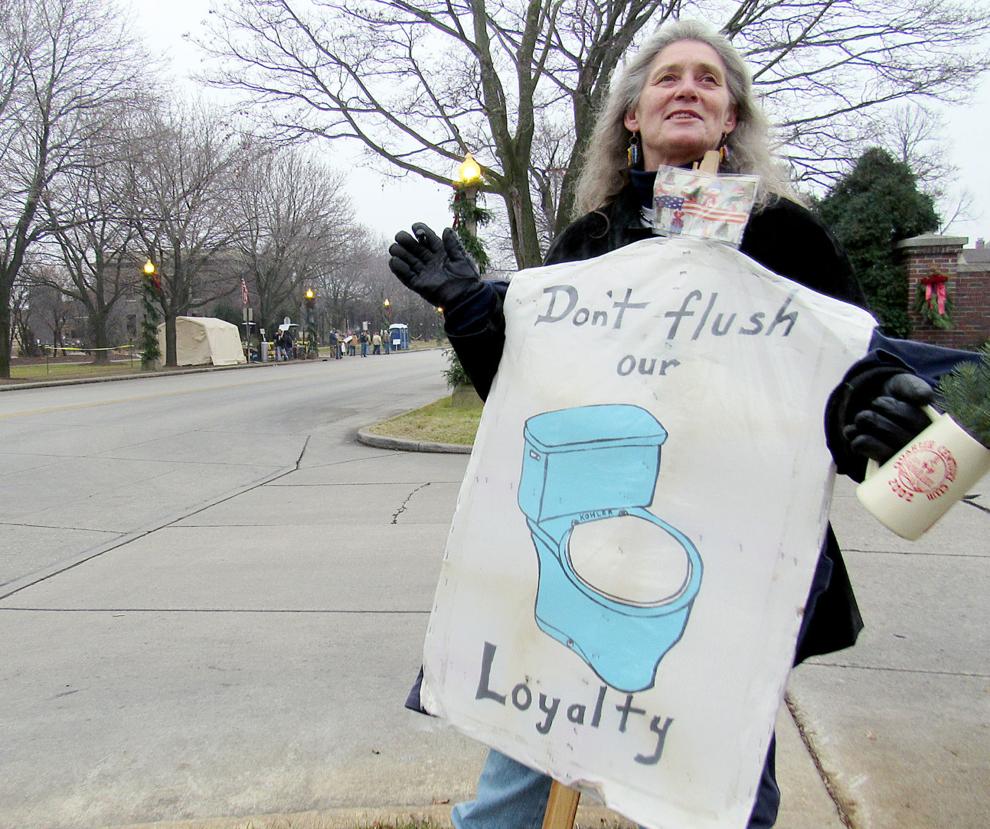 The strike stands in contrast to strikes of the past. Two people were killed, 43 injured and the village closed to traffic during the 1934 strike. The strike that started in 1954 resulted in 11 years of unrest that included lawsuits, vandalism and hundreds of arrest. The strike was one of the longest in U.S. history.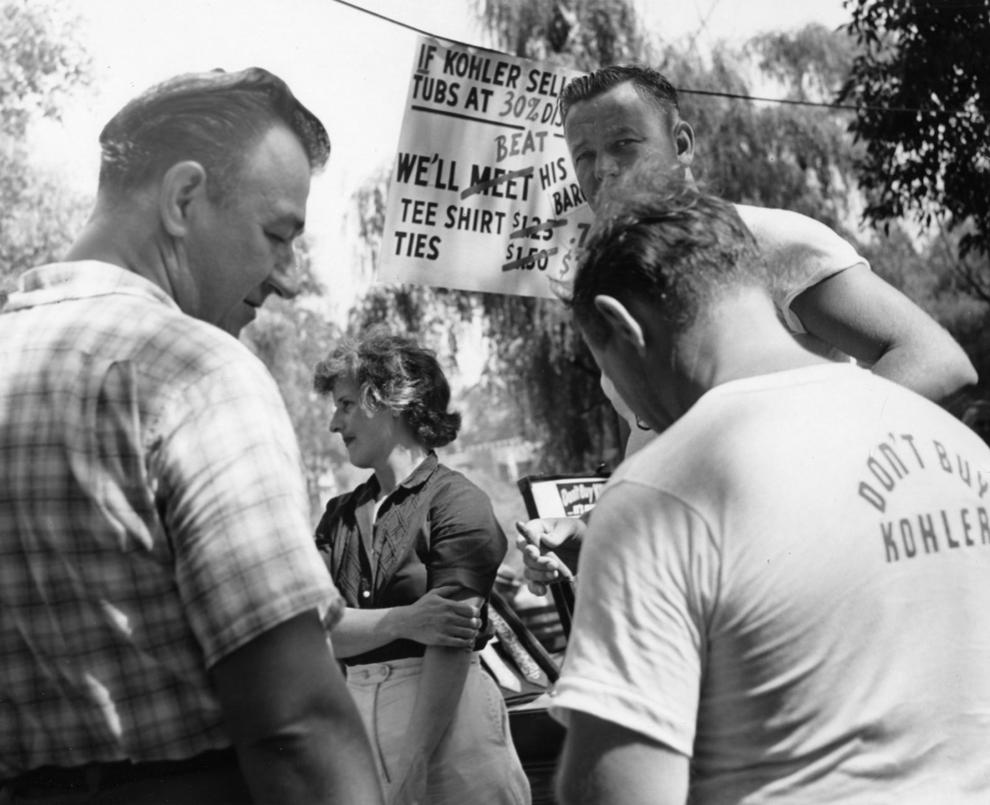 The 1983 strike lasted just 16 days but car windows were smashed and two union members were injured when a car attempted to drive though a picket line.
Frankie Wiegand has worked at Kohler since 1977. Last weekend, she stood at the parking lot exit of the American Club holding a sign asking the company not to flush employee loyalty. She held a bell in her right hand and the commemorative mug she received on her 25th anniversary with the company. Her father worked for Kohler for more than 30 years.
"I like my job," said Wiegand, who works at the generator plant. "It's a decent job, but they can't put you at a standstill as the world goes around."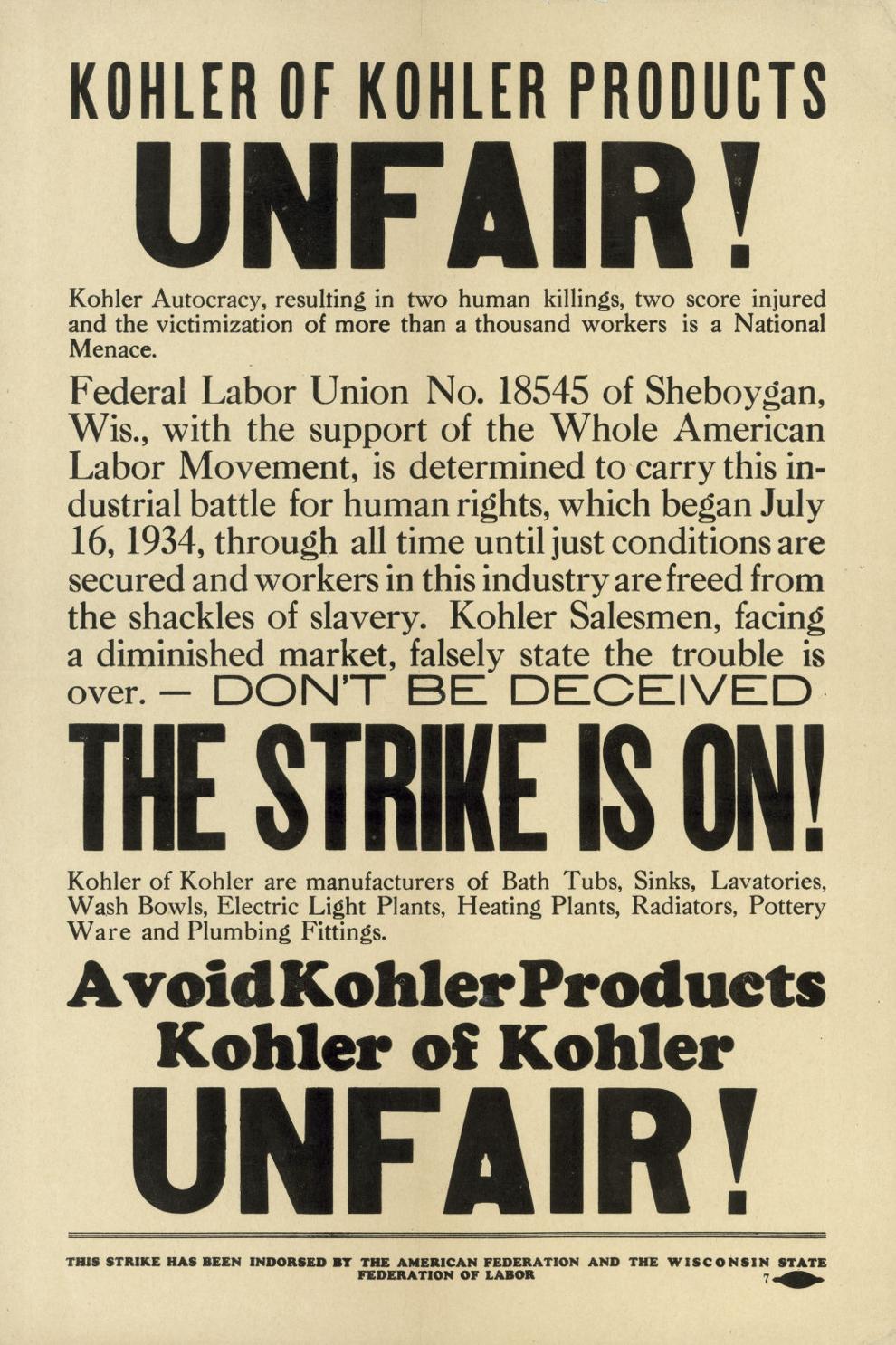 For Rizzi, who started painting 18 years ago and works as a damage appraiser for an insurance company, his painting will initially hang in the Local 833 union hall before ultimately going to his brother. Rizzi was glad to hear the strike had been settled but not just because his brother works at Kohler.
"It brings relief because I know so many people that work there," Rizzi said. "It employs so many people and there's pride there with the workers with what they produce there."
Barry Adams covers regional news for the Wisconsin State Journal. Send him ideas for On Wisconsin at 608-252-6148 or by email at badams@madison.com.