ASHTON — The end of St. Peter's Catholic School could have easily come in 1987 when nuns were no longer available to teach.
In the 2007-08 school year, enrollment fell to 21 students. It rebounded two years later to 42 students, but in 2012-13 talk of closing returned when the four-room school had just 31 children spread over four grades and kindergarten.
Faith, family, commitment, determination and tradition, however, have won out in this small community northwest of Middleton in the town of Springfield.
And on Friday, the love for the tiny school, founded shortly after the end of the Civil War, was on full display with hugs, handshakes and story after story. Over 400 alumni, former and current teachers, future graduates and others gathered on a sun-baked afternoon and cloudless evening to celebrate the school's 150th anniversary.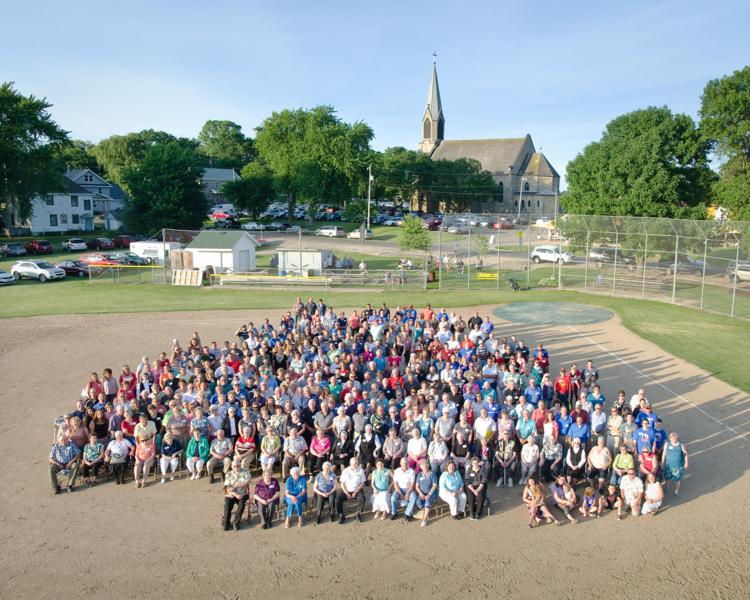 The joy could be seen in the moist eyes of Robert Meinholz, 83, as the 1947 graduate of the school found a photo of himself when he was a 15-year-old outfielder on the Catholic Youth Organization baseball team. Ethel Ballweg, who turns 102 next month and was in the class of 1928, is believed to be the oldest living graduate. The Waunakee resident drew a big smile as she was greeted by friends and family in front of the school and later underneath the massive beer tent that doubled as a historical center with vintage photographs and articles spread over the picnic tables.
In the basement of the school, dozens filed down the steps to find relatives, friends and younger versions of themselves in one of the class photos that go back to 1920, while a trio of nuns were greeted in the parking lot like habit-wearing rock stars. They emerged from a Dodge mini-van with power-sliding doors after a nearly 150-mile trip from their homes at Holy Family Convent of Christian Charity in Manitowoc.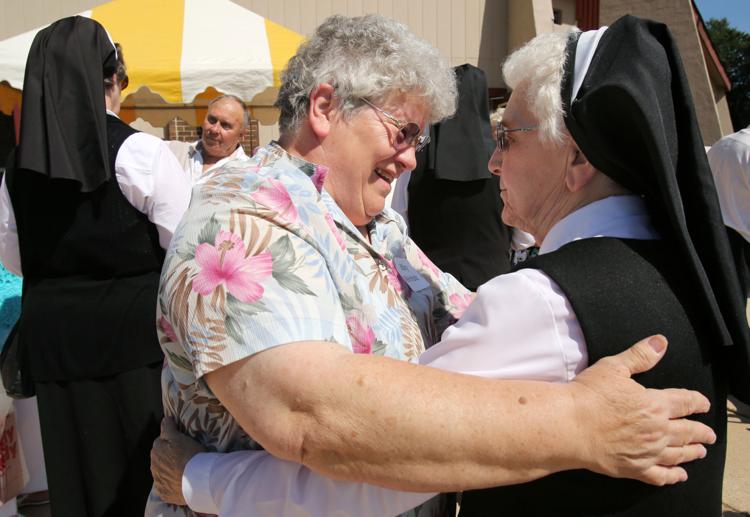 Sisters Mardelle Meinholz, 67, taught at St. Peter's from 1972 to 1974; Michael Majeski, 89, taught from 1977 to 1980; and Paulyn Vanden Hogen, 78, was principal from 1968 to 1974. She knows well why the four-classroom school, which has rejected vouchers from the state but has smart boards and equips many of its students with Chromebooks, has survived, with 60 students registered for this fall.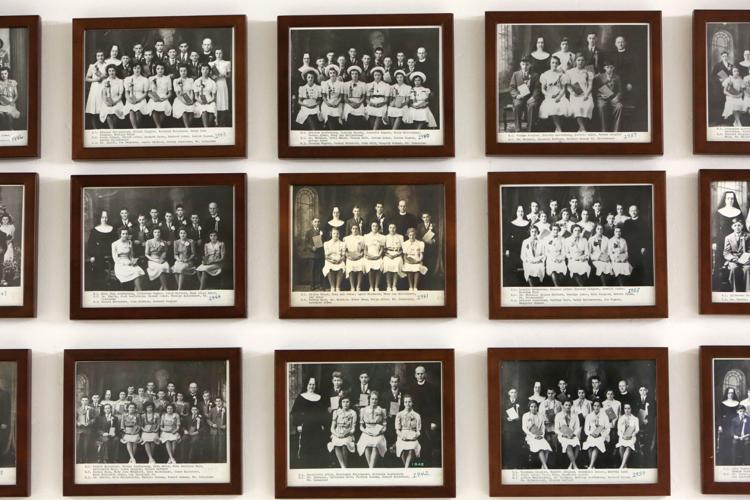 "The faith of the people is strong," said Vanden Hogen. "They have always believed in what we were about and what we were doing. When we sent (the students) home, it just continued on. Whatever we taught here we knew it was taught at home."
There was a time when other small rural parishes in places like Martinsville, Roxbury and Pine Bluff had their own schools, but it has been years since daily classes have been held in those communities.
St. Peter's, wedged between the historic church and the cemetery, across the street from the home of the Ashton A's baseball team and just south of Connie's Home Plate bar, has bucked the trend. It also counts 10 priests and 33 nuns as former graduates.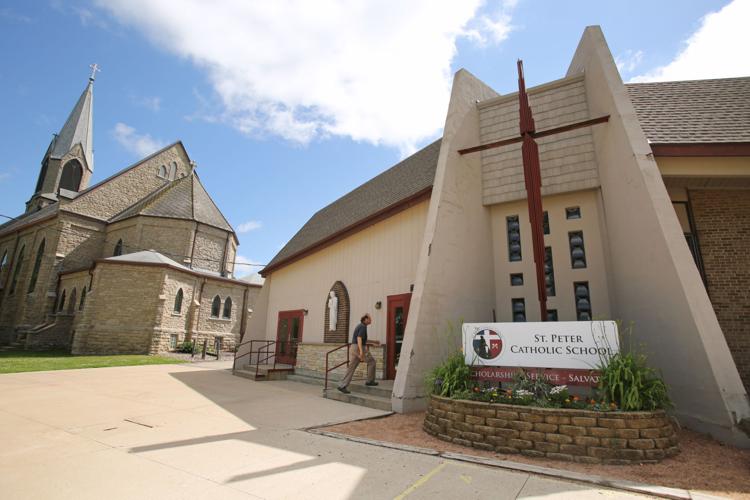 The parish is where names like Meinholz, Acker, Spahn, Hellenbrand and Adler have filled the rolls for generations, and where people know the difference between a Kalscheur and a Kalscheuer. The church fish fry is also a big deal. There were seven last school year that each drew more than 1,100 diners and needed 125 volunteers. They raised a combined $60,000.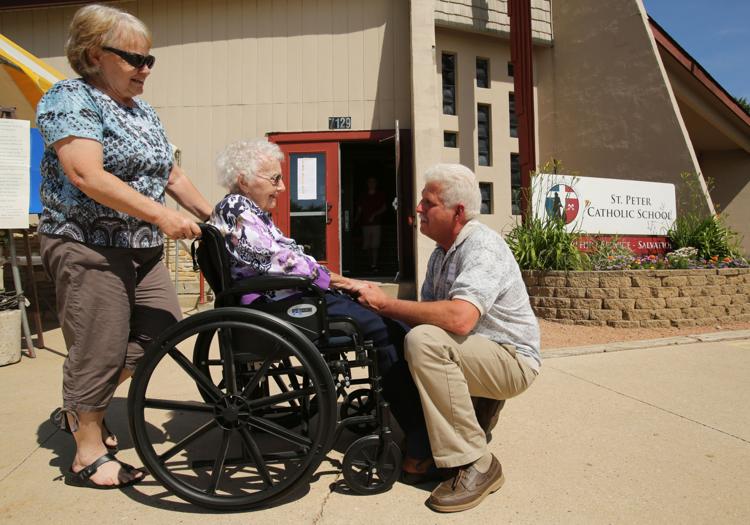 You have free articles remaining.
The school has an annual budget of about $350,000, with the parish subsidizing anywhere from 40 percent to 60 percent of the budget each year. Members of the parish pay $2,223 for the first child enrolled at the school, $1,400 a year for a second child and $1,032 for a third child. Nonmembers pay more, and some students hail from as far away as New Glarus and Mount Vernon.
"It's always a challenge financially to keep (the school) going but everybody realizes the value," said Vern Acker, 62, who graduated from St. Peter's eighth grade in 1967 and is now a real estate agent. "It's the center of the community, both socially and spiritually. It's the glue that holds the community together."
St. Peter's Catholic Parish, today with 225 families, is steeped in history. It was established in 1861 as part of the Milwaukee Diocese with about 20 families making up the congregation when the first church was completed in 1866. That same year, the parish opened a school in a small stone building across the street from the church on what is now Highway K but back then called Ashton Road.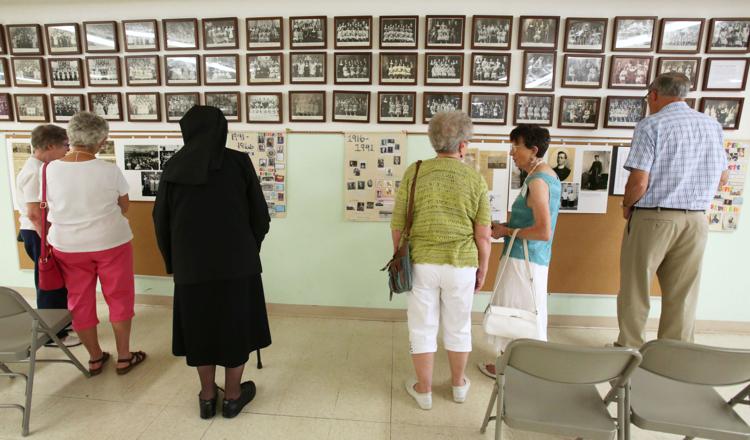 By 1900, the congregation grew to 70 families and a neo-Gothic church designed after those in Germany was built for $24,000 beginning in 1901 and dedicated the following year. A rectory was built in 1905, and in 1906 a combination school and convent was built. In 1966, the parish built the existing school, with much of the work done by the congregation. Nuns taught at the school from 1906 to 1987.
Carrier Meier, 92, of Waunakee, graduated from St. Peter's in 1938.
"We lived three and half miles from the school. We did a lot of walking," Meier said. "I was baptized here, went to school here, had First Holy Communion, confirmation, got married here and my children all graduated from this school also. It was wonderful."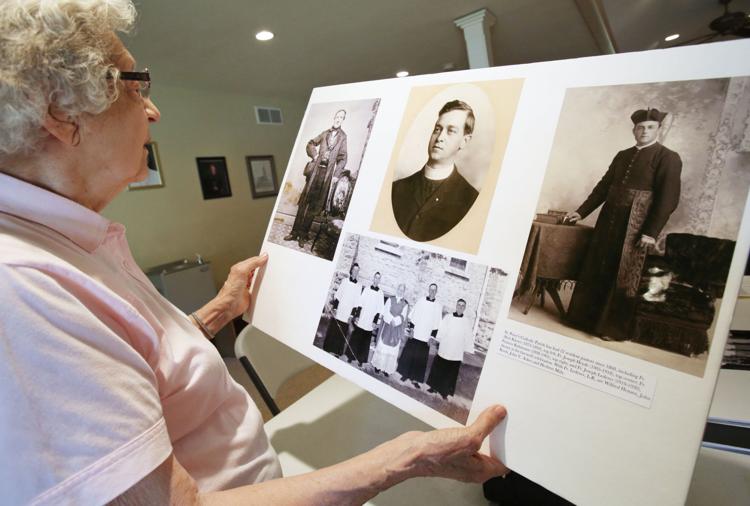 Throughout the school's history, classrooms have been shared, something that continues to this day. The current setup has 3- and 4-year-olds in one room, kindergarten and first grade in another, second and third grade students combined and fourth and fifth grade students in their own room.
A more recent graduate is Kayla Roudebush, 20, from the class of 2007, who moved on to middle school at Glacier Creek Middle School, part of the Middleton-Cross Plains School District. During her fifth grade year at St. Peter's, Roudebush had five students in her classroom for two grades.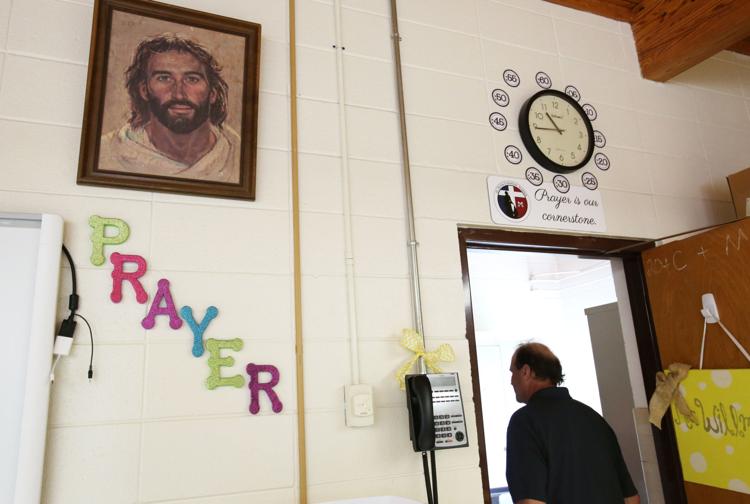 "When we went to Glacier, you could tell who went to a small school," said Roudebush, whose mother and grandfather both graduated from St. Peter's. "When I got to sixth grade and saw some of the kids and what they were doing in the hallway or saying to the teacher, I couldn't believe it."
Kathi Klaas began teaching public school in 1994 in Rice Lake before moving to Sun Prairie in 2000. In 2013, while at Horizon Elementary, a school of more than 500 students, she considered getting out of education altogether but learned through her priest during confession of an opening for a principal at St. Peter's. When she arrived the school had fewer than three dozen students, was on the brink of closing and most teachers had left for other jobs.
"Amazingly, God just sent the right people to me," said Klaas. "My grandmother was German and she had tremendous faith and I can picture her up in Heaven praying all the time. And I can imagine that she's surrounded by a lot of people from Ashton and that they're praying, too."