MILLSTON – Static and staccato-like beeps crackled on Scott Roepke's hand-held, battery-powered receiver as he slowly turned a directional antenna in his right hand extended above his head.
Somewhere, maybe a half-mile to the east, was an elk equipped with a radio collar.
There were other signs of elk, such as the rain-faded tracks in the sand, distinct trails leading into the forest, a tree rubbed raw from a bull elk's antlers and thousands of Junior Mint-sized droppings.
This would be as close as Roepke, a wildlife biologist with the state Department of Natural Resources, would get Wednesday to experiencing one of the state's largest mammals.
Spotting a 700-pound elk in a 320-square-mile area isn't a guarantee, but the animal is building excitement along the Interstate 94 corridor of Jackson County. And in a few years, tourists armed with spotting scopes and cameras could be more of a regular occurrence and add to the economy of this area less than two hours from Madison. Ultimately, there could be a hunting season.
The reintroduction of elk to this rugged part of the state was first talked about nearly 20 years ago. But it has been just in the past two years that elk from Kentucky were trapped, quarantined in a holding pen near a mix of grassland, woods and swamp in the Black River State Forest south of Highway 54 and set free to roam.
"When you look at projects of this magnitude and when you think about bringing partners together, sometimes it's overwhelming and you wonder if you can even set your differences aside to work toward something like that," said Karen Sexton, a wildlife biologist for the Ho-Chunk Nation, which has contributed $200,000 to the program. "It's not just happened here. It's happened in a very ... amazing way."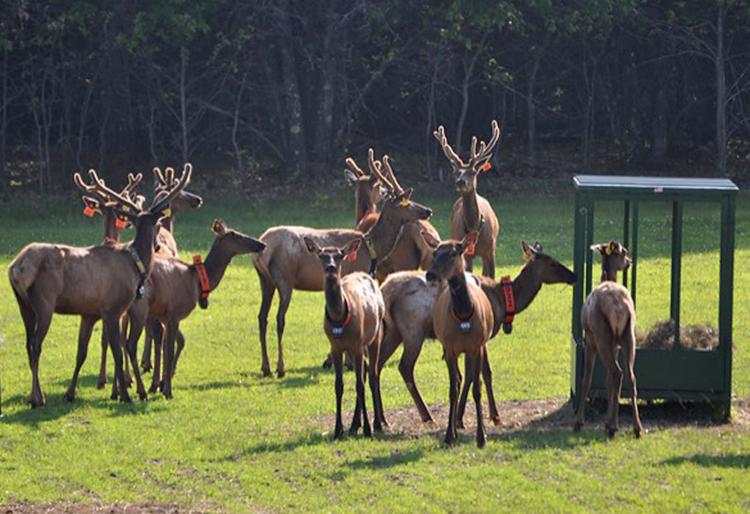 The project, with about 60 elk in the herd, is a joint effort that includes the Ho-Chunk, DNR, Jackson County Wildlife Fund ($50,000), Rocky Mountain Elk Foundation ($300,000) and Jackson County Parks & Forestry. Officials have a goal of 390 elk in the herd.
At the Highway 54 exit on I-94, a large fiberglass orange moose, whitetail deer and a mouse greet visitors to the area, but large billboards that announce "the elk are back in the Black River Country" can also be found nearby. In the Black River Area Chamber of Commerce visitor's guide, a photo of a large bull elk appears on page 28 with directions to a potential viewing spot.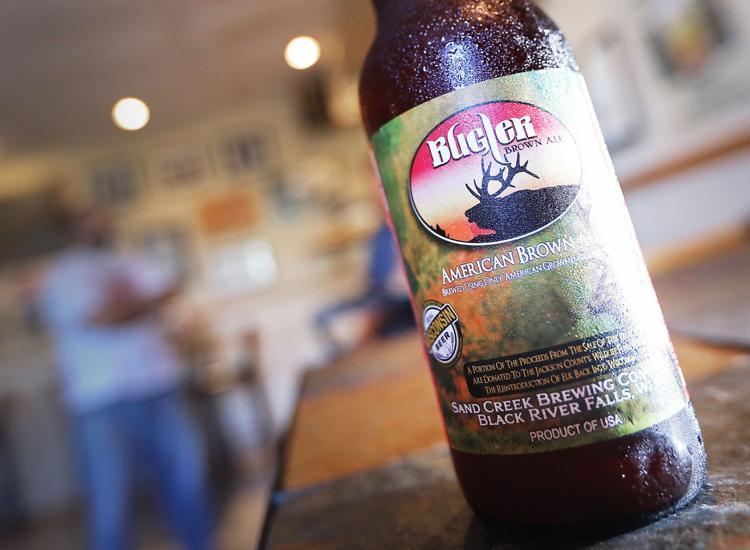 And at Sand Creek Brewing Co. in Black River Falls, $1 from each case of Bugler Brown Ale is donated to the county's wildlife fund. Last year, the brewery donated $1,300. The logo for the beer, launched in 2014, includes the silhouette of a bugling bull elk at dusk. The idea came from Sexton, who worked part time as a bartender in the brewery's tap house.
"Right now (the elk) are tucked off into the corner of the state forest and to be honest, I haven't seen one yet other than what's on the bottle label here," said Jim Wiesender, co-founder of the brewery. "I think it's just a matter of time before (elk viewing) really starts popping along."
Until the mid- to late 1800s, elk could be found in every county of Wisconsin, but development and hunting eliminated the animal. An attempt was made in the 1930s to reintroduce elk but failed due to poaching, with the last four animals killed in 1948.
In 1989, the state legislature directed the DNR to study the feasibility of elk reintroduction. That directive led to 25 elk being trapped in Michigan and released in 1995 into what is now the Chequamegon-Nicolet National Forest near Clam Lake in far northern Wisconsin. The herd has grown at an average rate of 13 percent annually and today has about 160 elk.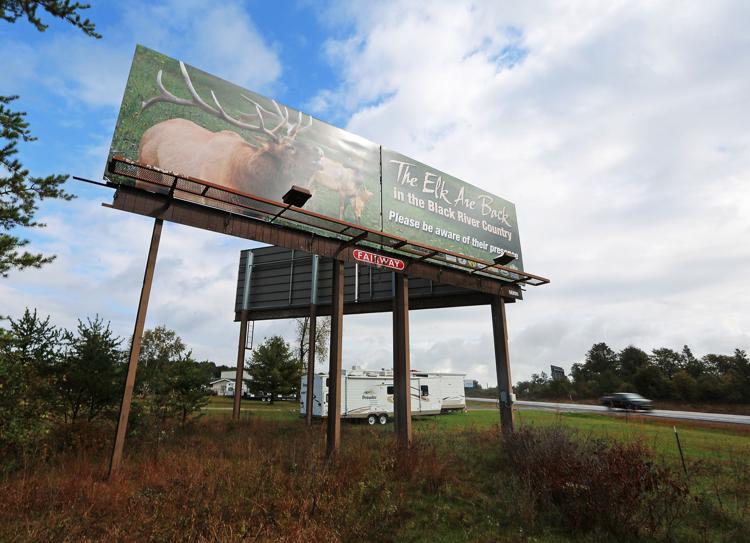 The DNR's goal is to grow the Clam Lake herd to 1,400 animals and a hunting season could come as soon as the fall of 2017. Although, based on a herd of 200 elk, only about 10 permits would be issued, with half of those going to Native American tribes, the DNR has said.
You have free articles remaining.
Register for more free articles
Stay logged in to skip the surveys
When the Clam Lake herd was first established, Jackson County was identified as a second region for a herd. But staff changes and the growth of chronic wasting disease in southern Wisconsin put the project on hold.
In 2012, the state's elk management plans were updated under the guidance of Kevin Wallenfang, the state's big game ecologist. Two years later an agreement with the Kentucky Department of Fish & Wildlife was reached to bring up to 150 elk to Wisconsin, with half released in Jackson County and the remainder in the next two to three years in Clam Lake.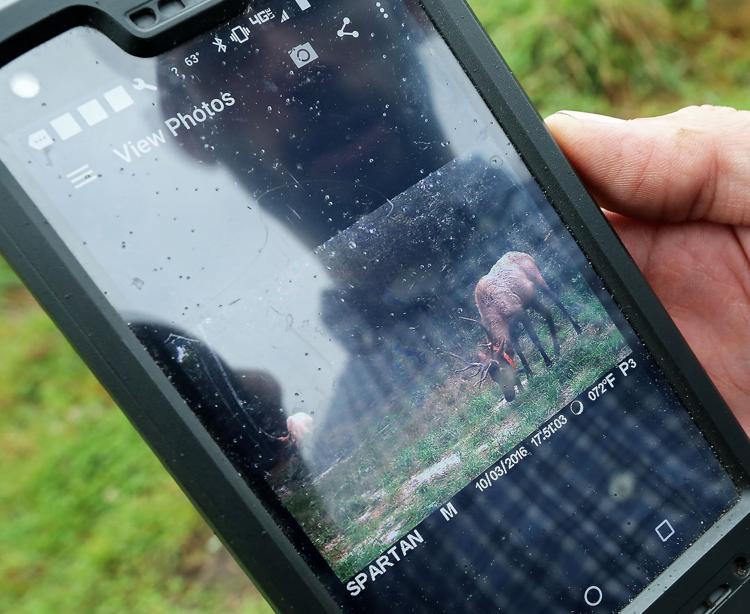 The state released 23 elk in Jackson County in 2015. Ten of those animals died, with two hit by vehicles and six killed in January by some of the estimated 30 wolves that make up eight packs that roam the region. In July, 50 more elk were released but four have died, two from unknown causes, one from a bacterial infection and another from a broken leg. No elk, who wear blaze orange radio collars, have been mistakenly shot by deer hunters.
"If elk are going to make it on the landscape they're going to have to learn to deal with wolves," Roepke said. "We're trying to learn as much as possible from the elk that are on the landscape. All of the elk have radio collars on them, so with that data we can monitor what type of habitat they're using, what their movements look like, where they're going, where they're spending their time and what some of the potential conflicts are like predation, vehicle collisions and elk getting into areas they shouldn't be."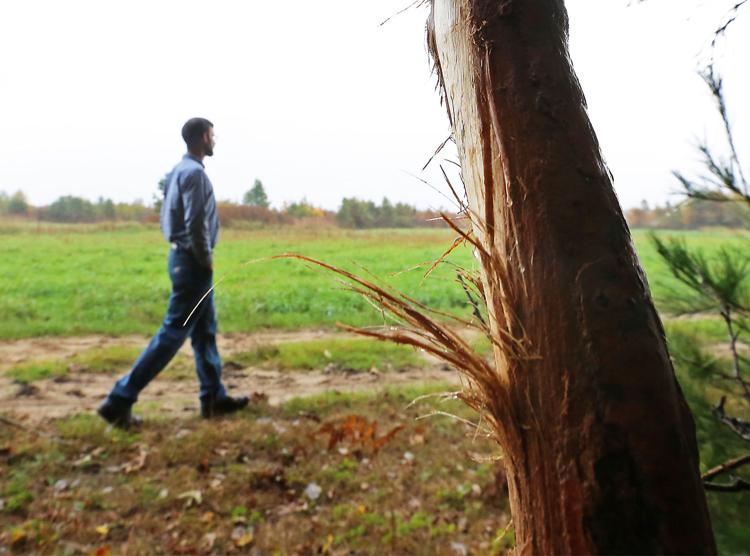 That would include keeping them out of cranberry bogs where elk can trample plants, knock berries off the vine and potentially erode marsh banks. The DNR has offered to pay for 8-foot-tall fencing for any cranberry farm in the elk range. So, far five farmers have accepted, and the DNR has spent about $250,000 on fencing. One farmer filed a damage claim last year, but it was only for a few hundred dollars, Roepke said.
"We have had elk on other marshes, but those marshes have chosen not to enroll in the damage program," Roepke said. "So they either didn't have enough damage or they weren't all that concerned about it."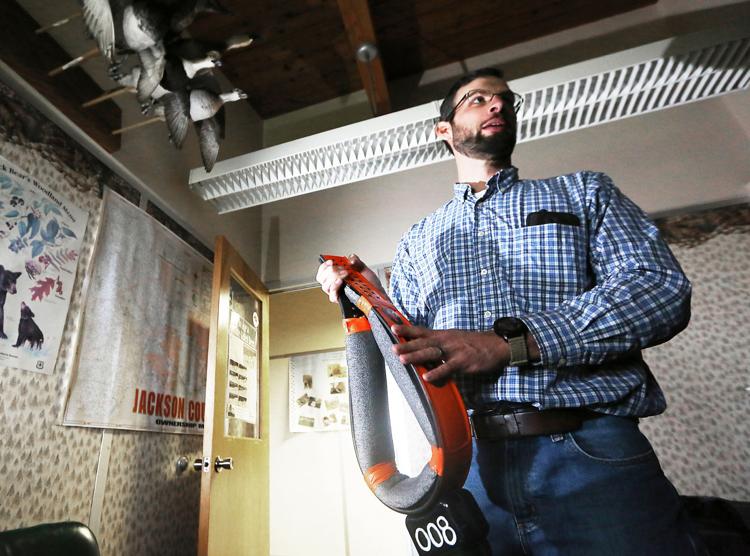 Jackson County will never be confused with elk-centric Yellowstone National Park, Jackson, Wyoming, or Colorado. However, the Jackson County program has the potential to bring elk to those who don't want to invest a two-day drive out west or a half-day drive to northern Wisconsin. Other states in the Midwest and in the eastern U.S. that have elk populations, include lower Michigan, Arkansas, Missouri, Pennsylvania, Tennessee, North Carolina, Virginia and West Virginia.
"We didn't have any trouble at all of developing a groundswell of grassroots support," said Allen Jacobson, a member of the Jackson County Wildlife Fund, founded in 1985. "They were traditionally here, historically, and we've managed to get wolves, bears, whooping cranes, wild turkey, fishers — all those things back and we're just missing having elk."
The return of elk also has spiritual and cultural significance for the Ho-Chunk Nation, based just north of Black River Falls. The community has a 12-clan structure with most associated with animal spirits. They include eagle, pigeon, bear, wolf, deer, fish and elk.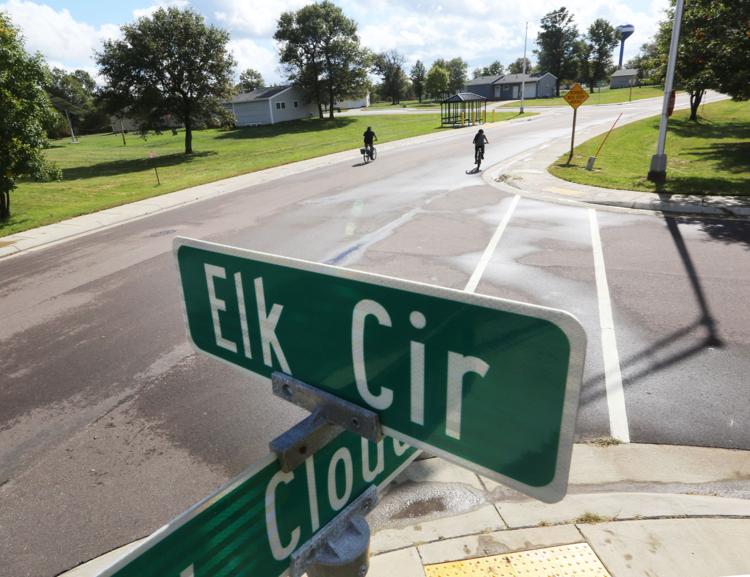 Sexton took the lead on the elk program for the Ho-Chunk when she was hired in 2008 after stints at an Oregon wildlife refuge, researching big horn sheep in Idaho and bobcat in Michigan.
The elk effort has brought together stakeholders outside the Nation who sometimes don't always agree on other issues.
"It's been such a positive project," Sexton said. "To have that clan species return to the landscape and allow those spiritual connections to occur and be a part of their culture is significant."
"When you think about bringing partners together, sometimes it's overwhelming and you wonder if you can even set your differences aside. ... (But) it's happened in a very ... amazing way." Karen Sexton,
Ho-Chunk Nation wildlife biologist, on the many organizations that have worked together
to reintroduce elk to the
Jackson County area