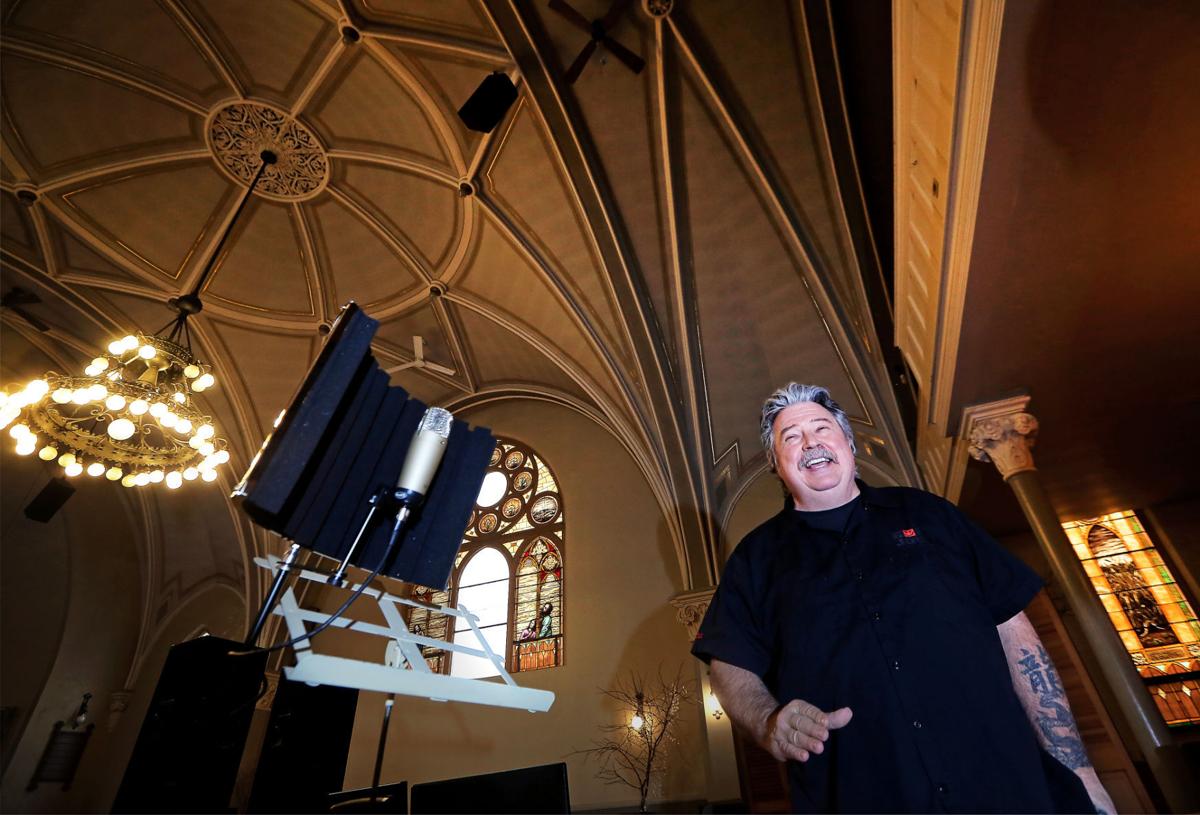 LAKE MILLS – The cry room here doesn't have a rocking chair, changing table or a box of children's books.
Instead, the walls are plastered with an eclectic mix of record albums and covers from the Cars, Billy Idol, Kenny Loggins, Glen Campbell, Charlie Rich, Andy Williams and Steppenwolf.
There are concert T-shirts from the Rolling Stones, Pink Floyd and Led Zeppelin. The lone chair in the room is an antique salvaged from an RCA Victor recording studio.
Sunday services haven't been held in the former St. Paul Evangelical Lutheran Church building since 2005 when the congregation moved to a new facility on Lake Mills' south side. But the 6,000-square-foot sanctuary, the basement classrooms and the colorfully decorated cry room have not been silenced thanks to the efforts of a bona-fide roadie, who has traveled the world making sure the biggest names in music sound their best.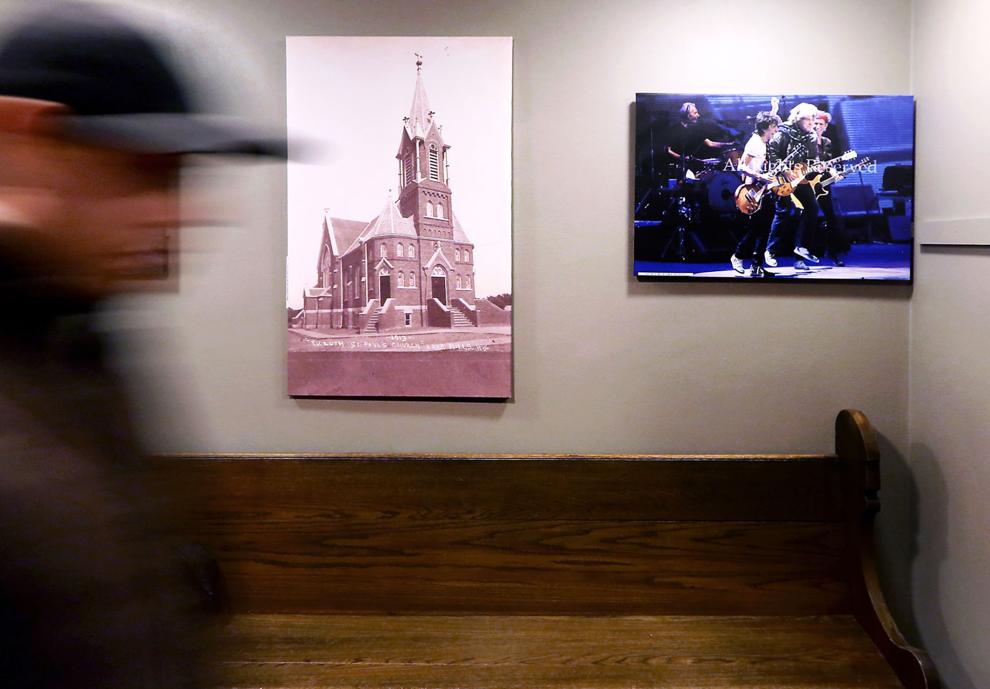 Michael Allison, 57, and his wife, Laurie, have transformed the 104-year-old church building a few blocks from the city's downtown into Sound Haven Learning Center. The business serves as a school, recording studio, concert venue, wedding chapel and reception hall and preserves a piece of this city's history.
"I had been thinking about it for a long time, and I thought it would be a good thing to do something with instead of having it torn down," said Allison, who has lived in Lake Mills with his wife since 2000. "I want to teach classes and show people how to do live sound."
Allison has been a live sound engineer for the Rolling Stones, Bon Jovi, Green Day, Vince Gill, Genesis, Eric Clapton, Beyonce and many other A-list artists for more than 30 years. Last fall, he spent six weeks on the road in the Far East and the Middle East with Bon Jovi, his seventh tour with the band.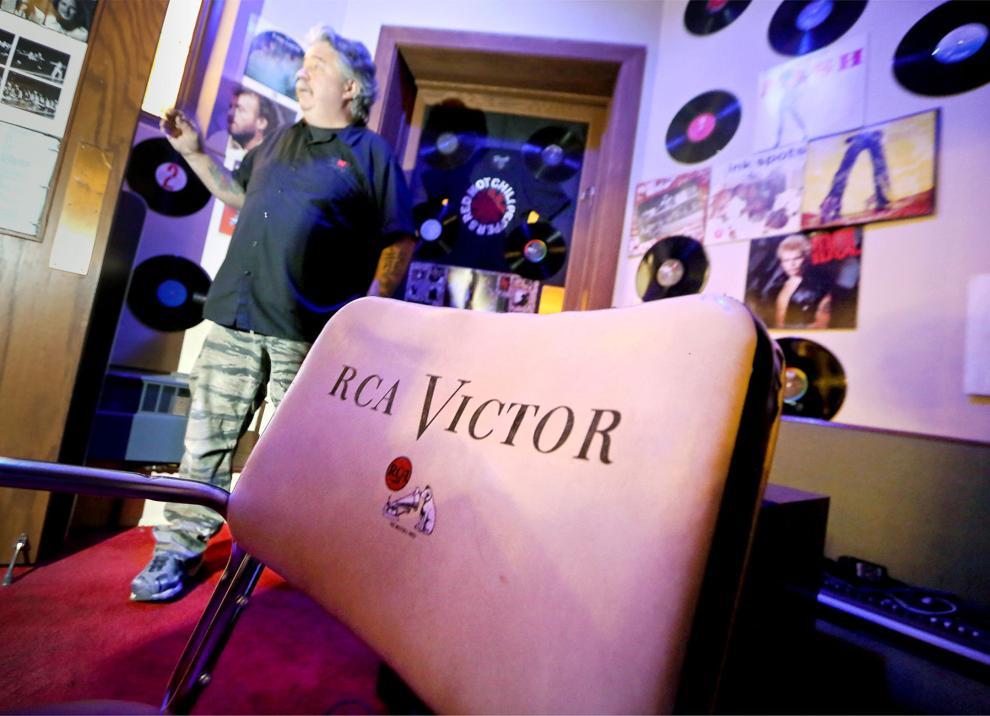 But Allison has found a niche in an unlikely place to share his love of music and his vocation. He installs sound systems in schools and churches and took the lead on creating the sound system for the Gobbler Theater in Johnson Creek that will open with regular shows later this month.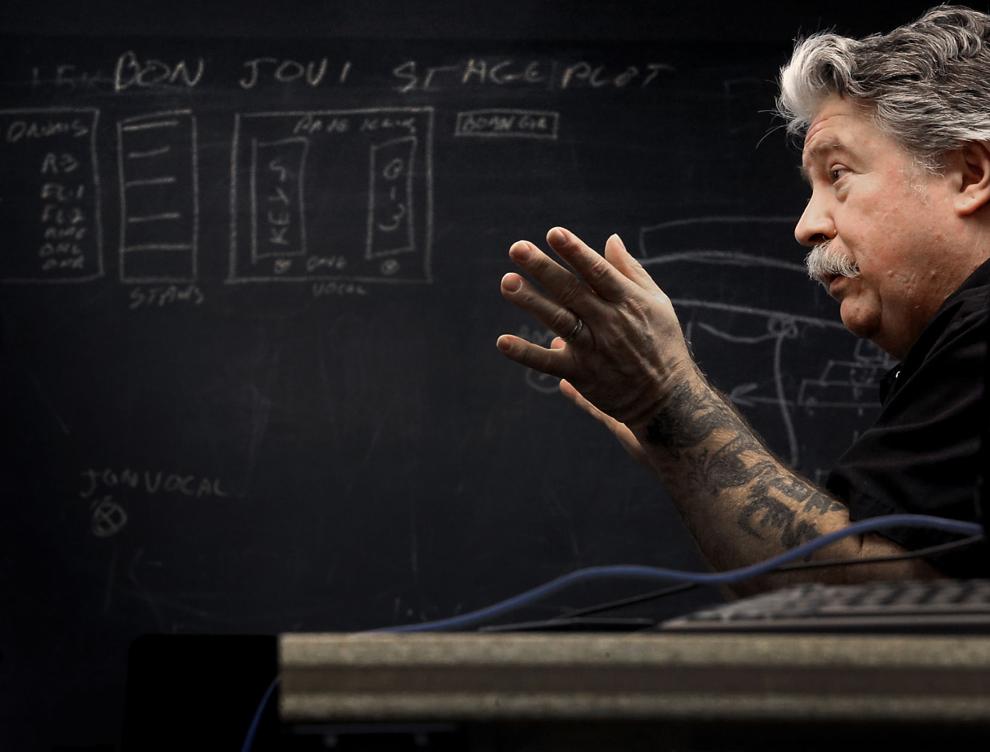 The first classes at Sound Haven were held in September and another session begins in March. Depending on the program, sessions range from four to six weeks and cost between $2,250 and $2,500. Topics covered in the basement classroom include signal flow and patching, transducers, generators, stage plots, console operation, safety and how to work with artists. Packing gear into trucks and shipping containers is also in the syllabus and Allison is trying to attract students from Milwaukee and Madison.
"I'm hoping that it's centrally located between both of them," Allison said. "People aren't making money off their records anymore. They're making money off of touring so there's always a demand for people."
Allison was born in El Paso, Texas, and grew up in Omaha, Nebraska, where he began mixing live sound in high school in the mid-1970s. After high school, Allison rode school buses as a sound technician for regional touring bands from the Omaha area before he and his first wife moved to Arizona where he started his own sound and lighting company. In the mid-1980s, he went to work for Showco, one of the country's biggest sound and lighting companies, and continued on after it was bought in 2000 by rival Clair Global.
"There aren't many countries I haven't been to," Allison said. "I've been all around the world many times. I love what I do."
Allison's son, Brandon, 31, was 11 years old when he went on tour with his father and helped mix the KISS Reunion Tour in 1996. Brandon will soon hit the road with country star Blake Shelton.
"I had someone cheering me on the whole way," Brandon said, referring to his father.
Allison and his wife, who is from northern Illinois, moved from Mesa, Arizona, to Oconomowoc in 1998 and then Johnson Creek before settling in Lake Mills in 2000 so she could be closer to family. They met more than 20 years ago at a country music festival in Walworth County when Allison was touring with Vince Gill.
But while Allison continues to tour on occasion, his focus is on his new business located in a building that has needed more than $40,000 in improvements since he and his wife purchased the facility in 2013 for $68,500, according to the Jefferson County Register of Deeds.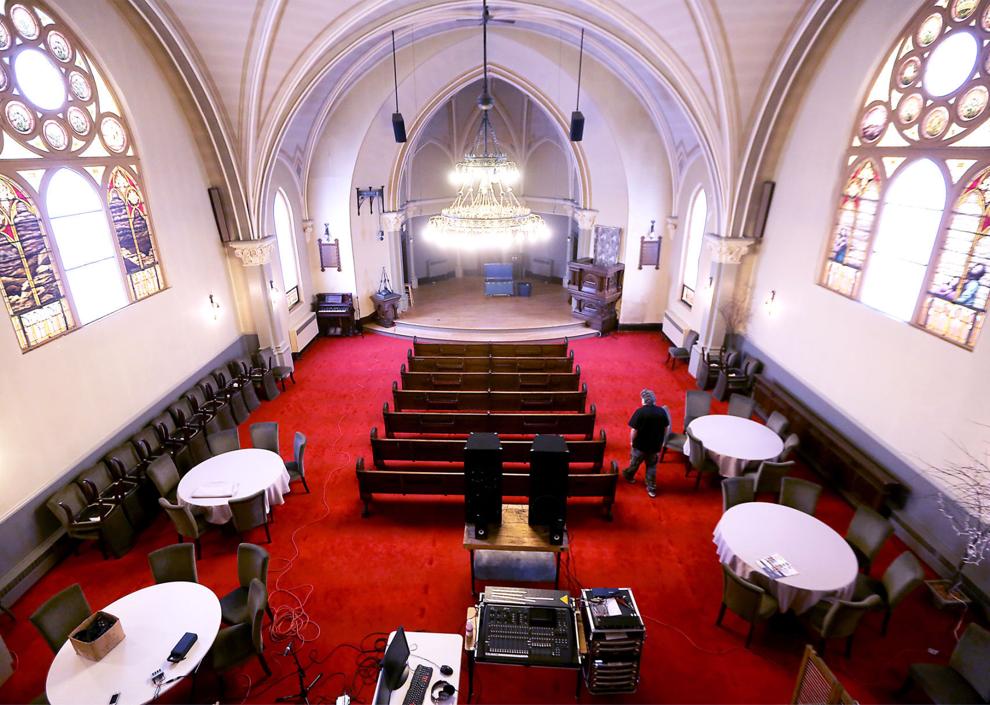 The building dates to 1912 with the front of the building added in 1974. After the church congregation moved out in 2005, the building, neighboring parsonage and former school building next door, was purchased by Marc Nelson for $700,000. Nelson had hoped to use the church facility for a dinner theater but in 2011, after selling off the home and school, the church building was assumed by the Bank of Lake Mills. Allison said two auctions produced no winning bids so he made an offer.
He's added a high-efficiency boiler system to cut the heating bills, fixed the plumbing, repaired the roof and electrical systems, painted and has added carpeting. A bar was built into the sanctuary's back corner so the building can host events while concert photos mix with historic photos from the building's past. A basement reception area can also be rented out for luncheons, bridal and baby showers or other gatherings.
The former house of worship is one of three churches in the community that have been re-purposed. The former Evangelical Church building is home to a fitness center while the Methodist Church building was converted years ago to a home and home interior design studio.
"Obviously, they're very substantial buildings," said Roland Liebenow, a member of the Lake Mills Historical Society. "I'm always happy to see them finding a use for them but maintenance, primarily, is the issue. They're not good buildings to have to repair and with their high ceilings are expensive to heat."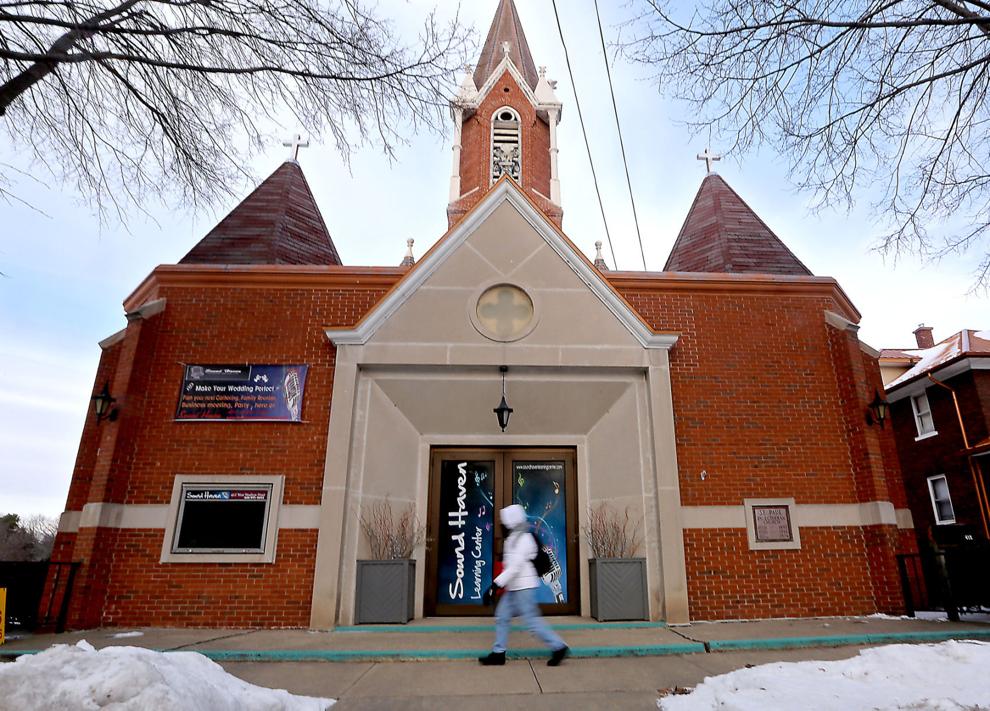 But the Allisons are making a go of it.
Their building still resembles a church with rows of wooden pews and stained-glass windows with scripture numbers from the book of Matthew. Towers of speakers, microphones and sound boards take up the back of the sanctuary, but the wooden pulpit and pipe organ remain. The altar is gone and a room just off the front of the sanctuary that was likely used to hold Communion wine and bread is decorated with concert tour itineraries. The booklets include the 1994-95 Voodoo Lounge tour by the Rolling Stones; a 2006 Bon Jovi tour in Japan and a Beyonce tour from 2009.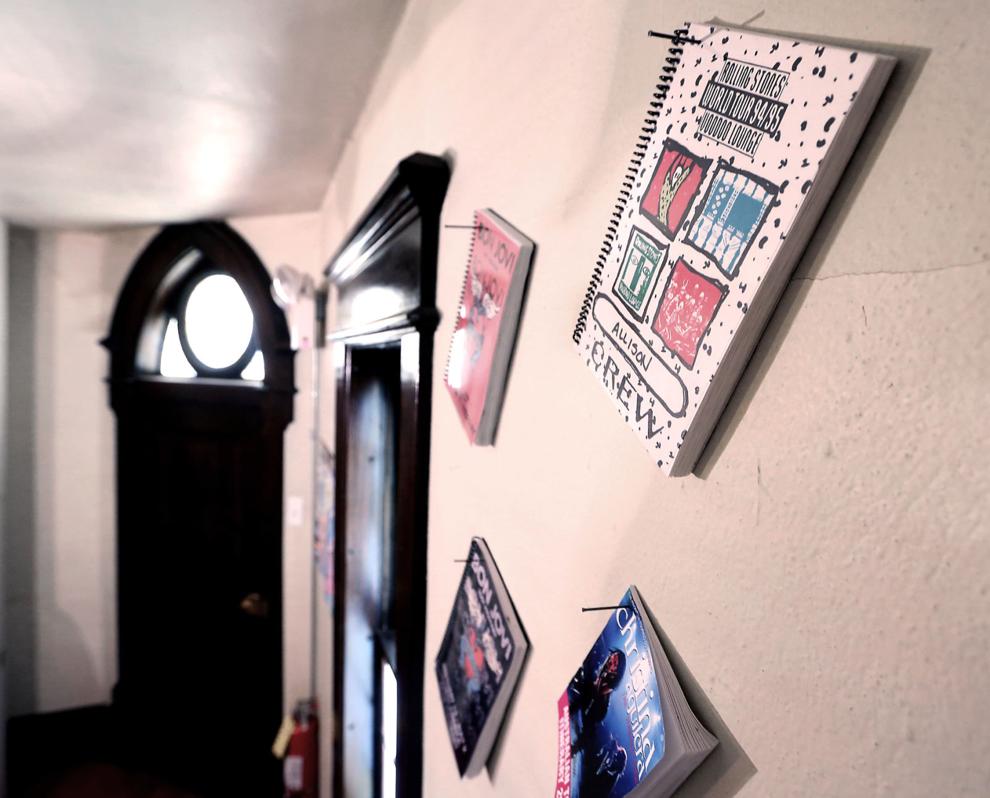 Allison is just as comfortable with local talent. Jefferson artist Derek Hambly, who plays in a punk band, has used the building for recording sessions. Allison provides space for guitar lessons and has recorded the Main Street Big Band, a Lake Mills jazz band with more than 15 members.
"It's got great acoustics. The big band was amazing in here," Allison said. "The word's slowly getting around. We haven't been marketing (Sound Haven) too much. We've been trying to do it slowly, so we don't overstep our bounds."
Barry Adams covers regional news for the Wisconsin State Journal. Send him ideas for On Wisconsin at 608-252-6148 or by email at badams@madison.com.