MINERAL POINT — Dabs of epoxy, sprinkles of sand, clamps, persistence and patience won't bring new life to one of this city's historical gems, but it is making it whole again.
However, Dave Larson doesn't expect to finish the more than 120,000-square-foot restoration project he started last year.
The work — which includes prodding the hallowed ground with a 4-foot wooden pole tipped with a 6-inch metal point — not only outweighs the manpower but inevitably leads to new discoveries that further add to the to-do list.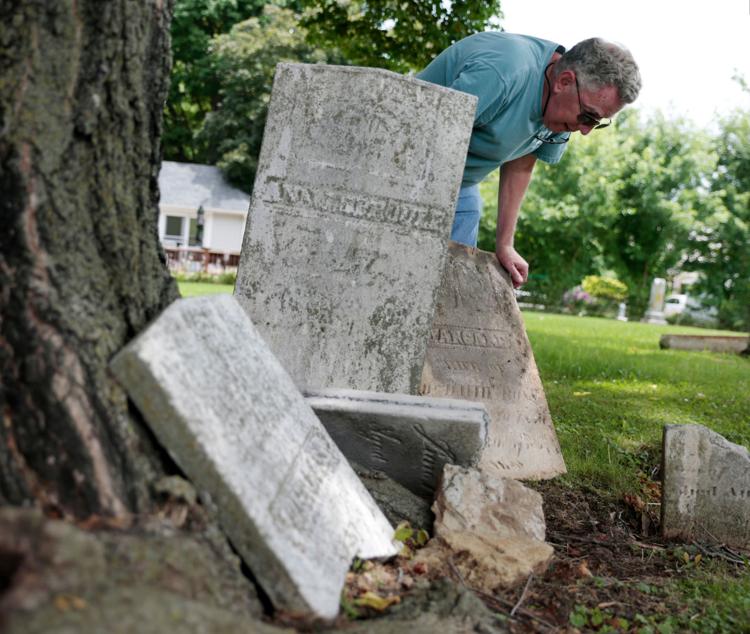 Much of the potential work is clearly visible. The broken headstones primarily made of sandstone scattered throughout Old City Cemetery were what initially drew Larson to the restoration work. But a few inches below the undulating ground lie more clues to the past. Many headstones have toppled and shattered and are covered with dirt and grass or have been overwhelmed by the root systems of trees.
Larson has set out to restore the estimated 250 headstones that are both visible and hidden more than 100 years after the last funeral was held on this rise of land between State and Wisconsin streets.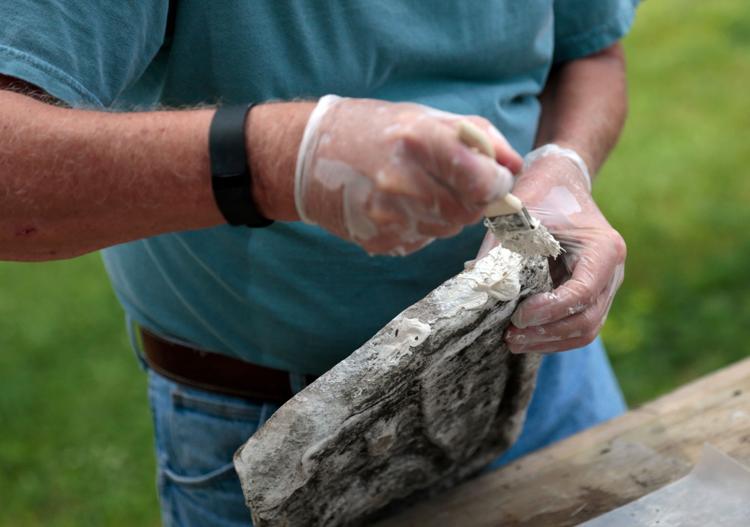 The cemetery is just a few blocks south of High Street, where in 1836 Henry Dodge took the oath to become the first governor of the Wisconsin Territory. Dodge is buried in Burlington, Iowa, but many others who helped develop Mineral Point and Wisconsin are here.
"It's the movers and shakers of not only the city but of the state who are buried here," Larson said. "We had a huge influence in how the state was created. A lot of people did a lot of hard work, and a lot of these people died very early."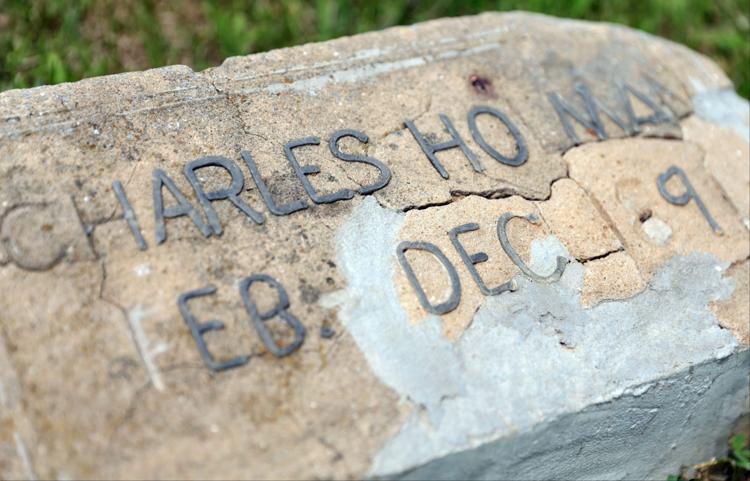 The cemetery, which hosted its first burial in 1838, is filled with dozens of children, many who died from cholera in the mid-1800s. One grave marker indicates nine children from one family who all died before they were 3 years old.
Doctors, lawyers, business owners, pastors, lead miners, housewives and other early settlers of this Iowa County community are also buried here. Their birthplaces include Prussia, Switzerland and England. The cemetery is just a few blocks from the Walker House, a stone inn constructed in 1836 and the site where William Caffee was hung for murder in 1842. Some believe Caffee is buried here, but Larson (who thinks he may be buried on a nearby farm) said if Caffee is here, his grave would not have been marked.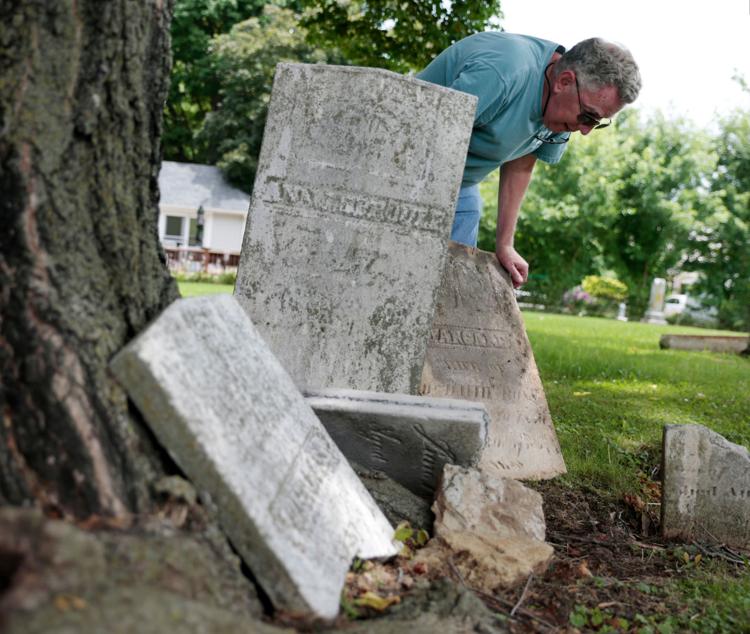 There are veterans from the War of 1812 and the Black Hawk War of 1832. A Decoration Day ceremony in 1870 recognized eight men who died in the Civil War.
"The ceremonies in the cemetery commanded the closest attention of all present, and many a scalding tear watered the grassy mounds marking the resting places of the brave dead," the Mineral Point Journal reported at the time.
But many headstones are hard to read. That's where Larson uses a mirror to reflect sun onto the surface, which can make the faded names and dates in the soft stone more clear.
The cemetery restoration project is being funded by donations from some employees at Alliant Energy who receive matching funds from the company. In 2015 they combined for $1,300 in donations. This year the local Lions Club has donated $2,000. The vast majority of the money is used to pay for epoxy, Larson said.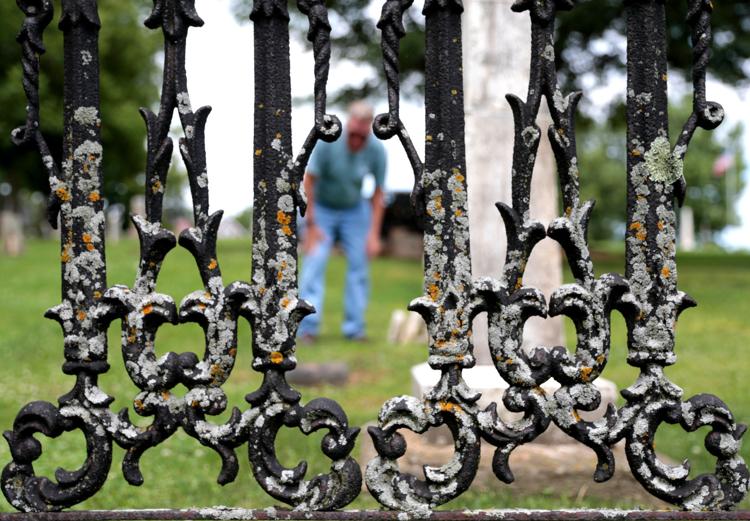 He believes there may be over 450 people buried in the cemetery. But many gravestones were removed through the years, and some destroyed by a drunken driver who barreled over several headstones with a pickup truck in the mid-1970s. Those that remain help tell the story of Mineral Point.
Naomi Huxtable died when she was 17, and was the daughter of Anthony Huxtable, who is the miner dressed in red and blue and holding a pick ax on the state flag. Her headstone on the south side of the cemetery is together thanks to Larson and his small team of volunteers.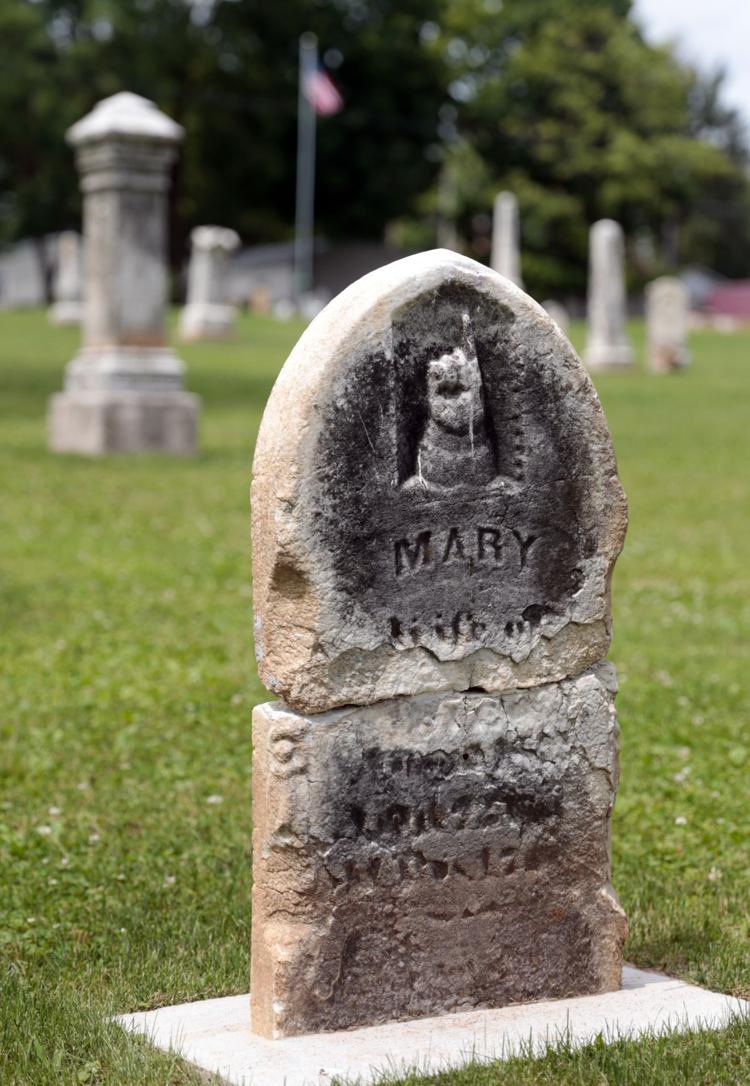 History buff Ken Richard is restoring the home of Emerance Rodolf, who died in 1856 and is buried on the west side of the cemetery — or at least that's where her headstone is located.
"I knew she was buried out here," Richard said. "One of (her family's headstones) was leaning up against a tree and another one was underground. A lot of stuff is just totally missing."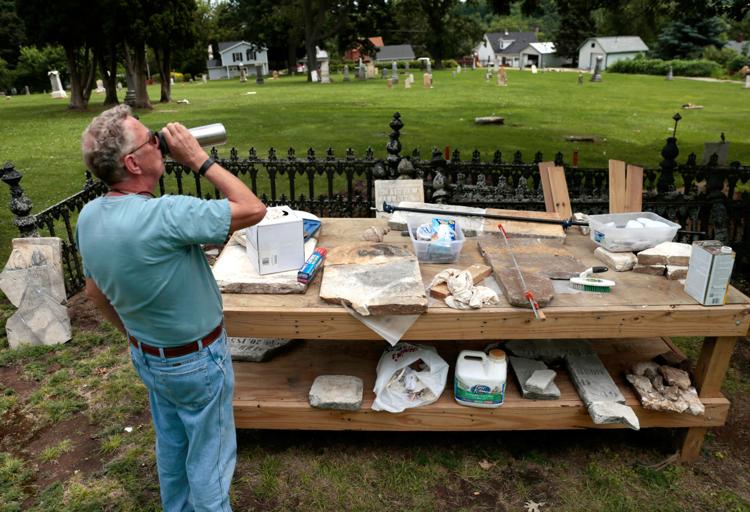 The current restoration work is building off research from the past. In 1966, a church women's group documented the legible names and dates from visible headstones. The Mineral Point Women's Club did another census in 1976, collected broken headstones and secured them flat and face up in concrete. A 1984 Eagle Scout project mapped the visible headstones.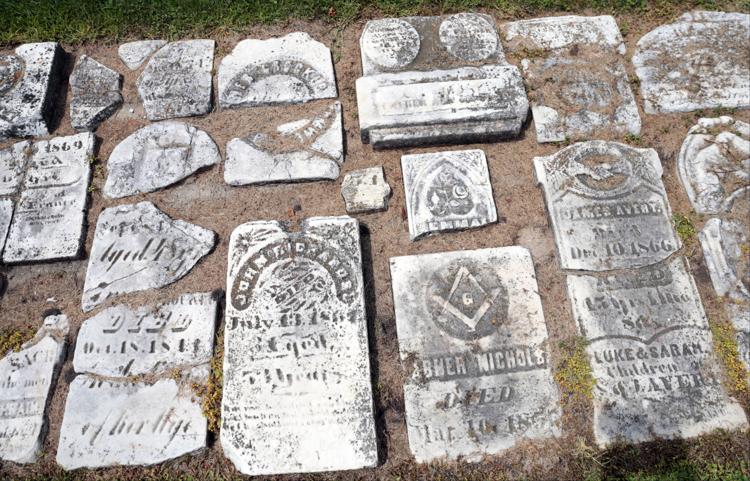 Volunteers are also using the Mineral Point Library Archives to find obituaries, genealogical and biographical information in an effort to help fill in the gaps of those buried in the cemetery with a goal of creating a searchable database.
"The goal of these combined efforts is to physically restore the Old City Cemetery as best as possible and to create from the listing an interpretive display center within the grounds," Joel Grosse, a researcher, wrote last year in the Mineral Point Historical Society's newsletter. "While all the stones will never be found or restored, restoring as many as possible will bring the place close to its original purpose."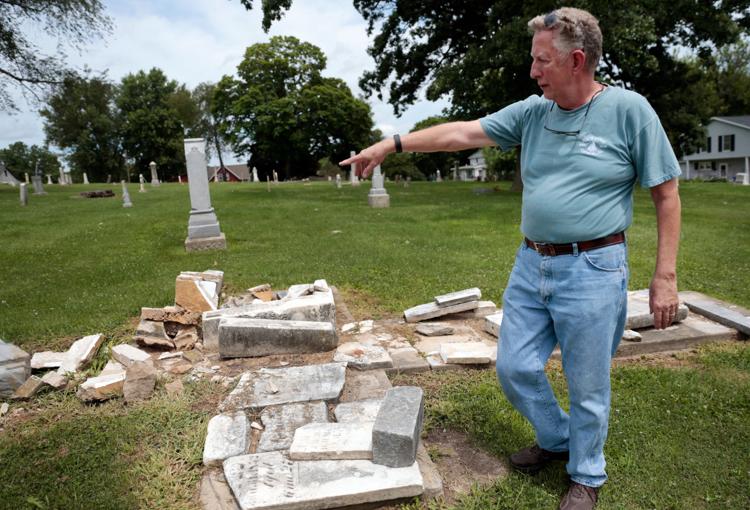 Larson, a Minnesota native, spent his career maintaining cheese plants. In 2009, he moved to Mineral Point after accepting a job in Belmont at Lactalis American Group, home to award-winning brie. Now retired, he spent much of his time restoring his 1878 home, but with the major projects completed, he turned his focus to the cemetery across the street.
Initially, he would work on broken headstones in his basement, but this spring a 4-foot by 8-foot wooden work table was constructed in the cemetery. This is where pieces of stone can be cleaned with a non-corrosive solvent and then put together like a historic jigsaw puzzle. Larson then uses a wire brush to clean the edges of the stone before he applies an epoxy. Sand is sprinkled over the epoxy — after the pieces are clamped together but before it dries — in an effort to mask the repair.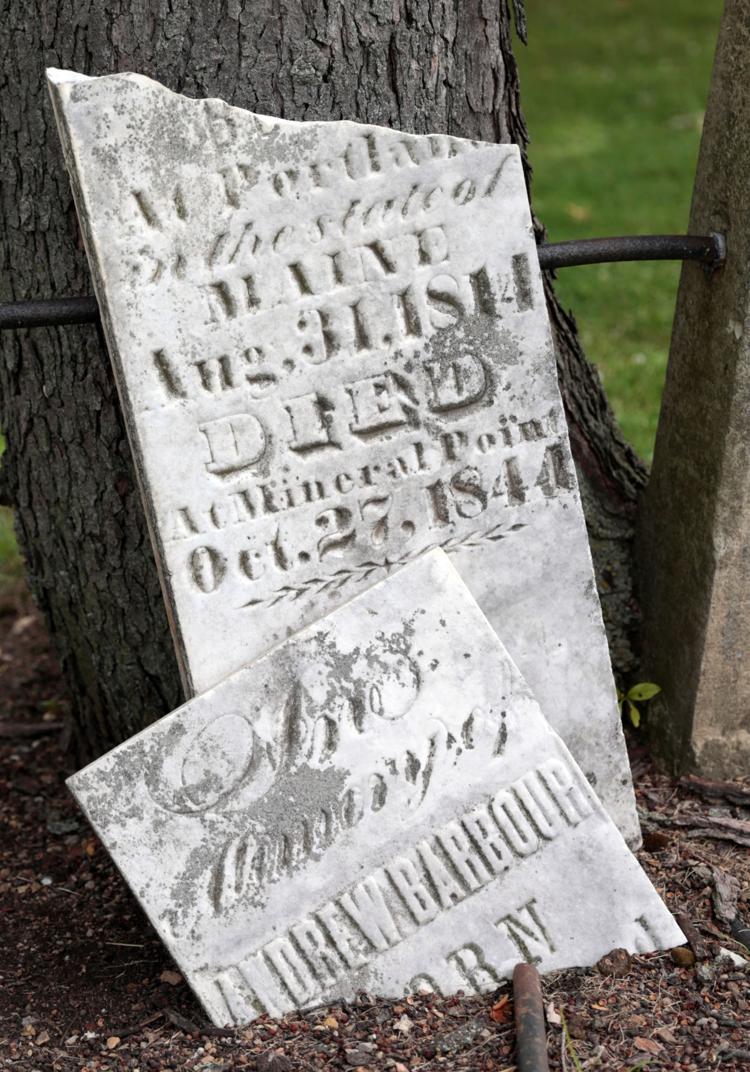 The location of each headstone in the cemetery also sports a tag that marks its GPS position, but one of the biggest jobs is finding all of the pieces to each headstone. His first restoration was an unusual concrete headstone with brick filler. The name of Charles Holman and the 1851 date of his death were lined in lead.
"I knew absolutely nothing about stone repair. It was all crumbled and there were pieces laying here and there were pieces laying over there," Larson said. "I don't know if he's buried there but that's where I found it."
The latest headstone found thus far is from 1905, but Larson believes the final burial may have been in 1908, based on obituaries. Some stones are repaired while still on their base, but others are moved to the work table. For those without a base, new ones are poured. About 80 headstones have been restored, but scores more need repair.
"If I had 10 more Kens and four more mes, maybe 10 years," Larson said when asked when the restoration work might be completed. "Every time we dig around a stone we find things. We find more stuff every day."
Barry Adams covers regional news for the Wisconsin State Journal. Send him ideas for On Wisconsin at 608-252-6148 or by email at badams@madison.com.
Be the first to know
Get local news delivered to your inbox!