PRAIRIE DU SAC — There are homes here with more historical significance and bolder architecture.
But for Lisa Alyea, sentiment runs deep on a two-story Queen Anne that for nearly 80 years was located at 100 Washington St. She's also tired of seeing history disappear.
That's why Alyea and her husband, Scott, woke their 4-year-old twin boys at 4 a.m. Wednesday to watch as the 70-ton home made a two-block, one-hour return trip to Water Street.
"This is our house," a groggy Gareth Alyea said, as the house began to move. "Is it going to crash?"
The $20,000 move by Heritage Movers of Mount Hope went smoothly. And if all continues to go well, the home, now with a 367 Water St. address, should be resting on a foundation by the end of the summer. The new location is on property owned by the Alyeas, who bought the house this month from the village for $100 with the stipulation that it be moved.
The village had contracted with a demolition company to remove the home in July so a 17- to 18-stall parking lot could be built on the property. The purchase by the Alyeas and the move adjacent to their current historic home, which happened to have a one-acre lot and a perfect spot for another home, ensures that the house can, once again, begin a new chapter in what has been a more than 100-year nomadic life.
The home, its second floor an apartment, is now on its third address. It was built at what is now Water and Washington streets in the late 1800s but moved in the early 1930s and then moved again last week. The Alyeas plan to spend around $100,000 to restore the home and reconvert it to a single-family residence.
"It's saving a historic structure as well as preserving some childhood memories of mine because I was in the house a fair amount," Lisa Alyea said. "I never in a million years would have dreamed that I'd be moving this old house onto my property."
In the early 1900s, the home was owned by Dr. Allen Orvis Kendall, who was responsible for the care of workers building the nearby power dam. In 1931, the home was bought by Bill Jenewein who, a few years later, moved the home 50 yards to the west so he could build a gas station at Washington and Water streets. The site is now home to Prairie Auto Repair and Sauk Prairie Live Bait & Tackle.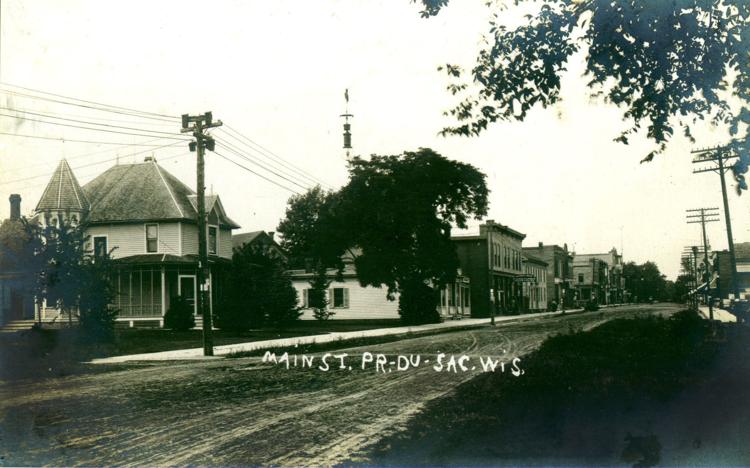 Jenewein's daughter, Marjorie Platt, raised two daughters in the home, who were babysat by Lisa Alyea's mother, Pat Wolter. When one of the daughters, Corrine Atwell, had children, Lisa Alyea would babysit, occasionally in the home. Atwell, the longtime organist at Concordia United Methodist Church, also was Alyea's kindergarten teacher at Washington Street School, gave Alyea piano lessons and played piano and organ at Alyea's wedding. Atwell died in 2003.
"She was just a lifelong friend," Alyea said. "I have memories inside that house."
Alyea, a UW-Madison graduate, and her husband were longtime employees of the Department of Defense and worked on the East Coast and for a time in England. They purchased what is commonly referred to as the Graff House at Water and Broadway streets in Prairie du Sac in 2010, moved from England to Georgia in 2012 and to Prairie du Sac in October. Scott Alyea, a native of Florida, works as a software engineer at the state Department of Transportation in Madison.
"I said, 'Go for it,' " Scott Alyea said, when asked about his wife's project. "She's very motivated."
The moving company used to relocate the Alyeas' new home is the same company that last month moved the Steensland House in Downtown Madison to make way for an expansion of Bethel Lutheran Church. The house, built in 1896, stayed on the same block but now faces Gorham Street instead of Carroll Street.
In the book "Homes of Prairie du Sac," it tells of homes moved using timbers and horses, at least two that were floated down the Wisconsin River on a barge from Newport and of another moved over the ice from the Clifton area to Third and Prairie streets. When the Sentry food store needed more parking, the home was moved a second time.
Some of the more than 40 homes that were moved and listed in the book were old farm houses moved into the village, some of which cleared the way for construction of the Badger Army Ammunition Plant north of the village. Five houses now in the 300 block of Fifth Street had previous addresses, while Sixth Street has five homes originally built elsewhere.
Four homes were moved to Holly Court, which runs parallel to Water Street. One of the homes served as the original toll house for the bridge that spanned the Wisconsin River at Broadway. The home was moved in 1922 and is now occupied by Verlyn Mueller, whose parents bought the house in 1936.
"They cut it in half and put it back together," said Mueller, a local history buff, as he watched the latest home in the village to be moved roll by. "I wish I had a picture of that coming up the hill."
Nearby on Holly Court is the "Prairie House," constructed in 1851 and moved in 2006 from Water Street to make way for a condominium project.
Jack Berndt, manager of the Tripp Heritage Museum located just down the street from last week's house move, said moving a home years ago was probably a little easier because many didn't have plumbing or electricity hook ups to deal with. In addition, there were more spots to put a home. The Alyeas' large lot that could accommodate another home was serendipitous in last week's move.
"It's a nice fit along there," Berndt said. "The lucky thing was finding a location."
And a buyer willing to put in the work to restore the home.
Lisa Alyea said the house is structurally sound but the original floors are covered with linoleum, staircases have been walled over and rooms covered in turquoise and purple paint.
"It will be a single-family home again with a lot of TLC put into it to restore it to what it originally was," Alyea said. "I want to do it right. I don't want to rush things and get it wrong."