When Dr. Eugene Nordby takes the field prior to Sunday's Green Bay Packers game against the Detroit Lions, there's a pretty good chance he'll be the oldest fan in the house.
It's a documented fact that Nordby is older than the football franchise itself.
Nordby, who will turn 101 in April, was 16 months old when it was announced in August 1919 that the Indian Packing Co. would sponsor a football team made up primarily of former stars from the two public high schools in Green Bay. Nordby was more than 3 years old in 1921 when the team, known then as the Acme Packers, joined the American Football Association, the precursor to the National Football League. And Nordby was in college when Curly Lambeau led the Packers to the 1936 NFL Championship.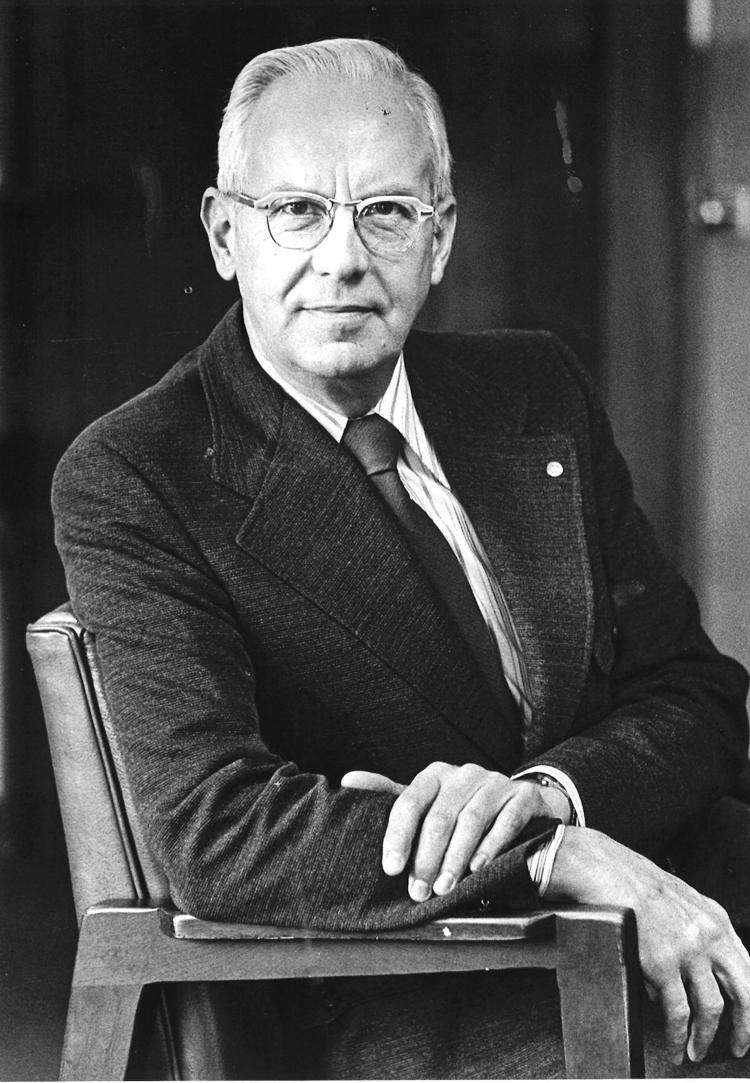 So on the last day of the organization's 100th season, it will be Nordby, a World War II veteran and longtime orthopedic surgeon in Madison, who will be recognized during Operation Fan Mail. The program, which debuted in 2007 and has been sponsored by WPS Health Solutions of Madison the past 10 seasons, honors military families and veterans at each Packers home game.
Nordby, who retired from practicing medicine in 1981 when Brett Favre was in middle school and two years before the birth of Aaron Rodgers, was nominated for the honor by WPS, where Nordby was on the board of directors for 55 years and chairman for 30 years.
"It will be fantastic," Nordby said of just his fourth trip to Lambeau Field. "I like baseball better than football but I'm a supporter of the Packers. I think they're a wonderful organization for all they have done."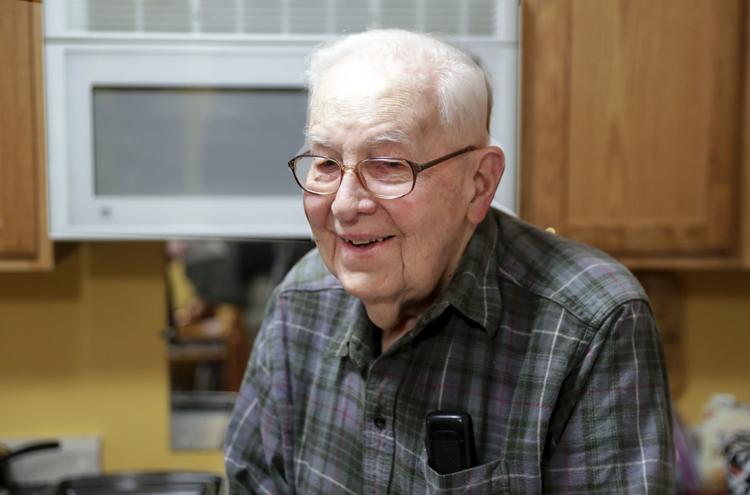 This season's honorees for Operation Fan Mail have included a wide range of veterans and active military. Spc. Austen Jahnke, an Eau Claire native and a member of the Wisconsin Army National Guard since 2015, was recognized in August. Dustin Crane, who lives in Green Bay and joined the U.S. Army in 2005 at the age of 17, was recognized prior to the Packers-49ers game in October. Crane was deployed overseas with the 1st Infantry Division where he received several awards including the Global War on Terrorism Ribbon. In December, prior to the Packers-Cardinals game, Lt. Commander Steven MacGillis, of Milwaukee, and his family were recognized. McGillis, an H-60 helicopter pilot, has been serving in the U.S. Navy for 15 years, has been deployed to six continents and is part of a family whose military service spans four generations over more than 100 years.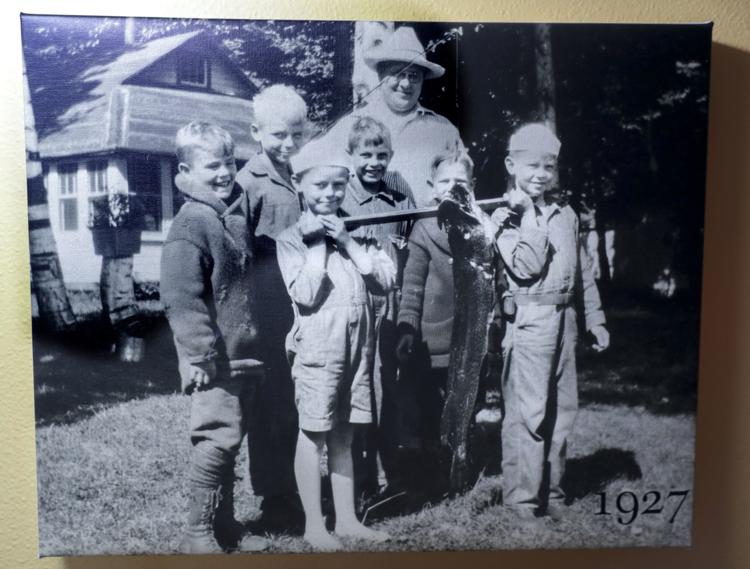 Nordby, who was born just five years after Vince Lombardi, is one of the oldest to be recognized in the Operation Fan Mail program. He has been alive for every pass, touchdown, win, loss and Super Bowl victory by the Packers and remembers when Johnny "Blood" McNally played for the team from 1929 to 1936.
"He was a character," Nordby said. "We used to listen to (the games) but I don't remember much about it."
Nordby's age is only a marker in time. His life has been filled with riches. They include growing up in a small Wisconsin town, serving his country during World War II, embarking on an innovative and distinguished medical career, a marriage of nearly 73 years to the late Olive Jensen Nordby and an affinity for the North Woods.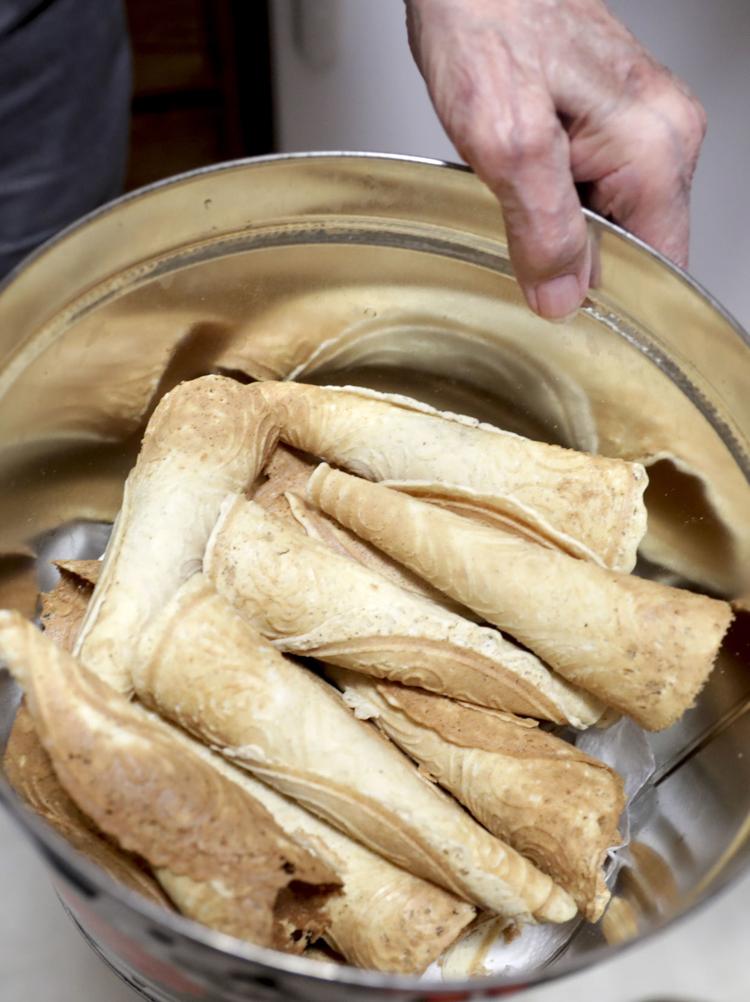 Today, Nordby lives in an apartment at Coventry Village on South High Point Road, where for the holidays he baked a double batch of Krumkake, a Norwegian waffle cookie, that he stores in a tin and generously offers up to visitors. There is no mistaking Nordby's heritage. His couch is covered with a blanket imprinted with the Norwegian flag, and a letter from King Olav V of Norway hangs in his bedroom documenting Nordby's knighting by Olav in 1979. Nordby's Christmas letter that he sent to family and friends this year also mentions Nordby's 40-year affiliation with Madison Torske Klubben, a Norwegian social club he helped found in 1978.
Nordby enjoys listening to John Grisham books on his iPad, has a small treadmill in his living room and stays active by twice a week playing pool just down the hall with Jim Riordan, the former longtime CEO of WPS. A pool cue sits just inside Nordby's apartment door, although Nordby only began playing the game just over a year ago.
You have free articles remaining.
Register for more free articles
Stay logged in to skip the surveys
"It's a nice exercise," Nordby said of his pool game. "I'm not especially good at it but I'm getting there."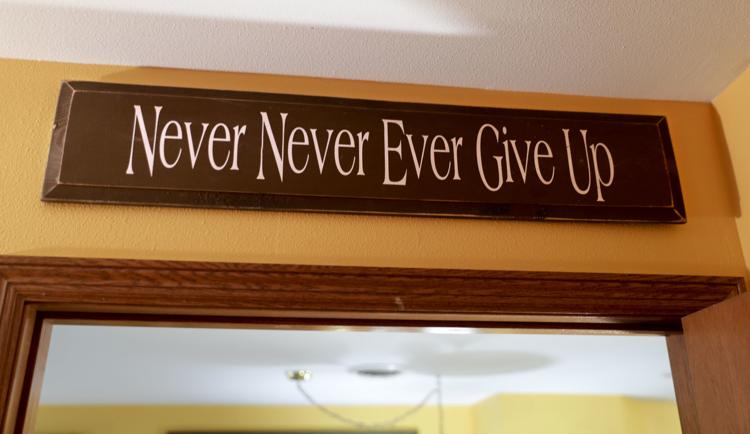 But the most important reminders for Nordby are the numerous paintings that hang in his apartment. They were created by his wife, whom he met at Luther College and married in 1941. Olive Jensen Nordby died in 2014 just two days shy of her 99th birthday. She majored in art at St. Olaf College in Minnesota and did post-graduate work at the Minneapolis Institute of Arts. She was teaching at Luther College when she met Eugene. Her artwork was prominent at the Madison Art Center, Wright Museum of Art at Beloit College and New Visions Gallery in Marshfield. She studied printmaking at the Madison Vocational and Technical School and was commissioned to create 47 woodcuts on Norwegian themes for the Stein Eriksen Resort in Utah.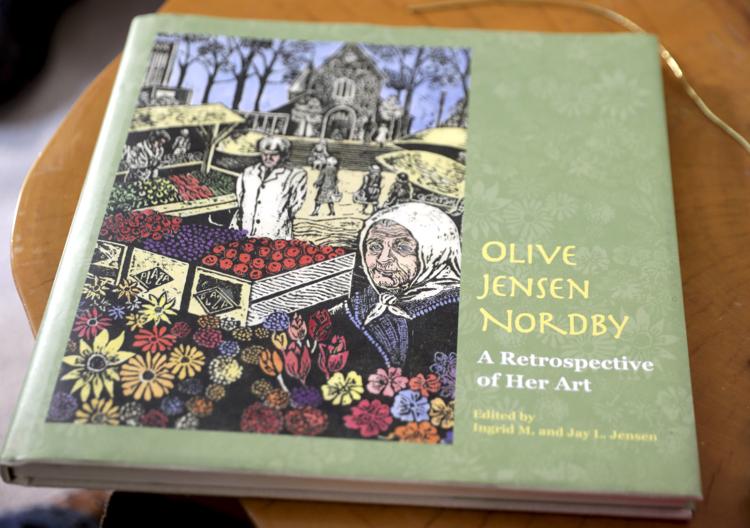 A book of her works remains on a coffee table in front of Eugene Nordby's sofa.
"She was really an accomplished artist," Nordby said. "I took her away from Luther College when we moved here."
Eugene Nordby was born in Abbotsford on April 30, 1918, when the country was still mired in World War I, Woodrow Wilson was president and in Madison, it would be another year before Oscar Mayer would begin production on Madison's East Side. Nordby grew up in Baldwin, a village in St. Croix County east of Hudson where his father was a Lutheran minister. It was there he earned the rank of Eagle Scout and began spending summers at the family cottage north of Rice Lake on Long Lake in Washburn County. He built his own place next to his parent's cottage in 1965 and for the past several years has spent July through October at his property where he fishes from a pontoon boat and reminisces about a monstrous fish he caught in 1927. A photo of the event hangs in his apartment.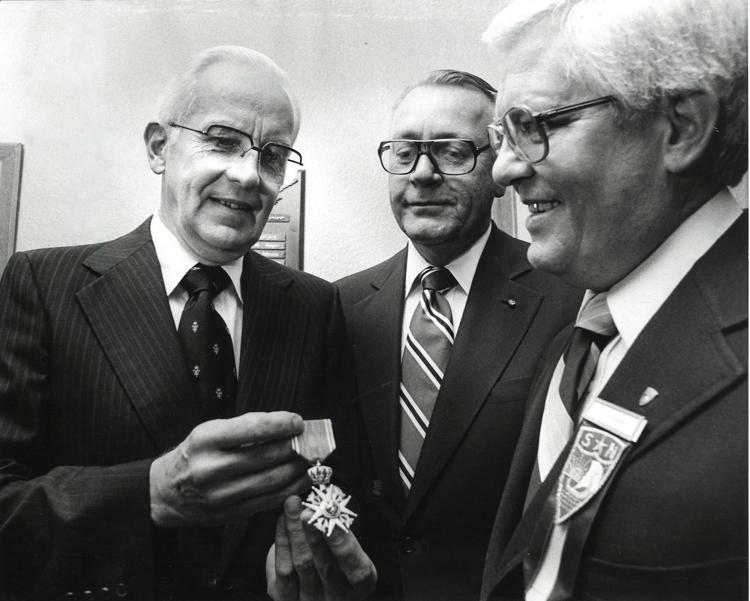 Nordby's professional life was in orthopedic surgery. He and his classmates graduated a few months early from the UW-Madison Medical School so they could help in the war effort. Nordby spent his time doing surgery in Okinawa, Japan, and in what is now South Korea. When he returned to the States in 1947, he began practicing at Madison General Hospital and later partnered with Dr. H. Lewis Greene in a private orthopedic practice.
In the early 1950s, many of his cases were polio patients until a vaccine was introduced in 1955 by Jonas Salk. Nordby also remembers doing hip replacement surgery using plastic components before metal was the standard and he was on the cutting edge of using enzyme replacement therapy to repair ruptured discs in the back. The procedure was used in place of invasive surgery, and Nordby ultimately was called on to teach other physicians how to do the procedure. Nordby estimates he taught nearly 6,000 doctors.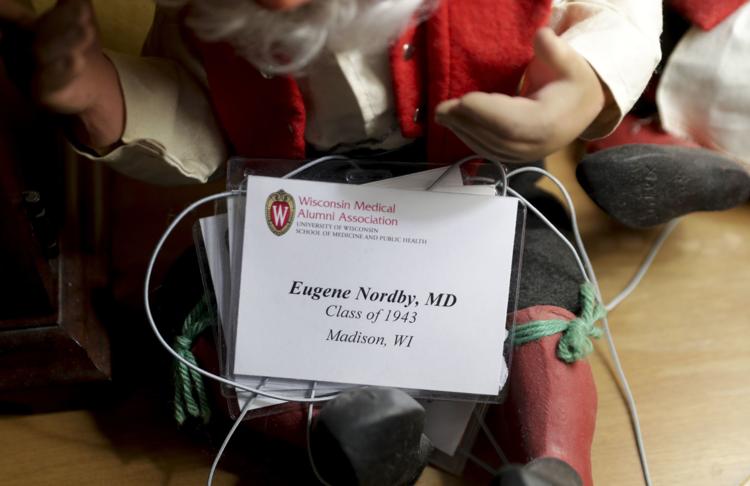 Nordby would go on to become chief of staff of the hospital, now known as UnityPoint Health-Meriter, and was the first staff doctor to be elected to the hospital's board of directors. He remembers when most of his surgeries cost between $300 and $600 and when health care was more personal.
"It seems to me that doctors in those days were more interested in their patients," Nordby said. "Now they're allotted 15 minutes to see them and there just doesn't seem to be an interest. There's a different attitude nowadays. And the expenses are so great."
Nordby gave up smoking and cigars in 1966 after suffering a heart attack and turned in his golf clubs to focus more on his garden at the home he and his wife built in the Highlands, a wooded upscale neighborhood off of Old Middleton Road. He can no longer see out of his left eye and a stroke several years ago left him a bit off balance, something he tries to counter with medicine. He uses a cane in his apartment and a walker when going on longer walks. Otherwise, he's in good shape and, equally impressive, his mind is sharp. He can easily recall dates, addresses and other details of his long life that he credits to a long marriage and a glass of red wine each day.
"Actually I think it's just the Lord that did it but I don't know why," Nordby said. "I don't want to die but I'm not afraid of it. What good does it do to be afraid of it? I try to do everything to keep living but I don't know why I should be able to do it while others can't."