In a sudden and jarring change to a 135-year-old State Street building, the brick-and-stone front of the former Sacred Feather hat shop was covered in black paint Tuesday.
The work was done without the city's permission, according to the city's Building Inspection Division, and likely wouldn't be allowed under city ordinance anyway. The building at 417 State St. is not a local landmark or covered by other historic protections, but it is in a design district that requires building owners to get approval from the city's Urban Design Commission before making changes, city officials said.
It's also one of the last remaining houses on State Street, according to city property records.
Steve Manley, who owns B-Side Records across the street from the building, said workers on Tuesday had the painting "all done in a couple hours, and I just could not believe my eyes."
"It was a beautiful and natural stone and brick facade," he said. "A lot of people are upset about it."
In a tweet, Stuart Levitan, chairman of the city's Landmarks Commission, said: "Time for a State Street Historic District."
He said he's considering putting the idea on the agenda for Monday's commission meeting. Creating a historic district that includes the site would require review by his commission and the City Council to make changes to the facade of the building.
"State Street is the critical street in Downtown Madison," he said. "The architecture is a significant part of it."
Inspectors have given the building's owner, Fitchburg-based SCK Investment, two weeks to remove the paint with the help of a chemical paint-removing treatment. The hope is that removal can be done without damaging the soft stone, Cream City brick and mortar. Workers initially tried to power-wash it off, and "proceeded to do some damage" to about a 3-by-3-foot section of the building, city building inspector George Hank said.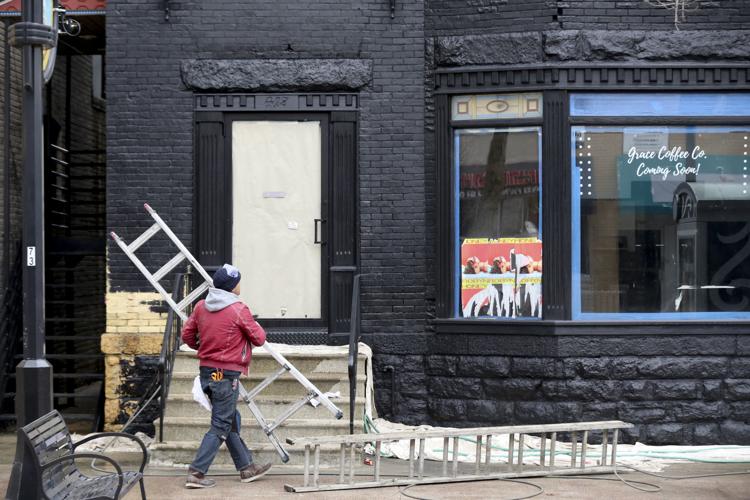 To do it right will be to do it "very carefully," he said. "This is going to take some elbow grease."
Levitan, also a local historian, said: "Once brick gets painted, it never comes back all the way."
Madison housing inspection supervisor Kyle Bunnow said the person renting the building wants to open a coffee shop there, and it was that person who had the painting done.
A man doing work inside the building on Wednesday afternoon declined to provide his name but said there had been a "miscommunication" with painters, who thought they were supposed to paint the outside as well as the inside of the building. The inside was also painted mostly black.
The Sacred Feather closed last summer after a 43-year run, including 38 years at that location. The building was sold in April of last year to SCK Investment. An attempt to reach the registered agent for the firm, Xianjing Shan, was not successful.
[Editor's note: This story has been updated to correct the number of years Sacred Feather had been in business and how long it had been housed at 417 State St. The former hat store had operated for 43 years and had been in that location for 38 years.]