Gene Cox feels burdened by material objects, so in that respect, living out of his van wasn't too difficult. It was the isolation and loneliness that made homelessness a struggle for him.
A sense of community is hard to maintain when your residence moves day to day. But after a year of mobile living, Cox found a feeling of belonging in the Occupy Madison Village of tiny houses and its collaborative, eco-friendly mission.
Cox is the steward of one of the five tiny houses at the corner of East Johnson and North Third streets. He moved into his 98-square-foot home in February 2015, just a few months after the village's first residents moved in.
To help more people like Cox have a sustainable and stable place to live, Occupy Madison is looking to raise more than $90,000 to improve and expand the village.
The goal is to build an extension to the village's community building. The extension, which would include a community lounge and kitchen, is required in Occupy Madison's agreement with the city in order for the group to add four more tiny houses on its East Side property.
Right now, the shared kitchen consists of a few shelves, microwaves, a refrigerator and a utility sink — all inside the woodworking shop.
"Even though we have some air filters here for the sawdust that gets in the air, it still adds a fair amount of fiber, if you're eating here, to your diet," Occupy Madison board member Allen Barkoff said. "That's probably not a great thing."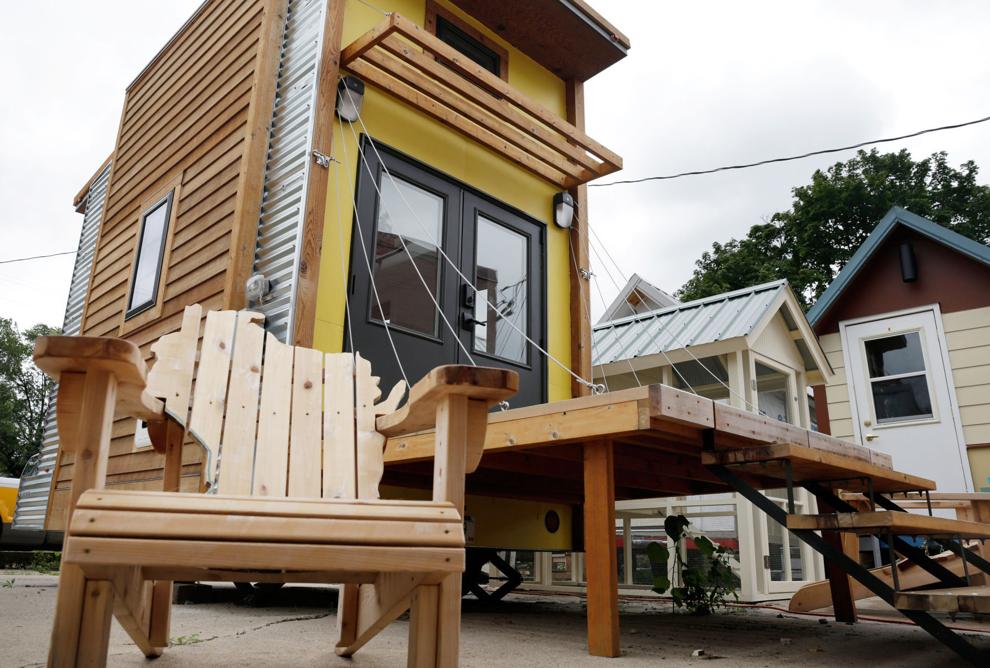 To help raise the money needed, the nonprofit, which does not use or seek out tax dollars, is auctioning off a luxury tiny house and other items — including a chicken coop and two Adirondack chairs with their backs carved in the shape of Wisconsin — on Saturday.
Occupy Madison grew out of the 2011 protests, locally and nationally, against economic inequality. It purchased the 0.3-acre property the village occupies in May 2014.
The village offers rent-free, 7-foot-by-14-foot homes to people who have been homeless, so long as they put in sweat equity — including working with Occupy Madison, sharing chores such as taking out trash and cleaning shared bathrooms, and maintaining their own homes.
Each house has working electricity but no running water. A central building — which used to be an auto repair shop — has toilets and showers. The building also has a woodworking shop and the Village Store, where residents can sell wooden goods and other handmade items.
The mortgage, utility bills and insurance — totaling around $27,000 annually — are all covered through donations and sales from the Village Store. Residents also take custom orders for little libraries and wooden, raised garden beds.
Organizations from around the Midwest and coastal states have toured the Occupy Madison Village to use it as a template for providing housing for people who are homeless, Barkoff said.
Ald. Larry Palm, whose District 12 includes the village, said he supports the village's expansion, which was in Occupy Madison's original proposal to the city.
He said having the village in his district has been "consistently positive," despite initial opposition from neighbors who said they believed it would be a public nuisance that reduces their property values.
Struggles with substance abuse acknowledged
While there have been some issues among residents, most get resolved. But sometimes they're more pervasive than a dispute over who should have mowed the grass.
"We've had some struggles with drug addiction and alcoholism," Cox said.
No illegal drugs are permitted on the property, and because of the actions of some former residents, a zero-alcohol policy also has been put in place. This doesn't prohibit users from using drugs or alcohol off-site.
"We try to respect autonomy," Cox said, noting that people can't be forced into recovery programs. "So you kind of have to try to convince them that this isn't the best. We've had to ask a couple people to leave until they can recognize what the problem is and seek some help."
Resident Christopher Derek said he sees the village as an inspirational project for others. He said working with other residents on projects that are tied to both nature and the surrounding community has been the most rewarding part of living there.
"If it could help us give more to the community and more to the world, I'm for it," Derek said.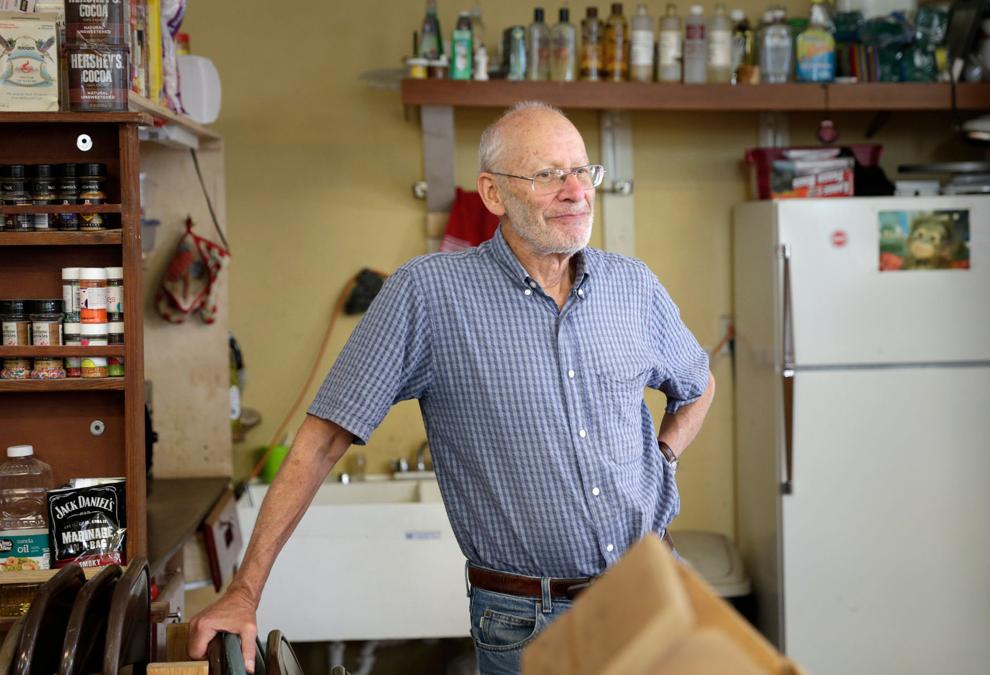 Eco-friendly lifestyle
part of the appeal
Natural and sustainable living is important to the residents of the village. Walking onto the property, residents and visitors alike are welcomed by a lush garden of fruits and vegetables, along with some flowers such as marigolds, which act as natural pest deterrents.
Items in the store that are made in the adjacent woodworking shop are all created from untreated wood, most of which is donated to the village or sold cheaply or is scrap wood. Almost all of it is locally sourced.
On a stool in the corner of the store, a small television streams a live feed of the bee colony behind the building. Cox said the village has been able to harvest and sell a few batches of the fresh honey while supporting local bee populations.
Village residents as well as other Occupy Madison members are also involved in the neighborhood. The woodworking facility and classes, such as jewelry making and an upcoming weaving class, are not limited to village residents. Some residents of the surrounding Emerson East neighborhood have participated along with stewards of the tiny homes.
"If we were isolated out in a industrial area where some of these other tiny house villages for homeless people are, we wouldn't have that kind of influence," Barkoff said.
Resident sees benefit
for son with autism
The tiny house village has benefited not only Cox, but his 11-year-old son Evan as well. Evan was diagnosed with Asperger's syndrome, which is on the mild end of the autism spectrum and can affect social and learning behaviors.
"This has been an amazing place for him also," Cox said of his son, who lives with his mother but often visits his father. "There's been a couple of people within the organization that he's really attached himself to or he can relate to."
Cox said his son "questions everything," and people in the village and Occupy Madison have accepted Evan's curiosity in ways many social environments may not.
To Cox, the village isn't transitional housing. He doesn't picture himself leaving an environment where he is able to be ingrained in Madison's East Side community, while still being in touch with nature and sustainable living.
The village isn't a shelter or halfway house. Occupy Madison saw homelessness as "part and parcel" to the structures it was fighting against, Barkoff said, so building a long-lasting community was central to its ideals.
"When we started, and we still do have this concept in mind, we didn't start this as transitional housing," Barkoff said.
"As long as a person can get along here and contribute, they can stay here as long as they want or as long as we have the village."
"This has been an amazing place for him also. There's been a couple of people within the organization that he's really attached himself to or he can relate to." Gene Cox, one of the residents of Occupy Madison's tiny-house village, speaking of his autisitic 11-year-old son Evan