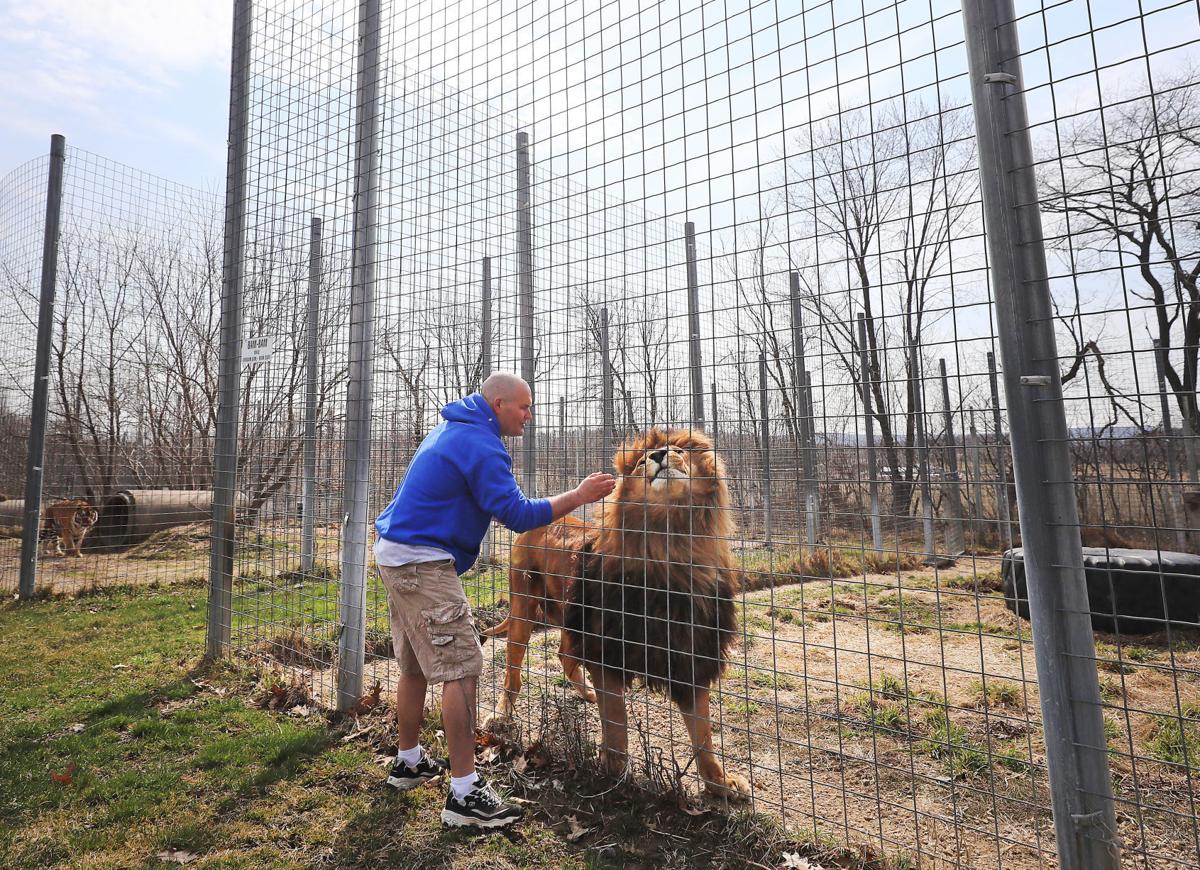 ROCK SPRINGS — The 16 tigers here have names like Memphis, Kai, Minocqua and Raja.
BamBam and Kimba represent the African lions, Dozer is one of two leopards, and the Canada lynx prefers to hide instead of snoozing in the temperamental April sun.
The summer season at Wisconsin Big Cat Rescue & Education Center is scheduled to bring veterinary students from Iowa State University and tourists who stroll the grounds to get an up-close view of the apex predators. The appetites of the cats are voracious and require about 110,000 pounds of meat a year. Chicken and beef are common but in the fall the menu includes deer carcasses donated by area hunters.
"The only thing we pull out (of the cage) is the jawbone," said Jeff Kozlowski, who founded his non-profit in 2005 with his now-wife, Jenny. "They eat everything, bones and all."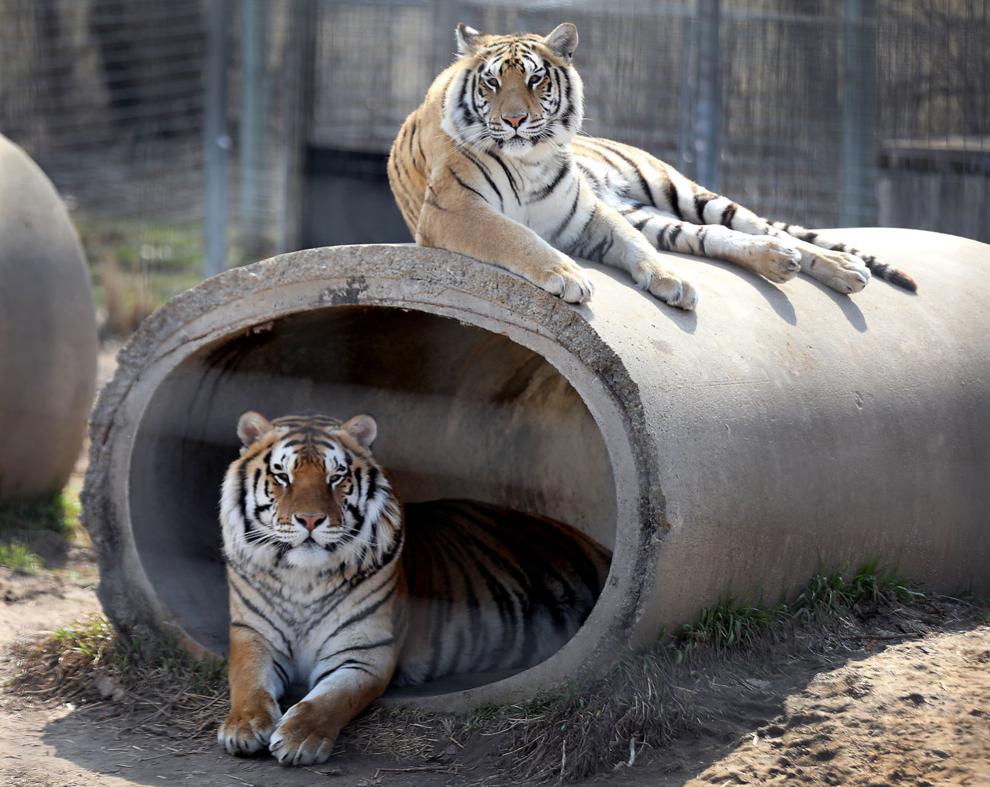 The big cats aren't the only thing that stands out on this hill above the flood-prone Baraboo River which over the years has gutted the village below.
There's a healthy and welcome dose of sanity. Scandals, prison sentences, murder accusations, music videos and harems are nowhere to be found in this Sauk County haven for all things feline.
Mistaken identity
Netflix's "Tiger King: Murder, Mayhem and Madness" documentary has become the talk of a sequestered nation and has peeled back the curtain on a trio of controversial organizations that have pens filled with big cats and stories that have drawn in millions of viewers during the COVID-19 coronavirus pandemic.
The big cat facilities are in South Carolina, Oklahoma and near Tampa Bay, Florida, where that organization calls itself Big Cat Rescue, which has led some to confuse it with the Kozlowskis' Wisconsin Big Cat Rescue. The Kozlowskis are in no way affiliated with any of the three organizations featured in "Tiger King" but the couple has been patient when dealing with confused and sometimes confrontational big cat lovers.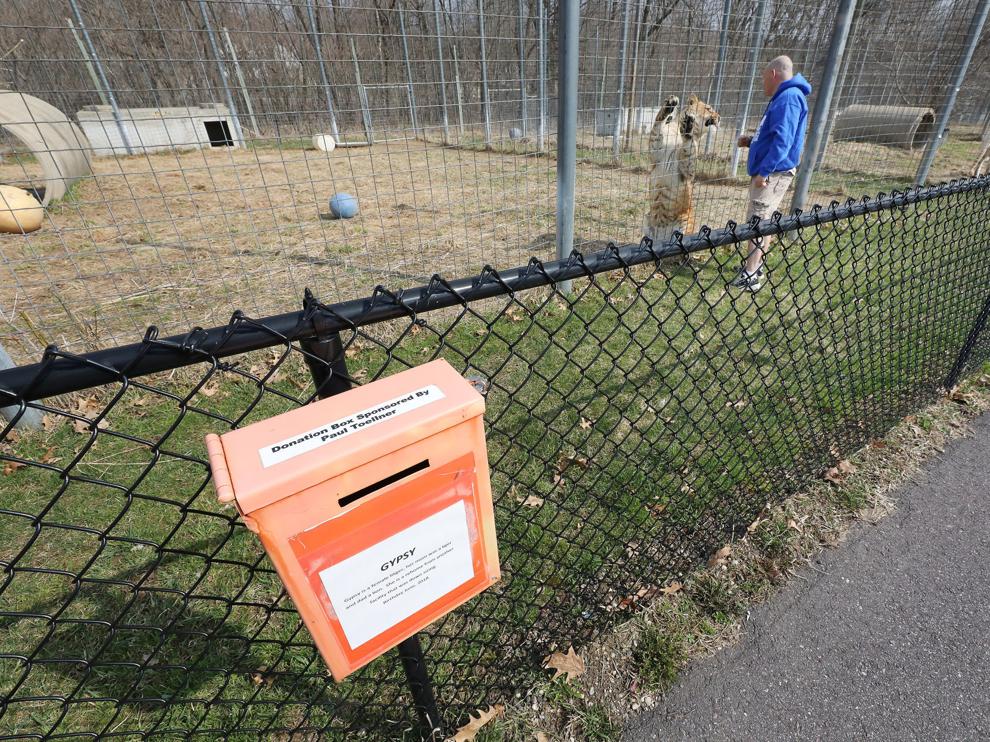 Carole Baskin, owner of Big Cat Rescue in Florida, has been accused of feeding her first husband to her cats. That's likely what led to a text message sent to Jeff on March 28 calling him a murderer. He responded with three question marks, which led the sender to realize he or she had confused the two organizations.
On Thursday, Jenny answered the phone in the office. The caller asked about the whereabouts of Baskin's husband.
"And then I had to explain that we're not associated with Big Cat Rescue in Florida and Carole Baskin at all," Jenny said. "We are totally separate. Although ("Tiger King") has kind of gotten the word out about us for a lot of people that didn't know we existed."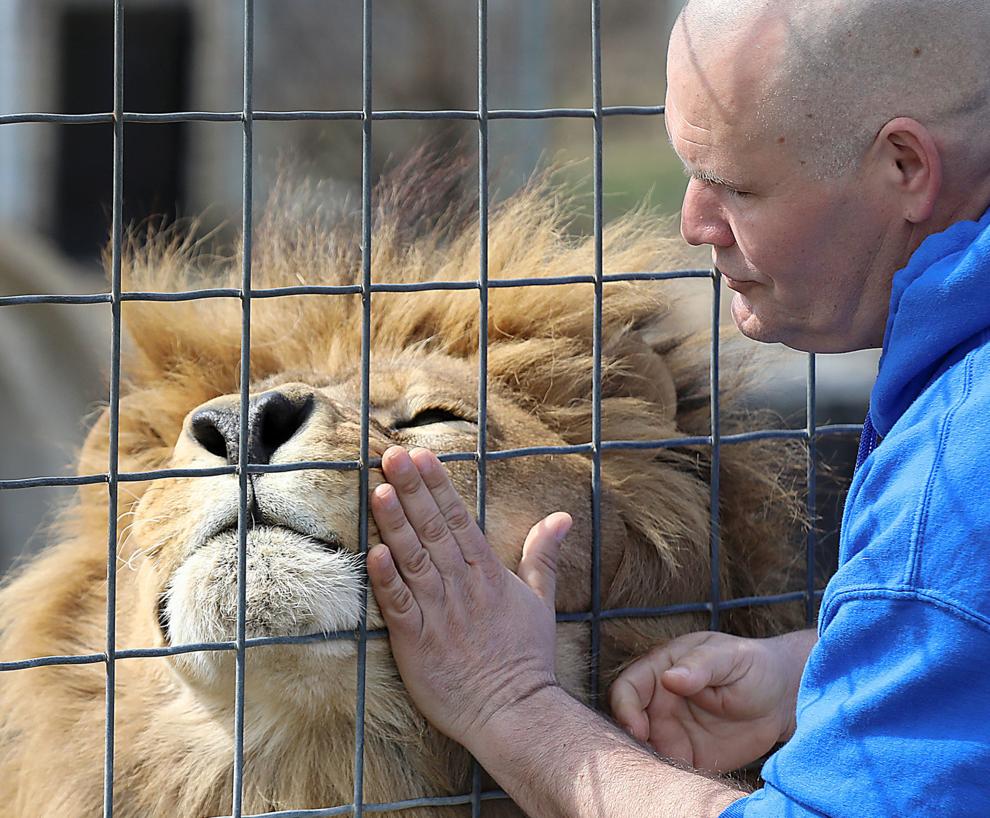 And in all honesty, the Netflix saga, which includes an Oklahoma guy named Joe Exotic, who is now in prison, and another in South Carolina who calls himself Doc Antle, is what led photographer John Hart and I to make the drives (we drive separately now because of the coronavirus) to Rock Springs. We also wanted to see the newest additions to the property that are designed to bring in more revenue that will be used to feed and care for the animals and fund construction of a veterinary center.
Rooms with a view
On Friday, Wisconsin Big Cat Rescue began taking reservations for two brand new cabins that will allow guests to stay on the property. The 730-square-foot cabins, which represent a $150,000 investment, have windows that offer sweeping views of the cat compound. One of the cabins includes a $6,000 combination steam shower and Jacuzzi with a built-in television. Decks and fire pits are being added, with rates starting at $260 a night beginning May 1.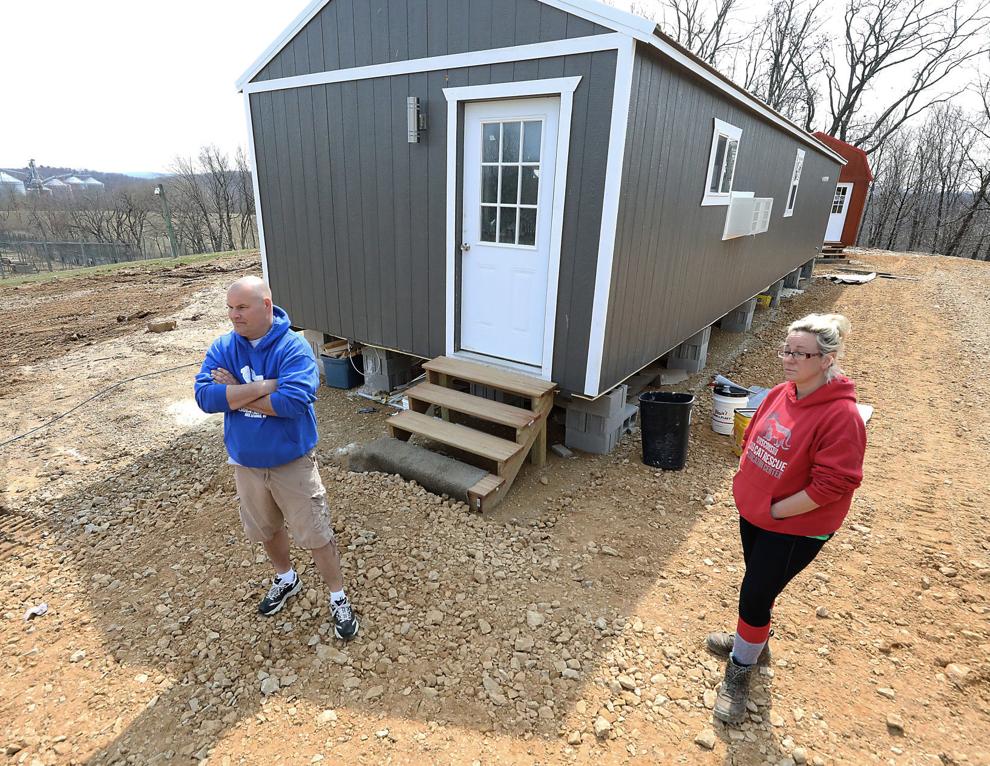 The cabins include all linens and cookware, and each night booked includes a tour at feeding time.
"Our banker's words were 'make it nice,'" Jeff Kozlowski said. "I set the beds for a view. So if you're laying in bed, you're looking down at Dozer and all the rest of them. And you'll be able to hear them. You can hear them five miles away."
Jeff grew up in Montello, and Jenny near Lime Ridge. They've been married for seven years but have been together for 19. Jeff has worked in construction and tree trimming, while Jenny toiled away as a waitress. In 2002, Jeff adopted his first tiger, Kahn, from a zoo in Illinois. A year later he acquired a tiger cub from a facility in Weyauwega and then got two lions from a private owner in Iowa.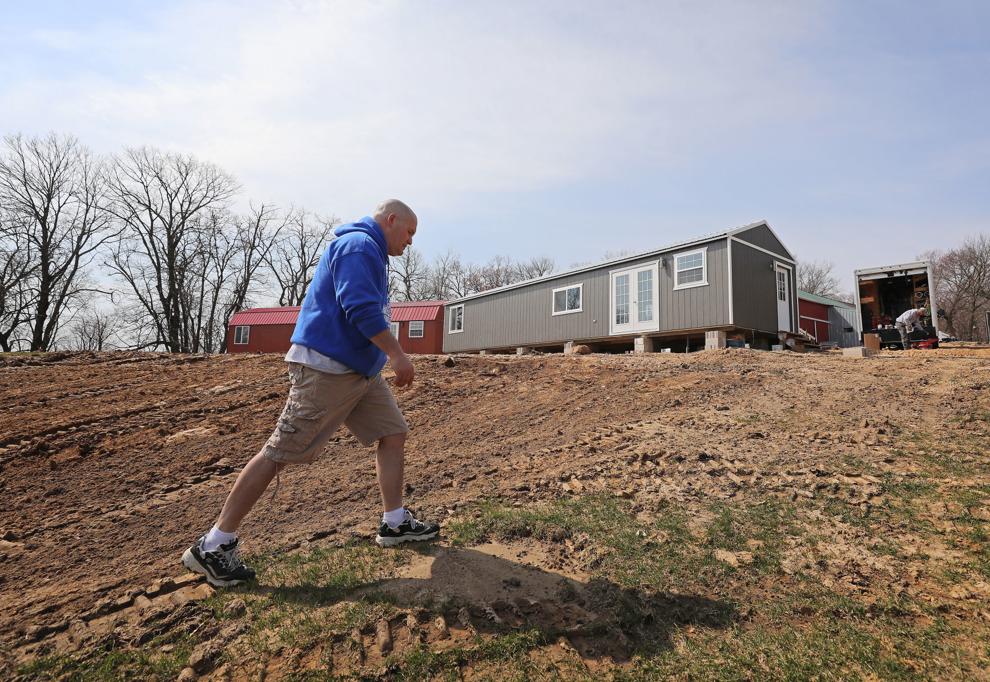 Kozlowski, who at the time was living on 10 acres outside of Rock Springs, thought he could make money by charging customers to have their picture taken with the tiger cubs. He charged $200 to $300 per setting but he only did it for a few months after realizing that it wasn't safe for children and was harmful to the cubs.
"I really didn't know a lot about it," Kozlowski said of his foray into animal photography. "I figured we'd try it and then I went and talked to other people at rescues and they told me the whole story behind taking pictures with cubs and what happens to them and how many extra there are."
The practice can create a never-ending cycle of breeding. Lion and tiger cubs grow quickly and after four months are too big and dangerous.
New mission
So in 2005, with help from donations, the Kozlowskis launched their rescue project, built cages and shelters and became licensed by the U.S. Department of Agriculture. In less than a year, they had 26 big cats. But the quick growth of the rescue facility generated concerns from neighbors and the county ordered Kozlowski to find a new home for the animals. In 2007, after the village of Rock Springs annexed 10 acres of land, it gave approval for the Kozlowskis to build a new facility on a former farm on what is now the village's west side.
"Each one's so different in the way they react to us," Jenny Kozlowski said of the cats. "When they see you it looks like they're so happy and that's so rewarding."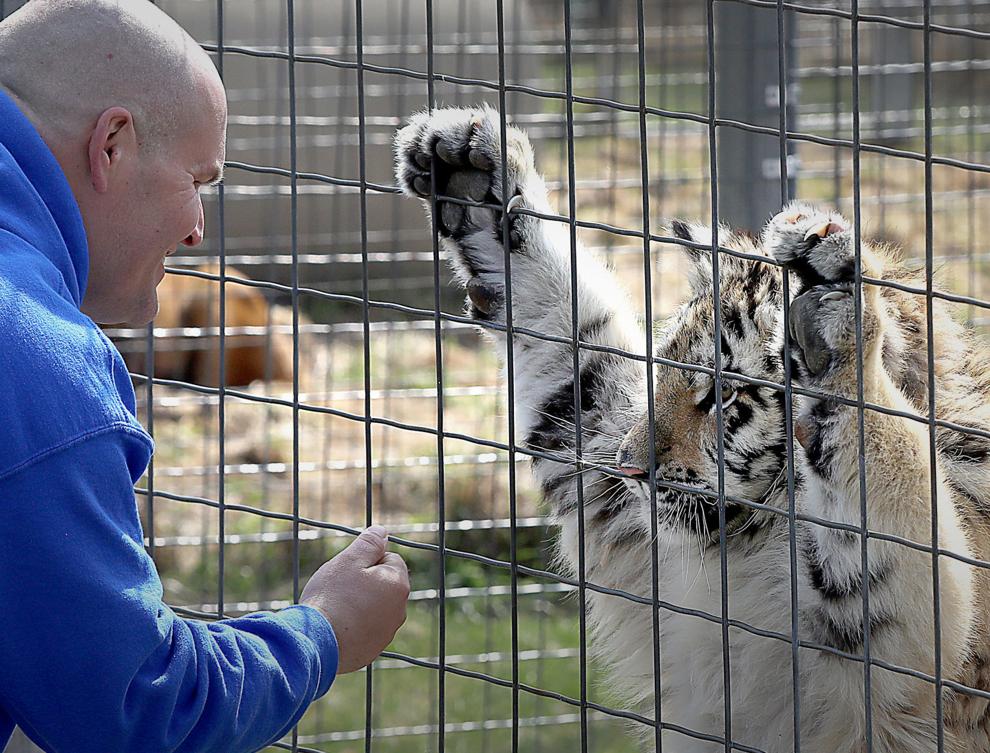 Besides a minor incident in 2010, when a volunteer was clawed while watering a 600-pound Siberian tiger, Wisconsin Big Cat Rescue has been one of the few positives for the village that has seen businesses flee due to repeat flooding. The historic downtown is now home to only a convenience store, post office and a church that also holds the village's library. Restaurants, bars and other businesses along with the community center are closed for good due to flooding.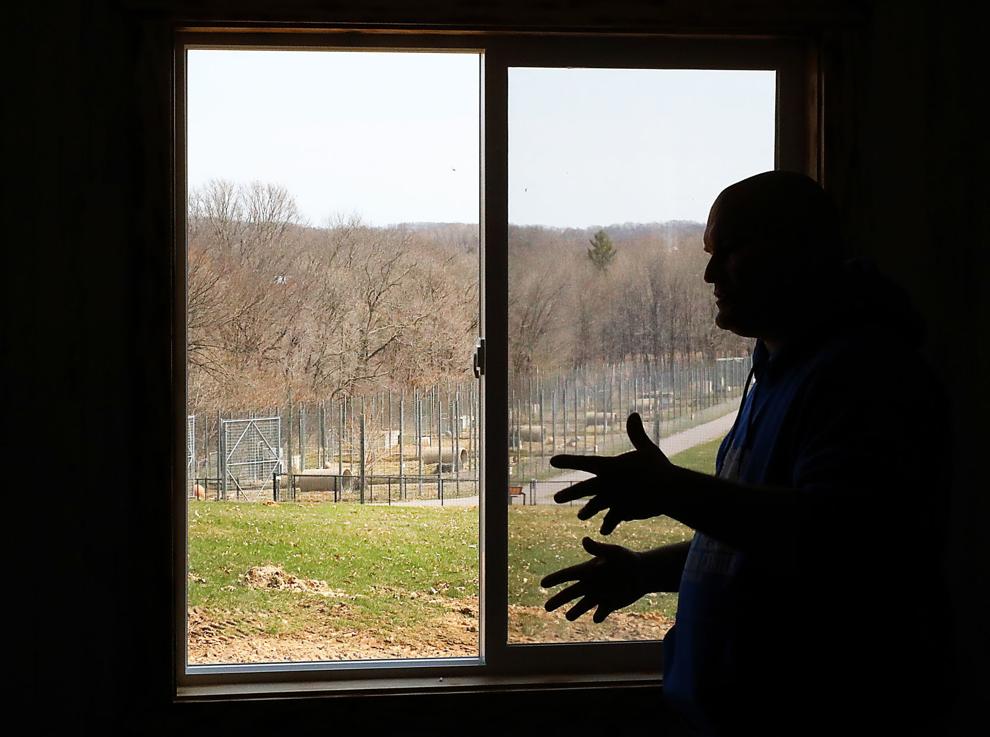 The rescue facility draws about 20,000 people a year and is funded through donations, admissions, grants and school tours. Jeff Kozlowski has urged state lawmakers to make laws for big cat ownership but so far his efforts have not paid off. However, he takes pride in his own facility where animal enclosures feature 16-foot-tall fences and each is at least 3,600 square feet. They include an ever-changing roster of stimulants like large balls, Christmas trees, massive tires and scents and oils.
"You don't see my cats pacing," Kozlowski said. "We give them so much enrichment with different things in their cages. It's a lot of extra work but it helps."
Barry Adams covers regional news for the Wisconsin State Journal. Send him ideas for On Wisconsin at 608-252-6148 or by email at badams@madison.com.