ITHACA — The walk in the woods was purposefully slow.
There were downed branches, tangles of thickets and steep terrain.
The May apples were up, wild apple trees were in bloom and the rolling hills of Richland County had a fall-like appearance as buds from oaks, maples and birch combined with farmland for a picturesque scene.
But for most of Saturday's hike on Steve and Barb Michel's 330-acre property, we kept our heads down — staring, squinting, hoping and waiting to catch a glimpse of a fungus.
The morel mushroom is all the rage for a limited time each spring. It drives many onto the east-facing hillsides of the Driftless Region and others to farmers markets where the delicacy can be more easily procured but at $25 to $80 per pound depending on the season.
Amber Peterson chose the former. She found eight mushrooms on her first ever trip but also had a brief encounter with a bull snake.
"Finding morels is exciting," said Peterson, 35, an attorney in Madison who grew up in rural Rio. "I didn't (at first) even see the snake. I was focused on the giant morel ahead of me."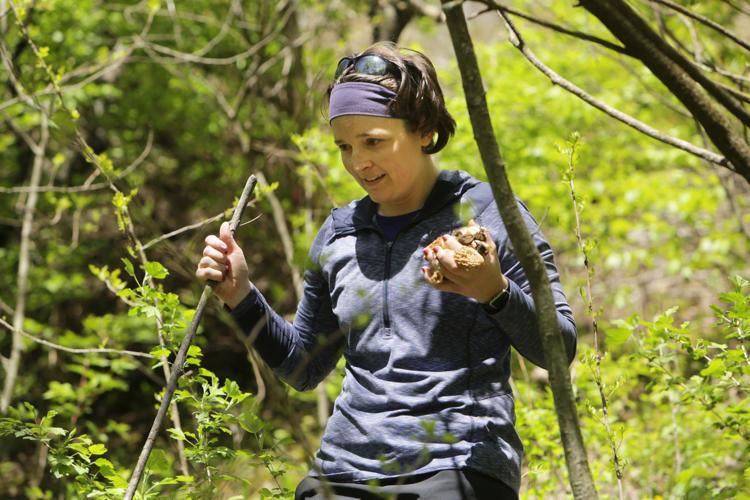 Peterson was among a group of family and friends of Scott and Katie Michel, the owners of Orange Shoe Fitness in Fitchburg. I had written about their business in February and the interview led to Scott Michel's childhood in rural Ithaca, where he worked on the family farm and played high school football, basketball and baseball. He also spoke of morel hunting.
So, when an email arrived from Scott Michel a few weeks ago about a group morel hunt, I bagged plans to be on Lake Mendota for the opening of the fishing season and eagerly accepted his invitation to hunt for morels. The inland fishing season in Wisconsin is a nearly 10-month ordeal. Morels are available only for a few weeks.
"It's just an excuse to get out in nature," said Scott Michel, 36. "It's fun when you can invite friends and family out. Some years you find more than others, but any time you can get out and just unplug for a little bit, and you find something that people find elusive, it's always kind of a victory."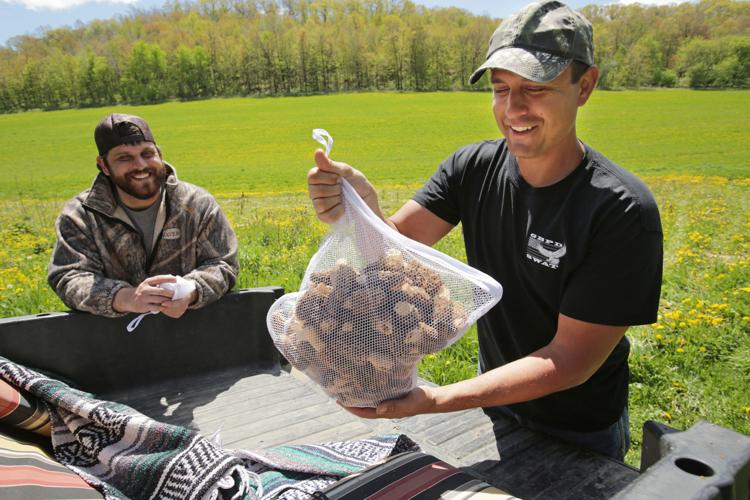 The morel (Morchella esculenta) has been found in all 50 states but the Midwest is prime location for the sponge-like mushroom. We were on private property on Saturday but it's also legal to harvest edible fruits and nuts, wild mushrooms, wild asparagus and watercress for personal consumption on public lands, including state parks, according to the state Department of Natural Resources.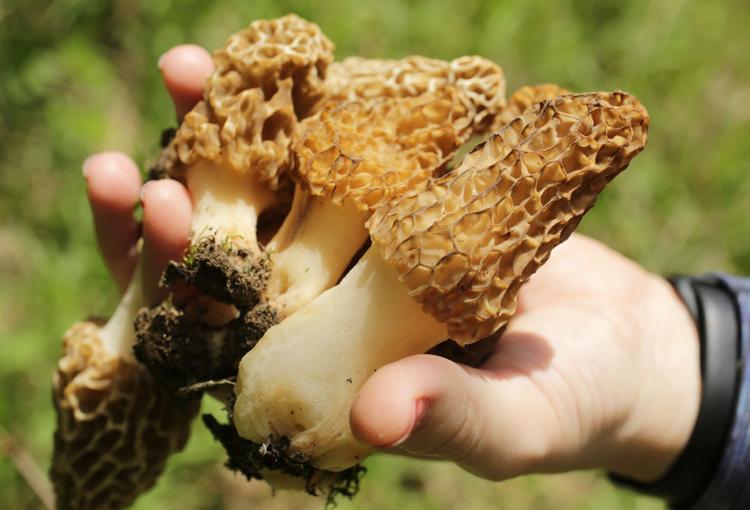 The morel season can vary but typically lasts no more than four to five weeks, said Tom Murphy, who has 450 acres of land, 300 of which are wooded, near Soldiers Grove. Murphy had only one pound of morels to sell at the Wednesday Dane County Farmers Market in Downtown Madison and let it go for $25. His daughter in-law, Rachel Murphy, had a neighboring stand where she was selling beef sticks and jerky. She sold out of her two pounds of morels in 45 minutes at $60 a pound.
You have free articles remaining.
Register for more free articles
Stay logged in to skip the surveys
"The first couple weeks of the season people are just all over (the market) looking for them," Murphy, 39, said. "Last week we had eight pounds and they were gone in a matter of minutes. They go really fast."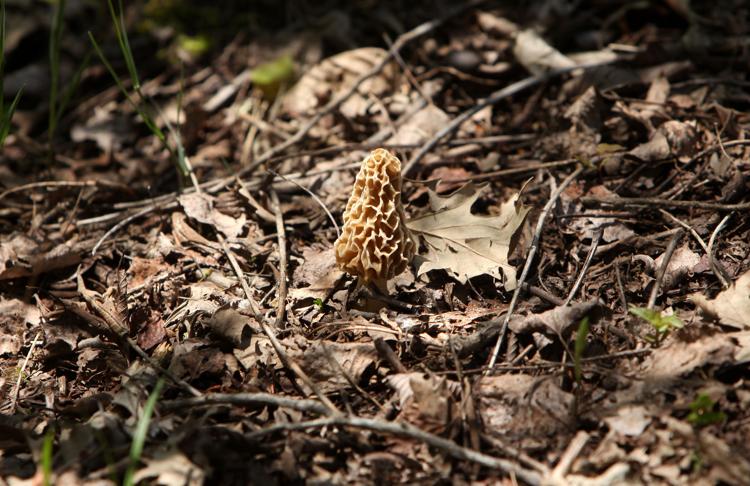 The morel will be celebrated for three days beginning May 19 when the 35th annual Muscoda Morel Mushroom Festival is held. The event includes mushroom brats, a mushroom parade on Sunday and cups of sauteed morels sold for a fundraiser by the members of the Leslie J. Lee American Legion Post No. 85.
Leading up the effort is Tom Nondorf, who is paying $20 a pound and trying to collect between 1,000 and 1,200 pounds of morels for the mushroom stand. He expects to spend between $20,000 and $25,000. Last year, his group charged $7.50 for a four-ounce cup and the line stretched down the block.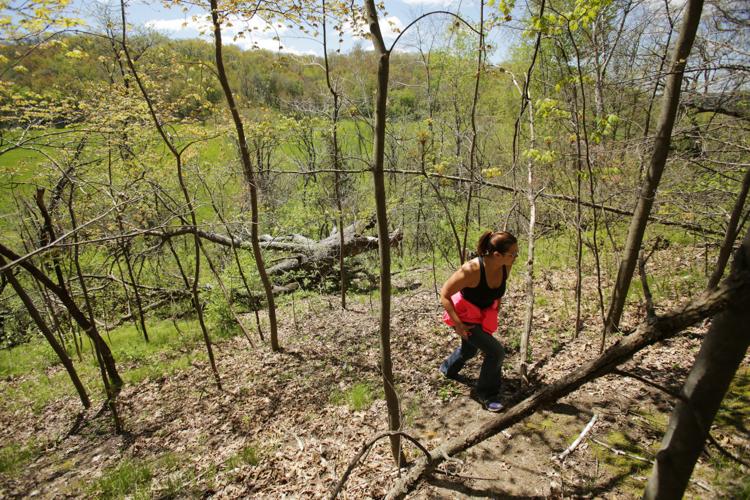 Also returning for the fourth year is a morel mushroom beer brewed by Ashley Wirtz, a village of Muscoda employee who is a homebrewer. Free samples require a $5 cup. Wirtz made 20 gallons of the morel lager a few weeks ago at his Wirtz Haus of Brews — which doubles as his kitchen — using morels donated by the Legion.
"It's more of a gimmick than anything," Wirtz, 43, said when asked about the taste. "Last year we put a small piece of morel in the glass with the sample and people were ecstatic about that."
At the Michel property, on Highway N about a mile from Ithaca High School, a pickup truck, ATV and a four-wheel drive sport utility vehicle ferried our group a mile from the farm house, through a former corn and soybean field and to the edge of woods lined with deer trails. Scott Michel's grandparents bought the farm in 1955. Steve and Barb Michel sold off the cows in 1999 to live a more relaxed life not tied to the daily milking schedule. Now they are free to travel, entertain their six grandchildren and fish for smallmouth bass, trout and bluegill from their private pond.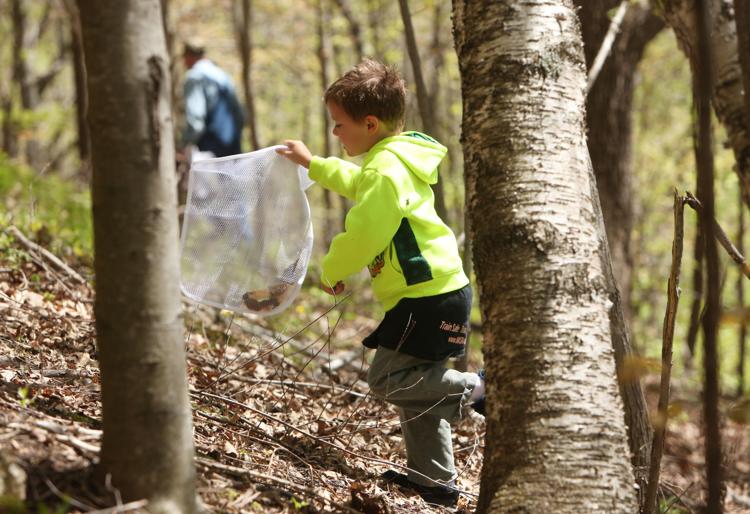 Saturday, however, was all about the morel.
"We've been finding them out here for years," said Steve Michel, 64. "My dad, he was the outdoorsman. We've even got ginseng up here. We enjoy it a lot more now that we're not milking cows."
The property is spectacular with valleys lined with woodland that hold deer, turkey, red wing black birds and the occasional bobcat.
Our group of foragers included a banker, an emergency room doctor, a maintenance mechanic, a couple of the Michels' four children and Scott Michel's brother, Eric, who has a doctorate in wildlife management and now works as a researcher at South Dakota State University in Brookings, South Dakota.
When Eric Michel, 30, emerged from the woods after about 90 minutes, his gray, plastic grocery bag held about a half pound of morels destined for a frying pan coated with butter.
"It was kind of a thicker spot that had some trees fallen down and had some sunlight coming through and I found a couple and had to crawl through some other stuff to find the other ones but they were all pretty much right there," Eric Michel said. "It's just the adventure of going out in the woods and finding these things that just seemingly kind of pop up out of nowhere. And they taste really, really good."