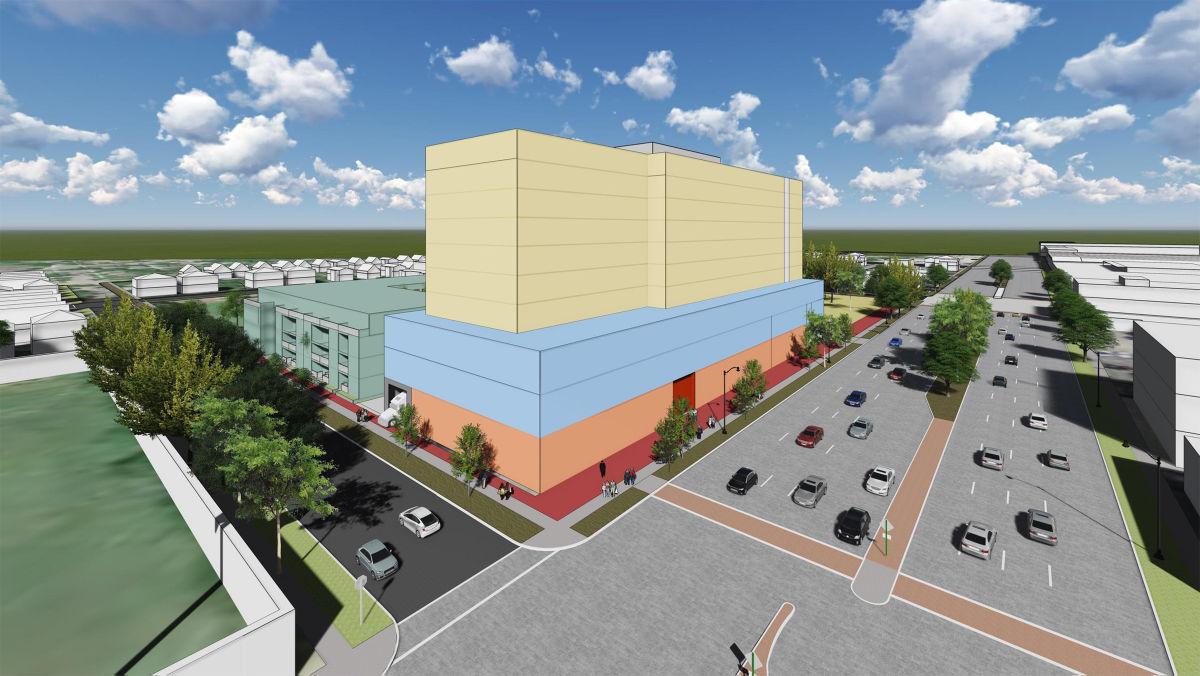 The developer that had proposed an office and apartment building along with a concert hall along East Washington Avenue is offering a new plan for the site.
Stone House Development has submitted plans with the city for a 10-story building that would include 200 apartments, more than 12,000 square feet of retail space and a parking facility for 355 vehicles on the former Madison Dairy Produce Co. site, 1000 East Washington Ave.
Only this time the proposed project — which would be located across Brearly Street from Breese Stevens Field and across East Mifflin Street from Lapham Elementary School — does not include a music venue and encompasses the entire block. However, about half of the 4.5-acre property is part of a second phase that has not yet been defined. The plans are scheduled to be reviewed Wednesday by the city's Urban Design Commission.
Rich Arnesen, co-founder of Stone House Development, could not be reached for comment. But Patty Prime, president of the Tenney-Lapham Neighborhood Association, said most of the 50 to 60 residents who attended a presentation by the developer last week appeared to favor the new proposal.
"A lot of the same neighbors who were involved with the first proposal with the Frank Productions (plan) were in attendance and I'd have to say, generally, everybody was very receptive to what they're proposing," Prime said. "I think they've put together a very nice proposal. It's early and there's still a lot to be put together, but the basic building blocks they have ... I think everybody was pretty excited about it."
In November, city planners nixed part of Stone House's plans, saying the proposed music venue was too big and that parking and traffic problems were not readily solved. Stone House had hoped to raze the old dairy plant and replace it with a six-story office building with apartments and a 2,000-seat concert hall.
Frank Productions is now working with developer Otto Gebhardt on a concert venue as part of a proposed 10- to 12-story building on the south side of East Washington Avenue in the 800 block. The building would include 113,000 to 140,000 square feet of tenant space and a four-level parking structure with up to 450 stalls. It would provide a large home for StartingBlock Madison, a proposed center for tech startups and young entrepreneurs, as well as a performing arts venue that would accommodate 1,500 people.
The new proposal by Stone House in the 1000 block, two blocks to the east, would include a mix of town homes and apartments with 67 of the 200 units designated as low-cost units. Other features would include 46,957 square feet of office space, retail space along East Washington Avenue and a 33,627 square-foot rooftop terrace, according to the plans submitted with the city.
Prime said the second phase of the project has not been determined by Stone House.
"I would be extremely surprised if they came up with anything that was far different from what they're doing on the first half of the block," Prime said.
Ald. Ledell Zellers, 2nd District, who represents the neighborhood on the City Council, said Stone House is working to move the Car-X Tire & Auto, 1032 E. Washington Ave., to a different location on the block.
Zellers said she sees very little opposition to the latest plan by Stone House. A neighborhood steering committee is now going to work with the project as it makes its way through the city approval process.
"I'm pretty enthusiastic about it," Zellers said. "It has several things that the neighborhood is looking for and that the city is looking for, including affordable housing, which clearly is something that we need in the city. It doesn't have anything in it that is a particular lightning rod, like the last (proposal) did."
The East Washington Avenue corridor is one of the fastest-growing areas of the city and includes other mixed-use projects like the completed 12-story Constellation and the $65 million, 14-story Galaxie building scheduled to open later this year with a Festival Foods store on the ground floor.
Breese Stevens Field has been upgraded and hosts events like Ultimate Frisbee, East High School football, Edgewood College soccer and concerts. Further to the east, ground was recently broken for Union Corners at Milwaukee Street, while a hotel is under construction at the corner of North Webster Street, a block from the Capitol Square.
Stone House was founded in Madison in 1996 by Helen Bradbury and Rich Arnesen and specializes in the use of federal Section 42 and historic tax-credits for low-cost housing and energy-efficient buildings. Projects have included Arbor Crossing Apartments in Shorewood Hills, City Row Apartments on the Near East Side and The Overlook at Hilldale, a 96-unit property near Hilldale Shopping Center.
Stone House also has projects in Milwaukee, Wausau and Green Bay and has converted historic school buildings into apartments in New Glarus, Janesville, Mineral Point and Jefferson.