Some say libraries are meant to inspire communities. To Madison Public Library director Greg Mickells, the community should inspire the library.
Departing from the concept of a typical library, the "Imagination Center" being planned for Reindahl Park will aim to address service gaps and promote a sense of community on Madison's Northeast Side.
Madison Public Library and project partner Madison Parks are preparing to enter the initial design process next year, and predict Reindahl Park may get the upgrade as soon as 2024.
From a community kitchen to civic engagement opportunities to child care, the multi-faceted nature of the project stems from two years of community conversations and a broad range of service needs highlighted in the Madison Public Library's scoping study published in March.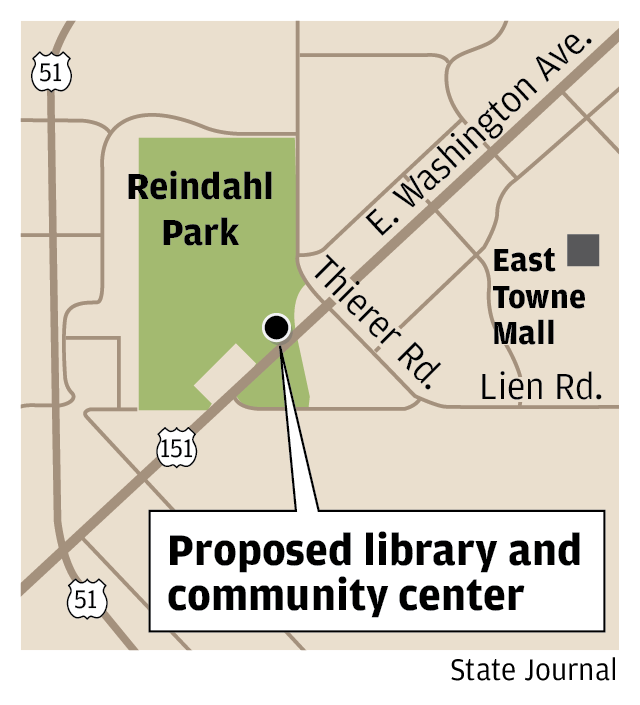 Northeastern Madison is one of the most demographically diverse areas of Madison. There are higher percentages of Black, Asian and Hispanic people living there compared to the Madison population as a whole, as well as higher percentages of immigrants and youth. The new center will provide culturally representative collections of books and media as well as offer citizenship and immigration resources with the goal of connecting area residents to civic life, according to the study.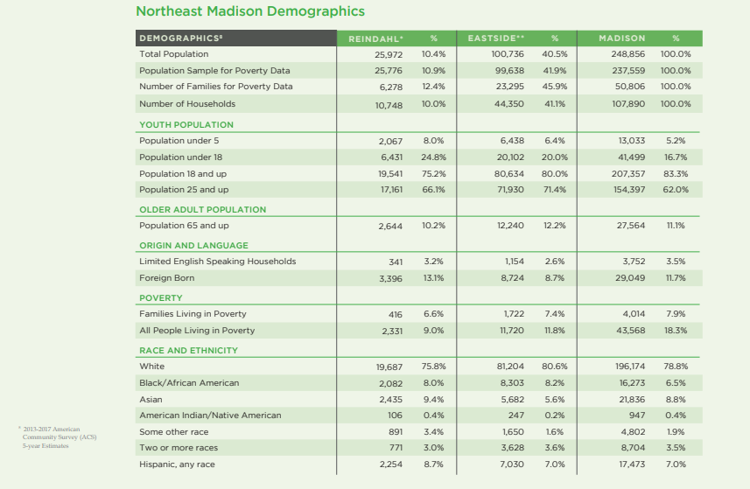 Because Reindahl Park area residents are also less likely to have completed high school or college compared with the general Madison population, and 14% of residents (about 1,500 households) do not have internet, visitors to the center will have access to internet, financial aid and literary assistance, according to the study.
"What the biggest takeaway from this study that we did was it really clearly demonstrated that it wasn't just a want, but it was truly a need that had to be addressed in the northeast part of Madison," Mickells said.
This is the first time the Madison Public Library will share a facility with another local agency, and Mickells predicts more libraries will similarly evolve to be a hub of resources.
"If we would have approached it as just a library, I don't think we would have taken away as many ideas and identified as many needs for that community," Mickells said.
The project, which has an estimated $17 million budget, currently sits on Mayor Satya Rhodes-Conway's 2020 "Horizon List." Such projects meet a clear community purpose but are not yet fully planned to the level to be considered and funded within the fiscal capacity of the 2020 Capital Improvement Plan.
Mickells will be presenting the project to the city Finance Committee on Sept. 8-9, and hopes to enlist an architect to help design the project in 2021. The design was originally intended to happen in 2020, but COVID-19 pushed back the timeline.
Madison Public Library officials hope to continue engaging the northeastern Madison community in the design process for the Imagination Center, just as they have been doing throughout the planning process, Mickells said.
So — is it a library? Is it a park? When asked, Mickells will tell you it's more than that.
"I look at it as we're creating a place that's going to be the center for the community," Mickells said.
Be the first to know
Get local news delivered to your inbox!