Mention an inmate's release from prison and it's easy to conjure up mental images of iron gates opening and guards saying goodbye to a scared individual like Brooks Hatlen, the old-timer from the movie "The Shawshank Redemption" who went on to commit suicide.
A new program at Oakhill Correctional Institution that offers inmates job-search assistance, resume development and career-readiness programs before their release has Wisconsin officials telling a more optimistic story.
"(Inmates) can walk out now to a future," said Ray Allen, secretary of the Department of Workforce Development.
Other prisons in the state offer better opportunities for inmates to learn much-needed trades such as welding and auto mechanics so they have better opportunities to get jobs when they are released. But the job center at Oakhill, a fenced minimum-security facility in Fitchburg with 765 inmates, is being touted as the first of its kind within the prison system that teaches inmates how to find and apply for jobs and then gives them the tools to put what they learned to good use.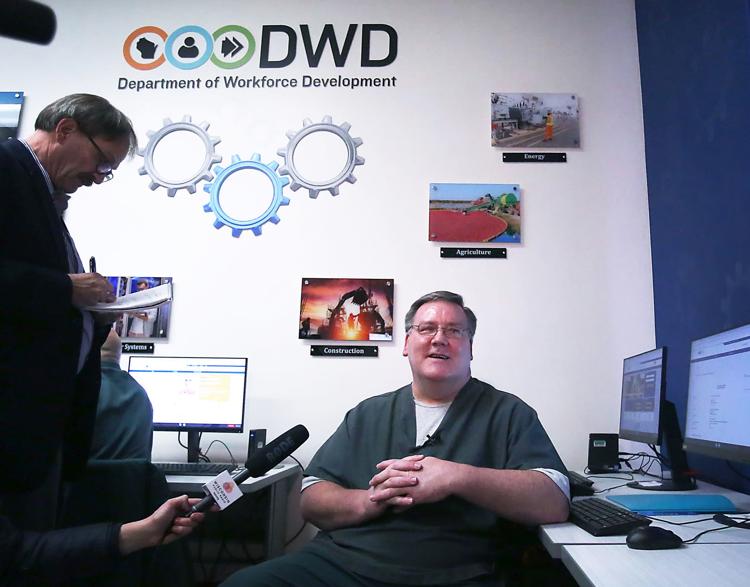 "The day they are released, they have interviews lined up," said Department of Corrections Secretary Cathy Jess.
There are plenty of good reasons to create such a program. For instance, Jess pointed out that finding employment is one of the best ways for ex-inmates to avoid committing more crimes and returning to prison. Unfortunately for many ex-inmates, that's a difficult proposition.
While the state's unemployment rate hovers around three percent, a study completed this year by the Prison Policy Initiative shows that unemployment among ex-inmates nationally is at a whopping 27 percent. That is higher than the unemployment rate Americans faced during the Great Depression, according to the study.
The study said unemployment was highest for ex-inmates less than two years out of prison, or 31.6 percent. It dropped to 21.1 percent two to three years after prison and 13.6 percent four or more years after prison. Holding many back is a lack of education.
The study also showed that more than half of inmates have no more than a high school diploma or GED, another 25 percent have neither and few get an opportunity — in prison or after their release — to make up for the educational opportunities they missed.
"This perpetual labor market punishment creates a counterproductive system of release and poverty, hurting everyone involved: Employers, the taxpayers and certainly formerly incarcerated people looking to break the cycle," the study says.
The job center at Oakhill is aimed at breaking that cycle. Jess is so excited about the program that she proclaimed Monday during an event to publicize it that, "it is a great day to be in a prison."
Allen said the program offers inmates important baseline, or soft, skills dealing with writing, communication and organization that aren't taught to inmates anywhere else. "So it does provide hope to a segment of the population that hasn't had that hope," he said.
Oakhill warden Cheryl Eplett thinks a logical next step for the program is to get employers to conduct job interviews at the prison or find a way to transport inmates to employers for job interviews. "This is an opportunity to put a solid plan into play instead of leaving (finding a job) to chance," she said.
Kenneth Shong, 52, convicted in 2012 for running a fake university while in prison, likes the program because it benefits all inmates, no matter the level of education or skills. "It might not be what you want, but it can (provide a start)," he said.
Shong, who said Monday his release date was in 49 days, believes the program will help inmates worry less as their release dates near. "(Finding a job) is one of the biggest fears you have when you are close to getting out," he said.