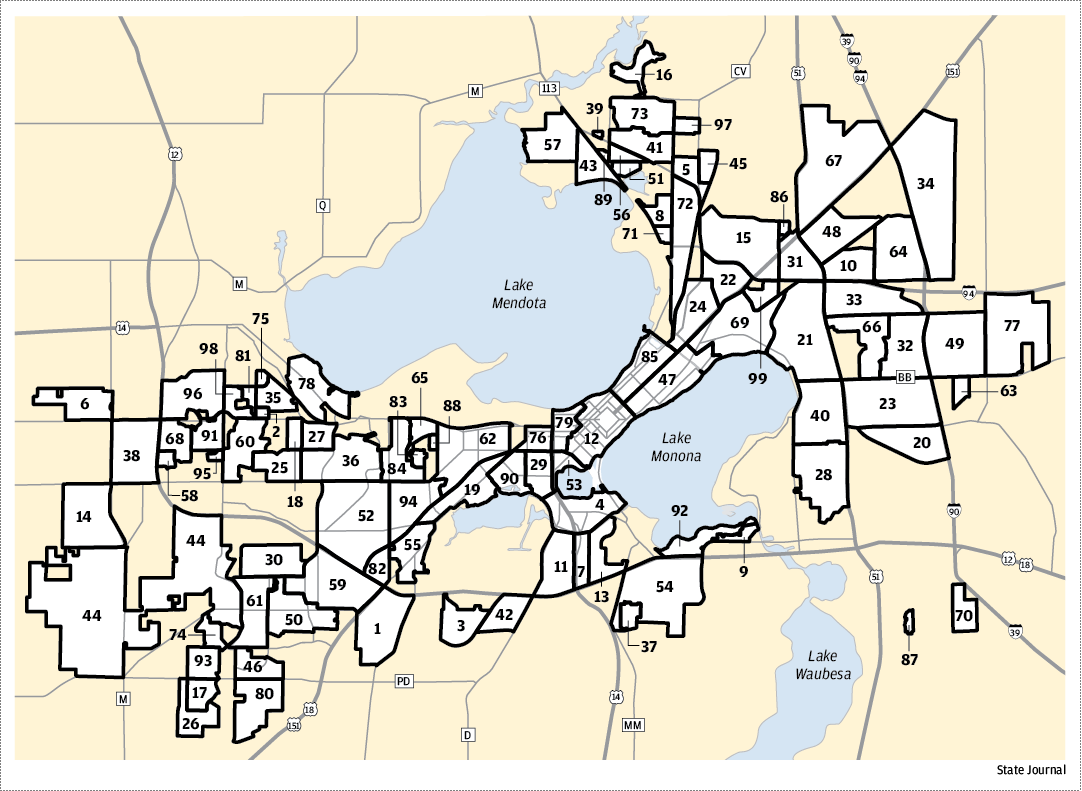 We take our neighborhoods for granted, as if they've always been there. But someone set out to form each one of them, drawing a line around a coherent space — typically defined by natural or man-made boundaries — and recruiting their neighbors to join in common pursuits.
By various counts, Madison has around 100 official neighborhoods, plus dozens more homeowners associations and condominium associations, which tend to be centered around a single building or subdivision.
In the next three weeks, the Wisconsin State Journal will be profiling 20 of these neighborhoods. To kick off the project, the newspaper invited leaders in each of Madison's neighborhoods to tell us a little (emphasis on little since space is at a premium here) about what makes their corner of Madison so special.
In most cases we were able to reach the registered neighborhood leaders; in others, the words are condensed from descriptions the neighborhoods provided the city.
Consider it the neighborhood elevator pitch. New to Madison, or looking to relocate? Here is how the people who live there plug the place they live.
1 — Allied Dunn's Marsh*
This eclectic neighborhood mirrors all races and cultures in the greater Madison area, with occupations from laborers to doctors and students. Access to a mall, marsh and the UW Arboretum.
— Neighborhood association statement
1 — Dunn's Marsh*
"It's a nature-lover's paradise with five long-distance bike paths, large community parks, community gardens and huge public open spaces. Neighborhood associations work to make it socially welcoming."
2 — Appalachian Ridge
"We have 18 houses in our neighborhood association. It's a very friendly neighborhood where we all look out for each other. We have two meetings a year: One is a Christmas party and the other is a Labor Day party where we have our annual meeting."
3 — Arbor Hills
"This is a heavily wooded neighborhood of over 500 homes nestled in southwestern Madison next to the Arboretum and within 15 minutes of everything in Madison, including Downtown."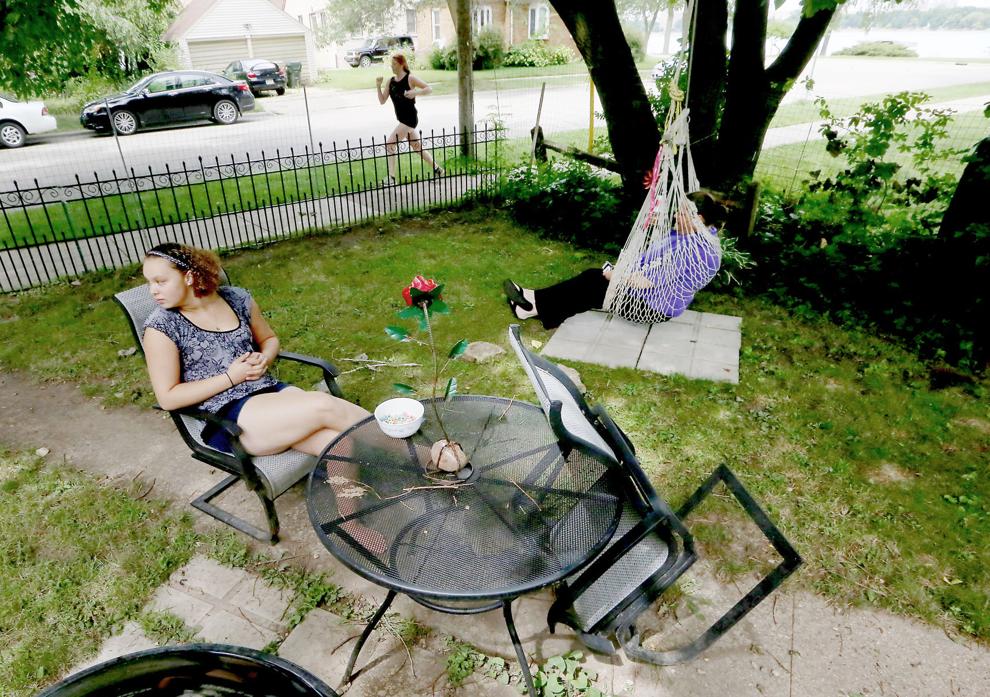 4 — Bay Creek
"Between Monona Bay, Wingra Creek and the Arboretum, Bay Creek is a quiet neighborhood with bike paths, restaurants, coffee shops, schools, a public pool and access to all of Madison."
5 — Berkley Oaks
Home to modest ranch homes and apartments. Residents enjoy the closeness of shopping, recreational activities and the short walking distance to elementary and middle schools.
— Neighborhood association statement
6 — Blackhawk
Known for its beautiful homes, Blackhawk is a regular part of the "Parade of Homes." Close to Pleasant View Golf Course, schools and more than 40 acres of parks and green space.
— Neighborhood association statement
7 — Bram's Addition
"We're a multigenerational, culturally diverse neighborhood consisting of single-family homes, apartments and duplexes. We're home to Penn Park, which hosts a variety of events and activities throughout the year."
8 — Brentwood
"Because Brentwood falls between Maple Bluff and the Berkley Oaks area, we are probably one of the more diverse neighborhoods in terms of income."
9 — Bridge-Lakepoint
A small, quaint neighborhood south of Lake Monona. Over the last several years, it has transformed from primarily renters to a mix of renter- and owner-occupied housing.
— Neighborhood association statement
10 — Burke Heights
A quiet, out-of-the-way area proud of how long residents have lived here. Houses sell very quickly because of their well-kept appearance and the proximity to Highway 30.
— Neighborhood association statement
11 — Burr Oaks
"Burr Oaks, with one of the most diverse parts of the city, has the potential to become a great gateway into the heart of the university and city of Madison."
12 — Capitol Neighborhoods
"Capitol Neighborhoods encompasses the heart of Madison and projects the energy of the community, serving as both a Downtown neighborhood and a crossroads for community interaction and engagement."
13 — Capitol View
An area of modest single-family homes on large wooded lots and apartment living. One of the best-kept secrets of the area is the speculator views of the state Capitol.
— Neighborhood association statement
14 — Cardinal Glenn
"We are part of a growing area that is five minutes from everything yet has a country feel. Young families through retired couples enjoy our park, pond and quiet atmosphere."
15 — Carpenter-Ridgeway
"Our neighborhood has it all: city conveniences, woods, walking and bike paths, Starkweather Creek, gardens, parks, art, sculpture, sports and a great neighborhood association. City living with a country feel."
16 — Cherokee Park
"Surrounded by Cherokee Lake and Cherokee Park, the Yahara River, a nationally protected wildlife preserve (Cherokee Marsh) and Cherokee Golf Course — Cherokee Park: Where nature is home."
17 — Country Grove
"A well-maintained residential area in the southwest corner of Madison that has matured to a diverse and family-friendly neighborhood, active in maintaining its sense of community."
18 — Crestwood
"Crestwood is the neighborhood name chosen by the Wisconsin Cooperative Housing Association when founded in 1936. The neighborhood has 177 homes. Our neighbor to the west is Owen Conservation Park."
19 — Dudgeon-Monroe
"Friendly people, active association, beautiful lake, many parks, a college and the university are neighbors. Great shopping, people rush to buy homes here, stay forever and wish it were longer."
20 — East Buckeye
Single-family homes with friendly neighbors makes this a great place to live. A wooded greenway and detention pond brings a sense of North Woods living to our urban neighborhood.
— Neighborhood association statement
21 — Eastmorland
"Next to Lake Monona and Olbrich, Eastmorland's friendly, active community of 1,600 households enjoys many parks and conveniences. A development will enlarge the city's second-busiest branch library, Pinney."
22 — Eken Park
Small, quiet neighborhood within walking distance of popular amenities. The neighborhood's modest, architecturally diverse homes are attractive to those young and old, singles and families.
— Neighborhood Association statement
23 — Elvehjem
"Elvehjem Neighborhood, on the East Side, is predominantly residential with Elvehjem Elementary at its center, three city parks and an active neighborhood association with a full calendar of events."
24 — Emerson East
Developed in the 1920s to house workers in nearby factories, including Oscar Mayer and the French Battery Co., the neighborhood is safe, friendly, diversified – and affordable.
— Neighborhood association statement
25 — Faircrest
This established neighborhood on the West Side is home to a number of public schools, an outdoor swim club, and plenty of park and green space.
— Neighborhood association statement
26 — Glacier Ridge
"Glacier Ridge Neighborhood Association is located on the Southwest Side of Madison and is made up of the Glacier Crossing and Ice Age Ridge neighborhoods."
27 — Glen Oak Hills
Some of Madison's quietest streets weave through this West Side neighborhood, surrounded by a number of beautiful parks including Owen Conservation Park, a green space covering dozens of acres.
— Neighborhood association statement
28 — Glendale
"The Glendale neighborhood is quiet, unassuming, conveniently located and close to all three public schools. Edna Taylor Conservation Park is relatively unknown and a hidden gem."
29 — Greenbush
"Originally settled by Italian and German families, this neighborhood is a diverse home to students and young families near the zoo, UW campus and Monona Bay."
30 — Greentree
"Greentree is home for more than 700 families who joined together for nearly 55 years to create a community to enjoy a good quality of life in good company."
31 — Hawthorne
The Hawthorne Neighborhood Association promotes a spirit of camaraderie among residents and cooperation in community projects while providing residents a voice on matters affecting the community.
— Neighborhood association statement
32 — Heritage Heights
"Our 1960s-80s neighborhood has a combination of friendly, caring, concerned and hard-working people. Our neighborhood consists of 800 homes surrounding a sanctuary and school."
33 — Hiestand
Named for Jacob Hiestand, who owned a farm nearby, the neighborhood includes single-family homes, apartment complexes, condominiums, multi-family units, senior housing, two parks and over 30 businesses.
— Neighborhood association statement
34 — High Crossing
Strategically located along the I-90/94/39 corridor, High Crossing offers a mix of commercial-office development and residential uses with easy access to the Dane County Regional Airport and East Towne Mall.
— Neighborhood association statement
35 — The Highlands
"Planned by Ossian Cole Simonds, a leading landscape architect of his time, The Highlands is a community of narrow, tree-lined streets curving gracefully through a patchwork of woodlands and clearings."
36 — Hill Farms
"University Hill Farms has nearly 1,000 homes in the multi-generational, family-friendly residential area. The neighborhood is a historic district based on mid-20th century architecture."
37 — Indian Springs
"Nestled south of the Beltline off Rimrock Road, Indian Springs is quiet, yet flourishing. With an abundance of green space and great bike paths, it's a prime place to recreate."
38 — Junction Ridge
We have a park with a basketball court, walking trails and friendly neighbors. There is a July 4th parade, a summer picnic and Christmas decoration contest. A community garden is planned.
— Neighborhood association statement
39 — Kennedy Heights
"Since 1986, Kennedy Heights Community Center has provided high-quality, dynamic programs and services to a diverse North Side community of children, youth and adults."
40 — Lake Edge
We seek to facilitate friendships, connect neighbors with city officials, promote neighborhood beautification and improvement, assist neighbors in need and provide a network to help residents manage local problems.
— Neighborhood association statement
41 — Lake View Hill
"Beautiful with natural spaces, wildlife and spectacular views abounding; good housing choices from modest to luxury; diverse, caring neighbors; small-town feel within a city."
42 — Leopold
The Leopold Neighborhood Association works hard to address the issues of neighborhood safety and security by building a h3 sense of community and cohesiveness.
— Neighborhood association statement
43 — Lerdahl Park
"Quietly nestled on Lake Mendota's north shore; our lovely neighborhood park at the center, plus Troy Gardens' urban farm, gardens, community plots; picturesque walks to Warner Beach and Governor's Island."
44 — Madison West
"Our mission is to promote social, economic and civic engagement, and to foster a community of shared values."
45 — Majestic Oaks
"We are a small manufactured community with a mixture of new and older homes, young families to older retired, close-knit. We know all our neighbors and care for them."
46 — Maple-Prairie
"A Southwest Side neighborhood of caring homeowners with lots of kids and pets."
47 — Marquette
Abundant in 19th century architectural styles, the neighborhood is home to two historic districts, Willy Street with its locally owned shops, restaurants, and entertainment establishments, and several summer festivals.
— Neighborhood association statement
48 — Mayfair Park
"Upcoming, walkable, hip, regentrification, East Side, large yards, passionate."
49 — McClellan Park
Our neighborhood includes five subdivisions with housing options for all ages and incomes. For those who like traditional neighborhoods, one area has arts and craft design, front porches and alleys.
— Neighborhood association statement
50 — Meadowood
"Meadowood is a wonderfully diverse neighborhood. We have economic and racial diversity, renters and single-family homes, young families and residents who have lived there since the late 1950s when the area was developed."
51 — Mendota Hills
"Our neighborhood is one of Madison's undiscovered gems, along with the North Side. Bordering Warner Park, there is easy access to walking, biking, Lake Mendota and the Community Recreation Center."
52 — Midvale Heights
"In 1954, a century after settlement, Midvale Heights was established. Today, the square mile between the Bison Prairie Gateway and University Research Park is home to families who embrace community."
53 — Monona Bay
"This is a Downtown neighborhood of many cultures and traditions united by the beauty of Brittingham Park and Lake Monona Bay. It is a place of creativity and wonder."
54 — Moorland-Rimrock
Single-family homes and apartments provide a setting to enjoy urban and rural life. The Nine Spring E-Way, Capital City Bike Trail and neighborhood parks bring nature and recreation to residents.
— Neighborhood association statement
55 — Nakoma
"With a rich history and plenty of access to flora and fauna, the Nakoma neighborhood is a relaxing departure from your average city community."
56 — Nobel Park
A great choice for those starting out to those entering retirement. Modest ranch-style homes on larger lots, mature trees and quiet streets. Walk to Warner Park, Mallards Stadium, Troy Gardens.
— Neighborhood association statement
57 — North Lake Mendota
Lakefront homes to contemporary ranch and split-level homes, with Meadow Ridge Park and Cherokee Marsh providing vast acreage of open space and natural beauty.
— Neighborhood association statement
58 — Oakbridge Community
"Homeowners spanning singles, young parents and those enjoying retirement. Conveniently located near shopping, two parks, and schools. An annual July 4th parade and picnic."
59 — Orchard Ridge
"Orchard Ridge neighborhood association roots go back to 1952 as a community club to provide a welcoming, vibrant, social organization."
60 — Parkwood Hills
West Side neighborhood home to Muir Elementary, Jefferson Middle School and Memorial High School. Fourth of July parade, Halloween bonfire, Santa visits, Easter egg hunt, spring fling, garage sale.
— Neighborhood association statement
61 — Prairie Hills
"Prairie Hills: Great location, close to West Towne Mall, Elver Park, can bike everywhere. Great recreation winter and summer. Community gardens, green space, parks. Variety in housing, people."
62 — Regent
"Regent is a walkable neighborhood filled with diverse housing options — from modern apartments to historic mansions — a grocery co-op, restaurants, parks and, most importantly, great neighbors."
63 — Richmond Hill
"Upscale mature East Side neighborhood, family-friendly, dog-friendly, apartments, condos and homes. Beautiful 10-acre park. Needs more close entertainment, new development needs to pass faster."
64 — Ridgewood
Born during the housing boom of the late 1990s and early 2000s. Two-story modern homes and split-level ranches, with two major parks and easy access to I-39/90/94.
— Neighborhood association statement
65 — Rocky Bluff
"Friendly, close-knit Near West Side neighborhood. Residents dwell in an urban forest on quiet, mature tree-lined streets and enjoy the trails in beautiful Quarry Park."
66 — Rolling Meadows
Known for its tree-lined streets, abundant parks and caring neighbors. Ranch and split-level homes with well-manicured lawns and easy access to Highway 51 and the interstate.
— Neighborhood association statement
67 — Sandburg
A diverse residential mix within a common and surprisingly compact geography. Soccer and cricket leagues at Reindahl Park provide an international flavor. Close to East Towne Mall and the airport.
— Neighborhood association statement
68 — Sauk Creek
A wooded, winding greenway makes this an ideal place for nature lovers. Residents can also enjoy basketball, soccer and playground time at two parks. Easy access to West Towne Mall.
— Neighborhood association statement
69 — Schenk-Atwood-Starkweather-Yahara
"SASY is Madison on a good day. You don't see it all at once. You live here and discover the places and the people, bit by bit. It becomes your neighborhood. It makes you proud."
70 — Secret Places
"This east Madison neighborhood with McFarland schools is flush with friendly walkways and nature paths, and its lush green space alive with a trickling creek, grassy swales and community gathering places."
71 — Sheridan Triangle
"Compact North Side neighborhood with homes surrounding a small playground. No sidewalks gives the neighborhood a rural feel and affordable home prices are attracting young families."
72 — Sherman
"The North Side's Sherman Neighborhood is diverse, friendly, wacky (in a great way), convenient, outspoken; artistic, walkable, pollinator-friendly, business-friendly, family-friendly; bike riders, dog walkers, dancers, gardeners, writers, business people, poets, dreamers."
73 — Sherman Village
Quiet streets, modest ranch homes, and walking distance to schools. Wooded, hilly terrain adds a taste of the North Woods. Four superb community centers within one mile.
— Neighborhood association statement
74 — Skyview Meadows
We're extremely family orientated, with several events that bring children adults together. Many residents are from other towns, states and even countries. Elver Park is a stone's throw away.
— Neighborhood association statement
75 — Skyview Terrace
"With large yards and no sidewalks, the neighborhood has a country feel just six miles from the capital. Neighbor gatherings several times a year give it a real sense of community."
76 — South Campus
A student-populated neighborhood close to Camp Randall, the Kohl Center, and Southeast Recreational Facility (SERF). Easy access to campus, recreational venues, restaurants and shops.
— Neighborhood association statement
77 — Sprecher East
"On the eastern edge of Madison is Sprecher East, full of friendly neighbors, a large park, and generally quiet streets for walking or kids to play."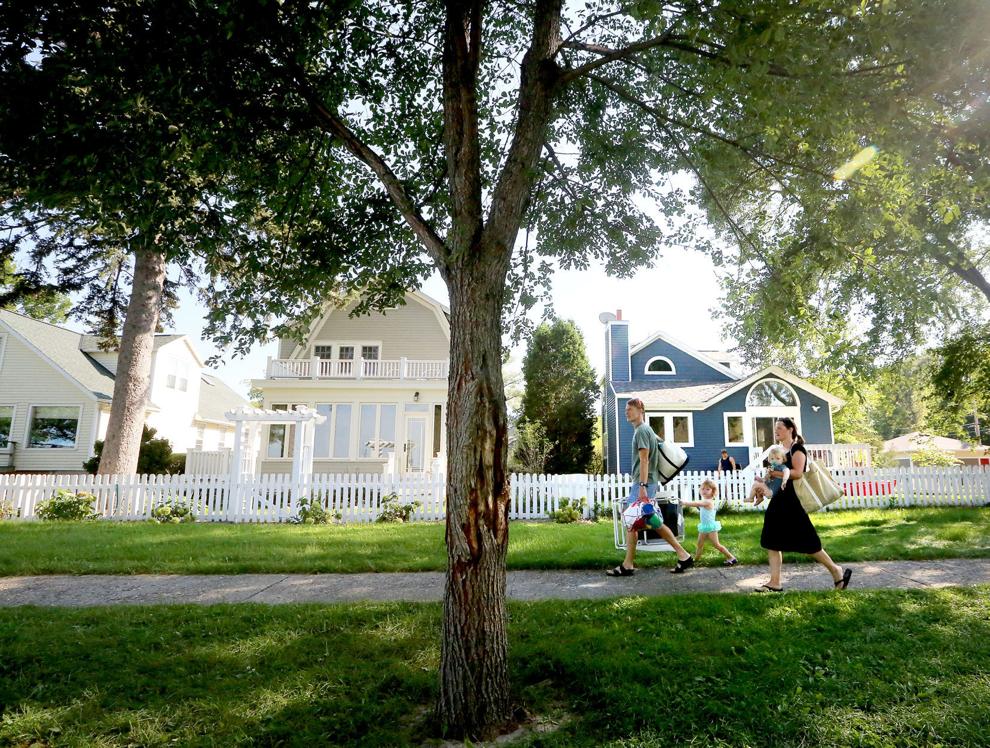 78 — Spring Harbor
"Spring Harbor is a Madison neighborhood along Lake Mendota on the West Side that is home to more than 1,200 households."
79 — State-Langdon
Langdon Street acts as the spine of this architecturally rich area adjacent to campus, with Period Revival-style fraternity and sorority houses now part of a National Register Historic District.
— Neighborhood association statement
80 — Stone Meadows
Home to Madison's newest elementary school (Chavez), Stone Meadows has access to natural and recreational resources including parks, bike trails and a dog park.
— Neighborhood association statement
81 — Stonefield Woods-Ridge
One of Madison's smaller neighborhoods, Stonefield Woods-Ridge offers an ideal setting for families, with three schools, a small commercial district and a few large green spaces.
— Neighborhood association statement
82 — Summit Woods
"Small friendly neighborhood off the beaten path, but on the Southwest Bike Path. Two parks, several Little Free Libraries, a hardware store and two restaurants all add to the ambiance."
83 — Sunset Hills
"Sunset Hills lies south of Hoyt Park. It was named a National Register Historic District in 2015 in recognition of its mid-century architecture."
84 — Sunset Village
"Convenient and welcoming Near West Side neighborhood, mostly residential with smaller post-WWII houses nestled under mature trees."
85 — Tenney-Lapham
"Eclectic businesses, walkable and bikeable, traditional older homes yet bursting with new development, close to Downtown; the center of the unicycling and bike polo universes: That is Tenney-Lapham."
86 — Truax
City-owned public housing, including the East Madison Community Center, which promotes educational, recreational and community activities for all residents of the area.
— Neighborhood association statement
87 — Twin Oaks
"Twin Oaks is a diverse neighborhood of roughly 100 homes located on the Southeast Side of Madison. With various community green spaces, it makes for a wonderful morning or evening walk and areas for visiting with neighbors."
88 — VanChaMasShe
"Four streets meet to create the perfect neighborhood. Charming, quaint, walkable, awesome neighbors, longest-running 4th of July celebration (67 years)."
89 — Vera Court
At the heart of this close-knit, multifamily community lies the Vera Court Neighborhood Center: a place for young and old to engage in educational, community, and recreational activities.
— Neighborhood association statement
90 — Vilas
A mix of academics, professionals and students gives Vilas an artistic, lively and intellectual atmosphere, with a neighborhood-oriented commercial corridor. Walkers, bikers and runners have easy access to the UW Arboretum.
— Neighborhood association statement
91 — Walnut Grove
"Walnut Grove is an established, quiet, neighborhood of some 300 well-maintained suburban West Side homes. It offers a park, bus lines, nearby shopping, a private greenway system and historically solid property values."
92 — Waunona
"Hidden gem along the south side of Lake Monona. Many are familiar with it while biking around the Lake Monona Loop. Residents love the peaceful and convenient location."
93 — Westhaven Trails
Over 17 acres of open space and trails, close to major transportation arterials, shopping malls and other retail establishments. An attractive, affordable, and convenient place to call home.
— Neighborhood association statement
94 — Westmorland
"We are vibrant and friendly, centered around beautiful Westmorland Park. We host many events like our annual 4th of July celebration, Halloween parade/party and others."
95 — Wexford Ridge
Within walking distance of public schools (Jefferson Middle and Memorial High School are located across the street) and West Towne Mall. Home to the Lussier Community Education Center.
— Neighborhood association statement
96 — Wexford Village
"Wexford Village residents enjoy extensive greenways with paths for walking and bicycling and a large park. Numerous neighborhood events encourage residents to connect with the neighborhood."
97 — Whitetail Ridge
One of the newer residential developments on the North Side. Traditional homes with two-car garages are typical for the area. Several elementary and a middle school within walking distance.
— Neighborhood association statement
98 — Woodland Hills
Close to major shopping areas while relatively private and quiet. Many residences have passive solar, super insulation, alternative energy and earth shelter features; others are contemporary with natural wood siding.
— Neighborhood association statement
99 — Worthington Park
Residents enjoy the playground and green space in Worthington Park, attend community meetings, host special events and stroll along the banks of Starkweather Creek or adjacent bike path.
— Neighborhood association statement