Angeline Ceaser stands on a street corner across from Worthington Park, where boys play basketball on a muggy August evening.
Ceaser is talking about the good and the bad of her neighborhood — Worthington Park, also known as Darbo-Worthington, on Madison's Near East Side.
Planes roar overhead in the neighborhood, heading to and from nearby Dane County Regional Airport. Teenagers mill around the park, which is encircled by brick apartment buildings, many of them low-income.
A Wisconsin Department of Corrections office building looms on the neighborhood's northern edge, while Starkweather Creek meanders to its west.
A mother of three, Ceaser has lived in the neighborhood for 14 years. She said it struggles with factors such as a lack of resources and a dearth of activities for young people. Ceaser wonders how to address these issues — and who should lead the way.
"I would love to put the actual community back into the community," Ceaser said. "There's people who wouldn't mind doing it, but you need a supportive team."
Fostering community pride and overcoming boundaries in Worthington Park have been ongoing challenges, its residents say.
There have been notable attempts to make things better. They include Women of Worthington, a group of concerned mothers, and youth mentoring work by Will Green, a community organizer who now coaches basketball at La Follette High School. The Salvation Army of Dane County Community Center is a gathering place for the neighborhood, though Ceaser said it recently has not been as accessible to local residents as it once was.
Green said conditions in the neighborhood clearly have improved since he launched his mentoring program, Mentoring Positives, there in 2004.
Census data show Worthington Park is among Madison's most racially diverse neighborhoods. It also has among the greatest share of residents under age 18.
Andrew Wetzel, president of the Worthington Park Neighborhood Association, said its biggest challenge is "crossing boundaries and supporting each other across those boundaries."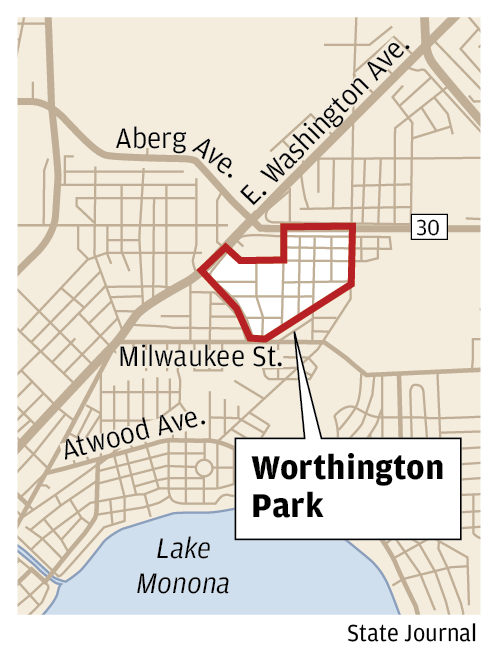 The neighborhood is split, he said, between blocks of modest homes and clusters of apartments. It's split between the city of Madison and the town of Blooming Grove — and between blocks that are predominantly white and predominantly black.
Decades of crime and poverty in and around Worthington Park created a stigma that became as big an obstacle to progress as those root problems, said Nicole Wetzel, Andrew's wife and a member of the Women of Worthington group.
Still, Nicole Wetzel said a sense of hope in the neighborhood is evident.
"I think I've seen more and more, in the six years I've been here, that people do want to invest here," she said.
La Toya Jackson is a neighborhood resident and member of Women of Worthington. Jackson, a mother of four, has lived in the neighborhood for eight years but said she initially hesitated to move her family there because of its negative image.
Years spent in the neighborhood have tempered her fears. A Chicago native, Jackson said the area's problems — while not insignificant — pale next to what she has seen elsewhere. "I don't fear for my kids to go outside," Jackson said.
Jackson said the Women of Worthington haven't met as frequently recently due to members' conflicting schedules. The group garnered praise from Mayor Paul Soglin and others in 2014 for its work improving the park, feeding local children and organizing community events.
Yet residents still are finding time to gather and celebrate what makes them a neighborhood. A peace walk and block party in Worthington Park on Aug. 25 brought a positive vibe to the neighborhood, Green said, complete with food carts and music.
Jackson said she and her family danced in the park with neighbors.
"It was one of the best times I've had in a while," Jackson said. "It was so much fun."