Around 14 years ago, Linda Ketcham took a job with a pay cut and worse benefits, and she's never regretted it.
In 2006, Ketcham became the executive director of Madison-Area Urban Ministry, or MUM, a local nonprofit that provides support for formerly incarcerated individuals, advocates for social change and helps launch other nonprofits.
"What appealed to me was that MUM really has this philosophy" of correcting injustices, said Ketcham, who still serves as executive director. "We absolutely believe that we are supposed to be providing support and compassion and help for people who are marginalized, who are vulnerable."
Ketcham, 60, has bachelor's and master's degrees in criminal justice and a minor in counseling. Before she came to MUM, Ketcham worked for ATTIC Correctional Services Inc., which runs a halfway house and provides transitional services to male offenders. The nonprofit is partially funded by the Department of Corrections.
"When you're supervising programs that are entirely funded, for example, by the Department of Corrections, you are very limited … in what you can say publicly about the system and not have that system become punitive," Ketcham said.
She has also held positions at several other nonprofits over the years, where she supervised alcohol and drug treatment services, a program that took children to visit their mothers in prison, work readiness training for offenders, a transition house for women who struggle with substance abuse, and more.
Ketcham is proud of that direct service work but felt called to address problems and holes she saw in the system itself.
During the past 14 years, Ketcham and MUM have had a hand in a slew of projects that have brought changes to the Madison area.
Since 2006, the recidivism rate for those who have participated in MUM's re-entry services has hovered between 5% and 14% in the first two years after release. Statewide, the average two-year recidivism rate is about 67%, according to MUM.
In 2007, MUM worked with several Dane County Board members to lower the fees for phone calls at the jail. It used to cost inmates $6 to connect and 50 cents a minute, and the county profited from a portion of those fees. After prodding from MUM and board members, the county reduced the fees.
Around nine years ago, MUM formed a task force to find ways to address homelessness in the city, particularly an encampment of people who had pitched tents Downtown and were moving to different locations.
"We said to the county we'll look at this, but we're not going to look at just where you can shuffle people around. That's meaningless," Ketcham said. "We need to understand what's going on and what the gaps are."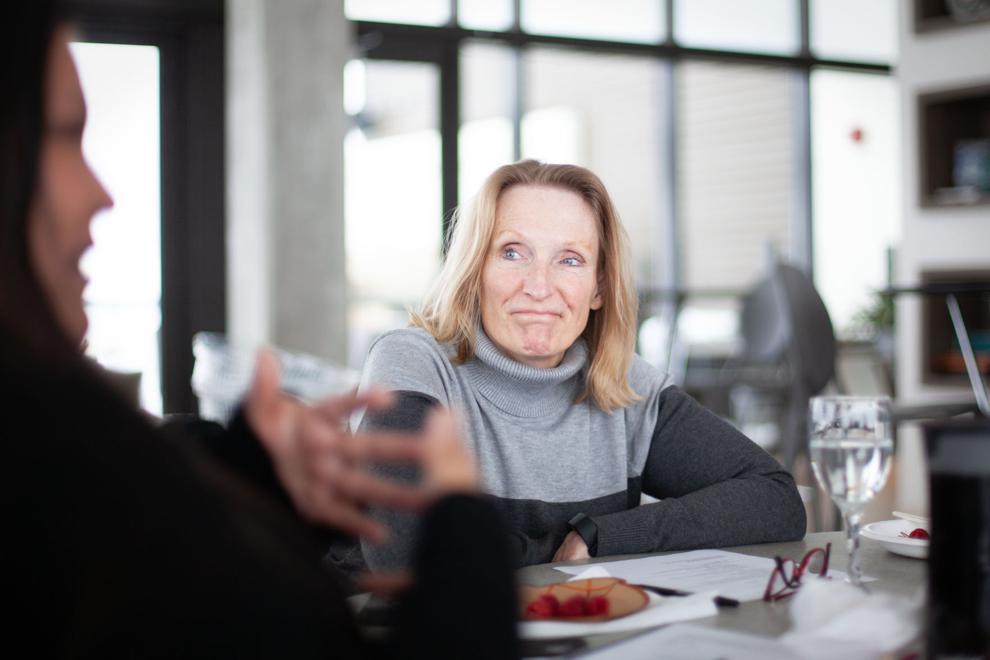 In July, MUM opened Healing House, the first recuperative shelter in Wisconsin for families who are experiencing homelessness and don't have a place to recover when a parent or child is discharged from the hospital.
And those are just a few of MUM's initiatives.
For each of the projects, Ketcham is quick to credit MUM staff members with their success. She said 65% of MUM's 31 staff members have experienced the justice system firsthand.
"And they're amazing employees," Ketcham said. "Every one of us is more than the worst thing we've done. Having made a mistake — as terrible as sometimes the mistakes we make are — it doesn't mean we don't have something to contribute."
You mentioned there have been times where you've heard difficult feedback from your co-workers who have lived experience. Do you have any examples that stuck with you?
We had a staff meeting one time, where someone was leaving to go to a different position. We were talking about how to honor their time, and some of our staff were saying, "We need to have a party, we need to have a plaque." And I was pushing back a little. I was saying, "Well can we just do a little certificate (and) a potluck or something?"
And one of my colleagues said, "You know, when you are a black professional in this town, this culture, you don't get recognized very much for your accomplishments. This is important. There needs to be more than a potluck and a certificate. White professionals get that recognition on a routine basis."
I needed to hear that. Part of it is just making space, and being willing to listen and not get all white fragility.
How many different nonprofits has MUM helped start?
One of the historical missions and purposes of MUM is to be a fiscal sponsor for new ideas. So the project starts under our nonprofit umbrella, so they can come under our nonprofit status, get some guidance, and use us for their bookkeeping and administrative and fiscal things.
I think total different projects over our 47 years that we've been a fiscal sponsor for — I would say it's probably been 27.
Do you have a family? What do you do for fun?
My spouse and I, Kim, we've been married within our church community for 22 years, legally married only since Wisconsin same sex marriage was adopted. We have a 14-year-old daughter who is in high school.
We like to do stuff as a family. We love to go sit at the counter at Monty's, and have dinner and just chat. We just had a family and friend game night last weekend. I enjoy reading, movies, gardening.
We have two rescue dogs, Phyllis and Harley. Our new excitement is our neighbor has two dogs and yesterday their dogs learned how to jump their fence into our yard. So it's been an adventure.
Earlier you said working for MUM really feeds you. Can you explain that a little bit more?
First of all, the work is consistent with my values and my belief system. And it helps me as a person grow and better understand my own privilege.
I'm over 30 years in recovery from alcoholism. But my addiction, again, I had resources I could access for that, that many people don't. I am an out lesbian, but I'm also white. And so, there's still privileges that come my way by virtue of the color of my skin.
I learn every day more about how I can be a true ally. And I don't do it perfectly. I never probably will. I'm still learning.
But that kind of lifelong learning, and increasing my understanding and increasing my commitment to social change, feeds me.