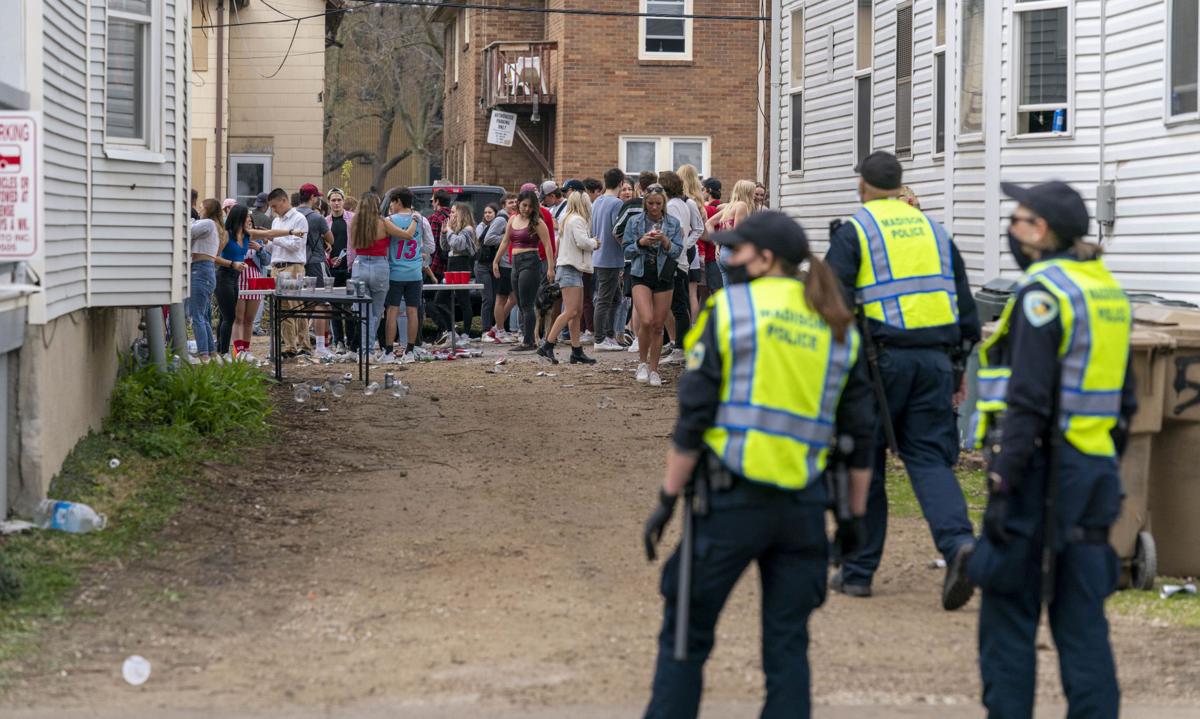 Any belief the annual Mifflin Street Block Party would be a masked, socially distanced affair after a one-year hiatus due to the COVID-19 pandemic was quickly brought to reality Saturday.
Several thousand revelers turned up to the 400 and 500 blocks of West Mifflin Street and surrounding streets for the springtime tradition held two weekends before UW-Madison's commencement ceremony.
But with COVID-19 an ongoing threat, making sure Mifflin attendees follow the local health department's coronavirus rules was a top priority for the day, Madison Police Officer Gracia Rodriguez said in the late morning when there were only a few hundred partygoers.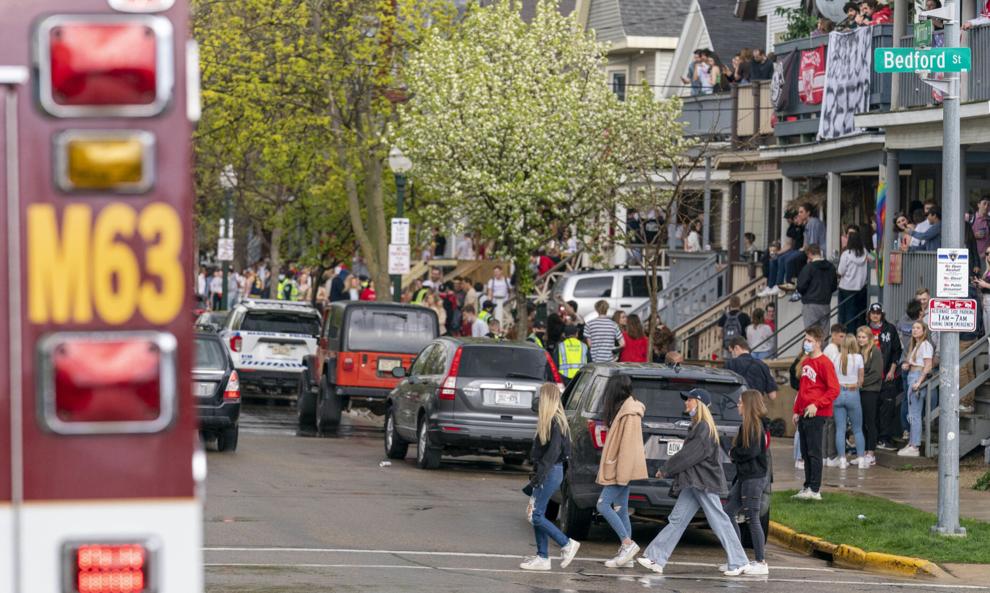 "It's a beautiful day," Rodriquez said. "It's been different throughout the years, but our primary goal today for the Police Department is for everyone to be safe out here if they're engaging in activities in Mifflin."
By the middle of the afternoon, though, Madison police officers, who were among the few in the area wearing face masks, had their work cut out for them.
Dozens of officers blocked the alleyways between houses on the 500 block of West Mifflin and West Dayton streets, where hundreds were partying in backyards, denying others from joining the crowd in an attempt to get compliance with the city-county public health department's coronavirus restrictions.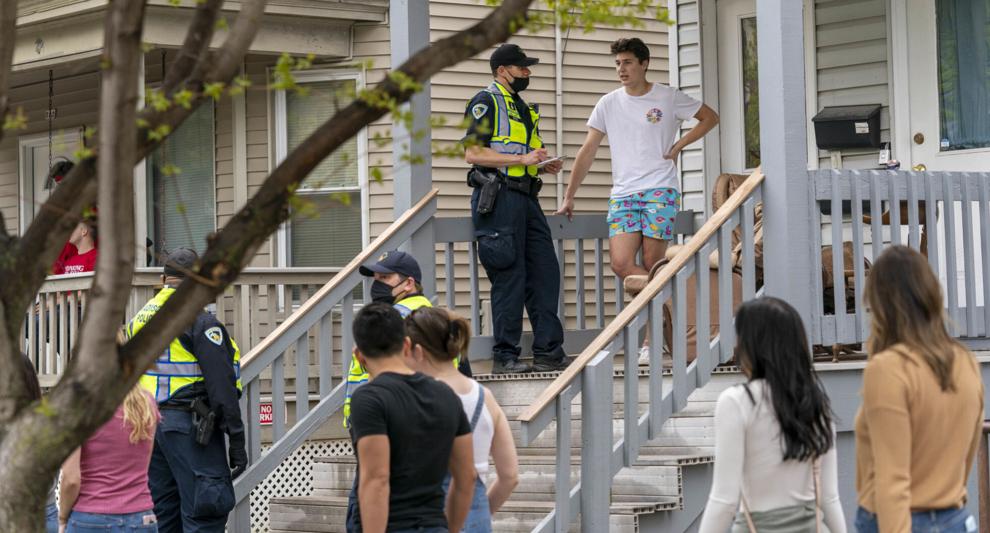 Public Health Madison and Dane County's current COVID-19 order has no capacity limit on outdoor gatherings, so long as people maintain 6 feet of distance — a task that was nearly impossible Saturday. Indoor gatherings are capped at 150 people, and masks must be worn when not actively eating or drinking.
As of 7 p.m., Rodriguez said only four citations had been written for disorderly conduct, violating a prohibition on glass containers and open intoxicants on public streets. Police were also investigating reports of damage to property, she said.
Continued tradition
The return of Mifflin this year continues a tradition dating back more than 50 years that originally began as an anti-Vietnam War demonstration in 1969 and has morphed throughout the decades into a giant party.
Ian Buchanan, 27, a former UW-Madison student, described this year's gathering as "surprisingly tame" compared with previous years when the crowd could swell into the tens of thousands, but added the police presence was about the same.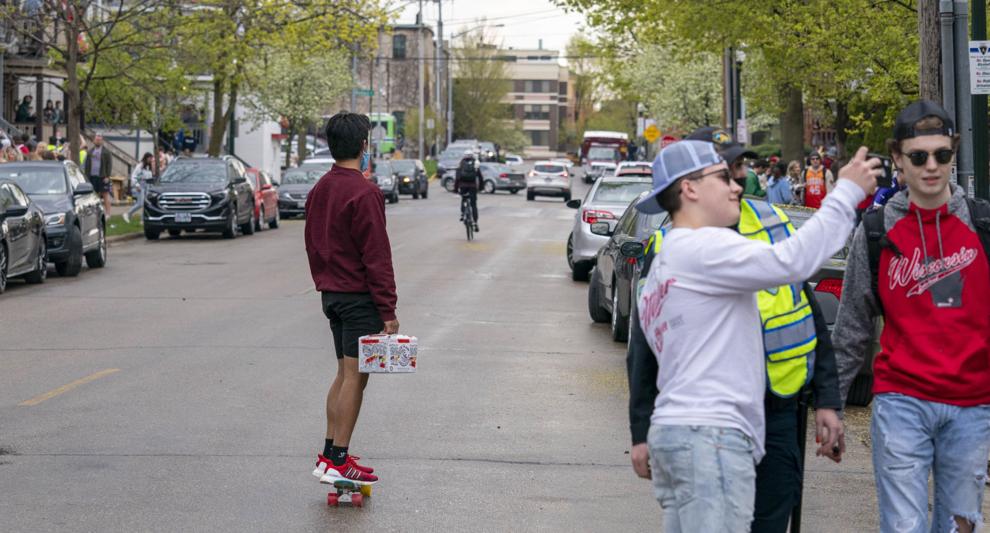 Ellie Lourdes, a UW-Madison junior, was hanging out at her neighbor's house in the 400 block of West Mifflin Street, where crowds were significantly smaller than the busier 500 block.
She said she's fully vaccinated against the virus and was "not as concerned" about COVID-19 because of the protection inoculation brings. But Lourdes said she wore a mask when walking through busier parts of the block party.
With a stay-at-home order in place last year, Mifflin took a year off in 2020 as partygoers were threatened with fines and potential disciplinary action from UW-Madison. Whether students could be disciplined this year by the university for breaking public health rules remains to be determined.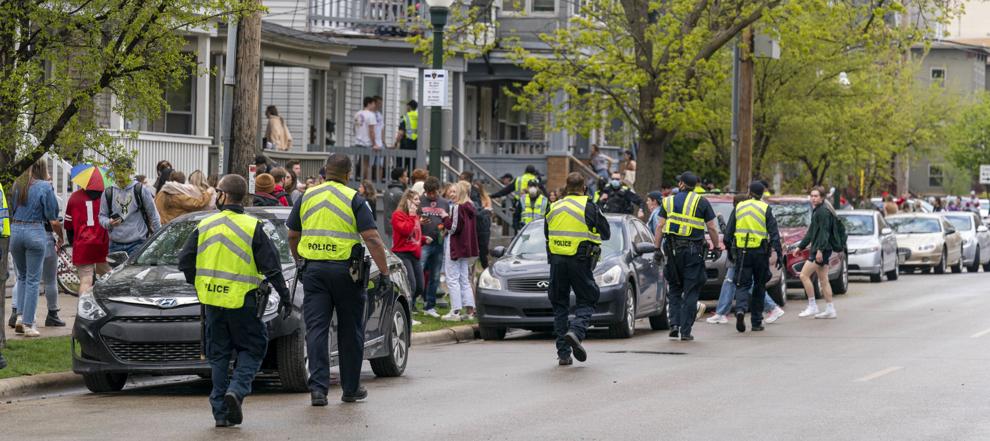 UW-Madison sanctioned nearly 1,400 students this academic year so far for public health violations. The most common consequence has been a reprimand, which is usually paired with what's called a public health sanction that includes an educational requirement.
University spokesperson John Lucas said a message shared with all students earlier in the week encouraged them to continue following public health rules in the final stretch of the semester, particularly as a recent negative test or proof of vaccination is required to participate in the graduation ceremony.
He said UW-Madison partners with police and Public Health on all city citations of students, which are shared with the Office of Student Conduct and Community Standards for follow-up.
'Almost real'
UW-Madison junior Kalie Whitehorse said she felt comfortable with the block party because students are required to take a coronavirus test every few days and many are vaccinated against the virus.
"I feel like everyone's being pretty safe," she said early in the day. "I know we're keeping it pretty low-key, because they did threaten us with a health citation if we're not following social distancing guidelines."
As a freshman in 2019, the Mifflin Street Block Party fell on a day it was "snowing and freezing cold," the 21-year-old Whitehorse said, and last year's event didn't happen.
"This is like my first almost real Mifflin," she said. "Hopefully my senior year will be like a full real Mifflin without snow, without restrictions."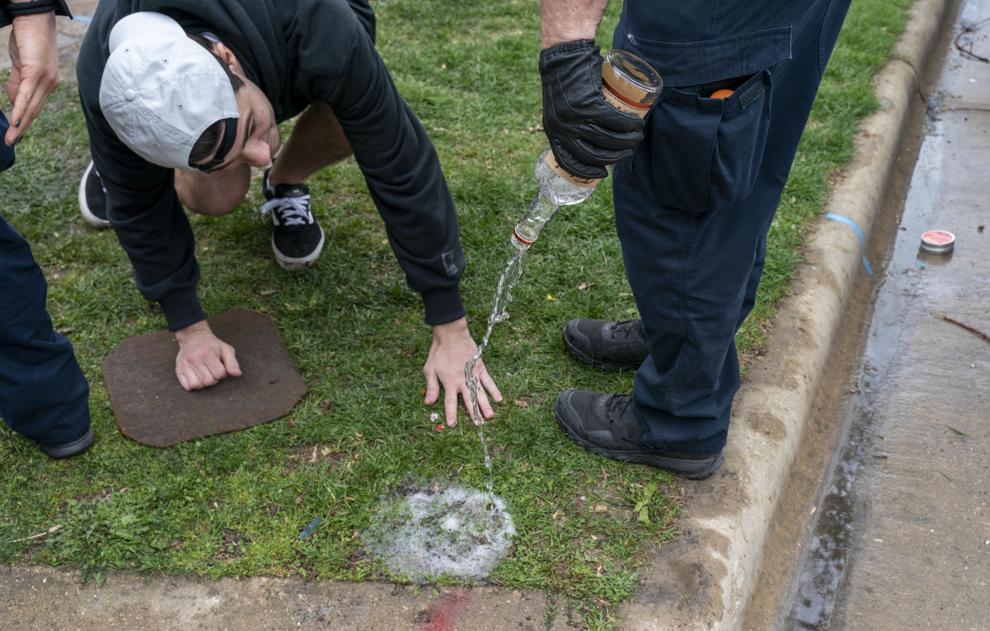 Ryan MacConnachie, a junior studying actuarial science, was attending his first Mifflin Street Block Party. As a freshman, he said he didn't know about the event and spent the day watching a Super Smash Bros. video game tournament instead.
The onset of the COVID-19 pandemic last spring scuttled any chance to attend in his sophomore year. MacConnachie said he was "a little nervous to attend" this year, but added he gets his second dose of the vaccine next week.
"This year it was more people than I expected, just cause of COVID," he said. "I was just making sure to keep my distance."
State Journal reporter Shanzeh Ahmad contributed to this report.
---