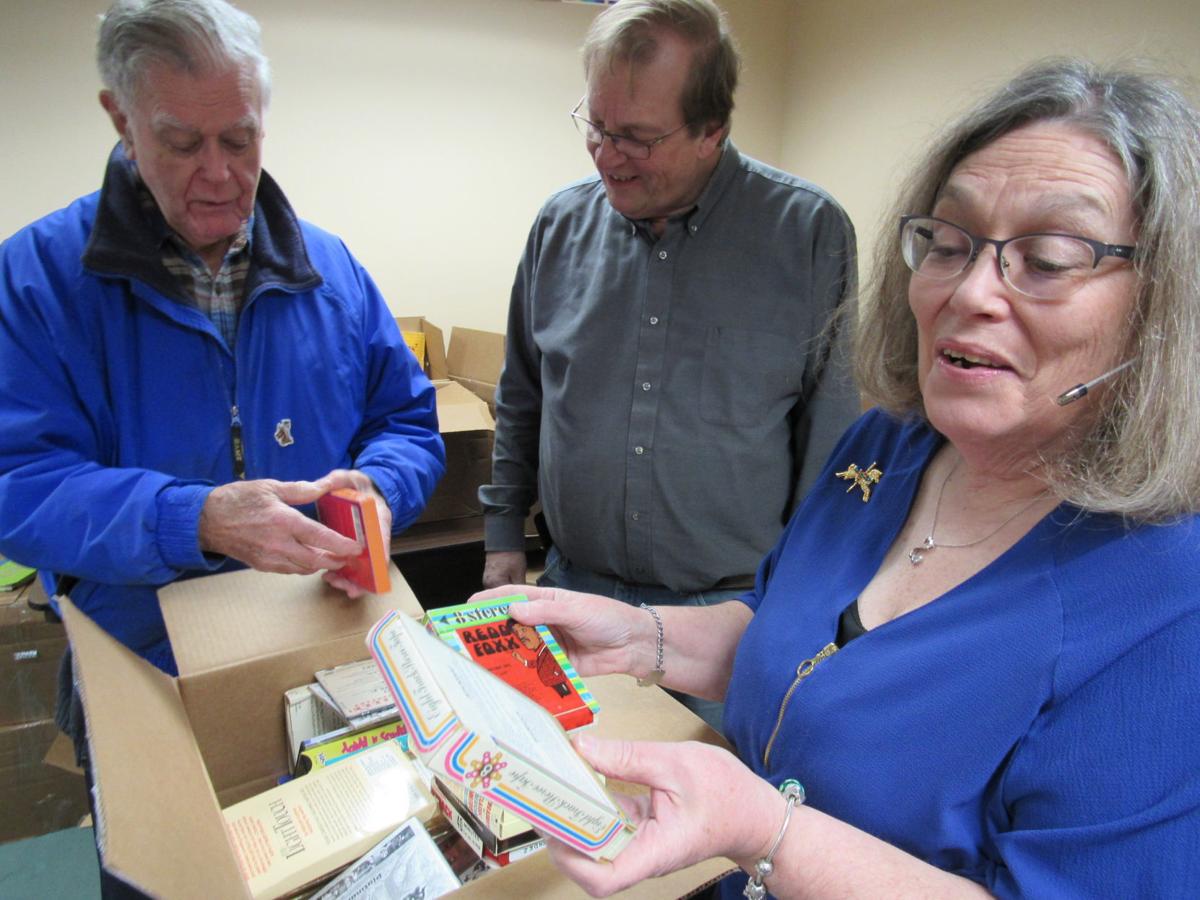 DODGEVILLE — Vickie Stangel has little space to host story time for toddlers on Thursday mornings.
Same goes for the after-school Lego club, the Monday morning genealogists or those who use the 14 computers to look for work, shoot an e-mail to a loved one or simply surf the internet for basketball scores, stock prices or the latest political news.
Stangel, director of the Dodgeville Public Library for the past 11 years, has been lobbying for an expansion plan that would double the size of the 6,724-square-foot facility built in 1988 and now next to a Kwik Trip in this city's downtown.
But what is believed to be the largest donation of its kind to the library could help, indirectly anyway, make the case for a $4.5 million, 7,000-square-foot addition.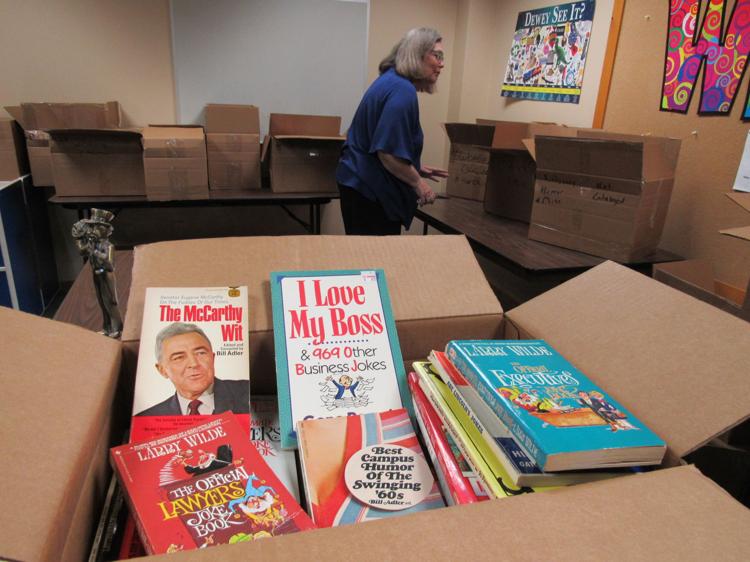 We're not talking cash. Instead, the gift is an estimated 2,000 books of humor by or about Whoopi Goldberg, Henny Youngman, Jay Leno, Chris Farley and scores of others, including the "Crown Prince of Platform Humor," Larry Wilde, who has more than 50 joke books to his credit.
"It'll bring some interest to the library, that's for sure," said Stangel as she showed off the library's cramped quarters. "There are so many thing I have to turn down because of space."(tncms-asset)de80a98a-e1dd-11e7-b689-00163ec2aa77[1](/tncms-asset)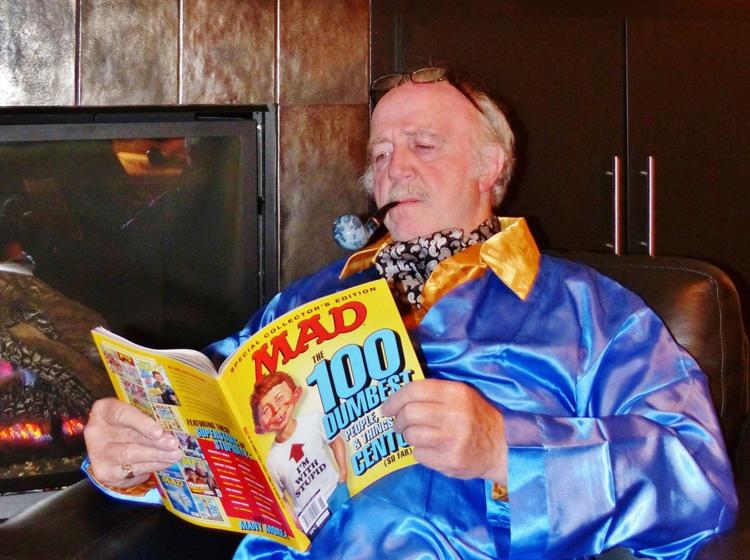 The donation is from Ron Dentinger, a longtime Dodgeville resident who spent 30 years traveling the country as a humorous banquet speaker and was the executive director of the Dodgeville Chamber of Commerce in the 2000s. In the early 1970s, Dentinger helped Don Quinn build the fantasy suite hotel the Don Q Inn and the tunnel that connected the hotel with a neighboring restaurant, which was destroyed in February by fire. The property north of Dodgeville continues to stand out thanks to the Boeing C-97 cargo plane that has been parked along Highway 23 in front of the hotel since 1978.(tncms-asset)e51c6b6c-e1dd-11e7-9673-00163ec2aa77[2](/tncms-asset)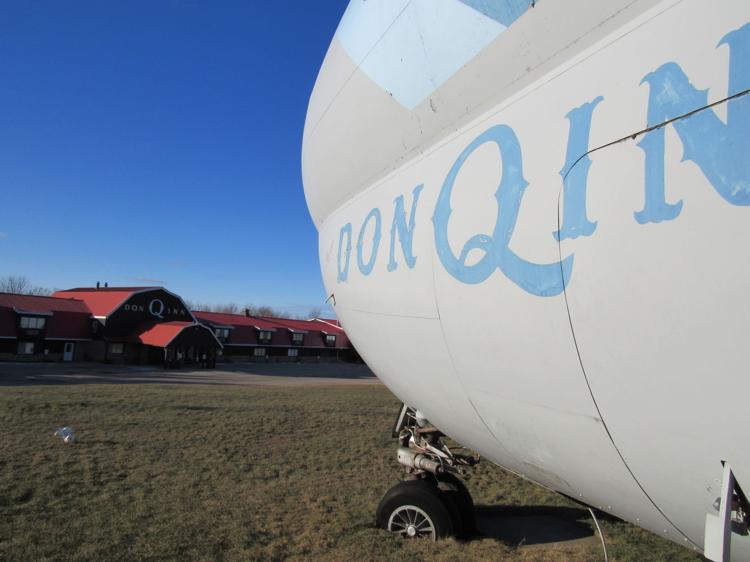 Dentinger hasn't done the banquet circuit for about 10 years. From 1991 to 2014, he wrote Down Time, a weekly humor column in the Dodgeville Chronicle. He also has written jokes for the some of the biggest names in comedy, including Rodney Dangerfield. Dentinger's jokes and quips have been published in dozens of issues of Reader's Digest, and his humor is still published in The Country Today newspaper where last week's edition was a joke about hiring the unemployed.
"That makes sense," Dentinger wrote. "The employed already have jobs."(tncms-asset)dfbf7614-e1dd-11e7-a13d-00163ec2aa77[3](/tncms-asset)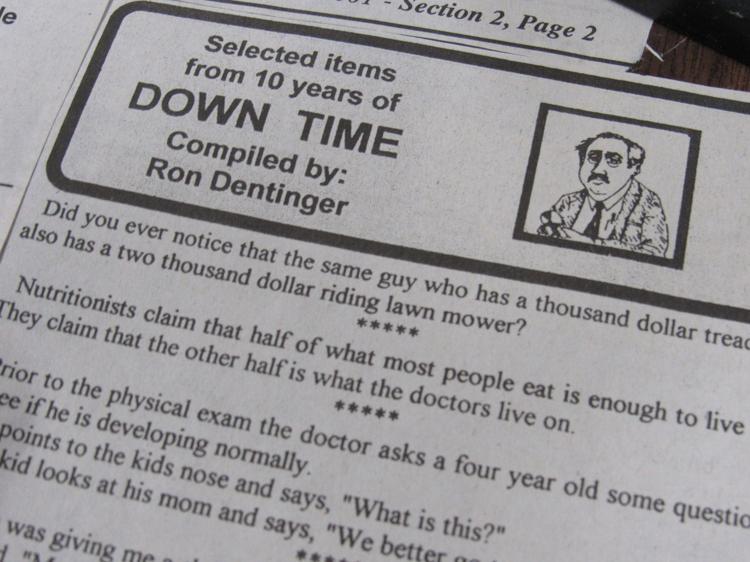 For the past few years, Dentinger, 76, has lived with his daughter, Joann Dentinger-Kurzynski, and her husband, David Kurzynski, near the Waukesha County village of Dousman. On Friday, the trio moved to Seattle where Kuzynski took a job as a product manager. Dentinger didn't want to move the collection cross country and wanted to say thanks to Dodgeville for transforming his life to a comedian and community leader after spending five years as an officer with the Milwaukee Police Department.
"Dodgeville was just so good for me in so many ways," Dentinger said Wednesday over lunch at El Mariachi in downtown Lake Mills. "Had I stayed in Milwaukee or moved somewhere else, I wouldn't have met Don and a lot of things would have been different. Chances are my entire life would have been different."(tncms-asset)ee1b1754-e1dd-11e7-901e-00163ec2aa77[4](/tncms-asset)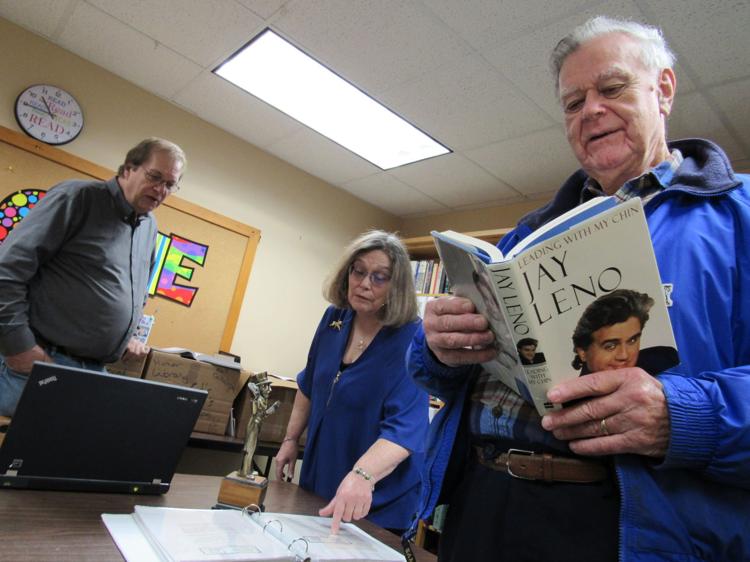 Dentinger was born in Milwaukee, where his father had a jewelry store at West Layton Avenue and South 35th Street. Dentinger was a star football player at Milwaukee Pius High School and spent one year on the football team as a tackle with the University of Wisconsin in the early 1960s. He returned to Milwaukee and became a police officer but then changed careers and started working for the American Automobile Association, a position that took him to Dodgeville in 1968.
You have free articles remaining.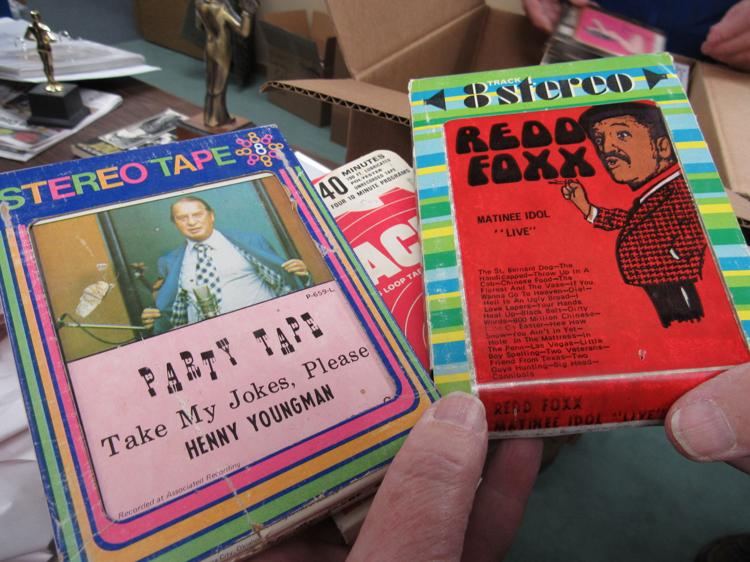 It didn't take long before he met Quinn and ultimately began working at the hotel and singing, playing guitar and telling jokes from one of the several barber chairs that rimmed a circular fireplace in the hotel's lobby. That led to requests to perform at other functions and by 1984 Dentinger was working full-time on the banquet circuit where he would have more than 300 bookings a year.
All of his humor was clean.
"There's a line that you can't cross," said Dentinger, who is good friends with metal artist Tom "Dr. Evermore" Avery. "You need to get as close to that line as you can without crossing it. The closer you get, the funnier you get."(tncms-asset)9b3872d6-e208-11e7-a91d-00163ec2aa77[5](/tncms-asset)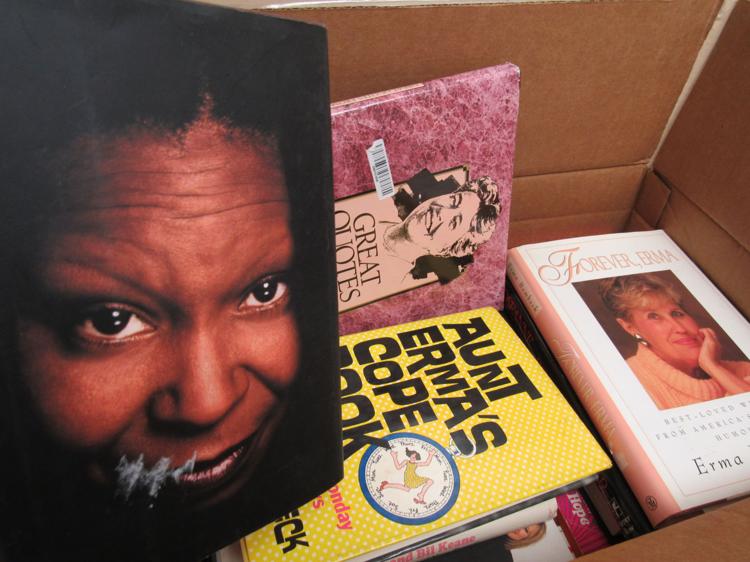 So when Dentinger made an offer a few months ago to donate his collection of humor to the library, Stangel was a bit apprehensive. She had no idea where to store or display the collection. In November, the seven-member library board unanimously approved accepting Dentinger's offer. And on Dec. 1, Dentinger and his daughter used a U-Haul trailer to deliver 55 boxes filled with books, photos, cassettes, CDs and even a few 8-track tapes, one of them featuring the blunt humor of Redd Foxx. (tncms-asset)ec47d200-e1dd-11e7-b20f-00163ec2aa77[6](/tncms-asset)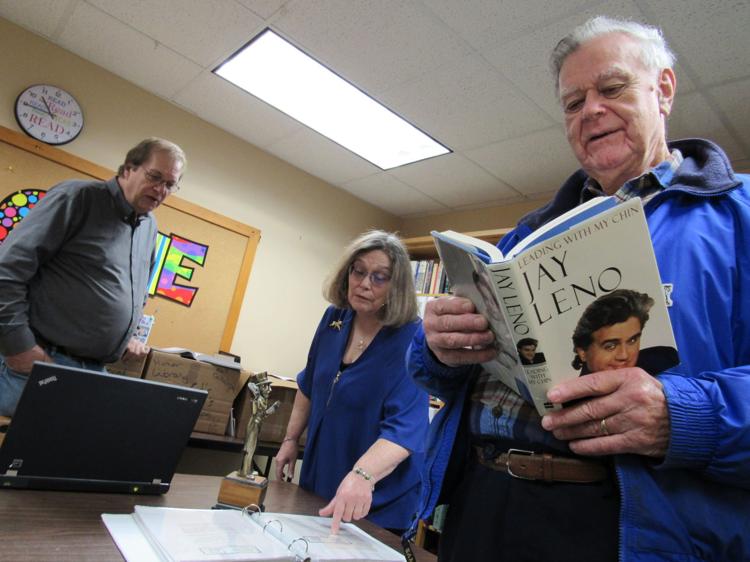 The boxes, which included Dentinger's trophy for being named one of the funniest people in Wisconsin in 1984, have filled the library's only meeting room. So in the next few weeks, a trio of college students home on break will be tasked with organizing and cataloging the collection. Each box is labeled in black marker by category like gender, marriage, wedding, sports, insults, political, religious and office.
Bob McNeill, 89, who founded an electrical business in nearby Hollandale in 1946, has known Dentinger for nearly 50 years. Dentinger would frequently donate his talents to area civic organizations and was instrumental in helping to grow the Dodgeville Blues Festival, launched in 2000.
"He was a sincere funnyman," McNeill said, while looking over the boxes of books and other humor material. "He was so generous. And you can see that here." (tncms-asset)e1845c6c-e1dd-11e7-bdc0-00163ec2aa77[7](/tncms-asset)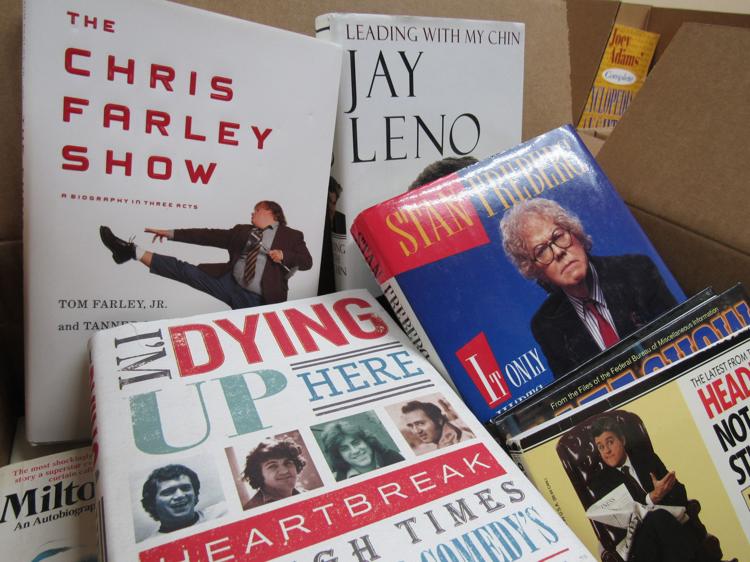 Jim Blabaum, 63, used to own The Dodge movie theater in downtown Dodgeville and was president of the Chamber of Commerce in the mid-2000s. He's now a Realtor and said Dentinger was a true character in an area known for Lands' End, Governor Dodge State Park, Alex Jordan's eccentric House on the Rock and the dramas of Frank Lloyd Wright's Taliesin in nearby Spring Green.
"Ron always had a joke, good or bad. Sometimes you'd groan and sometimes you'd laugh," Blabaum said. "He always left you smiling, one way or the other. I can't think of anybody who wouldn't have known him."(tncms-asset)e6e54c3e-e1dd-11e7-8118-00163ec2aa77[8](/tncms-asset)
Dentinger is part of Dodgeville's history, but there's no space in the library's local-history room.
The collection there includes maps, local writings, census and migration documents and thick-bound probate records. The room is barely navigable. It takes only a few people to make it crowded in the library's reading room, and last week's book sale was relegated to a small space in front of the whittling work of William Wallace Power, the city's police chief back in the 1940s.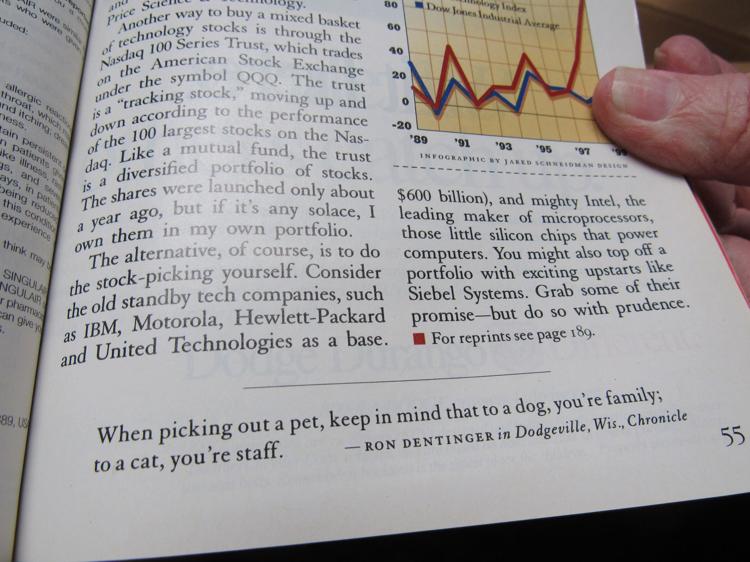 Stangel, the library director, wants to use a bookshelf in the library's meeting room to create a rotating display of Dentinger's books and have many of them available for checkout. The influx of books and other humor material brings attention to the needs of the library but also will spread Dentinger's brand of humor throughout the five-county network of 29 libraries in southwest Wisconsin.
"It's a very interesting case study of how humor has changed over the years," Stangel said. "And this is the perfect collection to show that. We've never had anything like this."
"Ron always had a joke, good or bad. Sometimes you'd groan and sometimes you'd laugh. He always left you smiling, one way or the other." Jim Blabaum, former president of the Dodgeville Chamber
of Commerce
Barry Adams covers regional news for the Wisconsin State Journal. Send him ideas for On Wisconsin at 608-252-6148 or by email at badams@madison.com.