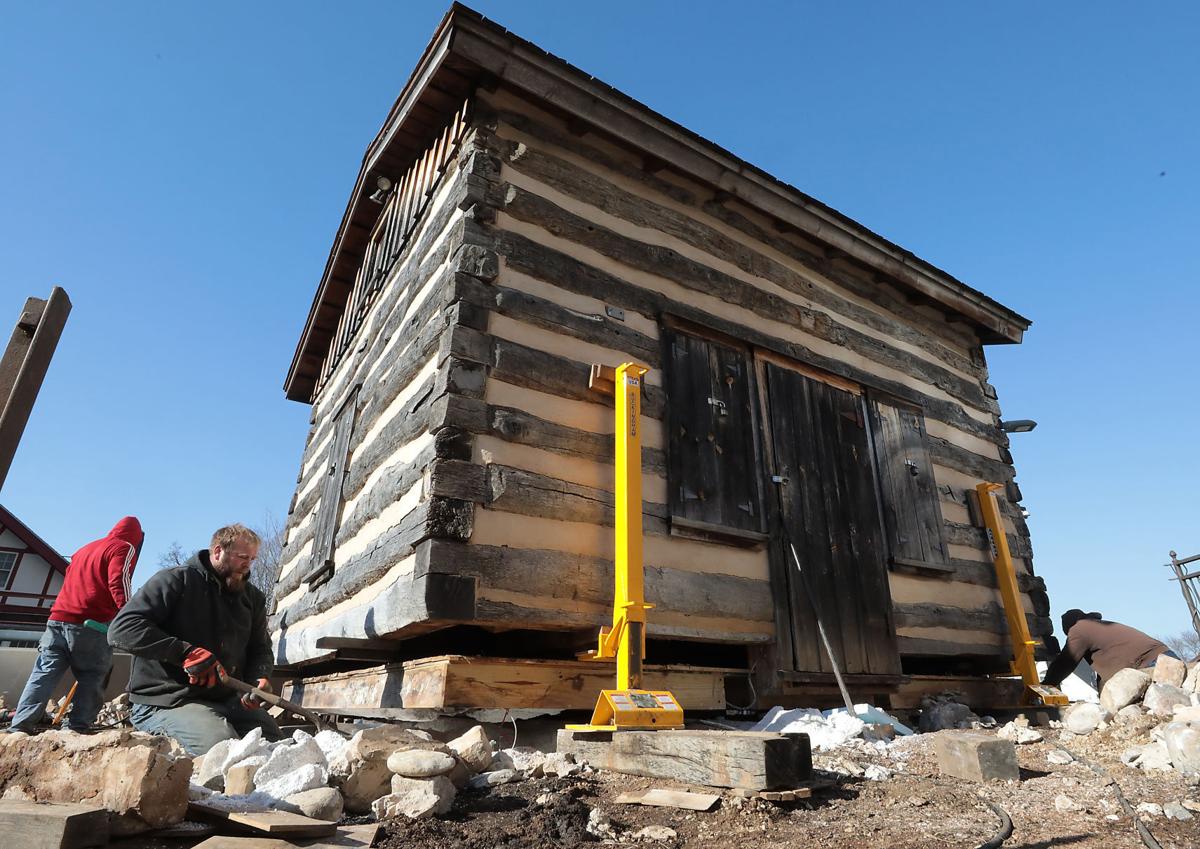 Work began Tuesday on temporarily moving the historic log cabin that sits at the corner of West Dayton and North Webster streets behind the Madison Children's Museum.
But the humble, nearly 180-year-old structure had to wait a little longer for the next step in its journey.
The cabin is being relocated from the site, a former parking lot, to make way for construction of a new 10,000-square-foot outdoor exhibit for the museum. When completed this summer, the space will host an outdoor play area, a large climbing sculpture, hands-on exhibits and — yes — the cabin itself, returned to its Downtown home.
As Madison's only existing, historic log cabin, the building came to the Madison Children's Museum from Walworth County in 2009.
"It used to be covered by another building, so it was discovered when the other building was being demolished," said Brenda Baker, director of exhibits for the museum.
"We were lucky enough to be in the market for a log cabin at the same time. It's been on our site here for 11 years, and we've worked with the state historical society and Old World Wisconsin in terms of restoration of the cabin."
A crew of professional movers from Heritage Movers spent the better part of the day painstakingly removing the cabin's stone foundation and lifting the structure, inch by inch, onto a series of beams and jacks.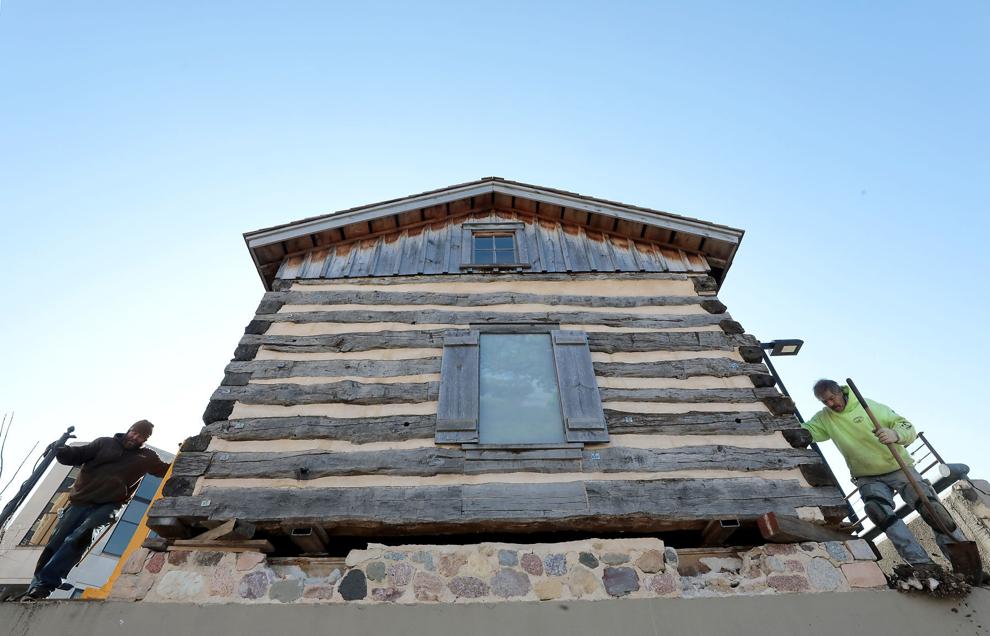 By afternoon the log structure was expected to be jacked high enough to be settled onto a flatbed truck for moving. But complications with its heavy stone interior fireplace and layered floor structure slowed down the process, said Florence Edwards-Miller, communications coordinator for the museum. The work is scheduled to continue Wednesday.
Once on the truck, the cabin likely will remain on site for a few more days until it is transported down East Washington Avenue for storage.
"The city will have to close down streets" while it's moved, Edwards-Miller said, so that will probably take place at night to minimize disruption to traffic.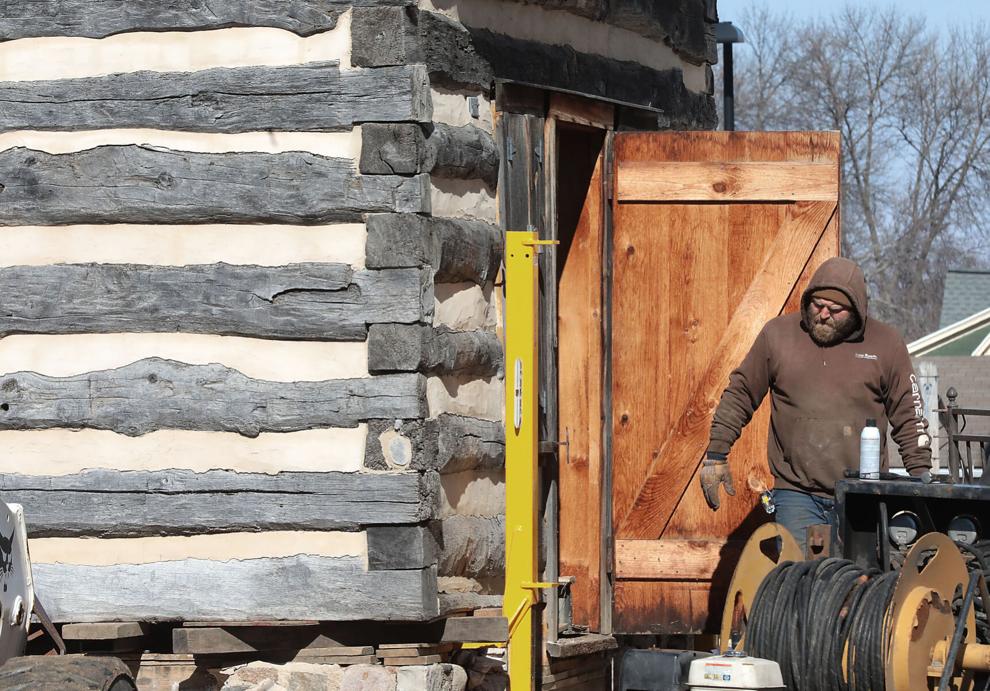 The cabin originally was built by the Faistel family in Walworth County, probably overlooking Crooked Creek sometime in the late 1830s or early 1840s, according to a plaque at the site. The plaque notes that "the building is typical of cabins that would have been in Madison in the year 1838."
The Madison Children's Museum, located off Capitol Square at 100 N. Hamilton St., has been closed through the COVID-19 pandemic but plans to reopen its interior spaces this summer. The new outdoor exhibit is expected to be completed midsummer, Baker said.
The museum has so far raised more than $3 million toward a goal of $4 million to build the outdoor exhibit and to help sustain the museum during its long closure.
The cabin's temporary removal is "part of a bigger program that we're doing called 'Our Future in Play,'" Baker said. "We're doing a major fundraising campaign to take this decrepit parking lot and to turn it into a park and children's play space. The whole parking lot is going to be taken away, and the log cabin will be dropped down one level.
"We're really looking forward to having a space where families can come back and feel safe coming back to the museum, given the COVID times that we're living in right now," she said.
---
Fave 5: Features reporter Samara Kalk Derby shares her most memorable stories of 2020
The year 2020 was relentless. For most newspaper reporters, almost every story, even if it wasn't directly related to COVID-19, was touched by it. Reading and writing about the virus has been exhausting and dispiriting. 
So, going through the stories I put together this year, some of my favorites were the ones that gave me and others a break from the all-consuming virus.
Recently, I learned of a black-throated gray warbler at Turville Point woods, next to Olin Park, that's rare to Wisconsin and had been hanging around far out of its normal range. In reporting the story, I joined a birding Facebook group and got to talk to some enthusiastic birders. Bird people are good people. And birding is a rewarding pandemic pastime.
Another recent non-COVID story was one that previewed "Beyond the Ingenue," a production by Music Theatre of Madison made available online. The show spotlighted 11 trailblazing women from Greta Thunberg to Ruth Bader Ginsburg through original songs by local woman. I enjoyed talking to the songwriters and performers, and learned more about some prominent women, as well as about less well-known historical figures like Lavinia Dock, a social activist and pioneer in nursing education. 
The arts are vital to a community's character, and it's encouraging to see local theater groups soldiering on without live audiences and with a dramatic loss of ticket revenue.
I wrote a number of stories this year about Madison institutions being able to weather the pandemic, and one that was close to my heart was about the survival of the Madison Children's Museum. In visiting children's museums in other cities, I know that what we have here is special and worth fighting for.
Writing about restaurant closings can be sad, but they can also celebrate their subjects. That was the goal in writing about Sunroom Café closing for good. While many of the other restaurants that closed in 2020, had large, devoted followings, I'm choosing Sunroom because it had been in its second level State Street location for 25 years under the same owner. There was simply nothing else like it.