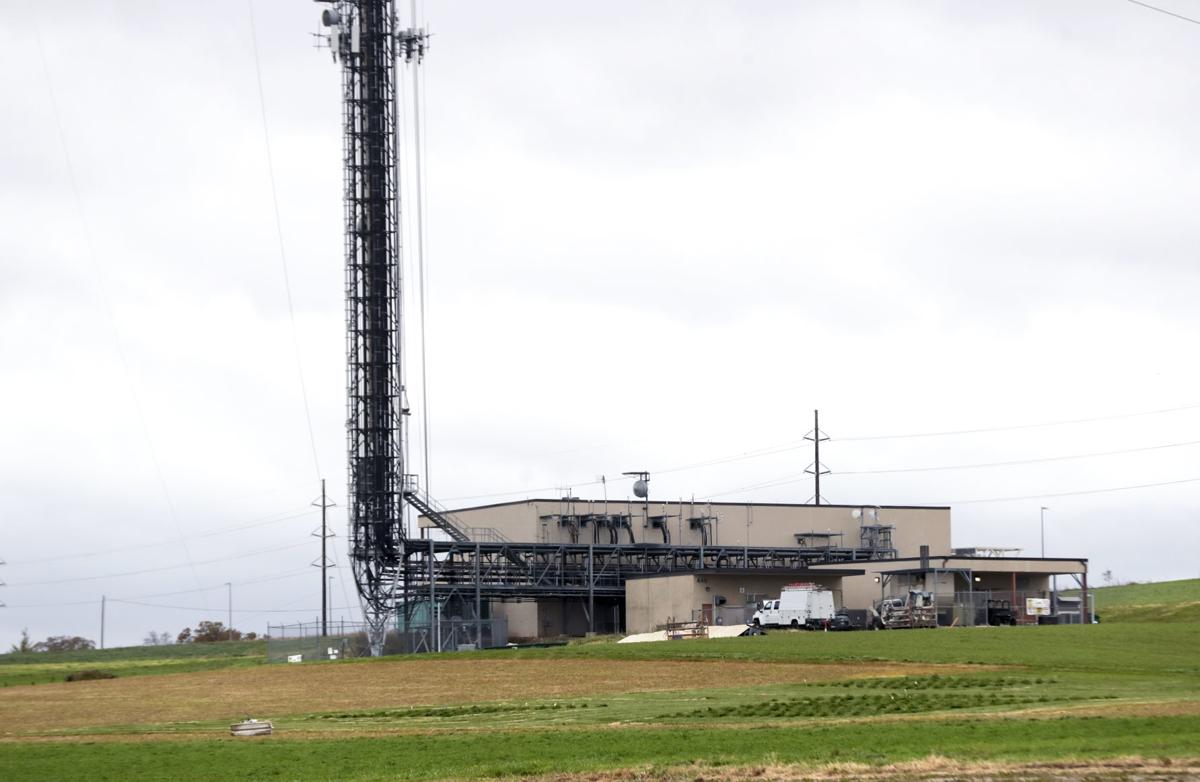 After months of weather-related delay, federally mandated work to upgrade transmitting equipment for two Madison television stations could produce less-pixelated programming within a month — assuming, that is, no more weather-related delay.
The UW-Madison-affiliated University Research Park — which hosts the Far West Side tower from which WISC-TV, WMSN-TV and other broadcasters deliver their signals — was close to finalizing a contract Wednesday with West Allis-based Higgins Tower Service Inc. to finish the work after an earlier crew picked up and left town in December.
Tower Consultants Inc. had been hired in July to serve as the general contractor on the project to install new antennas and transmitting cables needed for the two local stations to switch to different broadcast frequencies. URP assistant director of facilities and asset management Matt McConnell said the work was expected to be done in October, but pointed to bad weather — including a record 4 inches of snow on Halloween — that made it unsafe for workers to scale the approximately 1,400-foot tower at 453 S. Pleasant View Road.
"The crew left because all they could do was sit in a hotel room," McConnell said. "It really is about keeping people safe," and the delay was "not a choice that we made."
WISC (Channel 3) and WMSN (Channel 47) are among 987 stations nationwide required to adopt new frequencies as part of a Federal Communications Commission effort known as the "repack." Authorized by a 2012 federal law, the repack aims to more efficiently parcel out pieces of broadcast spectrum amid a burgeoning number of wireless providers seeking to use it.
Stations have been required to transition to their new frequencies in phases beginning in 2017, and WMSN and WISC's turn came on Oct. 18. The switch required them to install a new permanent antenna and other equipment, and while that work has been going on — or not — the stations have been broadcasting from a less powerful temporary antenna on the broadcast tower.
With the delay in getting the new antenna up and running, viewers who get their TV through home-based antennas have endured months of poor or no reception via the tower's temporary antenna. Those who get their local television through cable, satellite or streaming feeds have not been affected.
McConnell said the previous contractors installed the permanent, "stacked" antenna that will send out both stations' signals, but weren't able to install the new transmission cables needed to make the antenna operational. Higgins visited the tower site on Wednesday, and McConnell said the company hoped to start work Monday. If the weather cooperates, installing the cables should take about three weeks, he said.
WISC is among the television stations that took advantage of the FCC's so-called incentive auction in 2016 that allowed stations to sell off rights to their existing frequencies and have the FCC assign them new ones.
Television Wisconsin Inc., the Wisconsin branch of the station's owner, Morgan Murphy Media, was paid nearly $49 million by the FCC to relinquish its old ultra-high broadcast frequency, or UHF, and was assigned a very high frequency, or high-VHF, in its place.
The frequencies differ in how they provide signals, but WISC's switch is not likely to be a major factor in viewers' poor reception since the switch.
WISC chief engineer Kevin Ruppert said, "VHF signals tend to travel farther distances and can reach over some small hills, like the Baraboo bluffs," but that the power and height of an antenna "are what determine how far a TV signal goes."
"The VHF band carries farther than the UHF band, so WISC may be better off," said David Devereaux-Weber, a network consultant for the UW-Madison Division of Information Technology.
He said the value in WISC's old UHF frequency derives from the FCC's plans to auction off only UHF spectrum to the wireless industry.
"The UHF spectrum is a better fit for the wireless industry because they break up a market area into many small areas — cells," he said. "Each cell has their own transmitters and antennas. Since the UHF spectrum has higher loss through the air, the signals don't carry as far, therefore wireless providers can re-use the same frequencies in alternate cells."
McConnell declined to say now much the antenna work is costing URP and the stations.
Be the first to know
Get local news delivered to your inbox!