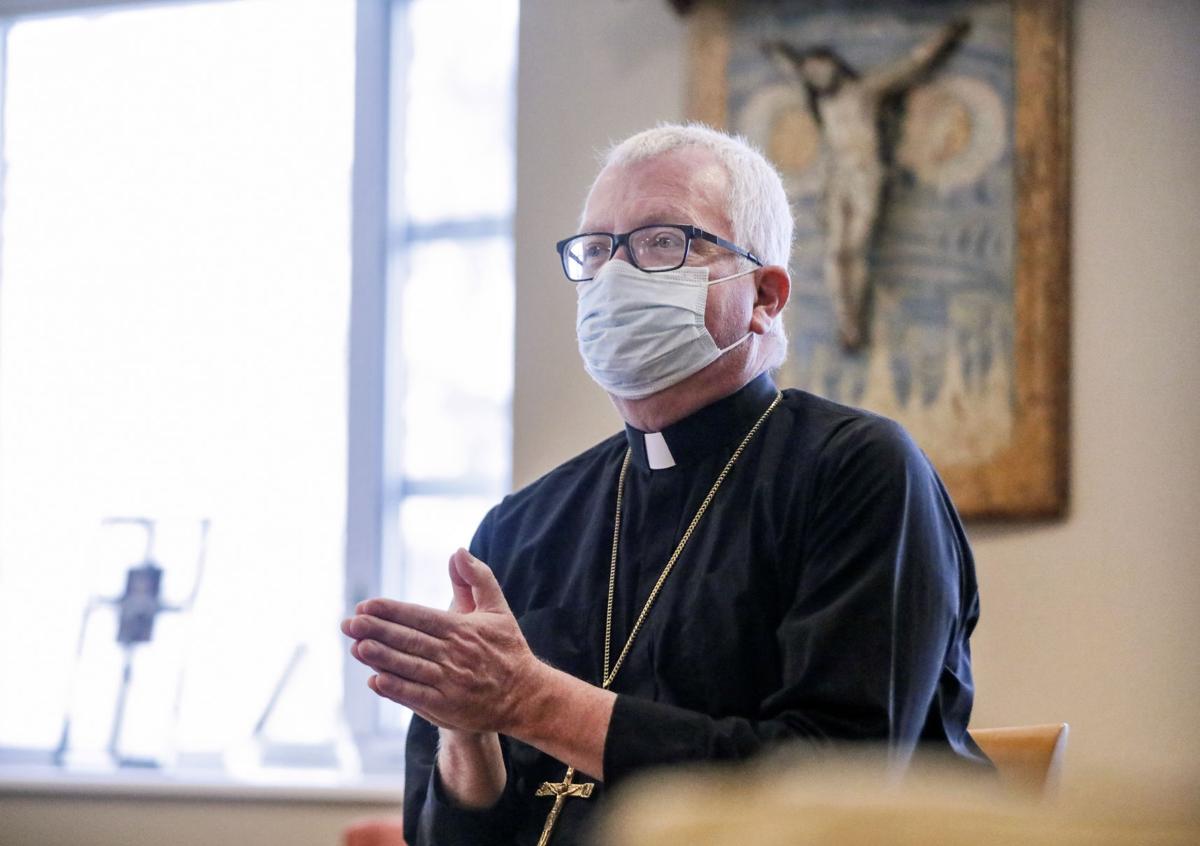 It was only a few days after Donald Hying had been installed as the Madison Catholic Diocese's new bishop that the priest at Immaculate Conception in the Grant County hamlet of Kieler, population 500, called him up and invited him to the parish's July 4 picnic.
Not only did Hying become the first diocese bishop to attend the annual, 65-year-old event; he also stayed for more than two hours and "cleaned off all of our plates for us," Rev. Bernard Rott said.
"He's just that kind of guy," he said. "Willing to serve."
Priests in the Diocese of Madison as well as Catholics who reject some of the church's stances on hot-button social issues appear to agree that a year and a half into his tenure, Hying is a more approachable, less "rigid" and a "refreshing" successor to Bishop Robert Morlino.
Those within the diocese and the new bishop himself, however, make clear that while Hying's "temperament" may differ significantly from the man he replaced, there's little light between the two when it comes to their view of Catholic doctrine.
"It's easier to get to know Bishop Hying, and Bishop Hying wants to get to know you," said Rev. Eric Nielsen, pastor at the St. Paul Catholic Student Center on the UW-Madison campus.
"Some people took that as meaning I'm telling them to vote for Trump or that I'm a Trump supporter," Hying said. "That's a false assumption."
As for the church's stances on abortion, gay marriage and other issues that tend to draw media coverage — and which are increasingly at odds with American popular opinion — "it's just not what he leads with," Nielsen said.
Morlino died in November 2018 after a 15-year, sometimes rocky relationship with parts of his own flock, especially in liberal Dane County, the largest in the 11-county diocese. A staunch traditionalist, Morlino drew criticism for, among other things, barring an interfaith spirituality center from offering programs at diocese churches because its teachings veered toward "New Ageism" and "indifferentism," and for long prohibiting the washing of women's feet during a Holy Week ritual.
Hying is not opposed to taking strong stances in defense of church teachings. His Twitter feed is sprinkled with tweets opposing abortion and calling out the U.S. Supreme Court; President-elect Joe Biden, a fellow Catholic; and U.S. Rep. Alexandria Ocasio-Cortez, D-New York, for their positions on the issue. He's also used it to announce a Mass for Jacob Blake after he was shot by a Kenosha police officer and to draw attention to the plight of family farms in Wisconsin.
But "in terms of public pronouncements, I take a measured response," he said in an interview at the diocese's headquarters on Madison's Far West Side last week. "My philosophy is, if you speak out often on many things, you kind of lose your ability to impact. Because it's like, 'Here's the bishop again spouting off about something.'"
Power of contact
The COVID-19 pandemic was still months away when Hying promised in June 2019 to visit all 102 of the diocese's parishes and all 45 of its schools during his first year as bishop.
He said he was on track to meet the goal when things shut down in mid-March and has about 34 parishes and 18 schools left to visit.
"I don't want to simply be a picture on the wall or a name in a prayer," he said. "The power of personal individual contact is impactful."
To that end, he said that in the first months of the pandemic, he asked priests to give him names of people he thought might benefit from a phone call — typically the grieving, those ill with COVID-19, the isolated and the elderly.
He called "several hundred people," he said, including a couple who "thought it was a prank call."
Diocese spokesman Brent King said that seven times in the last year and a half, around holidays or in the early days of the pandemic, Hying has called all 109 of the diocese's active priests, just to check in and see how they're doing.
Priests from around the diocese seem to be responding to the attention, touting Hying as someone who "delights in people," is "very personable," has a strong "pastoral" presence, and is "a really great change."
That need to connect has sometimes frustrated Dane County political and public health leaders as the diocese or individual Catholic schools have pushed back against restrictions on how many people parishes can have at Mass, in-person schooling and hospital access.
The diocese in June threatened to sue Public Health Madison and Dane County over its reopening plan that limited attendance at Mass to 25% capacity, up to a maximum of 50 people. The agency reversed course days later to remove the 50-person cap.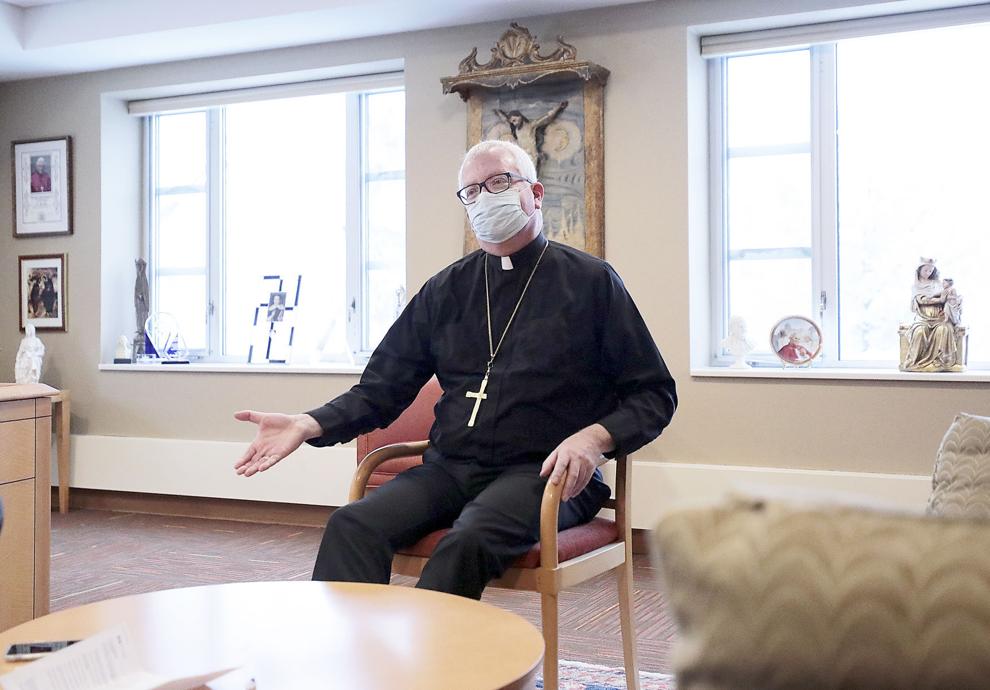 While the diocese itself did not join a suit to overturn a ban on in-person school for grades three through 12 in August, six of its schools did, and the state Supreme Court on Sept. 10 put the restriction on hold.
The diocese similarly successfully advocated for hospitals to lift tight visitor restrictions for patients with COVID-19 so that priests could deliver last rites, Hying said.
Before in-person Masses started to be held again in late May, the diocese issued 15 pages of protocols for safely reopening church doors, Hying said. The diocese has said that while some schools have shut down for limited periods to quarantine, no cases of the coronavirus have been traced back to its schools.
"There's been no Catholic Mass or gathering that I know of that became a superspreader," Hying said.
'An openness'
Probably in part because he's been less outspoken then his predecessor, Hying has so far drawn less criticism from more liberal-minded Catholics.
Ken Scott, a lifelong, confirmed Catholic who is gay, said Hying appears to be more reasonable and compassionate than Morlino.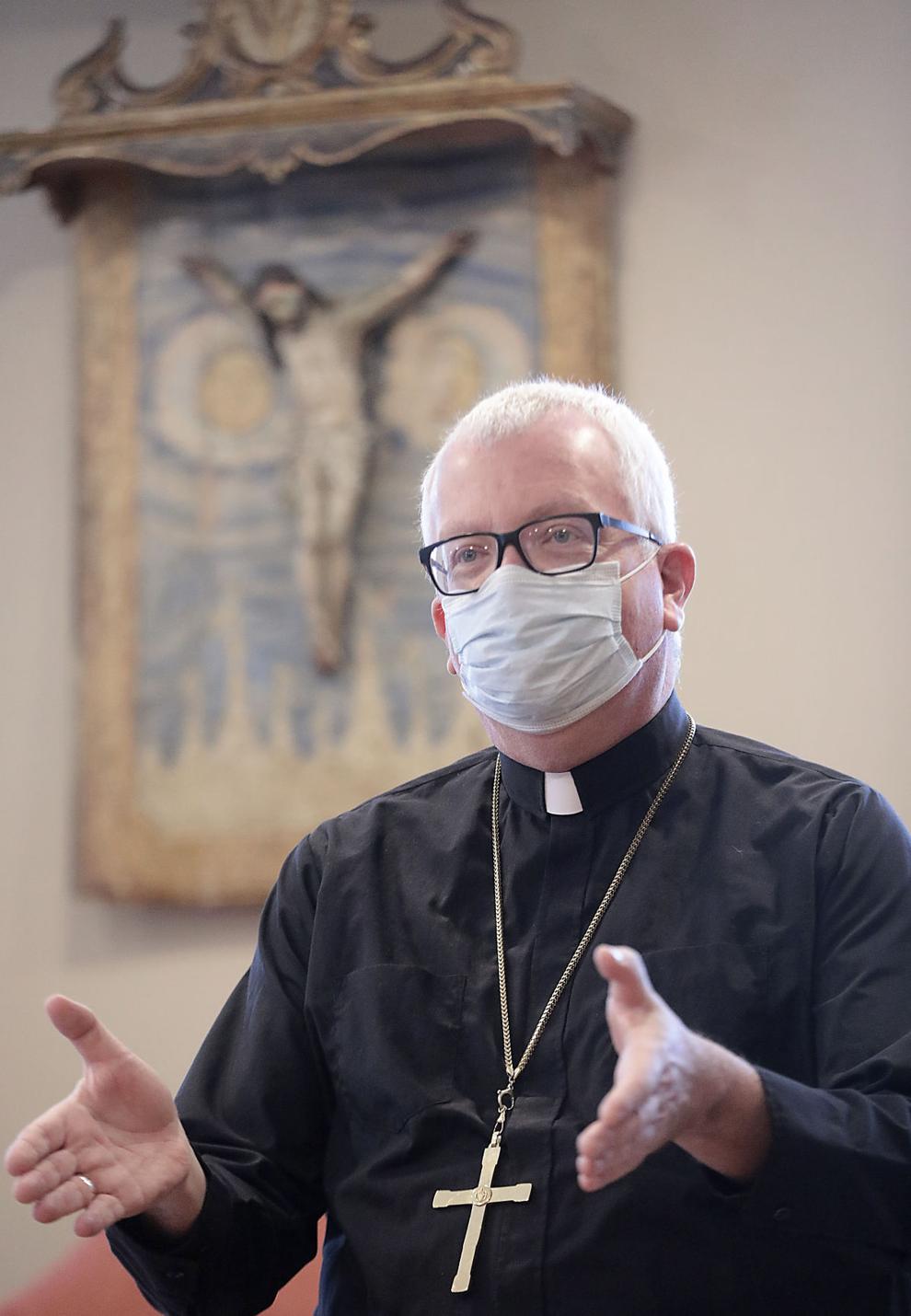 "There is a lack of strident attacks against gay people," he said. "And that's a welcome change."
Scott is a leader and longtime member of Integrity/Dignity of Madison, which describes itself as "an ecumenical Christian faith community" affiliated with national LBGT groups within the Episcopal and Catholic churches.
He said he and the Second Vatican Council see the church as the "pilgrim people of God," as opposed to the church's hierarchy, and while meeting with Hying would not be a priority for Integrity/Dignity, the group "would definitely welcome meeting him."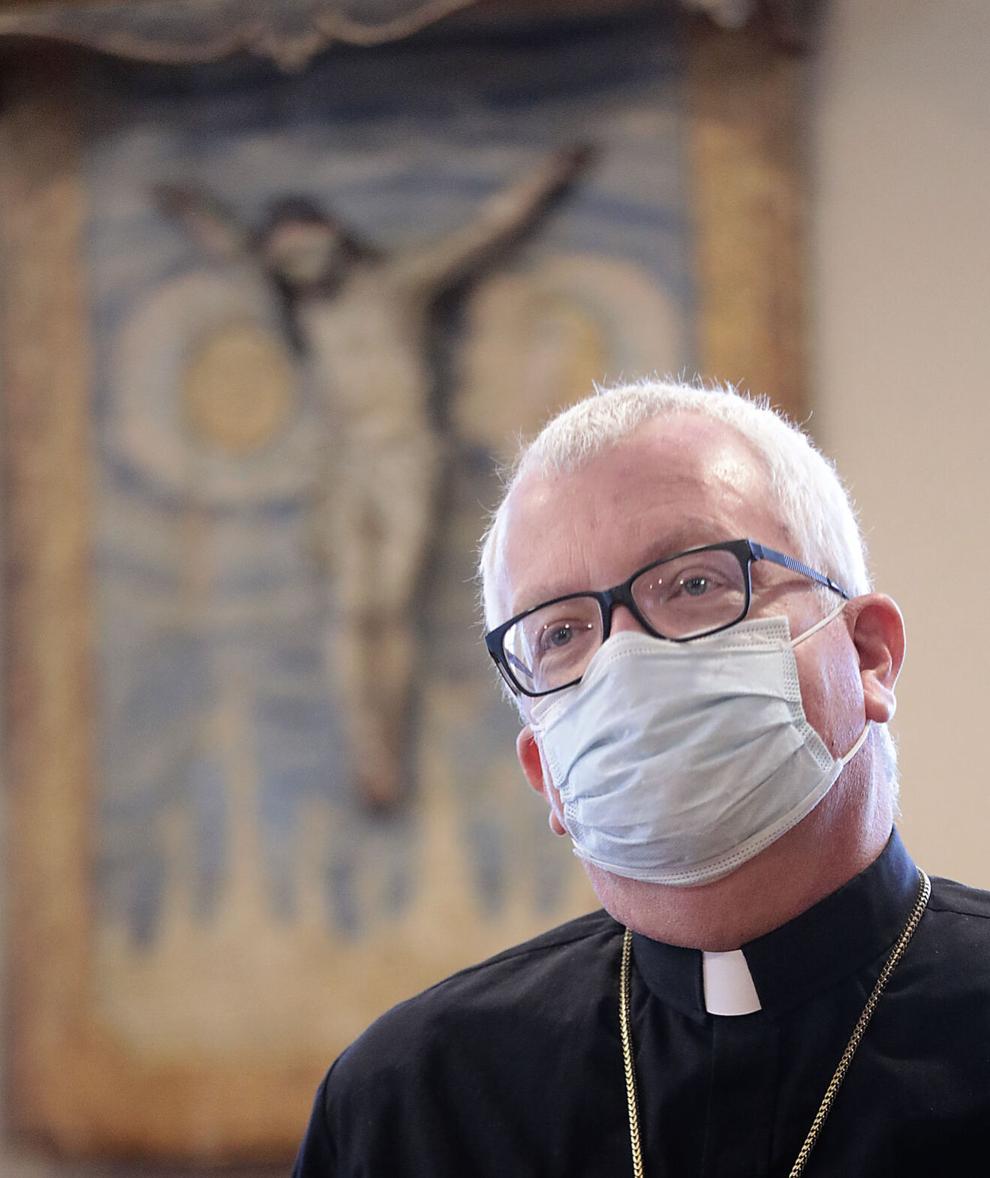 Hying has met with the Madison chapter of the longtime Catholic Worker social justice movement.
One of the group's members, Sister Maureen McDonnell, said she believes "Bishop Hying is striving to be open to all in this diocese."
"I also see him as being quite careful to tread the middle of the road on issues in order not to alienate groups," she said, emphasizing that she was speaking only for herself.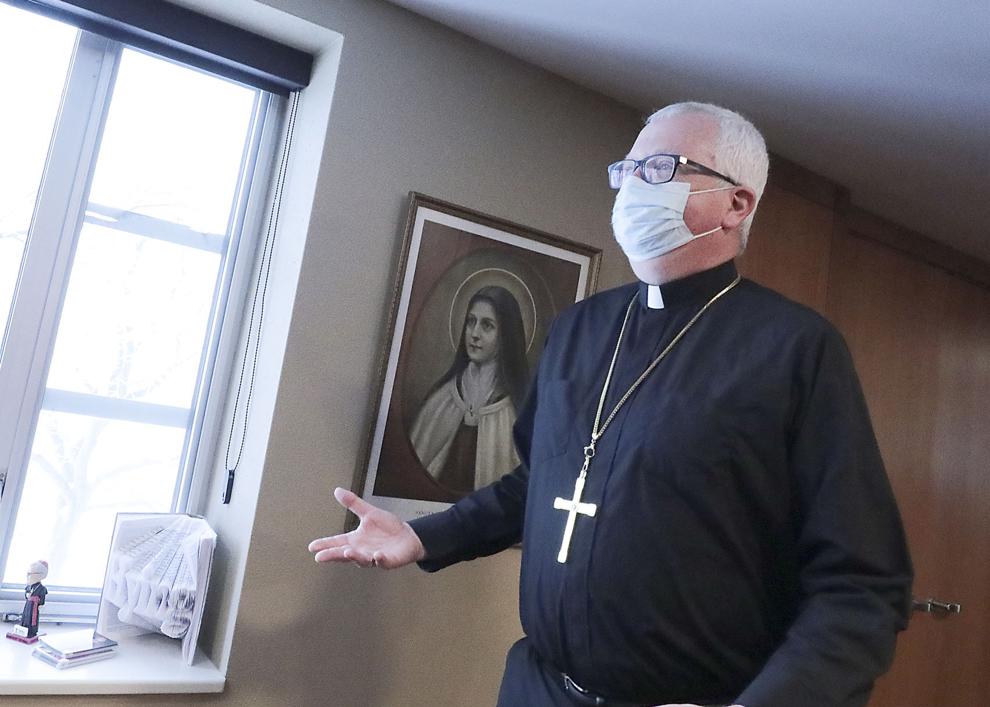 "My hope is to see evidence of his speaking out on behalf of the radical stances Jesus was known for, especially regarding nonviolence, which Pope Francis has espoused more strongly than many past leaders," she said. "To be clear, we and the world need to hear from Bishop Hying and other Catholic bishops on healing the many manifestations of racism and militarism in our society and the global community."
Hying said he's open to meeting with just about any group — even those critical of Catholic doctrine that have essential moral differences with some of the church's teachings.
"My goal would be: Can someone come to an understanding of why the church takes a particular moral stance, perhaps even come to an insight that would lead to conversion on that particular matter," he said. "I think a goal for me would be to come to know this person, understand this person and to be able to witness both the love and truth of Christ in that person."
Evangelization, St. Raphael's
The diocese hasn't initiated any major changes in the day-to-day practice of the faith since Hying has taken over, but it is in the beginning stages of an evangelization push dubbed "Go Make Disciples."
Hying imagines a diocese in which the 70% of Catholics who don't regularly attend Mass on Sundays start to re-engage with the church and, some time after that, start to bring others with them.
He's also thinking about how to get people back to church once the COVID-19 vaccine is widespread — after months or more than a year in which many people will have grown used to not attending.
While he encourages those most at risk of the virus to remain home, "I think when you look at our safety protocols, church is one of the safest places to be if you're going to go out at all."
Fewer plans are being made about what to do with the 1.3-acre Downtown Madison lot that before a 2005 fire was home to St. Raphael Cathedral. Whether to rebuild the church is a question that's bedeviled the diocese for years.
"It would be wonderful to have a stronger, more visual footprint Downtown," Hying said, but on the other hand, "we've survived without a cathedral for 15 years" and for large gatherings, the diocese can use St. Maria Goretti on the city's Southwest Side.
He said that once the pandemic lifts, he's likely to bring the topic up with his priests council.
---
Your letters to the editor: Diocese needs to change with times
Diocese needs to change with times -- Maddie Raffel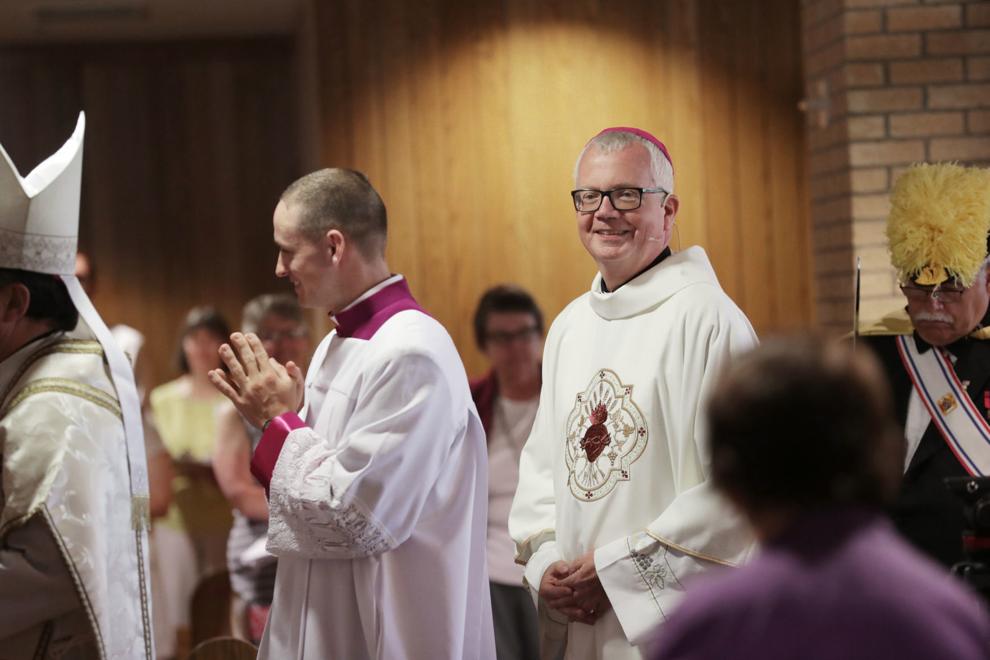 After I completed eight years of Catholic school in the Diocese of Madison, I was left feeling more disconnected from my faith than ever before.
In 2016, I was able to go on a mission trip to Oklahoma City with my church. The mission trip program ended up providing exciting masses with upbeat music and a passionate priest. A few months later, we found out that they ended the mission trip program. This was heartbreaking because it had restored some of my faith and reminded me why I was Catholic.
Catholicism, at least in Madison, is dying. I know firsthand that many kids who get confirmed do not regularly attend church anymore. If the Diocese of Madison wants to keep Catholicism alive, it has to accept change.
The mission trip should be reinstates, and its masses should get a face-lift. We need priests who are high energy. The music should be played on a variety of different instruments with a spread of upbeat voices.
Mission trips and similar programs keep young Catholics engaged. The Diocese of Madison needs a revival. Otherwise, its churches will soon be empty.
Student chant is harmless fun -- Steve Henningfield
Don't misunderstand the "vulgar chants" emanating from the raucous student sections at Wisconsin Badger football games.
The sections are only communicating their post-game eating preferences. Sections M and N want to "eat shrimp," while sections O and P respond with "fondue." So please, turn up the hearing aids and enjoy the game.
As to the punishment of the band playing "Roll out the Barrel" -- ya, OK boomers.
Enough levity, let's concentrate on the real issues of the day, which is voting a pathological liar out of office in November.
Steve Henningfield, Madison
Pollution threatens nation's economy -- Tim Melin
The economy is always used to justify decisions made by our leaders. Some of these decisions affect us all and make no sense.
Take for instance the issue of drinking water. Factory animal farming has made groundwater undrinkable in many areas of the state. Yet lawmakers refuse to do anything significant about it because of the economic implications. That's a lot of bull (pardon the pun).
Factory farm corporations donate lots of money to politicians so that these corporations can poison our drinking water with animal waste. It sounds more like war against us all than a boost for the economy.
Another example is the F-35 fighter jets coming to Madison. The Chamber of Commerce and even liberal U.S. Sen. Tammy Baldwin, D-Madison, think it's great for the local economy. Really? It's worth having bomb-delivering planes burning fuel and producing noise to keep a few jobs?
We live in scary times. Our climate is changing at unprecedented speed. We continue to add more carbon dioxide to the atmosphere to keep our economy going. The economy is killing biodiversity and will cause a collapse of all that sustains us. If we continue our path, there will be no economy.
Help make Miracle Field a reality -- Lauren Grimm
State Journal reporter Barry Adams, in his March 1 article "Diamond dream coming true," brought to life Bill Schultz' vision of a community where boys and girls are not limited by their disabilities.
Schultz' dream of playing baseball as a child went unfulfilled due to physical impairment. But his current dream of helping kids with physical disabilities find a love for the sport can be realized with the help of the Madison community. A Miracle Field, where all children can play, regardless of limitations, could be on the horizon for Bakken Park in Cottage Grove.
I witnessed the impact of Miracle League firsthand in my hometown of Lakeville, Minnesota, by volunteering as a peer buddy. I saw the immense joy this field brought to players, but also realized how much fulfillment being a peer buddy brings. This league and these fields truly create a community for players, peers, coaches and parents that is not easily replicated. They teach the lesson that you shouldn't take these things for granted.
Schultz' vision is attainable. With $180,000 raised and $240,000 to go, now is the time for support through grassroots fundraising and corporate sponsorship. I urge every member of the community to help in any way possible. Donations are accepted here: www.danecountymiracleleague.com/donations.