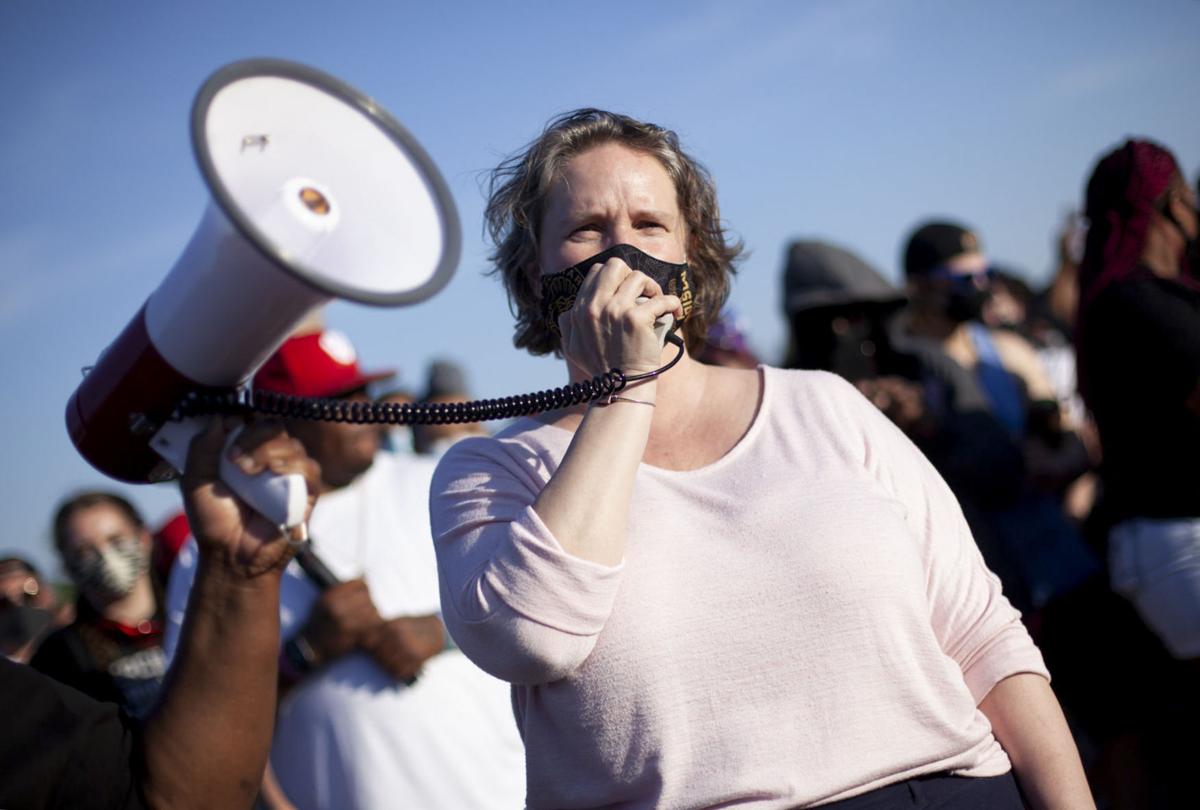 Saying they were "misled" before endorsing Satya Rhodes-Conway in last year's election, the Madison police union on Monday announced members had approved a vote of no confidence in the progressive first-term mayor, just as the city is roiled by fallout from the death of George Floyd, COVID-19 and a sharp uptick in gun violence.
The Madison Professional Police Officers Association said it did not take the vote "easily or in haste," but that the mayor has broken promises to work with police while being "quick to point out, sometimes inaccurately, where we fall short."
Her "unhealthy portrayal" of police creates an "us versus them" dichotomy, the union said in a statement, which it said "is particularly dangerous at a time when city agencies and entities should be working collaboratively to address an increase in burglaries, car thefts, weapons offenses (including shots being fired daily all over the city) and, sadly, attempted and completed homicides too often claiming the lives of young Madisonians.
"We would never ask the mayor to ignore our inadequacies," the union says. "In fact, we call for a leader who is committed to rolling up her sleeves, diving in and working with us on systematic improvements rather than separating herself from us and further dividing our community."
Hours later, the mayor shot back, saying it's the union that's being divisive by issuing the "political statement" and refusing to embrace the reforms the community is demanding.
"It is extremely unfortunate that MPPOA has failed to realize the importance of this time, and is sowing division instead of stepping up to partner with the community and the rest of city government," she said.
"Our community is demanding oversight and accountability," she said. "Our community is demanding reform and leadership that is able to re-imagine policing. This work is difficult, and will be most successful if we can all work together for the good of our community."
Recall effort
There is also an effort underway — led by a former Republican candidate for state office — to recall her, and in a letter last week from several local activist groups and police critics about acting police chief Vic Wahl, Rhodes-Conway's actions in response to Black Lives Matter protests are, like Wahl's, alleged to have been racially biased.
The police union said it endorsed Rhodes-Conway's candidacy over that of long-time incumbent Paul Soglin in late March of last year "after she committed herself to developing a strong partnership with our labor organization."
But since she was elected, the union alleges, she has shown an "unfamiliarity" with police, failed to recognize the department's successes and been reluctant to engage in discussions with the union.
When those discussions do occur, they "devolve into her desires for potential furloughs, the re-opening of settled contracts and other budgetary matters at the expense of collaborating on strategies to ensure a safe Madison for everyone."
Budget woes
The city has projected it will face a $30 million budget shortfall for 2020 and a $25 million gap in 2021, due to a combination of lost revenue and increased spending related to the coronavirus.
A state law pushed through by Republicans in 2011 to severely weaken public-sector unions gives cities the ability to make near-unilateral decisions about city worker employment conditions, but the law exempted police and fire unions, meaning they have far more power than other city employees to dictate pay and other personnel matters and avoid furloughs.
The mayor noted that all city agencies are being asked to plan for 5% cuts, and that her office has "asked both the police and fire unions to reopen their contracts because the city cannot afford the terms negotiated during the previous administration."
"Unfortunately, MPPOA declined to participate in the most recent meeting on this topic," she said.
MPPOA president Kelly Powers was not available Monday to comment on whether the union would be willing to make adjustments to its labor contract to help mitigate the city budget shortfall. Madison firefighters union president Mahlon Mitchell said his union would not reopen its contract, calling the mayor's request "irresponsible" and in "poor taste" at a time when his members continue to be on the front lines of the pandemic.
Mitchell said the four-year contract had been negotiated to provide the largest raise, 3.75%, in its last year, or 2021, and renegotiating it would put that raise in jeopardy.
Bridge sought
Local activists have been critical of what they see as the Madison police union's reluctance to engage in reform, and in its statement the union said it tried to get Rhodes-Conway to "facilitate and foster opportunities for our organization to meet with community groups and members who are open to constructive dialogue toward social justice and positive change.
"Rather than stepping up to this leadership responsibility, the mayor told us she 'struggles' with that role and asked us, instead, to use our own voice, effectively declining our request for community engagement," the union said.
It was after this episode that the union's board decided to hold a vote of no confidence, which more than 95% of union members supported, the union said.
The Madison Police Department has earned national recognition over the years for its problem-oriented policing approach and other initiatives, and was deemed "far from 'a Department in crisis'" in a top-to-bottom consultant's report on the force in December 2017. Madison officers are also more racially and ethnically representative of the community they serve than many other departments, and female officers make up about double the percentage of female officers in departments nationally.
Petitions out
On July 8, Madison resident Jon Rygiewicz filed a petition with the city clerk to begin circulating petitions to force Rhodes-Conway into a recall election. He has until early September to collect the 36,203 signatures needed to get a recall on the ballot.
Rygiewicz has said Rhodes-Conway should be removed from office in part because she did not keep the city safe when Black Lives Matter demonstrators were "rioting and looting."
Be the first to know
Get local news delivered to your inbox!